[ENG/PT-BR] THE NEWCOMERS WALL! Facing the gap between SILVER AND GOLD LEAGUE! // A PAREDE DOS RECÉM-CHEGADOS! Enfrentando o gap entre SILVER AND GOLD LEAGUE!
Hello splinterlands family @legalizabrazil here to present another content of community interest, as you guys know my content is focused on help newcomers at splinterlands and i hope that all this material can help you guys to understand more about the game!
On this post i will highlight THE NEWCOMERS WALL! But what is that? By my experience i realize that is a huge gap between the SILVER III and GOLD III leagues, in matters of Collection Power(CP) and Cards level. I will show how i have conclude about this WALL and the question that we have to solve in order to keep grinding.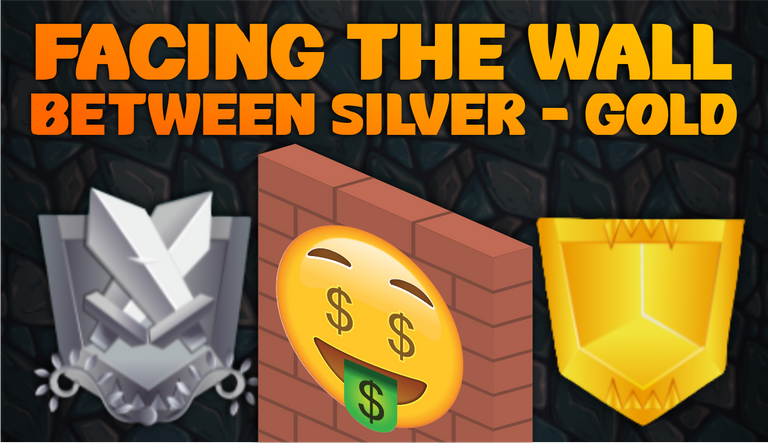 • EXPLAINING THE WALL •
How i have realized about this wall?
To reach Silver III we need 15K CP which isn't a huge thing right know because to have 15k CP with today's price we're going to spent about US$40 looking for the best deals by the CP/US$ rate. Of curse you will have a better collection and more winrates if you look for buy cards who is useful in the Bronze league lvl cap such as summoners lvl 2, but this will increase a lot the CP/US$ rate, so even with lvl 1 cards you can stay at Silver III.
You can find the best deals by CP/US$ rate by selecting the "COMPARE" filter in @peakmonsters Market Page.


---

Once you have reached Silver III and bought 15kCP if you want to reach SILVER II you will need more 25k Collection Power(CP), if we keep buying by the CP/US$ rate best deals you will need ~US$65, so from this moment the amount invested will start to be more then a low budget, and you probably will have much more difficult in winning matches because you still have only lvl 1 cards. But still possible and for now you will notice that things are being hard.

---

Until now we have spent about US$110 dollar(in best scenery) to have 40k+ Collection Power(CP) and we are struggling to win matches because from this moment(1330+ Rating) players and also bots will have specific cards that has more win-rate then the cards bought from best CP/US$ rate. They will have Legendary Cards like Djin Oshanus, Harklaw, The Fiends and etc. Also EPICS and another situational cards who can cost more then we have spent.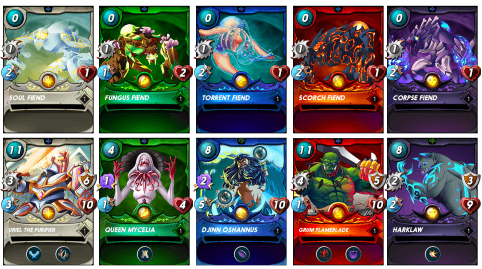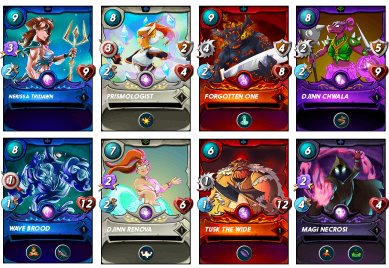 Another fact is the new gap of Collection Power to reach SILVER I, because even if we manage to get 1600+ Rating we still need to buy more 30k Collection Power(CP) in order to advance to silver League I. We can keep searching for the best deal by CP/US$ rate, but at this moment we will have a significant decrease at win-rate if we keep that way.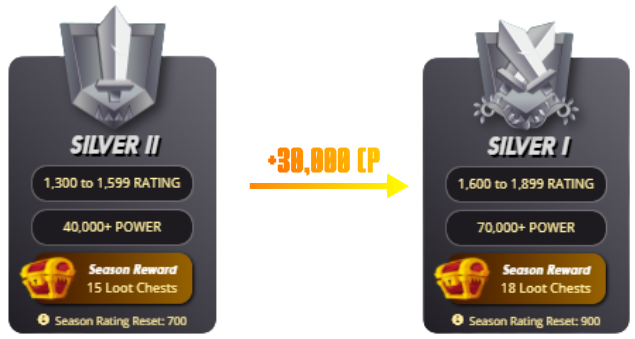 Considering to buy by the CP/US$ rate we're going to spent more ~US$80 and at this moment the amount need to reach 70k+ Collection power(CP) have reached US$190,00. But as i said, players will have powerful cards and you will be pissed when keep loosing, that's when you have saw the wall coming for the first time. In order to prevent that we have to buy those legendary and epic cards, increasing our expenses by another US$50,00.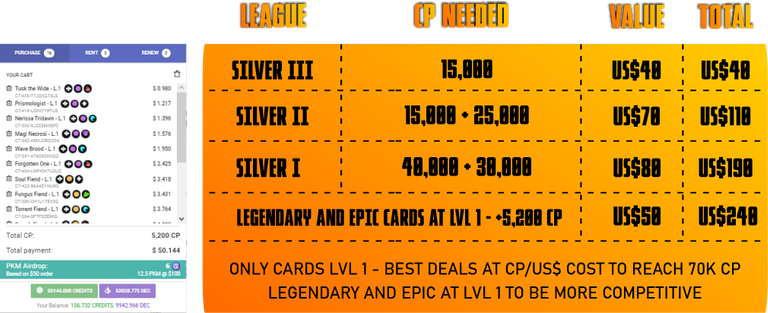 As i told, at SILVER I you will face enemies with stronger collections and probably players with Summoners at lvl 2, it's unlikely to find Summoners at lvl 4 before the 1899+ rating because players with summoners at this level will keep grind to Ladderboard and that's isn't our objective so we will consider players with Summoners at lvl 2 as our main concern. So to keep a good win rate this is the time when you need to invest in Summoners Cards in order to make then reach at least lvl 2, to use cards at a higher lvl (Commom 3, Rare 2, Epic 1, Legendary 1) and now is where our investment starts to get real high.

---
• HERE COMES THE BIG WALL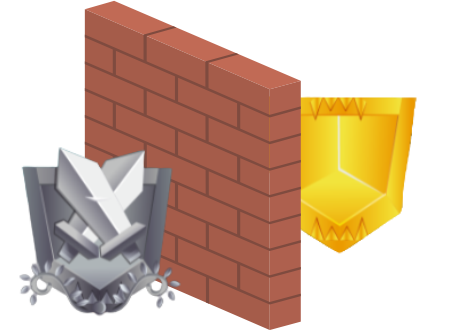 So far we have spent US$240 in order to have enough CP to reach Silver III(70k) and we also have some Chaos Legion Legendary and Epic cards. Our total CP is 75,500.
♦ ♦ ♦ ♦ ♦ ♦ ♦ ♦ ♦ ♦ ♦ ♦ ♦ ♦ ♦ ♦ ♦ ♦ ♦ ♦ ♦ ♦
To reach GOLD III League we need to have 100k+ CP, so again we need to buy more 25k CP, but the problem is that to play at GOLD III we will need leveled up cards, because lvl 1 cards will get pawned at this league, i'm serious about that.
---
I already have did 2 posts about how is the Gold League III and i know by the experience that you will not face enemies with lvl 1 summoner anymore. They will have at least lvl 2 summoners and you will also find lvl 3 and 4 Summoners. Also enemies will start to use gold foil cards and leveled up monster cards making the battles even harder.
So the really hard thing to pass in this wall is to have a collection playable at GOLD LEAGUE, and by that i mean to have cards leveled up in order to have a chance of wining againts your enemies.
The strategy of buy cards by the CP/US$ rate to grind you Collection power will no longer work, because you will not have Summoners or Useful cards from each element.

And as if it wasn't enough.

So the main aspects that turns so hard to pass the wall are:
♦ You will face much more stronger enemies then Silver III.
♦ You will need more then 1 or 2 Summoners at least at lvl 2.
♦ You will need monsters cards leveled to use with your Summoners.
♦ Even with those lvl 2 summoners and monsters for his cap, you will loose more then at Silver III.
What we can conclude is that to pass this wall we will have to spent a considerable amount of money in order to stay and also have a good performance at GOLD III. And for a newcomer, the decision of invest this amount need to be taken very carefully in order to don't buy cards useless.

• CONCLUSION •
The way as a newcomer to reach SILVER III is easy, but in order to keep advancing trough the league the need to buy cards will increase a lot and when gets the time to advance to GOLD III the amount needed to invest will multiply!
So, are really worth to focus on that kind of strategy? I mean, rush a account right to the GOLD III?
And if i don't have the money to keep advancing, it's the best way accumulate CP on this single account?
That's question are for another post, and i will show how i'm dealing to try to pass this wall!
That's it guys!



PT-BR


Olá família splinterlands @legalizabrazil aqui para apresentar mais um conteúdo de interesse da comunidade, como vocês sabem meu conteúdo é focado em ajudar os novatos em splinterlands e espero que todo esse material possa ajudar vocês a entender mais sobre o jogo!
Neste post vou destacar o PAREDE DOS RECÉM-CHEGADOS! Mas o que é isso? Pela minha experiência percebo que há uma enorme lacuna entre as ligas SILVER III e GOLD III, em questões de Poder de Coleta (CP) e nível de Cartas. Vou mostrar como concluí sobre este MURO e a questão que temos que resolver para continuar moendo.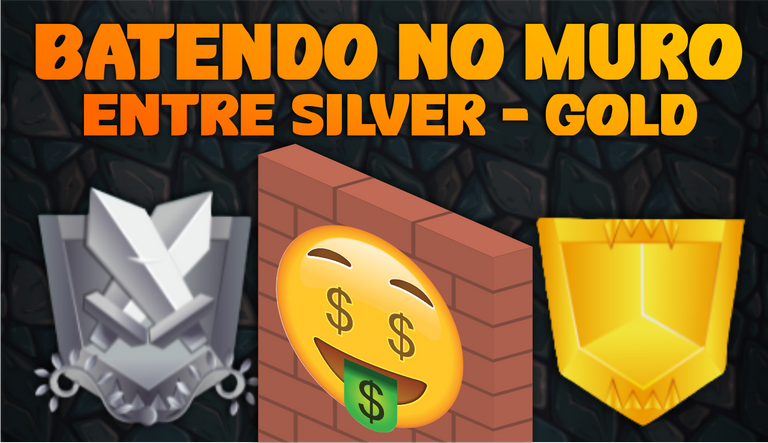 • EXPLICANDO O MURO •
Como eu percebi sobre esta parede?

Para chegar ao Prata III precisamos de 15K CP o que não é grande coisa né porque para ter 15k CP com o preço de hoje vamos gastar cerca de US$40 procurando as melhores ofertas pela taxa CP/US$. Claro que você terá uma coleção melhor e mais winrates se você procurar comprar cartas que sejam úteis no lvl cap da liga Bronze como summoners lvl 2, mas isso aumentará muito a taxa de CP/US$, então mesmo com lvl 1 cartões você pode ficar no Silver III.
Você pode encontrar as melhores ofertas pela taxa CP/US$ selecionando o filtro "COMPARAR" em @peakmonsters Página de mercado.


---

Uma vez que você tenha alcançado o Silver III e comprado 15kCP, se você quiser alcançar o SILVER II, precisará de mais 25k Collection Power(CP), se continuarmos comprando pela taxa CP/US$, as melhores ofertas, você precisará de ~US$65, então a partir disso momento o valor investido começará a ser mais do que um orçamento baixo, e você provavelmente terá muito mais dificuldade em ganhar partidas porque ainda tem apenas cartas lvl 1. Mas ainda é possível e por enquanto você notará que as coisas estão sendo difíceis.

---

Até agora gastamos cerca de US$ 110 dólares (no melhor cenário) para ter 40k+ Collection Power(CP) e estamos lutando para ganhar partidas porque a partir deste momento (1330+ Rating) jogadores e também bots terão cartas específicas que têm mais vitórias -tarifa então os cartões comprados com a melhor taxa CP/US$. Eles terão cartas lendárias como Djin Oshanus, Harklaw, The Fiends e etc. Também EPICS e outras cartas situacionais que podem custar mais do que gastamos.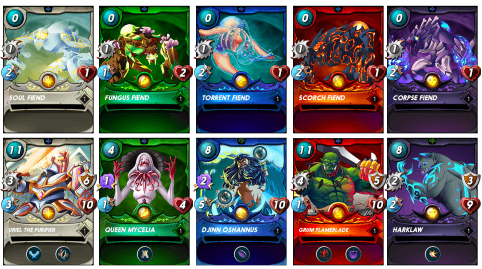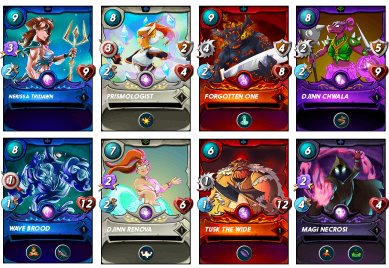 Outro fato é a nova lacuna do Collection Power para chegar ao SILVER I, pois mesmo que consigamos obter 1600+ Rating ainda precisamos comprar mais 30k Collection Power(CP) para avançar para a Silver League I. Podemos continuar procurando o melhor negócio pela taxa CP/US$, mas neste momento teremos uma queda significativa na taxa de vitórias se continuarmos assim.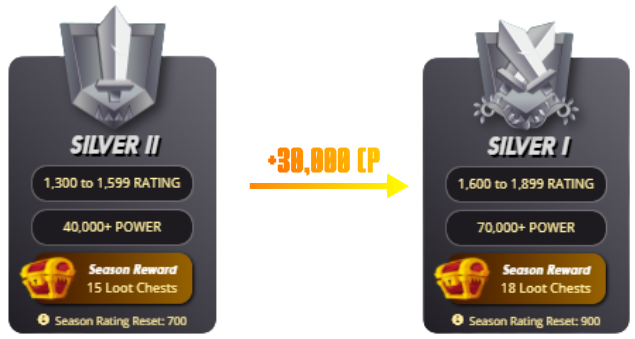 Considerando comprar pela taxa CP/US$ vamos gastar mais ~US$80 e neste momento a quantidade necessária para chegar a 70k+ Poder de cobrança (CP) atingiu US$190,00. Mas como eu disse, os jogadores terão cartas poderosas e você ficará chateado quando continuar perdendo, é quando você vê a parede chegando pela primeira vez. Para evitar isso, temos que comprar essas cartas lendárias e épicas, aumentando nossas despesas em mais US$ 50,00.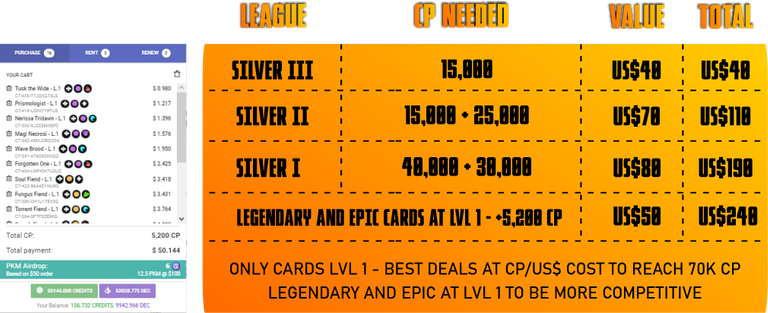 Como eu disse, no SILVER I você enfrentará inimigos com coleções mais fortes e provavelmente jogadores com Summoners no lvl 2, é improvável encontrar Summoners no lvl 4 antes da classificação 1899+ porque jogadores com summoners nesse nível continuarão grindando no Ladderboard e isso é não é nosso objetivo então vamos considerar jogadores com Summoners no lvl 2 como nossa principal preocupação. Então para manter uma boa taxa de vitórias este é o momento em que você precisa investir em Cartas de Invocador para fazer então atingir pelo menos lvl 2, usar cartas de lvl mais alto (Commom 3, Rare 2, Epic 1, Legendary 1) e agora é onde nosso investimento começa a ficar bem alto.

---
AI VEM O GRANDE MURO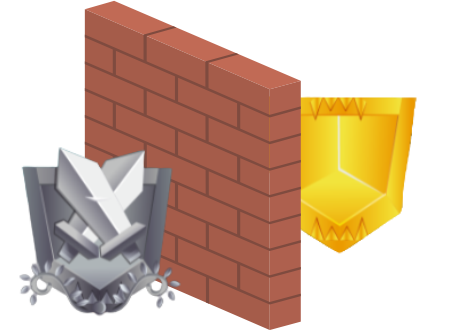 Até agora, gastamos US$ 240 para ter CP suficiente para alcançar Silver III (70k) e também temos algumas cartas Lendárias e Épicas da Legião do Caos. Nosso CP total é de 75.500.
♦ ♦ ♦ ♦ ♦ ♦ ♦ ♦ ♦ ♦ ♦ ♦ ♦ ♦ ♦ ♦ ♦ ♦ ♦ ♦ ♦ ♦
Para chegar à Liga GOLD III precisamos ter 100k+ CP, então novamente precisamos comprar mais 25k CP, mas o problema é que para jogar na GOLD III precisaremos de cartas niveladas, pois as cartas lvl 1 serão penhoradas nesta liga, estou falando sério sobre isso.
---
Já fiz 2 posts sobre como é a Gold League III e sei por experiência que você não enfrentará mais inimigos com invocador lvl 1. Eles terão pelo menos invocadores lvl 2 e você também encontrará invocadores lvl 3 e 4. Além disso, os inimigos começarão a usar cartas de folha de ouro e cartas de monstros de nível, tornando as batalhas ainda mais difíceis.
Então, o mais difícil de passar nessa parede é ter uma coleção jogável na GOLD LEAGUE, e com isso quero dizer ter cartas niveladas para ter a chance de ganhar contra seus inimigos.
A estratégia de comprar cartas pela taxa CP/US$ para moer seu poder de Coleção não funcionará mais, pois você não terá Summoners ou cartas Úteis de cada elemento.

E como se não fosse o suficiente...

Então os principais aspectos que dificultam a passagem da parede são:
♦ Você enfrentará inimigos muito mais fortes que Silver III.
♦ Você precisará de mais de 1 ou 2 Summoners pelo menos no lvl 2.
♦ Você precisará de cartas de monstros niveladas para usar com seus invocadores.
♦ Mesmo com aqueles summoners e monstros lvl 2 para seu boné, você perderá mais do que no Silver III.
O que podemos concluir é que para passar esse muro teremos que gastar uma quantia considerável de dinheiro para ficar e também ter um bom desempenho no GOLD III. E para um novato, a decisão de investir esse valor precisa ser tomada com muito cuidado para não comprar cartões inúteis.

• CONCLUSÃO •
O caminho como um novato para chegar ao SILVER III é fácil, mas para continuar avançando na liga a necessidade de comprar cartas aumentará muito e quando chegar a hora de avançar para o GOLD III o valor necessário para investir se multiplicará!
Então, vale mesmo a pena focar nesse tipo de estratégia? Quero dizer, apressar uma conta direto para o GOLD III?
E se eu não tiver dinheiro para continuar avançando, é a melhor forma de acumular CP nessa única conta?
Essa questão fica para outro post, e vou mostrar como estou lidando para tentar passar por esse muro!
É isso galera!
---
---