Portal Spiner! Alguns RNG para a vitória! // Portal Spiner ! Some RNG for the win! [PT-BR/RNG]

Boa noite galera! @legalizabrazil na area para trazer um pouco sobre o monstro do desafio da semana de splinterlands Portal Spiner, uma criatura não muito usual e assumo que não vejo ela com frequência nas minhas batalhas. Raramente enfrento inimigos que usem essa carta o que faz dela ser bastante situacional.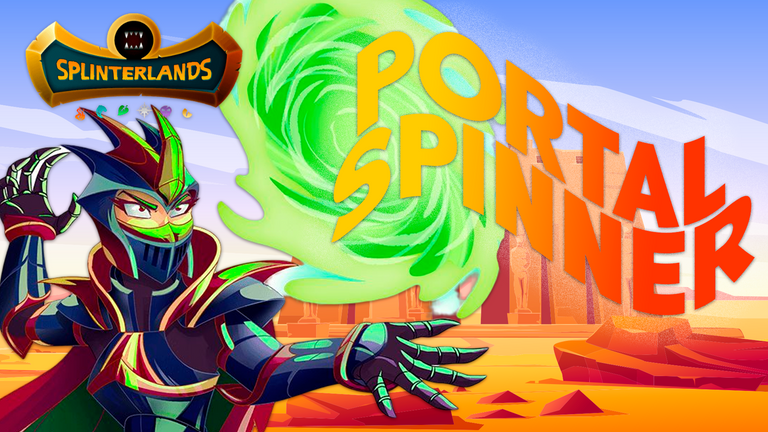 img sources: Splinterlands

• CARD OVERVIEW •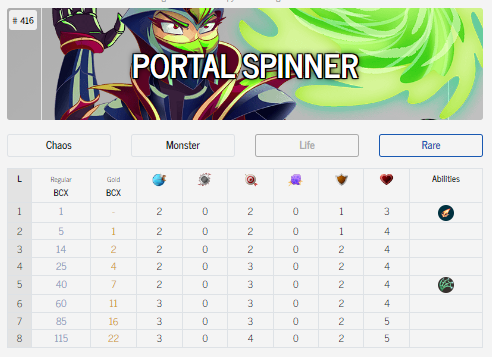 source
Eu não estou muito acostumado a usar essa carta, acho que ainda não entendí direito a hora certa de usar e em qual regra ela ganha vantagem, fico um pouco confuso em saber o melhor momento para usa-la. Porém, em uma regra Close Range eu gosto de usa-la por causa do seu escudo, além de ter o dano acrescido quando a uso junto com o General Sloan, ela acaba se tornando uma carta forte e bem útil.
SKILLS
Ela começa com a Scattershot, que é a skill responsável por faze-la atacar um alvo aleatório. Essa skill pode ser muito boa ou muito traiçoeira, minha dificuldade é justamente saber quando ela vai ser uma boa opção a meu favor. Alcançando o level 5 o Portal Spiner libera a skill Snare, que ao atacar um monstro voador o coloca ao chão.


Scattershot: This monster attack hits a random enemy target
Snare: When attacking enemies with Flying, removes the flying ability and cannot miss.
---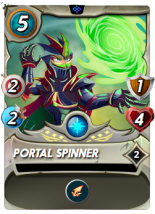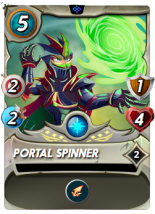 Atualmente meu Portal Spiner está level 2, isso porque para eu poder usar ele mais forte eu precisaria de um General Sloan level 3 e eu ainda não tenho. O General é meu próximo objetivo e espero conseguir em breve usar cartas mais fortes do elemento life. Nesse level ele tem somente a Scattershot mas já possui shield o que é ótimo para prevenir uma fonte de dano, caso vá para primeira posição ele acaba sendo útil como tank.
---
ANALISE DE PREÇOS

Aparentemente assim como as outras cartas da edição Chaos Legion, a Portal Spiner está próximo ao valor mais baixo desde o seu lançamento, talvez seja o melhor momento para colocar a carta no lvl máximo, ou pelo menos no level da liga que você compete.


• REGRAS DA BATALHA •

---
• THE BATTLE •

<--- FULL BATTLE REPLAY --->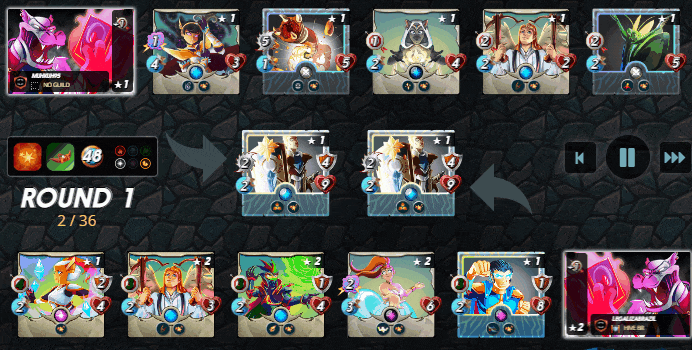 A batalha foi extremamente tranquila para mim, eu usei um summoner ideal para a regra Close Range e mesmo com muitas unidades de ataque a distância eu sabia que não seria um problema se elas fossem para a primeira posição.
O Portal Spinner não foi fundamental para a vitória, porém essa partida ilustra bem a força de aplicar a sinergia entre Summoner, monstro e regra de batalha. Meu adversário também usou um invocador de life, porém não aproveitou da sinergia do ataque a distância.
Apesar de ele ter tirado um pouco da minha velocidade e atacado primeiro, meu tank conseguiu segurar o turno de dano e graças a minha sinergia só precisou de um turno de ataque das minhas criaturas para que a partida fosse decidida.

ENGLISH VERSION




Good night guys! @legalizabrazil in the area to bring you a little bit about the monster of the splinterlands challenge of the week Portal Spiner, an unusual creature and I assume I don't see it often in my battles. I rarely face enemies that use this card which makes it very situational.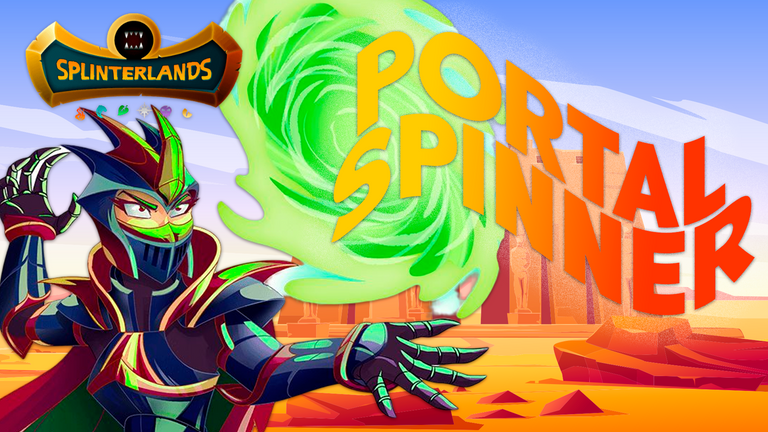 img sources: Splinterlands

• CARD OVERVIEW •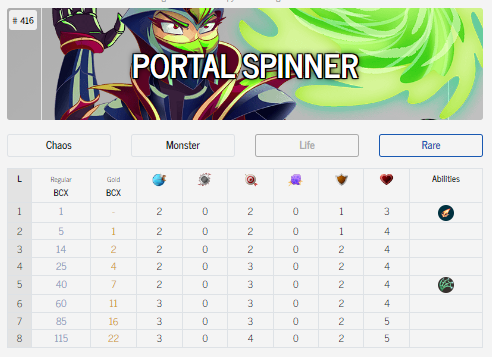 source
I'm not very used to using this card, I think I still don't understand the right time to use it and in which rule it gains advantage, I'm a little confused in knowing the best time to use it. However, in a Close Range rule I like to use it because of its shield, in addition to having the increased damage when I use it together with General Sloan, it ends up becoming a strong and very useful card.
SKILLS
She starts with Scattershot, which is the skill responsible for making her attack a random target. This skill can be very good or very treacherous, my difficulty is precisely knowing when it will be a good option in my favor. Upon reaching level 5, Portal Spiner releases the Snare skill, which when attacking a flying monster puts it to the ground.


Scattershot: This monster attack hits a random enemy target
Snare: When attacking enemies with Flying, you remove the flying ability and cannot miss.
---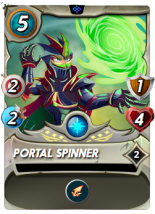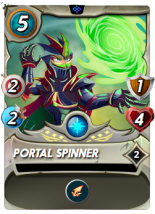 Currently my Portal Spiner is level 2, that's because for me to use it stronger I would need a General Sloan level 3 and I do not have it yet. The General is my next objective and I hope to soon be able to use stronger cards of the life element. At this level he only has the Scattershot but he already has a shield which is great to prevent a source of damage, if he goes to first position he ends up being useful as a tank.
---
PRICE ANALYSIS

Apparently just like the other cards in the Chaos Legion edition, Portal Spiner is near the lowest value since its release, maybe it's the best time to put the card at maximum lvl, or at least the level of the league you compete in.


• BATTLE RULES •

---
• THE BATTLE •

<--- FULL BATTLE REPLAY --->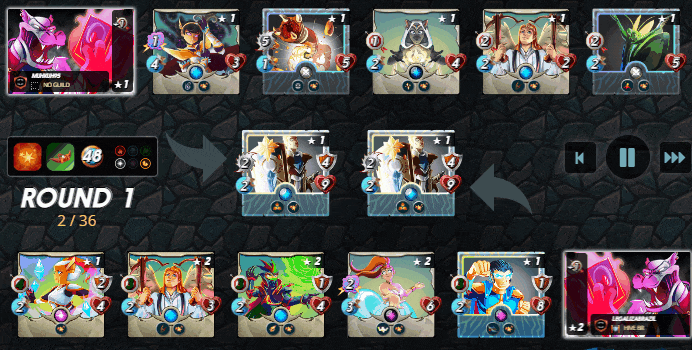 The battle was extremely smooth for me, I used a summoner ideal for the Close Range rule and even with a lot of ranged attack units I knew it wouldn't be a problem if they went to the first position.
Portal Spinner was not critical to victory, but this match illustrates the strength of applying the synergy between Summoner, monster and battle rule. My opponent also used a life summoner, but didn't take advantage of the synergy of the ranged attack.
Although he took some of my speed and attacked first, my tank managed to hold the damage turn and thanks to my synergy it only took one attack turn from my creatures for the game to be decided.
---
---