Triple Martyr - Splinterlands Social Media Challenge [ENG-PT]
Banner made by me, using Canva
All the images from the banner are from @Splinterlands
---
Clique aqui para ler o post em português!
---
English
Martyr is one of the most recent abilities to be introduced in Splinterlands. It came along with the Soulbound cards, which cannot be traded, so players can only acquire these monsters that have this ability by actively playing in ranked matches.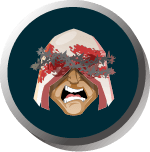 There is only one exception, which is the Vruz, a promotional card that can be acquired by placing SPS in Stake. However, it is no longer possible to print new copies, which could increase its value over time, and consequently its price.
When it dies, the monster carrying it increases all the attributes of adjacent cards by 1 point.
There is at least one monster in every Splinter with this ability, including Neutral and Dragon, with the unique exception of Death.

Image from Splintercards
With this, you can put up to 3 cards with Martyr on the field, making one card almost unbeatable.
However, it's not so simple to do this, as there must be a good positioning of the cards for the monster you want to receive the attributes.
It's also necessary for your opponent to use monsters that attack the back line, otherwise the most you'll get is a martyr activation. Or, you can use some cards with the Ressurect ability to revive them a few times.
There is also the possibility of facing rules that can eliminate cards on the field, such as Noxious Fumes and Earthquake. This way, none of the above requirements are necessary.
And it's through this last ruleset that I managed to get a triple martyr activated on two of my monsters in a recent battle.

In addition to the Noxious Fumes, two other rules were present in this battle: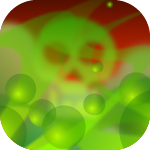 Armored Up: all monsters receive 2 additional points of armor.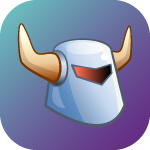 What doesn't kill you: all monsters receive the Enrage ability.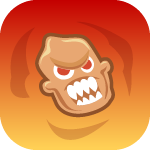 The fact that Enrage increases the speed of all monsters on the field when attacked made me think it was the ideal time to use the summoner Sthispa.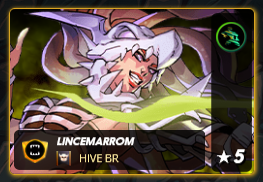 With her, all magical attacks can miss, thanks to the Phase ability provided to my entire team.
The main monster and tanker chosen was the Pelacor Mercenary. In addition to Flying, which increases the likelihood of dodging attacks, it can regenerate part of its life on its own.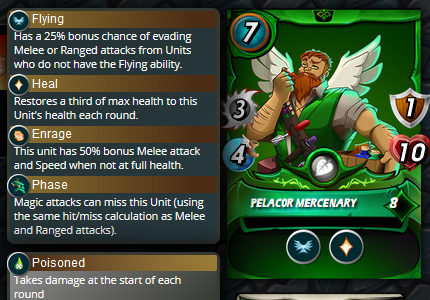 Right behind him was the Martyr trio of Vruz, Venari Marksrat and Fungus Flinger.

The other monster to receive the additional stats was Venator Kinjo. It has Immunity, and is unaffected by Poison and other negative effects.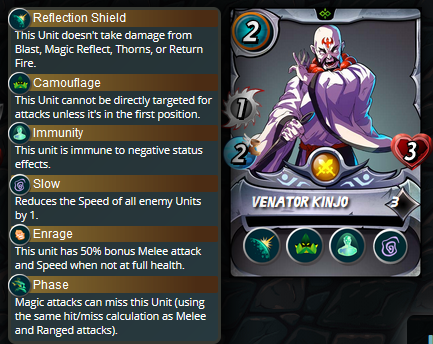 And finally, the Iza the Fanged, which increases its life by 1 every time a monster is eliminated, thanks to the Scavenger.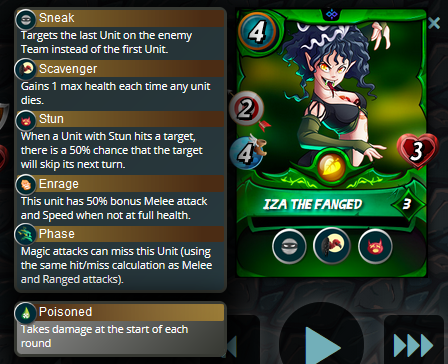 I thought I had made the perfect strategy for this battle.
The only thing that couldn't happen was for the monsters with Martyr to be attacked by the opponent, because they both need to die at the same time, otherwise the increase in attributes would be directed to the wrong monster.
My opponent used a monster with Martyr, but there was Adelade Brightwing, which would have a great chance of resurrecting it once, since the chances of it being killed first would be high. He would then get two stat increases.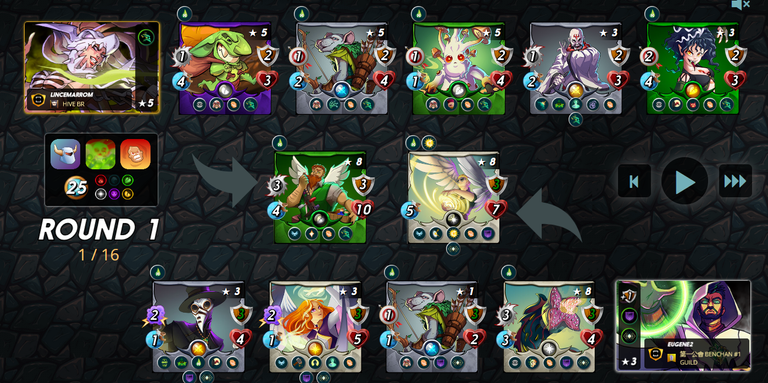 And that's exactly what happened after the first round. But that didn't worry me, because in the next round it would be my turn to show off my tricks. There was no chance of my trio being killed before their time, so I just waited for this moment.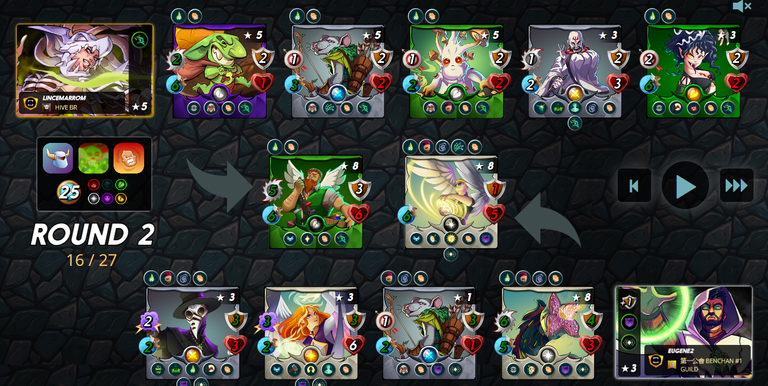 With the triple Martyr + Enrage combination, it was almost impossible for my opponent to land an attack on me. The only monster that could give me any trouble was the Adelade.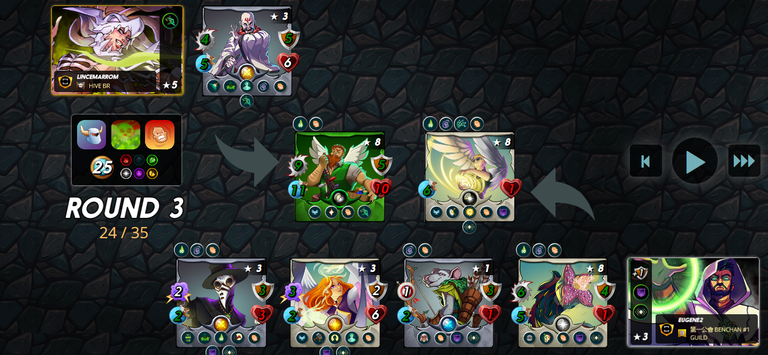 We reached a point in the match where only my Pelacor was attacking on my team and the opponent's Adelade was regenerating Venari's armor, thus extending the match to round 21, where everyone began to lose life with each following round.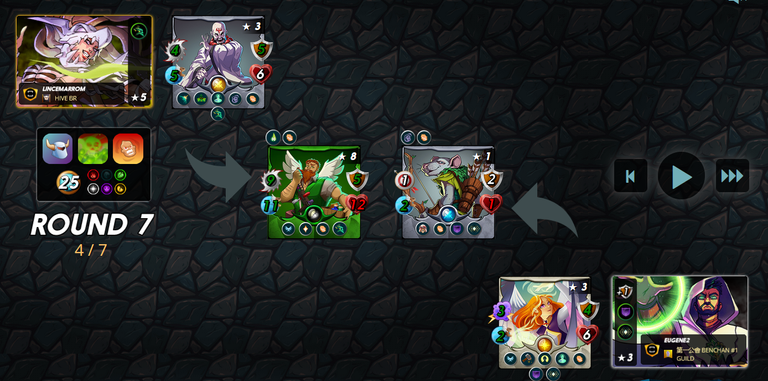 At this point, she had 60% of her attacks on me, and all I needed was for her to miss at least one attack.
But that's not what happened...
And so I was defeated with my opponent's monster only having 1 life point left.
---
---

My strategy worked well, but the luck factor meant that I ended up losing this match. It was nice to watch, though.
You won't always win your matches, even if the odds are in your favor. Sometimes the bad luck can go against you and end up defeating you a few times.
The important thing is not to keep changing your strategy as soon as you lose once, because if it gives you positive expectations, winning more than losing, that means it's a good strategy, but that defeats will happen eventually.
---
All the images are from @Splinterlands
Divider By: @freeztag
---
---
Are you not playing Splinterlands yet? Click HERE and play with me!
---

Português
O Martyr é uma das mais recentes habilidades a ser introduzida em Splinterlands. Ela surgiu junto com a coleção de cartas Soulbound, que não podem ser negociadas, e com isso os só jogadores só podem adquirir os monstros que possuem ela jogando ativamente nas partidas ranqueadas.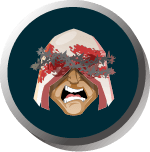 Há uma única exceção, que é através do Vruz, uma carta promocional que pôde ser adquirida ao colocar SPS em Stake. No entanto, não há mais como realizar a impressão de novas cópias, o que poderá aumentar o seu valor ao longo do tempo, e consequentemente o seu preço.
Ela faz com que o monstro que a carrega, ao morrer, aumente todos os atributos das cartas adjacentes em 1 ponto.
Existe ao menos um monstro em cada Splinter com essa habilidade, inclusive em Neutro e Dragão, com uma única exceção de Morte.

Imagem do Splintercards
Com isso, existe a possibilidade de você colocar até 3 cartas com Martyr em campo, podendo fazer uma carta se tornar quase que imbatível.
Porém, não é tão simples de fazer isso, pois deve haver um bom posicionamento delas para o monstro que você deseja que receba os atributos conseguir isso.
Também é necessário que o seu oponente use monstros que ataquem a linha de trás, do contrário o máximo que você conseguirá é uma ativação do martyr. Ou, você pode utilizar algumas cartas com a habilidade Ressurect para tal revivê-los algumas vezes.
Há a possibilidade de você enfrentar regras que podem ir eliminando as cartas em campo, como Noxious Fumes e Earthquake. Dessa forma, não é necessário nenhum dos requisitos acima.

E é através dessa última regra de batalha, que eu consegui fazer com que um triplo martyr fosse ativado sobre dois de meus monstros em uma batalha recente.
Além do Noxious Fumes, outras duas regras estavam presentes nessa batalha: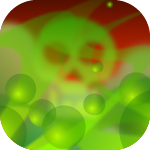 Armored Up: todos os monstros recebem 2 pontos adicionais de armadura.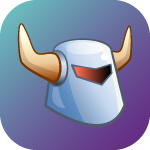 What doesn't kill you: todos os monstros recebem a habilidade Enrage.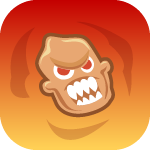 O fato do Enrage aumentar a velocidade de todos os monstros em campo quando atacados, me fez acreditar que fosse o momento ideal para usar a invocadora Sthispa.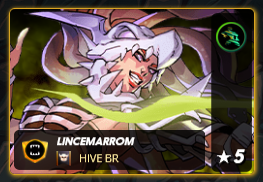 Com ela, todos os ataques mágicos podem errar, graças a habilidade Phase, fornecida a todo o meu time.
O monstro principal e tanker escolhido, foi o Pelacor Mercenary. Além do Flying, que aumenta a probabilidade de se esquivar de ataques, ele consegue regenerar parte de sua vida sozinho.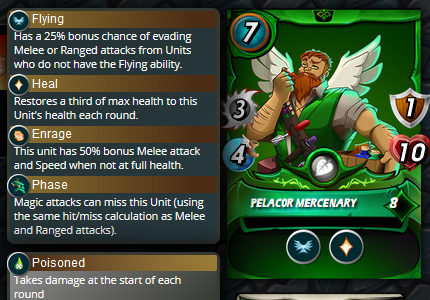 Logo atrás dele, estava o trio de Martyr, Vruz, Venari Marksrat e Fungus Flinger.

O outro monstro que receberia o adicional de atributos era o Venator Kinjo. Ele possui Immunity, não sendo afetado por Poison e outros efeitos negativos.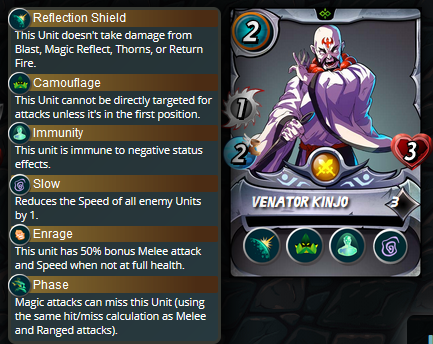 E por final, a Iza the Fanged, que aumenta sua vida em 1 cada vez que um monstro é eliminado, graças ao Scavenger.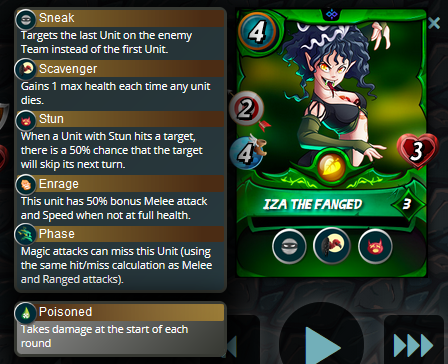 Eu pensei que havia feito a estratégia perfeita para esta batalha.
A única coisa que não poderia acontecer, era os monstros com Martyr serem atacados pelo adversário, pois ambos precisam morrer ao mesmo tempo, do contrário o aumento de atributos seria direcionado para o monstro errado.
Meu oponente utilizou um monstro com Martyr, porém havia a Adelade Brightwing, que teria grandes chances de ressuscitá-lo uma vez, já que as chances dele ser morto por primeiro seriam altas. Assim, conseguiria dois aumentos de atributos.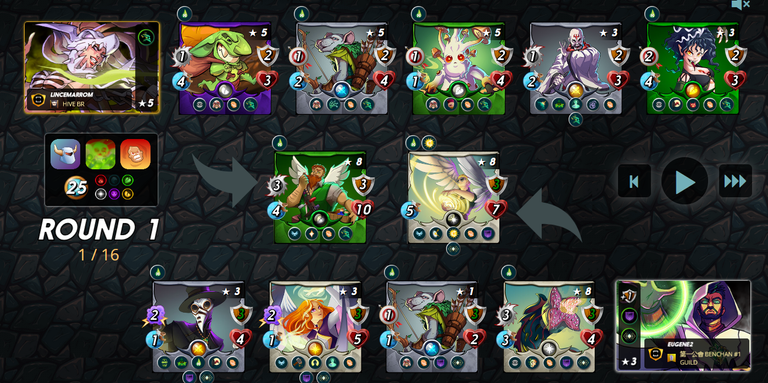 E foi exatamente o que aconteceu após a primeira rodada. Mas isso não me preocupava, pois na rodada seguinte seria a minha vez de mostrar meus truques. Não havia nenhuma chance do meu trio ser morto antes da hora, então só esperava por este momento.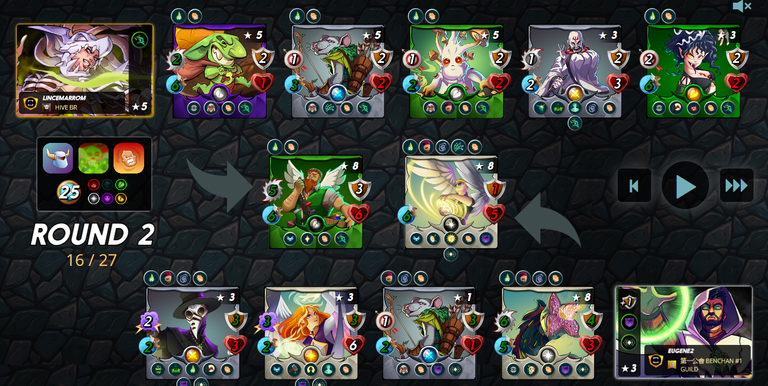 Com a combinação de triplo Martyr + Enrage, estava quase impossível de meu adversário conseguir acertar um ataque sobre mim, o único monstro que poderia me dar algum trabalho, era a Adelade.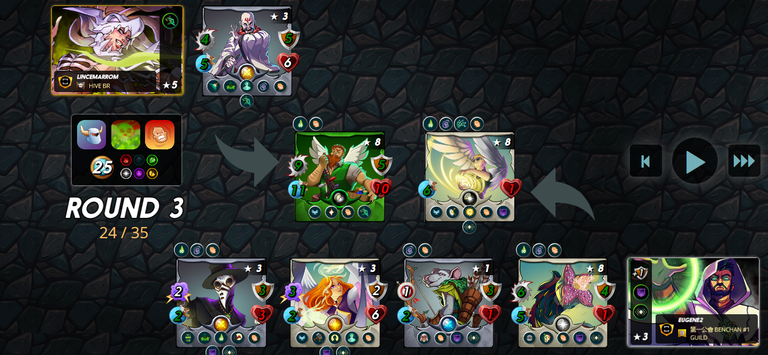 Chegamos em um momento da partida, onde apenas meu Pelacor atacava em meu time e a Adelade do adversário regenerava a armadura do Venari, fazendo assim com que a partida se extendesse até a rodada 21, onde todos começavam a perder vida a cada rodada por seguinte.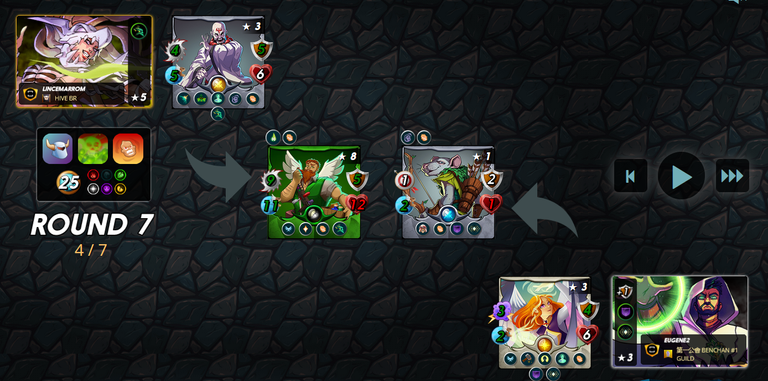 Nesse momento, ela havia 60% de acertar um ataque em mim, e a única coisa que eu precisava, era que ela errasse ao menos um ataque.
Mas não foi o que aconteceu...
E assim fui derrotado com o monstro de meu adversário restando apenas 1 ponto de vida.
---
---

Minha estratégia funcionou bem, mas o fator sorte fez com que eu acabasse perdendo essa partida. No entanto, foi legal de assisti-la.
Nem sempre você ganhará as suas partidas, mesmo que as probabilidades estejam a seu favor. Aquela pitada de azar pode ir contra você e acabar fazendo com que você seja derrotado algumas vezes.
O que interessa é não ficar mudando sua estratégia assim que perder uma vez, pois se ela lhe dá expectativas positivas, vencendo mais do que perdendo, isso quer dizer que é uma boa estratégia, mas que as derrotas ocorrerão eventualmente.
---
Todas as imagens são do: @Splinterlands
Divisor do: @freeztag
---
---
Não joga Splinterlands ainda? Clique AQUI e venha jogar comigo!
---
---

---
---
---