Aretea welcomes the International Break
HI All,
Premier League season 2021/22 returned with a big bang with fans back in the stands. And what a start has it been, massive results for promoted teams, extraordinary poor results for well established top 4 team. And finally unexpected transfer has happened - fairy-tail resigning.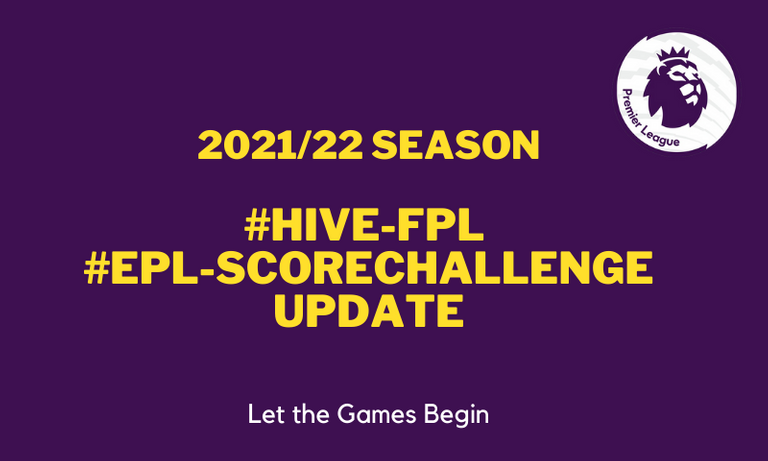 As Premier League fans, we really dislike the international break, it halts momentum and we collectively hold our breathe hoping that our club stars do not come back injured from international duties. I am not sure about the Covid situation, do players need to quarantine before they can play for their club?
Opening game of season 2021/22 started with a massive bang for newly promoted club, Brentford. Fans and players alike, dream for this moment to be among 'The Big Boys' and now beating Arsenal in their first game. I am sure the fans are pinching them-self. Brentford are undefeated and are sitting comfortably in 10th position with 1 win and 2 draws.
Let me address the elephant in the room, Arsenal wtf is happening... After 3 games, 3 losses, no goals, coincided 9 times and sitting rock bottom of the table. If this is not a crisis then I don't what is. Arteta is probably the ONLY person in the world wanting this international break. The stats below speaks for itself, Arsenal have not been competitive enough in the opening 3 games.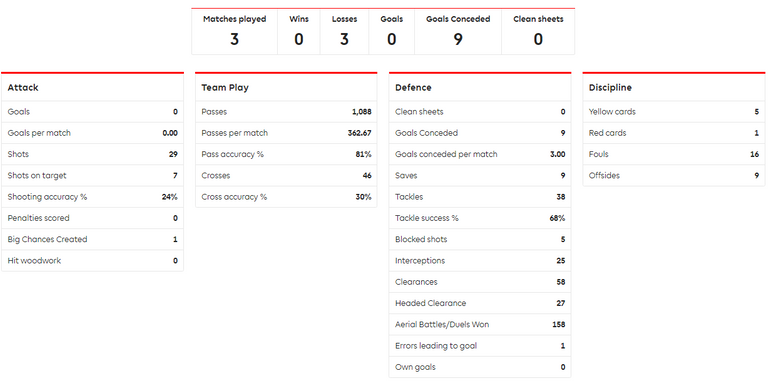 Arsenal didn't have the kindest start of the season, playing a promoted team (not sure what to expect), Manchester City (PL champions of last season) and their London rivals Chelsea. The upcoming games, Arsenal 'should' pick up some points. I am sure Arteta team will come up with a solution to turn it around or Arteta will be the first manager to be on the chopping board.
As it stands, Spurs are the only team that won their opening fixtures, with 9 points and keeping 3 clean sheets. West Ham, Manchester United and Chelsea making the top 4. Chelsea have the exact same stats as Liverpool both 4th on the table, I guess the Blues are ahead on the table because of alphabetical order.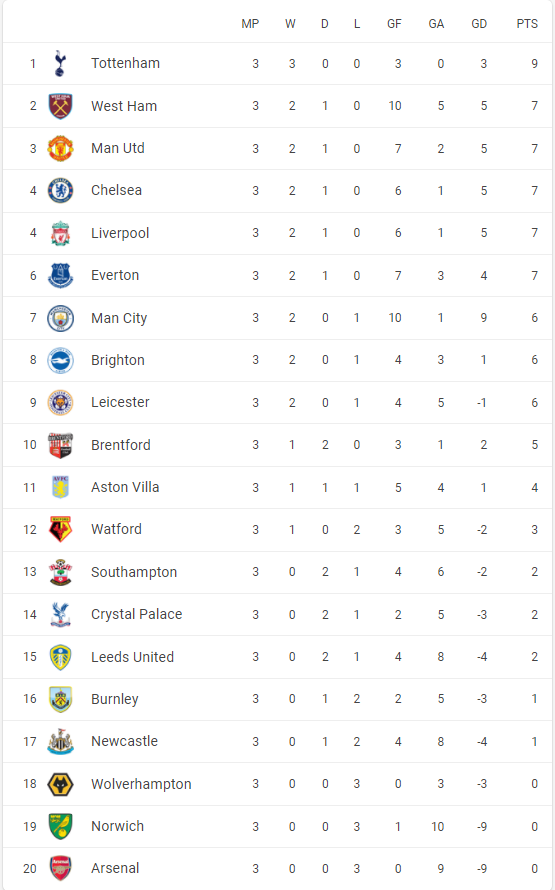 Manchester United have brought back one of the biggest players in the modern era. CR7 first announced himself on the world stage at Old Trafford back in 2003 and the rest was history. Lets see if his 36 year old legs can keep up with the pace of the Premier League week in and week out.
Firstly I would like to thank all FPL managers that are participating in this season #HIVE-FPL challenge and also thank you the people that participate in #EPL-Scorechallenge on a regular basis. You guys are amazing!
As it stands 'zion fc' is in first position on 217 points. The top 3 FPL teams are so close and I expect it to change throughout the season. I am still in the hunt for 'zion fc' as I need to know the HIVE username to transfer his rewards if he/she finishes in the top 3 position at the end of the season.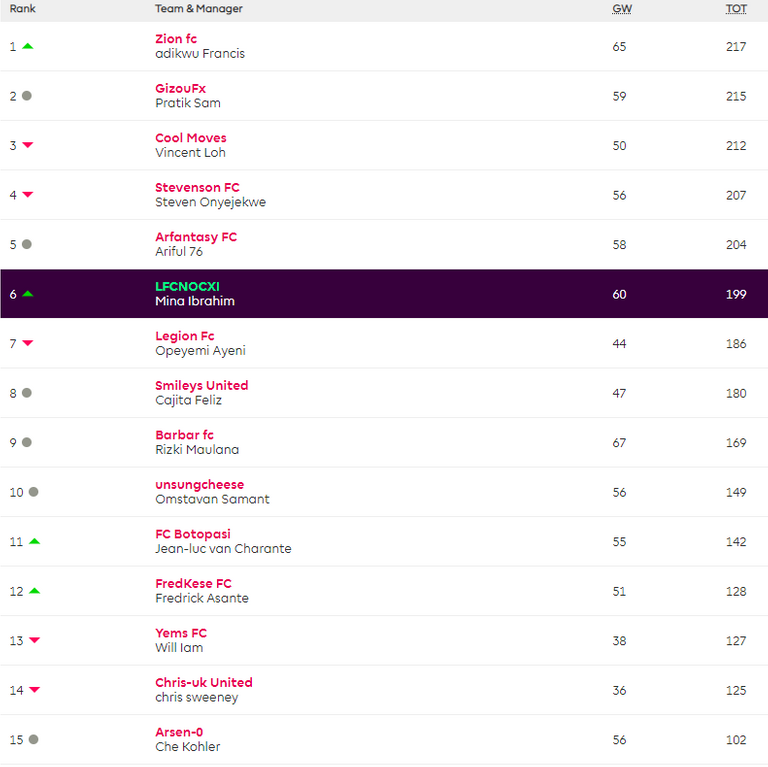 Congratulation to all that have won HIVEs in the weekly #EPL-Scorechallenge, So far 23 HIVEs have been given away so far and there is plenty to be won. Please subscribe to Football page and wait for the weekly review so you can comment your score outcome of the match.
Please 'zion fc' comment your HIVE username below
And also please tag a friend that would be interested in the weekly #EPL-Scorechallenge
Love to hear your thoughts about the start of the season. Are you excited to see CR7 back in the Premier League? Can Arsenal turn this around and finish in the Top half of the league?
Thanks for stopping by
@chekohler @chris-uk @fredkese @praz735u5 @stevenson7 @pratiksam @jeanlucsr @carita-feliz @koychev22 @lyubo19 @jaguarosky @mad-runner @girolamomarotta @giornalista @frafiomatale @spiceboyz @flashpointstudio @starstring @dexpartacus @scubahead @jaguarosky @geyzee @brittandjosie @richgaynor @rmsadkri @arsenal4life @B0s
#football #sportstalksocial #EPL-ScoreChallenge #HIVE-FPL #leofinance #challenge #competition #creativecoin #archon #qurator #curie
Thanks for stopping by :)
Social media: Instagram | Twitter | YouTube

---
---