Season 2 Progress
Hi All,
In continuation of my last post - I mentioned my change of strategy, I am finding it very difficult to crack rank 350 and below. The players have superior cards then me.
So i go on a 6 game loosing streak and my ranking blows to 800, then I go on a 4 game winning strake and in the same time I loose power because the rented cards get expired.

I guess I didnt think of the power situation before saying the bellow statement in my previous post;
Quote
I guess if I dont finish in pole position I can simpley press the advance button and jump to the GOLD league and get the extra 4 chest. To me this strategy is a win win... No brainer!
Not sure If I should rent 'GOLD' cards to get the extra 4 chest.
My daily quest was 'Water'. This splinter has grown on me as I found a way to win with it

I was so pleased with the rewards that I recived. As any 4 figure 'Dark Energy Crystals' are always welcomed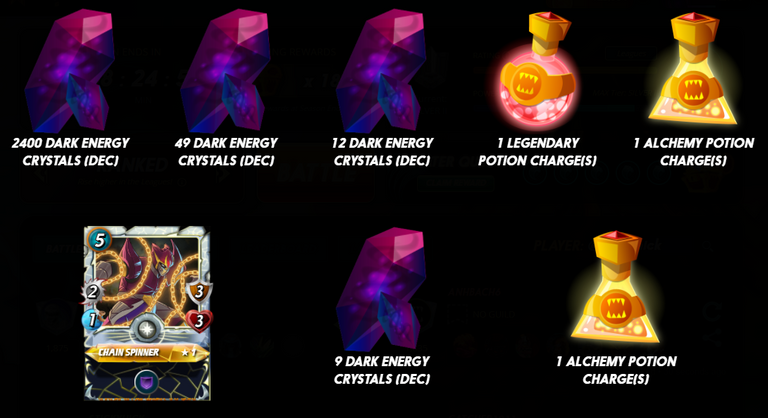 Can someone please link me the figure of the power calculation chart, as I will probebly rent a GOLD car to give me that extra power?
#splinterlands #spt #steemmonsters #hivegaming #archon #creativecoin #leofinance #curation #curangel #play2earn #GEMS #teamaustralia
Thanks for stopping by :)
Social media: Instagram | Twitter | YouTube

---
---