Power Up with a Single Card - Beginners/Bronze

Hi my friends 😃
When we start to play Splinterlands, several doubts arise during the learning process, I will be showing how to increase Power quickly by renting a single card, thus making it possible to go up to the next place.
Note that I have the necessary Rating for the Bronze I league but I don't have the necessary Power

Power increases with purchased or rented cards, for beginners the best way to get it is by renting, below is a table with how much Power the Alpha/Promo Edition GOLD cards provide.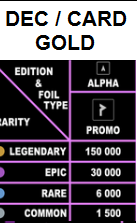 In the current case, I need 3860 Power to go up to Bronze 1, so a Rare card that gives me 6000 Power is enough.
Enter the Market, and choose the options: Alpha -Promo - Gold - Rare

Then filter the search by choosing the option Price ↑ , for cards with lower values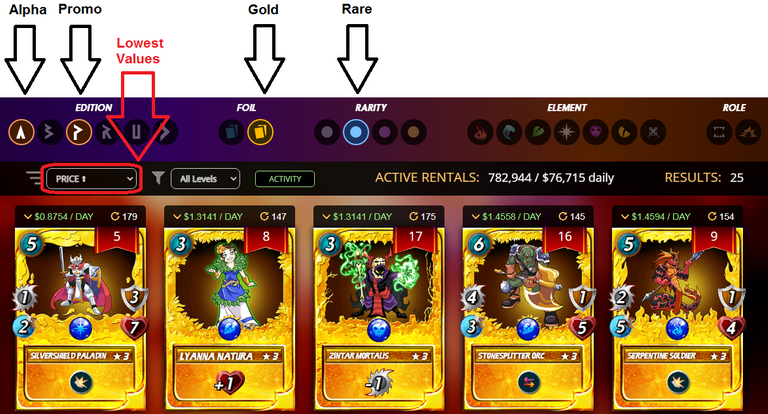 Os valores das cartas mudam em tempo real pois são alugadas e postadas a todo momento, por isso os valores frutuam e quanto mais pesquisar melhores valores irá conseguir. No nosso caso o melhor valor foi o Silvershield Paladin por 59.95 DEC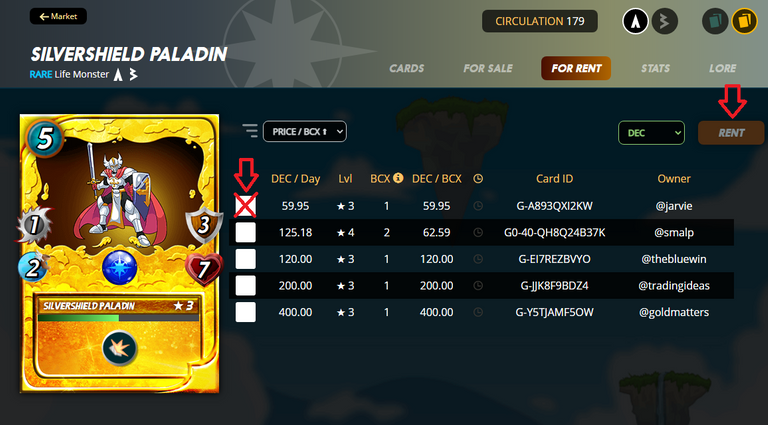 Check the box of the best value card, then RENT and confirm with Hive.

That's it, with a single leased card of approximately 60 DEC we got 6000 Power going up the league, remembering that this value is daily, so I recommend that you buy near the end of the Season or rent for more days to keep the League.
If you need to move up to the Silver league, for example, you can rent 2 Rare accumulating 12K of Power or 1 Epic 30k of Power, the important thing is to always follow the Market and organize your strategy and your DEC's.

---
---