SPLINTERLANDS - TALES FROM SILVER - DHAMPIR STALKER EDITION
Hello world and fellow Hivers
Another week has started and of course, the responsibilities are started with it but I did find some time at noon to play a couple of games of @splinterlands and be able to create a nice formation with this week's highlighted card Dhampir Stalker. As most of you already understood we are going to review another battle from my grind, so another episode of Tales from Silver is here. As always the initiative for this series is the Share your Battle Challenge from Splinterlands. So kick back relax and enjoy this week's post!

Review of the card

Well the card that we are going to review today is Dhampir Stalker, a Range Damage dealer of Death class. This card among others that we are reviewing from time to time is in the circle of the cards that anyone could play to Silver even at level 1. Whoever if you would like to play it at the maximum value I would recommend using it at least at level 4 when it gets +1 Attack damage or even at level 5 when it gets a new ability; Deathblow.

The Battle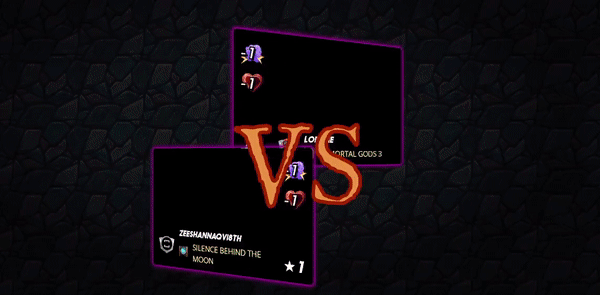 Ruleset

Noxious Fumes: All monsters start the battle poisoned.

The mana cap in this battle is 58 and we can play all the classes except Fire, Death, and Dragon.
Summoner Selection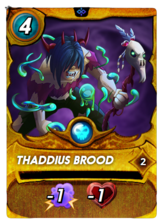 The summoner that I chose in this battle is Thaddius Brood at level 2. I believe that this summoner is ideal when you face the Noxious Fames ruleset because of the -1 Health disadvantage that gives to my opponent's formation and the -1 Magic Damage too. This could make my opponent's formation even more vulnerable both in the Offense and the defense sections and would increase my winning chances.

Teams' Formation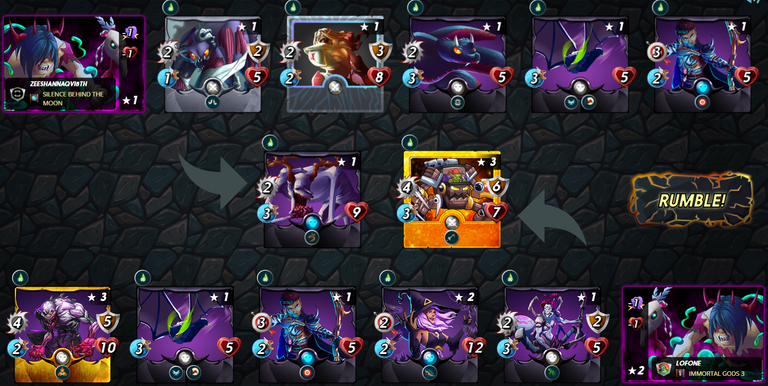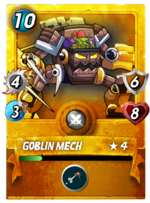 The first card that entered the battlefield for my formation was the Goblin Mech and this is going to be my main tank. Most of you that follow my posts regularly know that I really like this card for protecting my frontline and of course, a big factor for choosing it is the really great stats it has. Also, the ability of Piercing is very useful in some situations and as you would see in the video of the battle it helped in this situation too.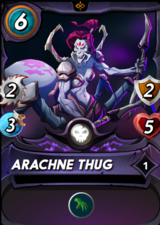 The second card that I placed in my formation was the Arachne Thug and the main reason for choosing it at this place was the ability it has "Reach". I really liked this card because it has pretty decent stats and more specifically I liked the Damage/Speed numbers. Also, another reason for using this card is that I wanted to put pressure on my opponent's frontline and this card works pretty well as a damage dealer.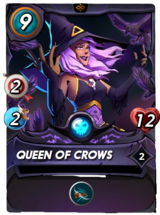 My third option for this battle was the Queen of Crows, you will remember this card from last week and to be honest, I really loved it and I will definitely going to use it more in the future. In this situation, I wanted the very high HP that it has and as you would see later it played a really critical role in the course of this matchup. I believe that it was really a game-changer in this specific battle. I highly recommend using it if you find yourself in similar situations.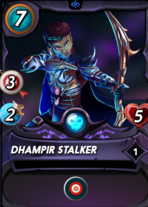 The fourth card that I chose to be in my formation was this week's highlighted card Dhampir Stalker. This card would be one of my main sources of damage in this battle and I would like to put even more pressure on my opponent's frontline with this card's high-range damage. It's a pretty solid option in situations like this because it might haven't too high HP but it has a pretty great amount of damage that could deal.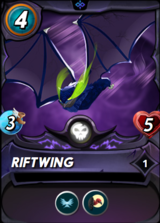 In the fifth place I placed the card Riftwing, a four mana drop monster from Death class with the ideal abilities. So the main reason I chose this card was the ability Scavenger, the thought behind it is pretty basic every time a monster would die this card would continue to gain HP, and in that way we should try to outlive our opponent. Highly recommend using this card in similar situations and especially when you face the Neoxian Fumes & Earthquake rulesets.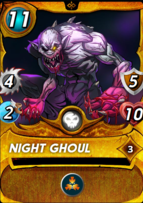 The last place of my formation was filled by this amazing card again, Night Ghoul. This card is the second card that I used in this battle and the reason that I use it here was that I wanted to stall my opponent's offense as much as possible in order to achieve break his frontline and give the Poison enough time to cripple his formation. I really love playing this card because it does huge work in situations like this.

Watch the Action!
Now you can see the battle below without having an account at Splinterlands! If you want to see the battle at the game, I will leave a link below! I hope you will enjoy the battle and if you have any questions or suggestions please leave a comment!
Here is also a link for the battle on the Splinterlands platform: LINK

Thank you for reading
Don't forget to leave your thoughts and questions in the comment section!

If you want to see more of my posts and take participate in future giveaways I am planning, you should follow me.

I will distribute some @lolztoken in the comments!

Also, you can check out the @thgaming community for more amazing content and rewards!

Make sure to stop by the @thealliance and their discord server, you will find plenty of help and many rewards waiting for you!

Images used in this post are owned and open-sourced by splinterlands.com

Thumbnail was made on canva.com

If you didn't join SPLINTERLANDS yet here is my referral link:
https://splinterlands.com?ref=lofone


---
---