Goblin Psychic: the Yin-Yang Magician || O Mago Yin-Yang [ En || PT-B]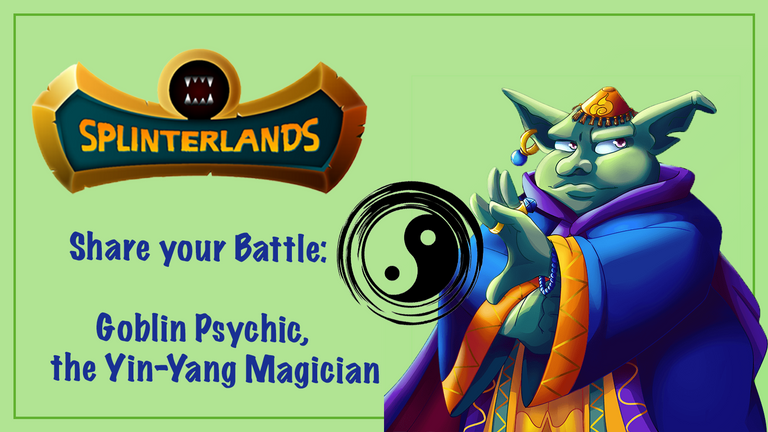 Hey, Splinterlanders! This is my post addressing the weekly "share your battle" challenge, with the amazing Chaos legion common monster Goblin Psychic.
This mage is powerful already at level 1, with the Tank Heal ability and two-point magic attack, which is perfectly synergistic with Earth's Chaos Legion rare summoner Obsidian (giving +1 magic attack to all monsters). At level four, it increases its health stats to 4 and displays the Affliction ability, which makes Goblin Psychic the Yin-Yang magician: it heals its team's tank (Yang power), while with affliction (often) avoids that an opponent's monster is healed (Yin power). Such powerful combination was key for my victory in the battle I'll share.
The battle had Equalizer and Fog of War ruleset with a 24 mana cap. I chose Obsidian because I have powerful low mana magic monsters on my deck. With Equalizer bringing health of all monster up to the highest health in the battle, zero-mana Fungus Fiend was my tank. Despite Fog of War removing the Sneak ability, I put Goblin Sorcerer second due to the two-point magic attack. Then two magic monsters with Tank Heal: some believe Wood Nymph is now obsolete with the appearance of Goblin Psychic, but instead, they work great together. Queen Mycela to protec everyone with 2-point armour and Djinn Biljka to close the line up.
(https://www.splintercards.com/abilities.php?ab=29).
Ei, Splinterlanders! Este é o meu post abordando o desafio semanal "compartilhe sua batalha", com o incrível monstro comum da Legião do Caos Goblin Psychic.
Este mago já é poderoso no nível 1, com a habilidade Tank Heal e ataque mágico de dois pontos, que é perfeitamente sinérgico com a Legião do Caos da Terra invocador raro Obsidian (dando +1 de ataque mágico a todos os monstros). No nível quatro, ele aumenta suas estatísticas de saúde para 4 e exibe a habilidade Affliction, o que torna Goblin Psychic o [Yin-Yang](https ://en.wikipedia.org/wiki/Yin_and_yang) mago: cura o tanque de sua equipe (poder Yang), enquanto com aflição (muitas vezes) evita que um monstro do oponente seja curado (poder Yin). Essa combinação poderosa foi fundamental para minha vitória na batalha que compartilharei.
A batalha teve Equalizer e Fog of War conjunto de regras com um limite de 24 mana. Escolhi Obsidian porque tenho poderosos monstros mágicos de baixa mana no meu deck. Com Equalizer trazendo a saúde de todos os monstros para a saúde mais alta na batalha, zero-mana Fungus Fiend era meu tanque. Apesar de Fog of War remover a habilidade Sneak, coloquei Goblin Sorcerer em segundo devido ao ataque mágico de dois pontos. Em seguida, dois monstros mágicos com Tank Heal: alguns acreditam que [Wood Nymph] (https://www.splintercards.com/reward-wood-nymph) agora está obsoleto com a aparência de Goblin Psychic, mas em vez disso, eles funcionam muito bem juntos. Queen Mycela para proteger todos com armadura de 2 pontos e Djinn Biljka para fechar a linha.
(https://www.splintercards.com/abilities.php?ab=29).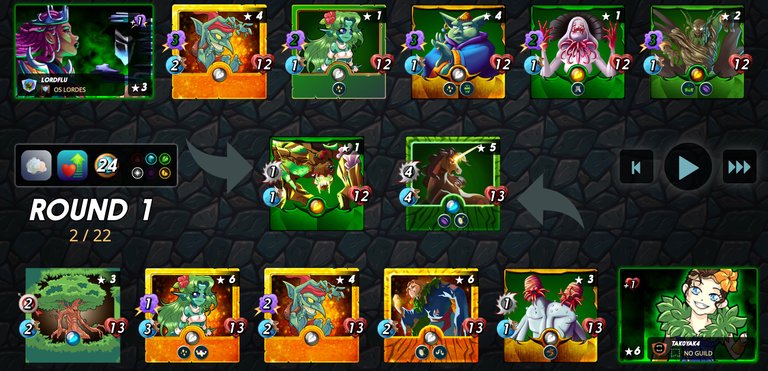 My opponent picked Earth summoner Lyanna Natura at level six, granting one extra health to powerful monsters that she summoned at higher levels, including a level 5 Unicorn Mustang with Magic Reflect and also a level 6 Wood Nymph that made all their monsters even stronger (another health point).
Meu oponente escolheu a invocadora do elemento Terra Lyanna Natura no nível seis, concedendo uma saúde extra aos monstros poderosos que ela convocou em níveis também mais altos, incluindo um Unicorn Mustang de nível 5 com Magic Reflect e também uma Wood Nymph de nível 6 que fez todos os seus monstros ainda mais fortes (outro ponto de saúde).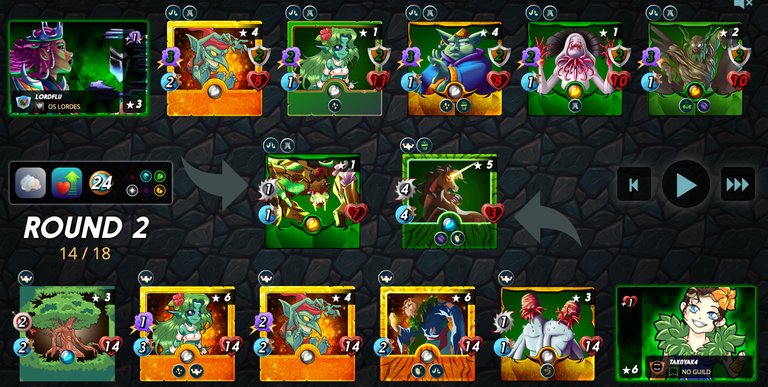 Despite all this power, what prevailed was the Yang synergy of the Nymph and the Psychic, and the Yin power of the Chaos Legion mage, who afflicted Unicorn Mustang in round 2. Not capable of being healed, the fast tank soon succumbed, followed by all the opponent's monsters in the line up. The battle ended in round 8, with Fungus Fiend's health fully recharged by Nymph and Psychic.
Apesar de todo esse poder, o que prevaleceu foi a sinergia Yang da Nymph e do Psychic, e o poder Yin do mago da Legião do Caos, que afligiu o Unicórnio Mustang no round 2. Incapaz de ser curado, o tanque veloz logo sucumbiu, seguido por todos os monstros do oponente na formação. A batalha terminou no round 8, com a saúde de Fungus Fiend totalmente recarregada por Nymph e Psychic.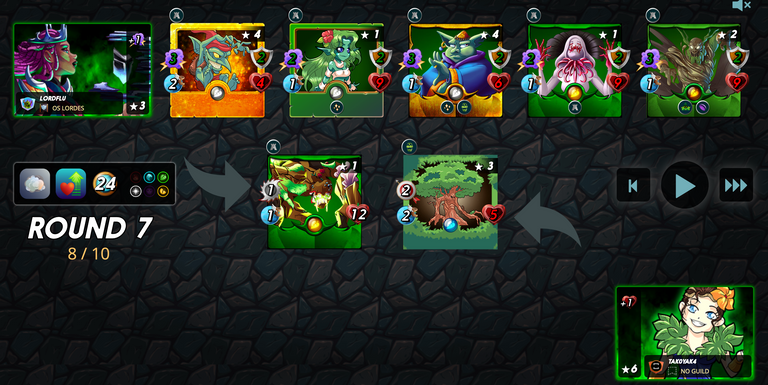 Check out the battle here.
Confira a batalha aqui.

And if you are not playing Splinterlands, you're missing out the best play-to-earn game you can find. Check it out with my referral: https://splinterlands.com?ref=lordflu
E se você não está jogando Splinterlands, está perdendo o melhor jogo de jogar para ganhar que pode encontrar. Confira com minha indicação: https://splinterlands.com?ref=lordflu
---
---