Antoid Platoon: Working with Dragons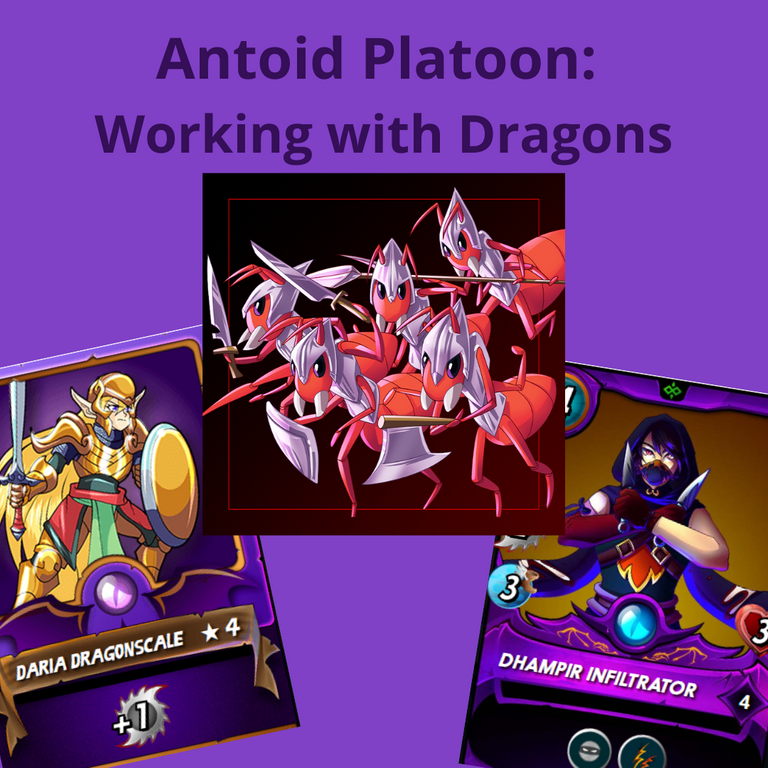 I love Splinterlands - there's a lot to it, and one of those 'things' is finding good combinations, and in turn, great combinations. Usually this is easy enough to do when all your cards are in the same splinter - it certainly limits choice! But recently I started playing a number of battles where I led my DRAGONS into battle with the ANTOID PLATOON - recognising that this TANK works well in low mana battes - especially when paired with a strong melee attack! In today's battle then, what I'd like to do is look at how the ANTOID PLATOON can become a defensive TANK who supports an offensive coming from the rear lines.
Before we get underway, however, let's deep dive into the ANTOID PLATOON.
Looking at his stats, you'll notice:
4 Mana - a pretty cheap TANK, in fact, the cheapest in the game. This is worth thinking about because it allows you to get aggressive behind this guy.
2 Melee Attack - my Antoid Platoon is Level 4, and that means he plays with 2 melee attack. This is a great base for him to hit from, and with the right summoner, you can push him up to +3.
+2 Speed - pretty average for a tank.
+1 Armour - this is pretty low for a tank, but, it's still useful armour, you will be able to cheaply block your opponent's attack - and that will work to frustrate him!
+4 Health - again, not great, but not bad for a 4 mana card. This card will be vulnerable to a magic attack, so be mindful of what your opponent might play.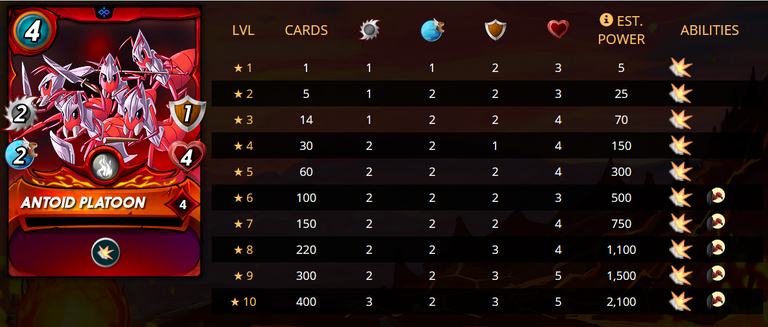 So overall, you could say that this card is probably one of the weakest tanks in the game, and would never be played, except that his mana cost is so low. But what makes this guy really amazing is his SKILLS. You see, he has the SHIELD skill which means that he will take reduced damage from melee and archer attacks. This in turn means while the card says 4 health, he'll actually end up taking a lot more attack to knock him over - and it's that longevity that makes this card absolutely fantastic to have in your team!
From a #leofinance perspective then, you'd be pleased to see that this card is largely quite affordable. The card is part of the CHAOS LEGION series, which means that his print run is currently not finished. At present around 164,000 cards have been printed - and you'd expect his final print count to be under 400,000. That will make this card pretty short on supply, as you need 400 to MAX the card out. This means you would expect no more than 10,000 of this card to be available at MAX Level. At the moment, one card will set you back 6.1 cents, and in return, you'll earn 5 card power. However, this seems like the card price is holding up well. The card can be played as a single, but really, to gain the stat boost you need this guy Level 4, which will require a minimum of 30 combined cards. This means that there is likely to be consistent demand from buyers leveling this card up, so you could expect the price shouldn't go lower than 6 cents and will likely provide price growth into the future.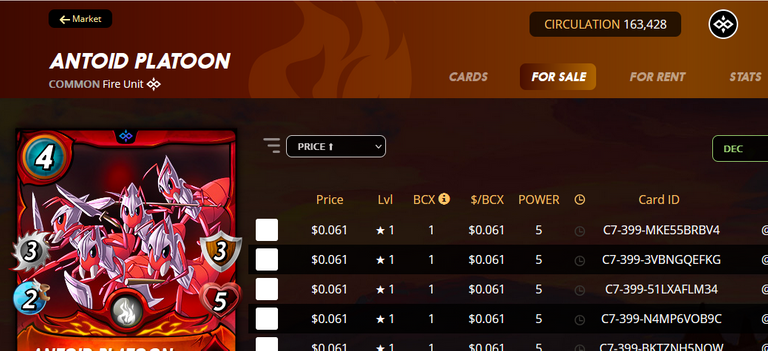 So, armed with the intent to put ANTOID PLATOON on the battle field, all I needed to do was find the right ruleset. My focus today was DRAGONS, so I was looking for a LOW MANA battle to see the synergies with this guy and my dragon line-up. This is the ruleset I found. The exciting this about this ruleset is that it limits the mana line-up to a maximum of 12, but it also looks to silence my summoner bonuses. This is a bit frustrating as it robs my attacking strength, but it's certainly not going to stop me from coming up with a strong melee attack.

And to do that, I find two of my favourite dragons, and these cards will be fleshing out my line-up.
Daria Dragonscale
I love plying this summoner, the reason is that he gives everyone on your deck +1 melee. That's huge, and it will allow me to play some really aggressive teams. In this battle he won't have an impact given the summoner is silenced, however, I needed to play him in order to allow my Level 4 Dhampir Infiltrator to take the field.
Dhampir Infiltrator
This is also one of my favourite dragons because he can rip through a rear line like crazy. You see, he has the SNEAK ability, which means he will be attacking the back-line before the tank, but he also has the DOUBLE STRIKE ability, which means he gets to hit TWICE every round. This is key to the strategy as he will be seeking to knock down cards each round, taking armour and then health - or, multiple cards without health.
Scorch Fiend
To follow my DRAGONS, I throw in the SCORCH FIEND at the back of my line-up. The FIEND is a 0 mana card, and I play it as a meat-shield. You see, if my opponent plays a SNEAK attack, it will hit my FIEND and not my INFILTRATOR.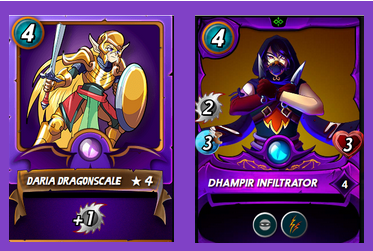 With the ruleset and line-up sorted. Let's take a look at the battle! You can see, this one is interesting right from the start. You see, my opponent has played the mighty SEA MONSTER, who has some significant attack at +5 melee, but it's his HEAL ability which will make this card so dangerous. Straight away, you can see that my DHAMPIR INFILTRATOR will be able to quickly take out my opponent's FIEND, and then it will work in parternship with the ANTOID PLATOON to work on the SEA MONSTER. Having a card with SHIELD is a necessity out front in this battle as a way of minimising my opponent's high attack.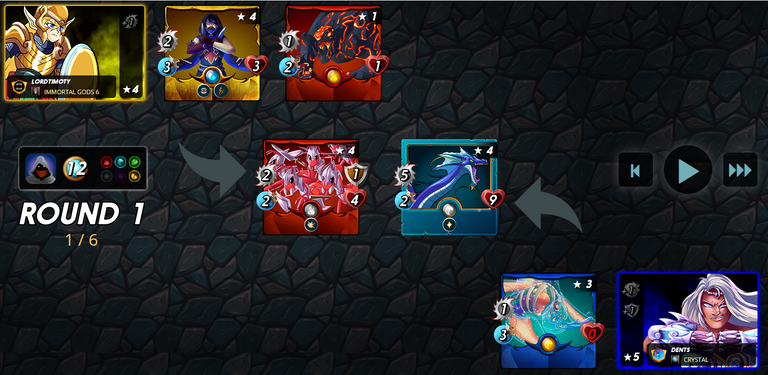 As Round 1 plays out, it was all about getting my offensive DHAMPIR INFILTRATOR into the right position. He did this by using one of his hits to drop my opponent's FIEND, and a second to hit the SEA MONSTER. The SEA MONSTER, in turn, only took the +1 armour from my ANTOID PLATOON, and my tank took +2 from the SEA MONSTER, who of course gained +2 from his health.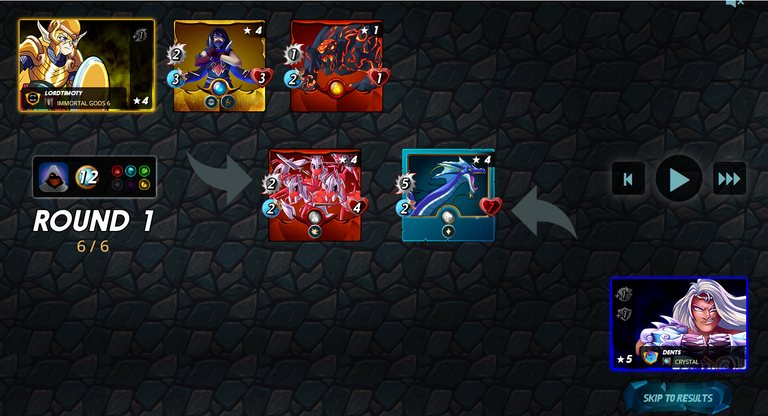 Throughout Round 2 then, you can see that my success was my ability to continue to attack my opponent's SEA MONSTER. He of course hit my tank, but my ANTOID PLATOON's SHIELD kept him alive, dropping the +5 attack down to +3. This meant that in total I hit my opponent for +6 melee, but he re-gained +3 through his health. He also hit me for +3 attack, meaning we both took 3 health off each other in this battle.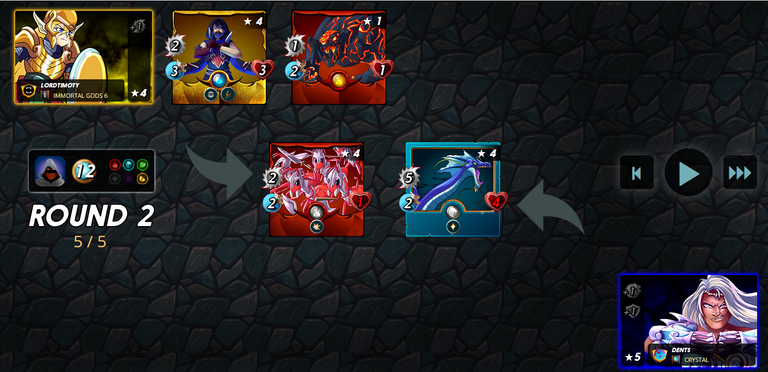 And then it was a pretty unspectacular final round. My ANTOID PLATOON stood strong in the TANK position, and from behind him, my DHAMPIR INFILTRATOR hit once to take +2 health, and then used his DOUBLE STRIKE to take the final health from the SEA MONSTER and bring the battle to its conclusion.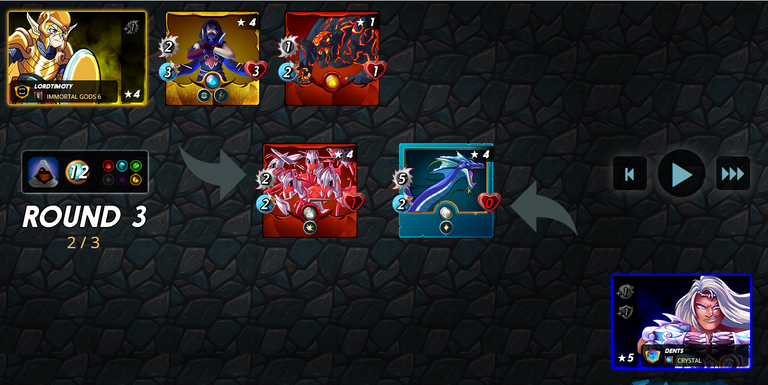 Evaluation:
This battle was interesting and showed two different approaches. My approach was to SHIELD damage and use my back line aggressively. My opponent's strategy was to HEAL himself out of danger. I prefer the SHIELD approach!
The ANTOID PLATOON is a great card to put out front, because despite his low stats, he is able to achieve longevity in a battle as a consequence of his skills, he is also a significant attacking asset that you have to fear.
The ANTOID PLATOON worked perfectly with the DRAGON line-up because the DRAGONS usually focus on strong melee attacks, and this is the kind of line-up that the ANTOID PLATOON synergies well with in FIRE, so it makes sense that this would work across SPLINTERS.
I only own 31 of this card, I really need to continue to push his level higher in order to be able to buy now at a good price, rather than delay and be a victim of supply and demand!
And, for those who love a full replay, here's the battle link:
https://splinterlands.com/?p=battle&id=sl_319e55336df6b995482870ed087be3e8

Don't forget, you can click here and sign up with my affiliate link.
#splinterlands #spt #play2earn
#oneup #hivegaming #battle #leofinance
#pimp #neoxian #archon #palnet
#proofofbrain #thgaming
#leofinance #battle
---
---