Soul Stranger: A perfect weapon in the LITTLE LEAGUE ruleset?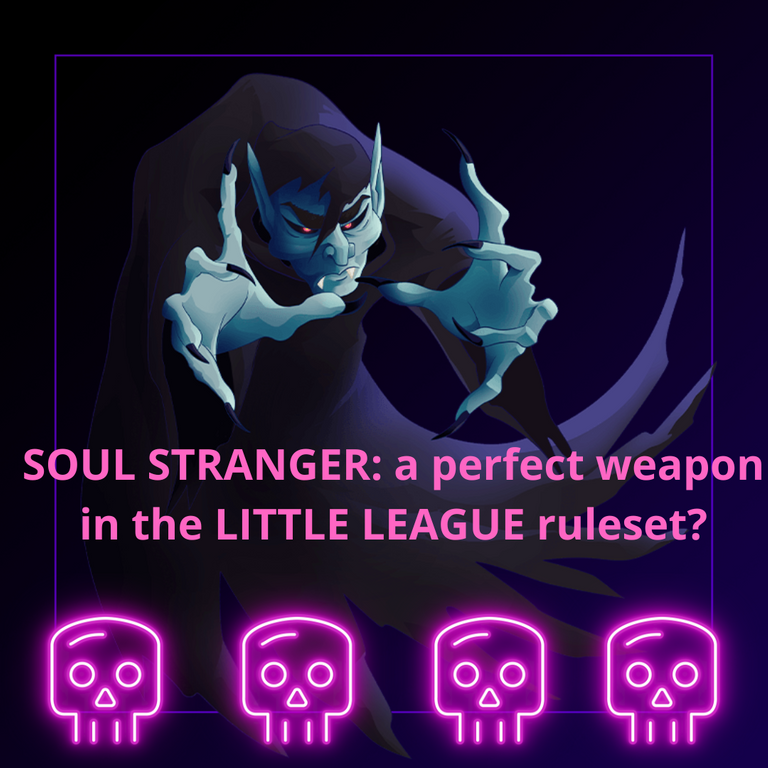 I think we need to talk about the SOUL STRANGER. It's a great little card, but also a card that is so very often overlooked. I think this is probably because the DEATH SPLINTER as a whole isn't particularly popular - but that doesn't mean there arn't gems hiding in its deathly caverns.
Join me as we investigate one of the best low mana cards in the game!
My SOUL STRANGER is currently sitting Level 3 in the GOLD FOIL edition. The card is pretty stacked for a 3 MANA card - you'll notice it has +3 arrow attack and +2 boots. This means the card will attack usually mid-round in the battle, but when it does it will pack a punch - particularly relative to it's 3 MANA cost. That said, this card is vulnerable with only 2 health and no armour - this means you need to be aware of SNEAK or OPPORTUNITY attacks, which might drop this card from the battle before it even gets off a single hit!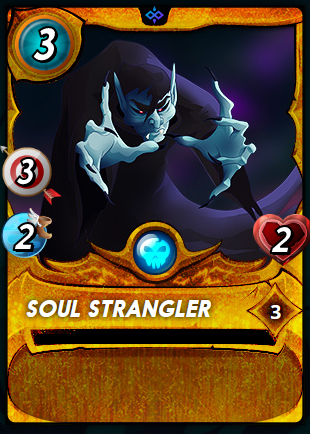 For some additional perspective, it's worth looking at this card's stats in full - and it's interesting discovery. I have a Level 5 Thaddeus summoner, so potentially I could play this RARE card at Level 5. If I did this the card would enjoy a +1 boost to his speed and health, and that holds the potential of making this card more likely to survive an attack: note to self, upgrade this little guy. Of course, the dream would be to have him at Level 8 and with the ability to POISON an opponent. I love the POISON skill, but I'm not ready to take on the DIAMOND LEAGUE, so this guy's PUNCH will have to wait!

From the point of view of the market, for a RARE GOLD FOIL, this card is well priced at $2.10. The market for cards has been a bit low at the moment, and this will likely put price pressure on this card in the short term. That said, you will likely find this card to be good value in the future, particularly once all the CHAOS LEGION packs have been sold. That may take a couple of months, but at least there will be an end in sight soon - particularly as SPLINTERLANDS has just announced their next LEGENDARY SUMMONER airdrop! This card would be worth leveling up though, because it gets a better recent as a higher level card.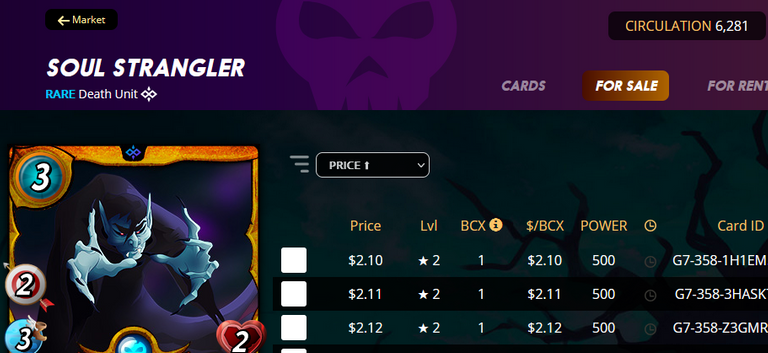 It made me wonder then, how would this card really shine? And I think the answer lies in the LITTLE LEAGUE RULESET:
In this battle, it also plays REVERSE SPEED, which means that your monsters are cappped at 4 mana, and the slowest in the team goes first. Now, with a RULESET like this, I'd 99% of the time pick EARTH and play an OBSIDIAN team, since most of the EARTH magic hitters are 1 speed - but, I thought I'd play the SOUL STRANGER team to try and get an idea of whethere there was decent strategy in going down this path in the future. There was - and the battle I had was a real eye opener, given my opponent basically played the team I would likely have played myself.

Here's how the battle open. Let's do the evaluation:
My Team:
Thaddeus - this is a pretty useful card for the 4 mana ruleset. Largely because low mana cards have low health, and with his -1 health effect, it will make my opponent's more vulnerable to a quick death. The -1 magic is also helpful to balance out my opponent's +1 magic. In that sense, all advantages are neutralized, but I gain the health advantage.
Tank: RIFTWING - This guy is out the front because of his high health. I found I don't have a great tank for a low mana death battle, but I just need to get my back-end alive to do damage, and 6 health is a great meat-shield.
Off-tank: Shadow Snitch - This little guy is a good off-tank because he can REACH around and use his 1 melee damage. His biggest advantage in my team is again +6 health, which will give me a 12 health buffer before my danger cards are exposed.
Strategic back-line: I play the REVEALER next, his +2 magic damage will be powerful in this ruleset, but also, he has the stun ability. This is great as it will stop your opponent's tank from attacking - making it hard to get through your health shields. I then slide VENARI BONESMITH into my mix. He's a solid card because he makes use of the POISON ability. If this sticks, he will be doing an additional +2 poison damage per round, which will help rip through my opponent's team. The strategy is then developed with my URAEUS, who also makes use of POISON. While the VENARI BONESMITH will be poisoning at the front, the URAEUS will poison from the back. His +2 melee also has the ability to potentially SNEAK around and knock out an opponent's rear guard quickly.
Back-line Offense: Here, I play the SOUL STRANGER. His +3 arrows are going to make him the most powerful monster in this battle and it means when he attacks, he will be doing signficant damage. 4 of my opponent's six monsters have less than 3 health - this sets him up as a beast who could quite easily drop them in one hit!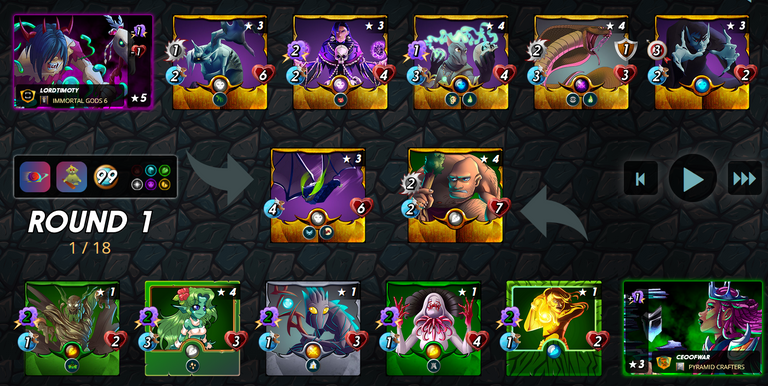 End of Round 1:
At this point in the battle, I thought I was in trouble, as my progress had been limited. I had taken the SHIELD off my opponent's HILL GIANT and the healer WOOD NYMPH, and I had put his HILL GIANT in STUN - but, on the other side of this puzzle, my opponent had taken most of my health shields out front. This was not looking positive!
The SOUL STRANGER wasn't super potent this round, as his +3 arrows only took +1 armour from the HILL GIANT.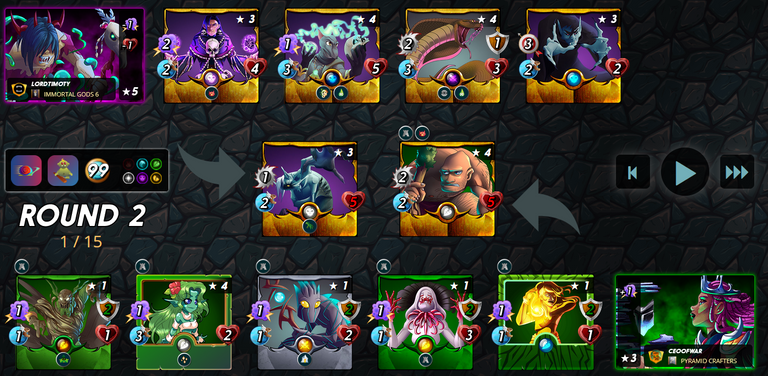 End of Round 2:
And then all my fortunes just seemed to change. You see, I was able to knock out his WOOD NYMPH early in the round, and then my SHADOW SNITCH was not hit by the HILL GIANT who was in STUN - that left him the ability to use his +1 melee to get the HILL GIANT down, and it brought the KHMER PRINCESS to the tank position, where VENARI BONESMITH's +1 magic was enough to take his +1 health. And all of a sudden, this battle was in a completely different position!
This round, without armour, the SOUL STRANGER took a full +3 health from the HILL GIANT.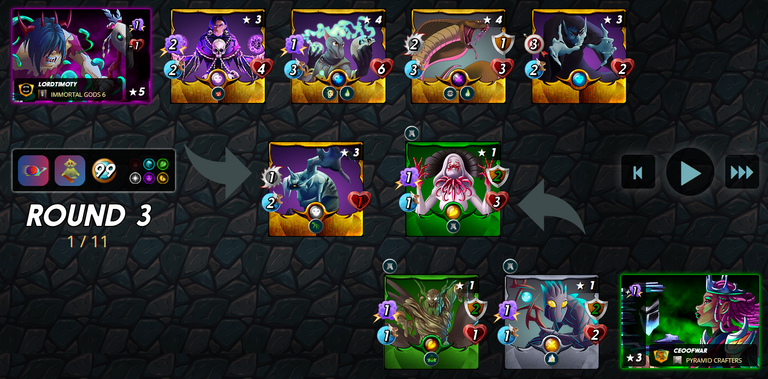 End of Round 3:
In Round 3, my opponent was able to take my SHADOW SNITCH's last health and promote my REVEALER to the tank position. He was able to damage my REVEALER and take half his health, but in turn, I was able to drop my opponent's QUEEN MYCELIA. In the back-ground, you'll also notice that the VENARI BONESMITH's LIFELEECH has been working overtime, and he's up up 7 HEALTH. This means if he gets promoted to the TANK position, he'll be near impossible to get down.
Again in this round, the SOUL STRANGER only found armour when he hit the QUEEN MYCELIA, and the QUEEN then lost her health to magic attackers.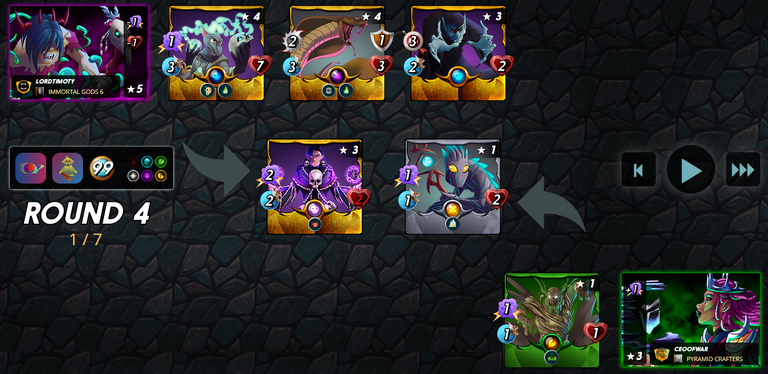 End of Round 4:
And then in Round 4, my REVEALER was killed - promoting the VENARI BONESMITH to the front line. It was from there that my team attacked - and I was able to discard his SHADOW HOARDER and DJINN pretty quickly as they both had low health. The SOUL STRANGER, in the end, was an absolute beast - finishing off the DJINN and getting the final scalp of this battle.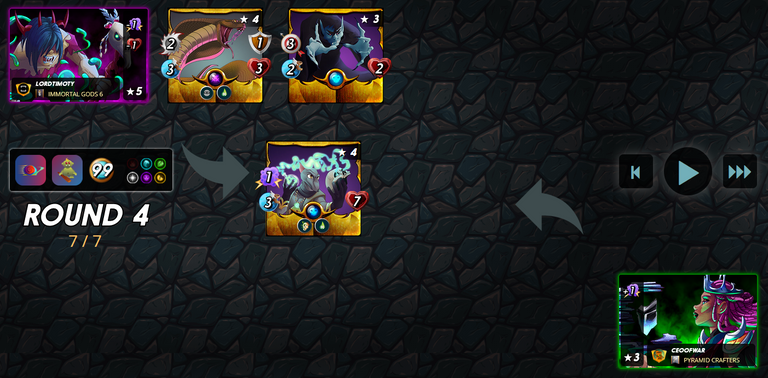 Want to re-live the battle live? Here's the battle link: https://splinterlands.com/?p=battle&id=sl_d16a097ac5d8f0ddbe984dfd30a2c710
OR, Let's check out the video below:
Evaluation:
The SOUL STRANGER is, no doubt, a good card - but in this battle he didn't shine. This was largely my fault, as I paired him with an all magic attack - while the SOUL STRANGER took ARMOUR, the rest of my team didn't care as they were hitting with magic. What this meant was that the SOUL STRANGER was one of my least effective cards in this battle.
That said, this was because I didn't create any synergies with the card - I was focused on a POISON attack, and a STUN approach and using my MAGIC ATTACKERS in unison, that the SOUL STRANGER really was a tag-along at the end of my line-up. If I wanted to use him more effectively, I'd need to put him in a team with other ARCHERS and melee attackers, as this would allow the entire team to work with the same objective.
At just over $2 for a GOLD FOIL edition of this card, I still think that this is a bargain and would recommend everyone look to invest into this card. The other key advantage of GOLD FOIL cards is that they give you increased rSHARES for winning, so that's a great way to maximise daily rewards!

Don't forget, you can click here and sign up with my affiliate link.
#splinterlands #spt #play2earn
#oneup #hivegaming #battle #leofinance
#pimp #neoxian #archon #palnet
#proofofbrain #thgaming
#leofinance #battle
---
---