Lord of Fire Simpsons Style
---
Hi guys Lorentm is back with another great art post, as you know we are one day away from Halloween and as a prelude to this date, I wanted to design another character with this theme, something really original and different, as you know I usually make designs with similar characteristics when combining the ideas, this helps a lot when adapting the characters, this time I wanted to choose characters that were not similar, without thinking much I decided to take Otto from the simpsons, as I had never used him and from splinterlands to the letter Lord of Fire, from these designs began the work.
In this drawing I was a little complicated the design mainly in the structure of the Lord's head as it has two pairs of eyes, in addition to the horns, first I started with simulating the body and one of the characteristic poses of Otto, from the base figure I was modifying some elements, such as the head, clothing and legs. In his face I wanted him to look as much like Otto as possible, I kept the shape of his eyes, the mouth and the disheveled hair style, I had thought of placing the headphones, but it was very out of tune with the final design, so I gave up that idea, as for the setting, I simulated one of the residential streets of Springfield, apart from the bus that he usually drives, all this covered in an infernal environment surrounded by flames, it was a design that I loved to make was a challenge for me, I hope you like them as much as I do 😊.
Hola chicos Lorentm esta de vuelta con otro grandioso post de arte, como saben ya estamos a un día de Halloween y como antesala a esta fecha, quise diseñar otro personaje con esta temática, algo realmente original y diferente, como sabrán suelo realizar diseños con características similares a la hora de combinar las ideas, esto ayuda mucho a la hora de adaptar los personajes, esta vez quise elegir personajes que no fuesen similares, sin pensarlo mucho decidi tomar a Otto de los simpsons, ya que nunca lo había usado y por parte de splinterlands a la carta de Lord of Fire, a partir de estos diseños empezó el trabajo.
En este dibujo se me complicó un poco el diseño principalmente en la estructura de la cabeza del Lord ya que posee dos pares de ojos, además de los cuernos, primeramente empecé con simular el cuerpo y una de las poses características de Otto, a partir de la figura base fui modificando algunos elementos, como la cabeza, vestimenta y las piernas. En su rostro quise que se pareciera lo más posible a Otto, mantuve la forma de sus ojos, la boca y el estilo de cabello desaliñado, se me había ocurrido colocarle los auriculares, pero desentonaba mucho con el diseño final, así que desistí de esa idea, en cuanto a la ambientación, simulé una de las calles residenciales deSpringfield, a parte del bus que él suele conducir, todo esto cubierto en un ambiente infiérnal rodeado de llamas, fue un diseño que me encantó realizar fue un reto para mi, espero que les gusten tanto como o a mi 😊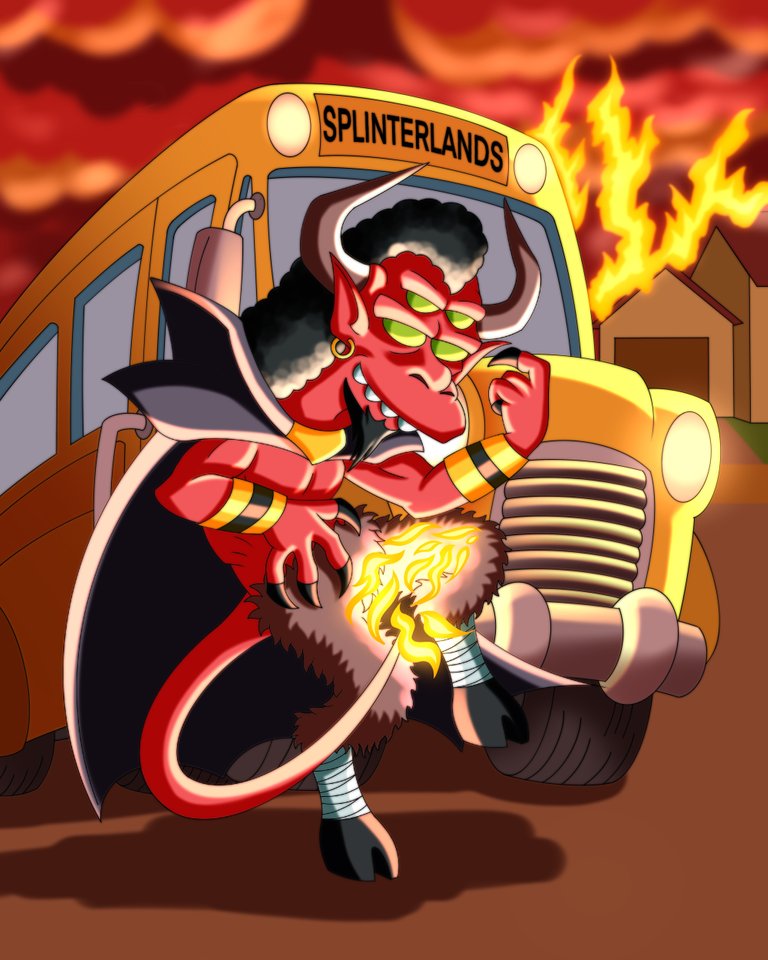 Only the bravest summoners of the Burning Lands have the skills necessary to summon the King of the Fire Demons. Known as the Lord of Fire, he is said to spend his time lounging in his underlava palace in one of the great molten schisms of the Burning Lands. The Lord of Fire cares little for the activity of his Fire Demons, but whenever his rule is challenged, he is quick to prove his power to his underlings. He controls fire as a sculptor works clay and scoffs at shields and armor. The Lord of Fire can simply burn you from within.
Sólo los invocadores más valientes de las Tierras Ardientes tienen las habilidades necesarias para invocar al Rey de los Demonios de Fuego. Conocido como el Señor del Fuego, se dice que pasa su tiempo descansando en su palacio bajo lava en uno de los grandes cismas fundidos de las Tierras Ardientes. El Señor del Fuego se preocupa poco por la actividad de sus Demonios del Fuego, pero siempre que su gobierno es desafiado, se apresura a demostrar su poder a sus subordinados. Controla el fuego como un escultor trabaja la arcilla y se burla de los escudos y las armaduras. El Señor del Fuego puede simplemente quemarte desde dentro.
---
Process / Proceso





---
Layer Technique Breakdown
---
Materials / Materiales
The tools I used for the drawing were the following:
Android tablet.
Capacitive pen (Stylus).
Ibis Paint X program.
Brushes: Pencil, Airbrush, Fuzzy, Marker.
Las herramientas que use para el dibujo fueron las siguientes:

Tableta Android.
Lápiz Capacitivo (Stylus).
Programa Ibis Paint X.
Pinceles: Lapiz, Aerografo, Difumino, Rotulador.
Reference / Referencia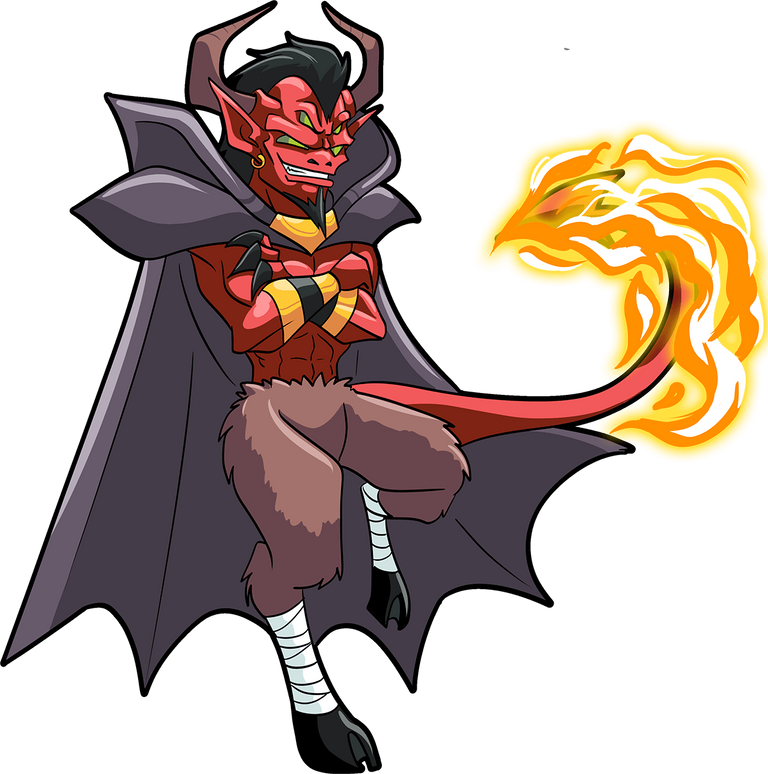 Reference link / Link de referencia
---
Thanks for reading and getting here, see you in the next post.
Gracias por leer y llegar hasta aqui, nos vemos en el siguiente post.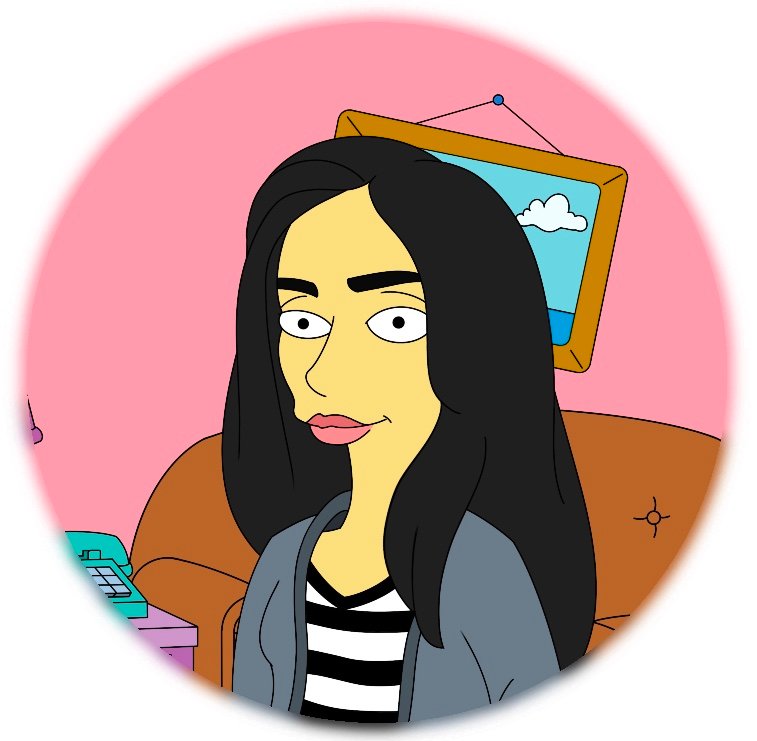 Discipline is the power of all professionalism.
La disciplina es el poder de todo profesionalismo.
---
---
---