SHARE YOUR BATTLE Weekly Challenge! MYCELIC SLIPSPAWN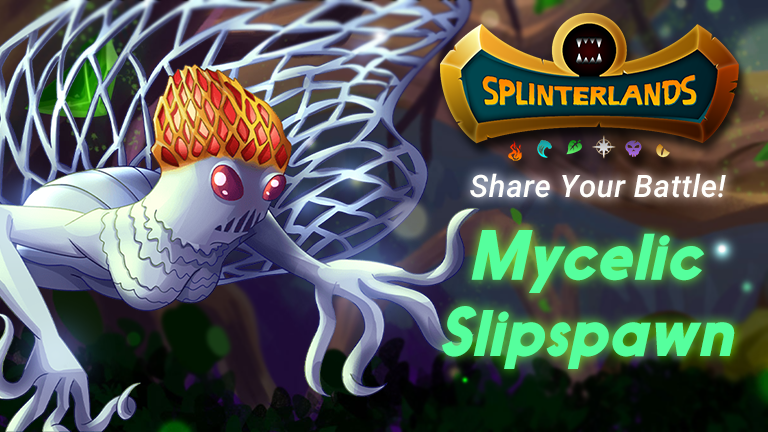 Edition: CHAOS LEGION
Rarity: RARE
Element: EARTH
Attack: MAGIC
Abilities:





Ruleset and line-up:


Equalizer - The initial health of all Monsters is equal to that of the Monster on either team with the highest base Health
Holy Protection - All Monsters have the Divine Shield ability
Mana Cap of 44.
Available Splinters - Fire, Water, Earth, Life, Death and Dragon
My Team:
Summoner: Obsidian(+1 to all Magic damage)
1. Grund - Melee Damage Dealer with the Double Strike ability
2. Wood Nymph - Magic Damage Dealer with the Tank Heal ability
3. Mushroom Seer - Magic Damage Dealer with the Silence ability
4. Goblin Psychic - Magic Damage Dealer with the Tank Heal ability
5. Katrelba Gobson - Melee Damage Dealer with the Bloodlust, Sneak and Double Strike ability
6. Mycelic Slipspawn - Magic Damage Dealer with the Taunt ability
Strategy:
I decided my strategy mainly because of the rulesets. The Holy Protection ruleset made me choose Monster that can attack from all positions and as a bonus maybe even twice per round, to get rid of the Divine Shield as fast as possible. Because of the Equalizer Ruleset I decided to use two Monsters with the Tank Heal ability. I chose a 11 HP Monster myself, so I knew they would heal for quite a bit every time.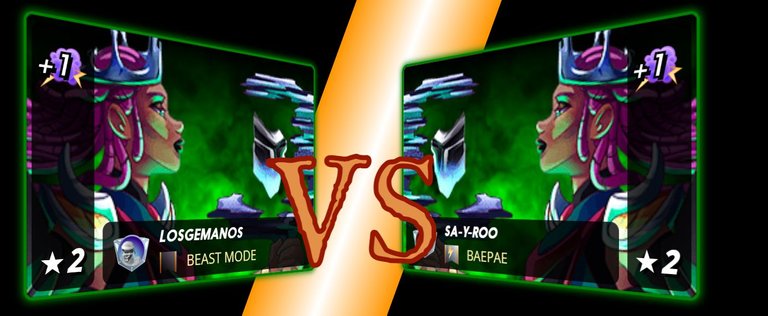 Position 1 - Grund:
Great Frontline damage dealer with up to 6 damage/ round at this level. Combined with the Slipspawn in the back it is also certain that he will survive at least the first round.
Position 2 - Wood Nymph:
Normally I wouldn't place the Nymph in position 2, but because of the Equalizer ruleset this one is as tanky as all other Monsters and does the least damage.
Position 3 - Mushroom Seer:
Has the important Silence ability to keep a magic teams damage low enough to maybe be able to outheal it.
Position 4 - Goblin Psychic:
Has 1 more damage compared to the Wood Nymph, that is the reason I placed it farther in the back.
Position 5 - Katrelba Gobson:
Comes with 3 abilities at level 1 and as most Gladiator cards with the potential to be a game changer in case it manages to the killing blows and getting buffed each time.
Position 6 - Mycelic Slipspawn:
The Taunt tank in the back, to give the Monsters in the front (especially Grund) some time to dish out some damage without having to worry about too much incoming damage in the first rounds.
Round 1:
My opponent went with a 2 Heal strategy as well, but instead of 2 Tank Heals it is 1 Tank Heal and 1 Triage. Both teams attack the taunt target at because of the Triage it seems the opponent does more damage.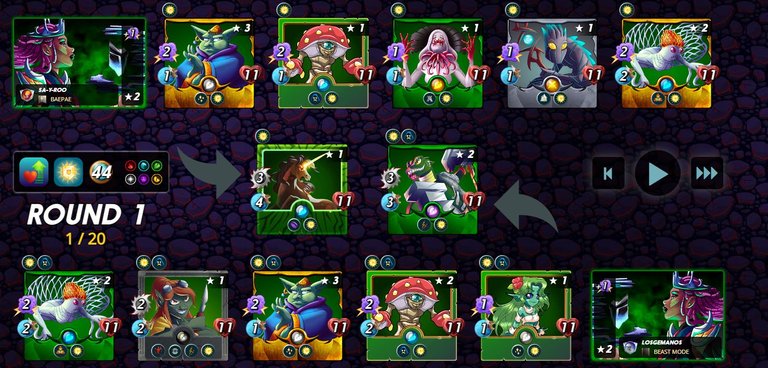 Round 2:
Both tanks go down, and luckily my Gladiator-Monster gets the killing blow and gains 2 more damage because of Bloodlust and Double Strike. My damage output is far greater now, but Katrelba Gobson always has to destroy Queen Mycelia's shields before hurting the Monsters.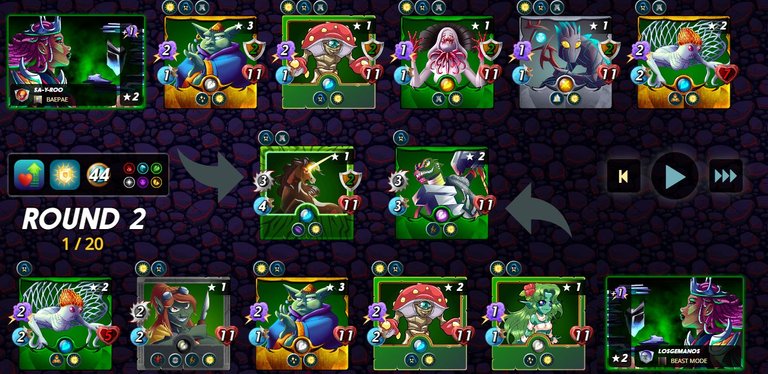 Round 3:
Grund has to take all of the the opponents damage now but survives thanks to the dual heal. Unicorn Mustang ends up a bit lower than Grund so without missing it is guaranteed to go down in the next round.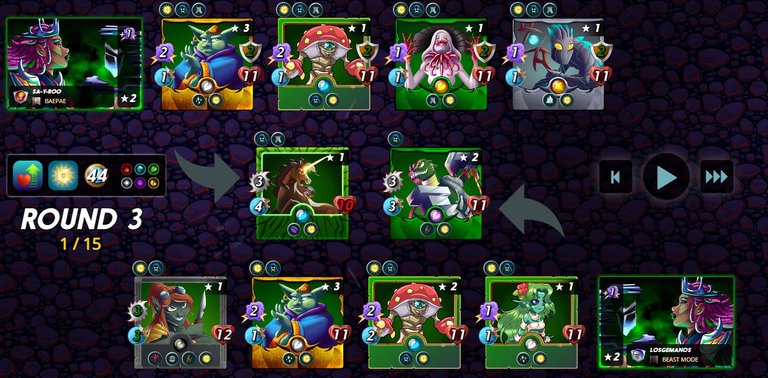 Round 4:
The opponent manages to take out my Grund nerfing my damage quite a bit, but the Unicorn Mustang goes down as well.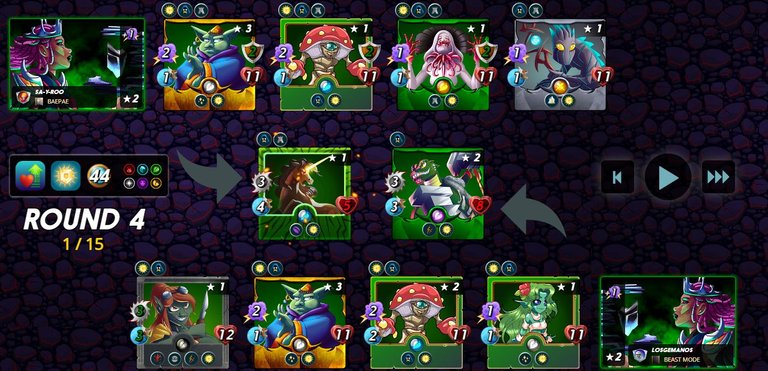 Round 5:
At this point the opponent doesn't have enough damage to take my double healed nymph down.
It is just a matter of time now so I decided to skip the next rounds.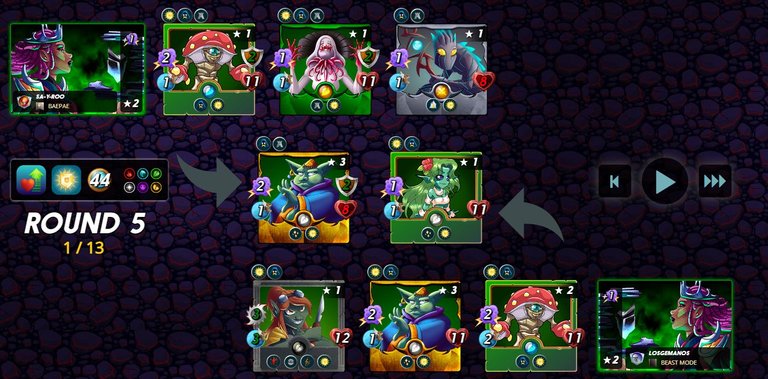 Final Round:
Thanks to the double heal it seems like nothing was attacking my team at all while the opponent Monsters take their last breath.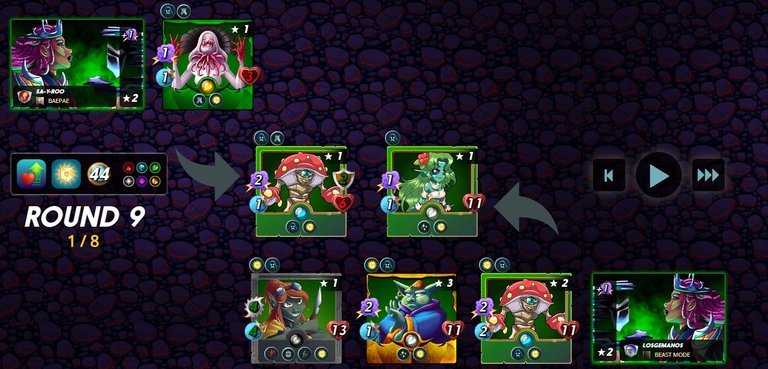 Result:
My strategy worked out well. Almost every Monster was crucial for the win. Without the Mushroom Seer the opponents damage would have been too high. Without the double tank heal Grund probably would have died a round earlier making the Unicorn Mustang a really hard to kill target with mostly Magic damage.
I like the Mycelic Slipspawn and use it quite often. There is not a lot of taunt Monsters in the Chaos Legion Set so it is nice to be able to build a different kind of strategy using it. The abilities at higher levels seem really nice as well.
The full battle can also be watched here
Thanks for reading and happy battling!

In case you don't have a Splinterlands account yet, why not create one now
---
---