Splinterlands Season Rewards - 60 Loot Chests... Most Played Games in Diamond I Top Players...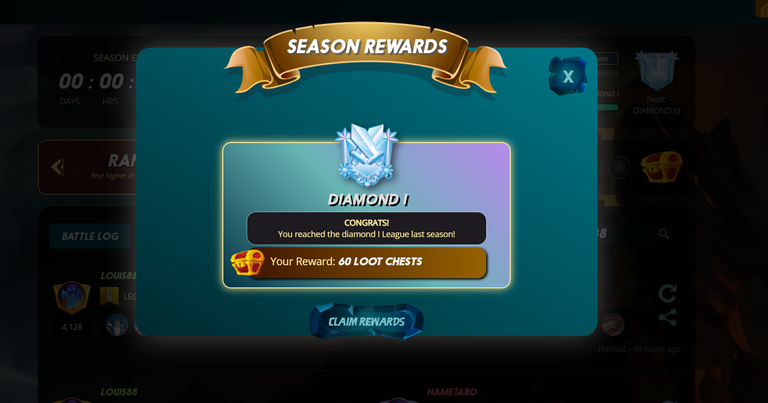 A few days ago the season ended and for me there was again a very good ranking in the Diamond League. With a 4128 rating I could secure the 9th place in the Diamond I league and was rewarded with 30,000 DEC. In addition to the 30k DEC I was allowed to open 60 Loot Chests. In the screenshot below you can see the cards I got.
By far one of the worst Season End Rewards I have received lately, except for a Rare Gold Foil. Unfortunately no Legendary card at all :) But let's see, maybe it will be better next season.
Vor ein paar Tagen ist die Season zu Ende gegangen und für mich gabs erneut eine ganz gute Platzierung in der Diamond Liga. Mit einem 4128er Rating konnte ich mir den 9ten Platz in der Diamond I Liga sichern und wurde mit 30,000 DEC belohnt. Zusätzlich zu den 30k DEC gabs noch 60 Loot Chests, die ich öffnen durfte. Im Screenshot unten sehr ihr die Karten, die ich erhalten habe.
Mit Abstand leider einer der schlechtesten Rewards, die ich in letzter Zeit als Season End Reward erhalten habe, bis auf eine Rare Gold Foil. Leider keinerlei Legendary Karte :) Aber mal schaun, vielleicht wird es ja kommende Season besser werden.
---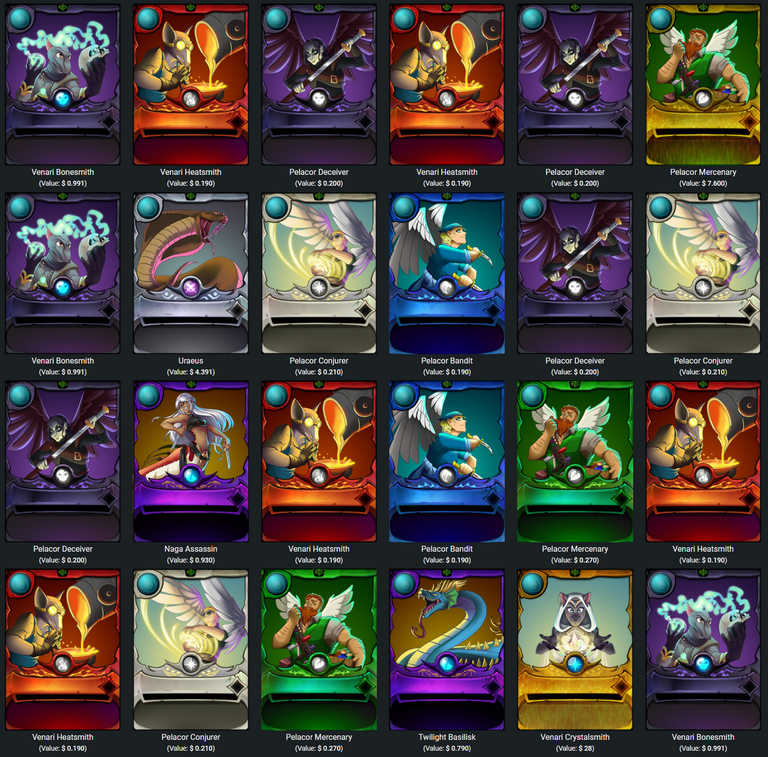 Other than that, the only thing to report about the season is that it's getting harder and harder to place in a high position at the end... I had to shoot my Energy Capture Rate below 20% several times, because I lost again and again against players who are below me in the rating... means... I lose some points and have to play and win more games to make up for the loss. With 769 played battles I am by far the one who played the most games in the top 25... I won 458 games and lost 311 games.
You can see that the games are getting harder and the competition is getting bigger because of the rental system.
Ansonsten gabs zu der Season nur zu berichten, das es allmählich schwerer wird, sich am Ende in einer hohen Position zu platzieren... Ich hab mehrfach meine Energy Capture Rate auf unter 20% ballern müssen, da ich immer und immer wieder gegen Spieler verloren habe, die im Rating unter mir sind... heißt... ich verliere einiges an Punkten und muss um so mehr Spiele spielen und gewinnen, um den Verlust wieder wett zu machen. Mit 769 gespielten Battles bin ich da mit Abstand derjenige, der am meisten Spiele gespielt hat in den Top 25... Dabei hab ich 458 Spiele gewonnen und 311 Spiele verloren.
Daran merkt man nun, das die Games härter werden und die Konkurrenz durch das Rental System größer wird.
---
---
---