[Tronwatch.Market] Remove your Orders + Withdraw your Funds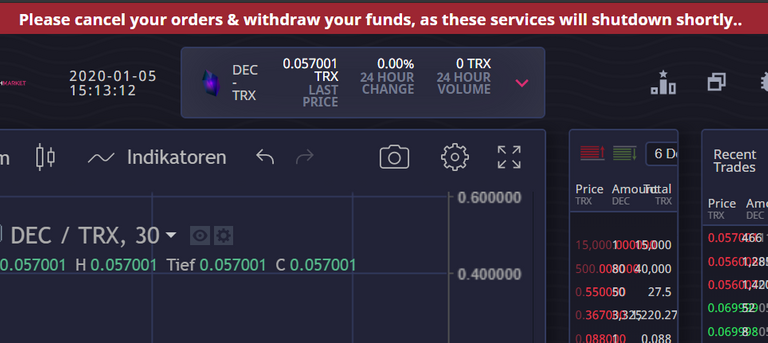 Maybe one or the other hasn't realized it yet. The website Tronwatch.market will close soon. But there are still some open orders or buy-options. The site operator advises to cancel all orders and remove his funds from the platform.
Therefore this post and the call to you - if you still have active buy orders or sell orders - remove them and withdraw your funds from the website.
Steem Related Markets:
DEC/TRX Dark Energy Crystal - Ingame Token
https://tronwatch.market/trade/DEC-TRX
BETA/TRX - Splinterlands Beta Packs
https://tronwatch.market/trade/BetaPack-TRX
SGPROMOCARD/TRX Promo Card Tokens
https://tronwatch.market/trade/SGPromoCard-TRX
STARTERPACK/TRX Starter Code - Registration @ splinterlands.io
https://tronwatch.market/trade/1002352-TRX
So - just check your market offers or market purchases on tronwatch.market tronwatch.market
Not that you run the risk of losing your valuable crypto assets afterwards. We wouldn't want that.
Greetings
@louis88
---
German:
Leute - schaut einfach mal, ob ihr noch Krams im Marktangebot von tronwatch.market habt. Bei Gelegenheit solltet ihr das einmal prüfen und die Orders beenden und die Kohle da rausholen. Muss ja nicht sein, das es auf einmal nicht mehr da ist und man sich mega Ärgert. In der Notice steht "shortly" also schaut rein und handelt, falls da etwas vorliegt!
---
---