Playing Like A Pro: An ADVANCED Guide to SPLINTERLANDS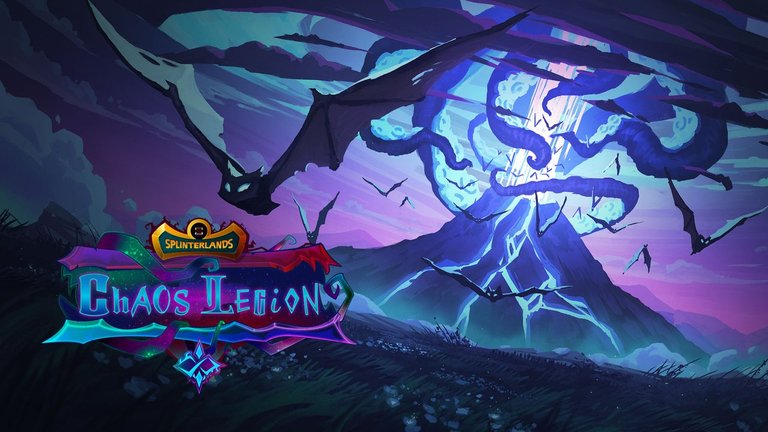 Splinterlands is changing the face of gaming by being one of the most advanced projects in the Play2Earn gaming scene. Splinterlands makes things possible that no other games have even attempted and, for this very reason, it takes a unique amount of time and attention to master. The goal of all of us at The Crypto-Gaming Guild strive to help the amazing projects in this scene grow to their true potential by teaching new friends how to play the games we love. That's why we are here today.
In order to more fully understand the complicated beast that is Splinterlands we are going to break this guide down into sections.
Understanding the Airdrop - The Beating Heart of the Splinterlands.
Advanced Trading AND Tools - MonsterMarket, PeakMonsters, and HIVE ENGINE.
Renting - The Rental Cycle.
Eyes on the Horizon - Changes Coming to the Splinterlands
Each of these subjects could be a 5-10k word article in itself. Today we are going to cover the basics to make sure that you at least understand the options available to you. Splinterlands is not a game where you need to try and "Do everything", it's just too big.
So, let's get started!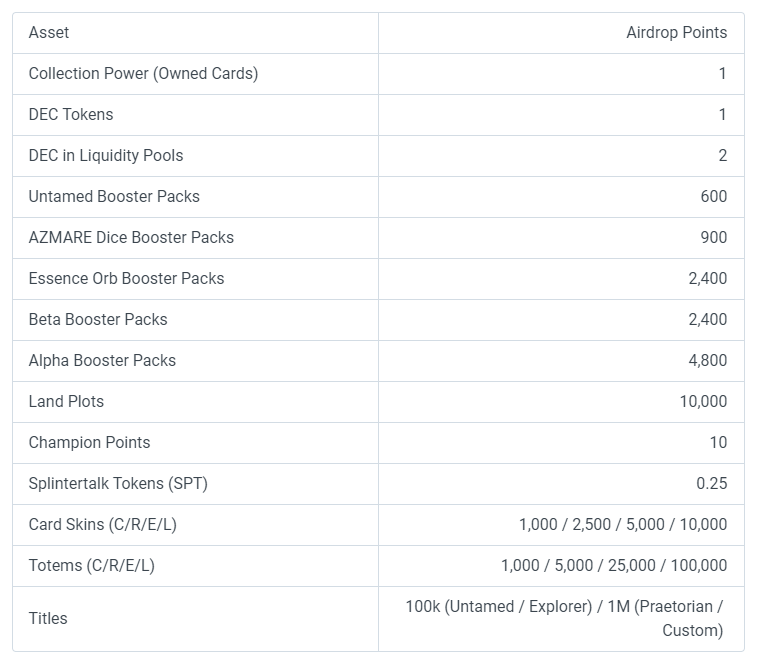 Understanding the Airdrop
The current SPS airdrop really is the beating heart of the Splinterlands as much as the League Ladder. If you want to be able to call yourself a Splinterlands expert this is an area where you are going to want to devote some time and study. The amount of SPS you are dropped each day is worth doing all you can to maximize however possible. The easiest way to do this is to stake that SPS you earn right back. This is you reinvesting in Splinterlands in one of the most direct ways possible.
You can find the full SPS Whitepaper section on the Airdrop here:
Read this information fully, target the areas you do not understand, and research and ask questions until you do. This is worth your time. Trust me. We still have months of the airdrop to go and every day is key here.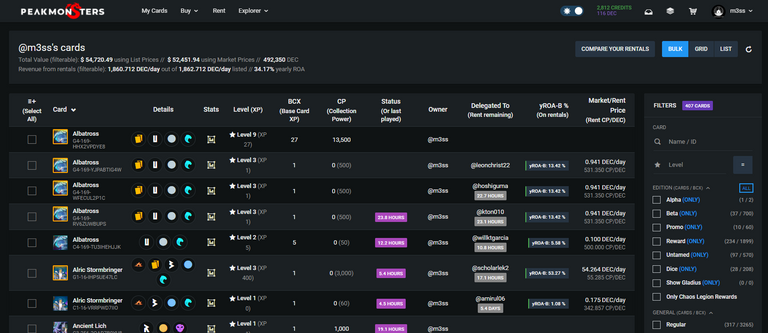 Advanced Trading AND Tools
There is a whole variety of extremely powerful HIVE powered websites you can be using to give your collecting, investing, and play the edge you need to advance. Here are some tools you should be using:
MonsterMarket - Free DEC back with every card purchase.
PeakMonsters - Advanced sorting, metrics, and rental tools.
HIVE ENGINE - The Perfect HIVE wallet
Splintercards - Many many advanced tools
I don't really know how to start here so I'm just going to say that if you have a HIVE account you have access to all of these tools and should be using them. If you are not making all of your making card purchases through MonsterMarket you are losing money and I cant imagine renting out the hundreds of cards a day I do without PeakMonsters advanced tools.
If you don't already know about HIVE ENGINE, well ... I'm shocked, get on that!
Splintercards has been making a name for itself as the new dog on the scene with tools so cool you cant afford to not know them.
Speaking of renting...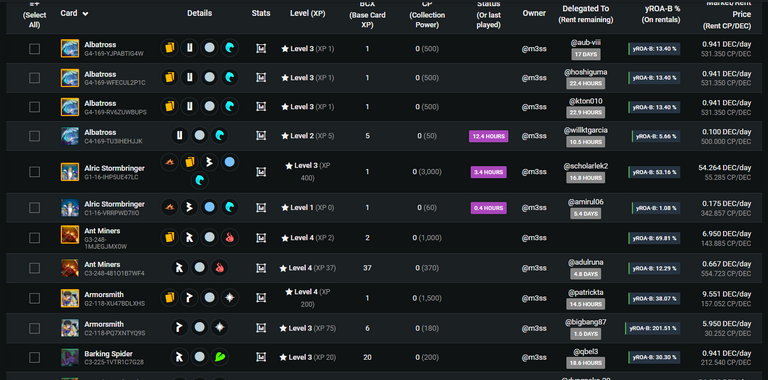 The Rental Cycle
Renting is so profitable in Splinterlands I'm nearly constantly considering just quitting playing altogether and renting out my entire collecting. Hell, I'm currently renting out more than half of the cards I own and some of my most powerful cards. What do I get for this? Somewhere between 1600-2000 DEC each day!
As far as I'm concerned that's jaw dropping for the cards that I honestly have no real way of using. When I say amazing things are possible in Splinterlands that other games aren't even attempting I'm talking about amazing features like the rental system.
Once you start renting cards (out or in) you'll quickly see this market runs on a cycle attached to the roughly 15 day league windows. At the start of each league you'll be able to rent whatever you want for really really cheap prices. However, as the season goes on these rental prices will often about double with the final 48 hours of the season serving as a full on feeding frenzy! Then, as soon as the season end (and sometimes sooner), all your rentals will start being cancelled by folks trying to do ... something? I don't put too much thought into it.
Here is a tip!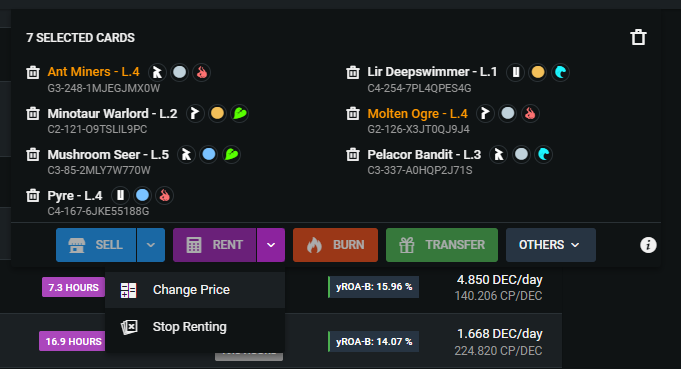 By using PeakMonsters you can select all the cards you are trying to rent out that have not yet been accepted and change their price to just under the current market price just like this: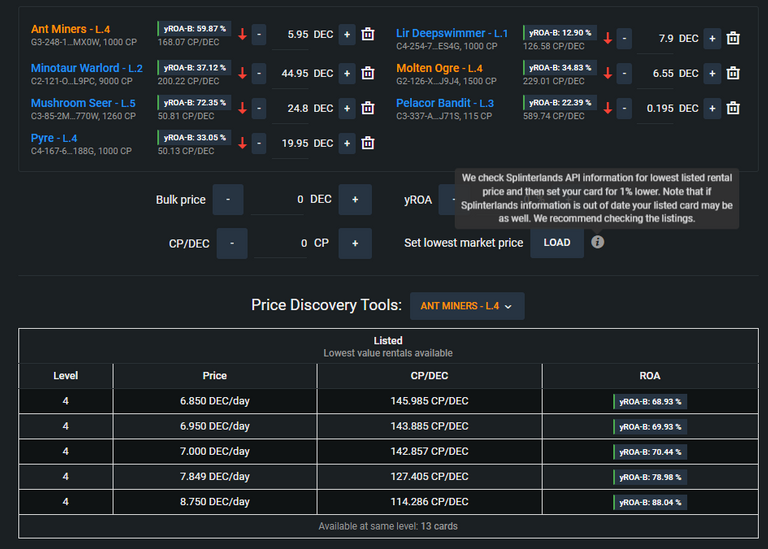 Once you hit the LOAD button you can see the arrows applied to the cards where the price was changed. This is a very important thing to do a few times a week if you want to see the cards you have on the market renting for decent prices.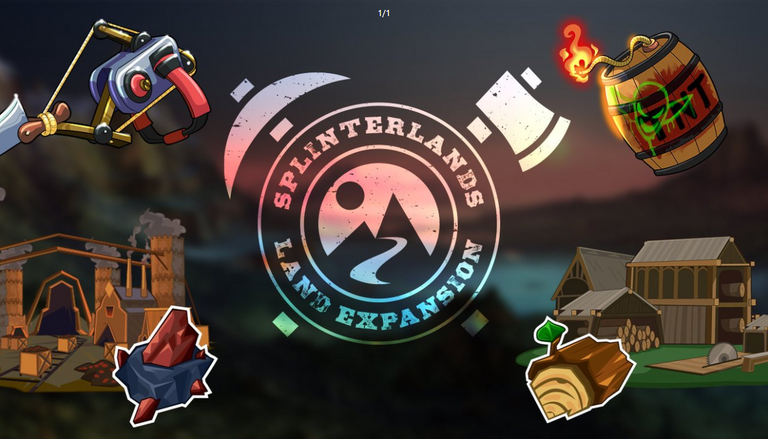 Eyes on the Horizon
Splinterlands is a rapidly evolving creature and, if you are going to try and keep up, you'll need to keep your eyes on the horizon. To me, this means targeting the Splinterlands assets you think well be worth the most in 6 months, not the assets that are the most expensive at the time. My strategy here has been simple, first: target any item that are limited in number and can sell out. This means Packs. Dice, Skins, LAND, and Totems.

I'm not going to get into the complicated question of why I target items that currently have no use other than to say "The market has it wrong." This is, of course, nor financial advice as this is an entertainment articles. I literally go by the mane Mess, you don't wanna be like me, right?
All that said, I'll bet when these assets get more utility in coming updates their price will appreciate and as the major problem with these items is how they are rarely for sale at all, they will quickly sell out completely. People talk a lot about the windows they missed while not looking for the windows located just around the corner closing in front of them, don't do that.
Are you looking to hang out with other Crypto-Gamers? Join us over at the The Crypto-Gaming Guild discord. We are looking for game captains and folks who can help organize. If you are interested, please step up!
The games we are currently focusing on are:
Rising Star
Splinterlands
RollerCoin
dCrops
UpLand
Neon District
Alien Worlds
Lost Relics
Dr. Who Worlds Apart
Journey To Godhood
The Transmission
---
---