"Share Your Battle", it is the turn of a voracious Monster!!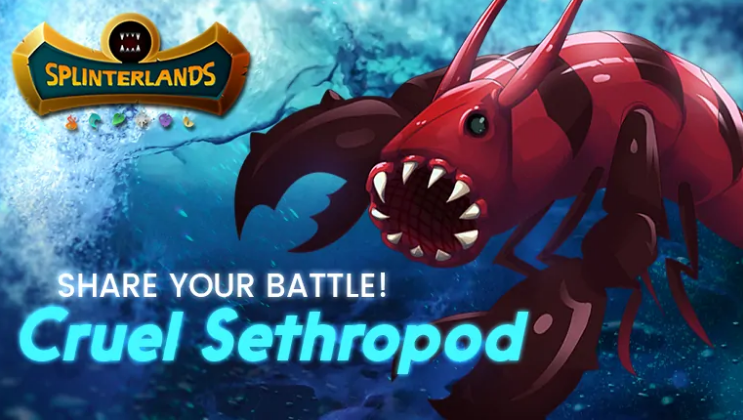 It is difficult not to immediately understand, looking at the post of the Splinterlands Great Contest "Share Your Battle", what card it was, because Cruel Sethropod is perfectly recognizable, I perfectly remember that I had looked at this card in the past, I did not remember to what level I had upgraded it, when I went to discover the mystery, I was a bit dumbfounded, but not that much...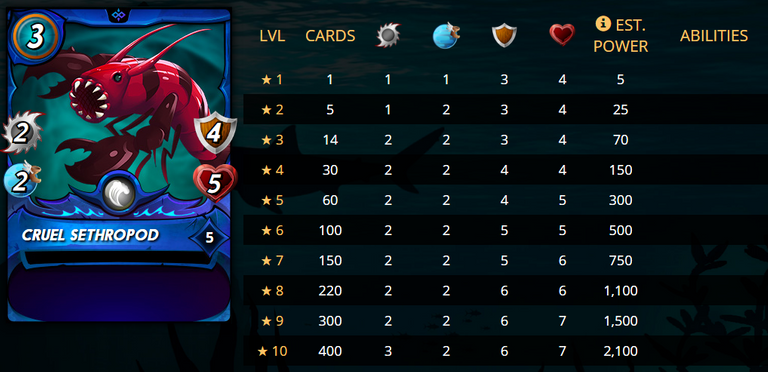 Looking at the attached table, I immediately realized the reason why I had never upgraded this Card too much, I deliberately included in the screenshot also the skills sector, which is completely empty, at any level you upgrade it, and then, how can a card like * Cruel Sethropod * be useful?
It is one of those cards that I define specific, because it is used in certain circumstances, there are not many cases in which it can actually take the field, first of all its optimal positioning is in 1st line, secondly it is indicated for battles with limited number of total Mana, and maybe even have the game mode with * Reverse Speed ​​*, due to the fact that even at the 10th level it has a game speed of 2 units, and right on the last level it acquires the 3rd shot per round of the game, summing up not badly, also considering the fact that it has a cost in terms of Mana of only 3 units ...
But how did I deal with Cruel Sethropod? Simple, I only had 2 units of this Common Card of the Water Element, how could I bring this Card into the field, when I even rented Alric Stormbringer at 6th level? I had to put my hand in my wallet, buy 60 units in bulk, at a price of 8.1 cents each (5 points of Deck Power each), in order to have it at least at the 5th level, then I started looking for a battle where Cruel Sethropod could get respected, and I am attaching this reference link...
https://splinterlands.com?p=battle&id=sl_748cb3c0a4f0982a120e29b93654ed1b&ref=mad-runner
As often happens, the synergy and collaboration between the Cards often determines the fate of a battle, analyzing the combat modes of this game, I immediately noticed the 15 Mana available and the Reverse Speed ​ mode, so I immediately said...
"Go, let's bring Cruel Sethropod into the field, it could be the right move...", but let's also see the other Cards I used...
I carefully observed my Deck of Cards, and I opted to drop, as you can see from the screenshot, 4 Cards altogether, the tread was Cruel Sethropod, while in succession I chose...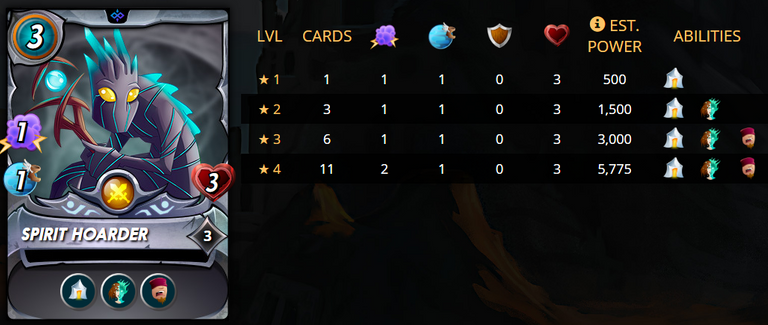 Spirit Hoarder, Neutral Legendary Card, 3 Mana, thanks to Alric Stormbringer increases firepower to 2 units per round of play, and with 1 speed it hits among the first ever...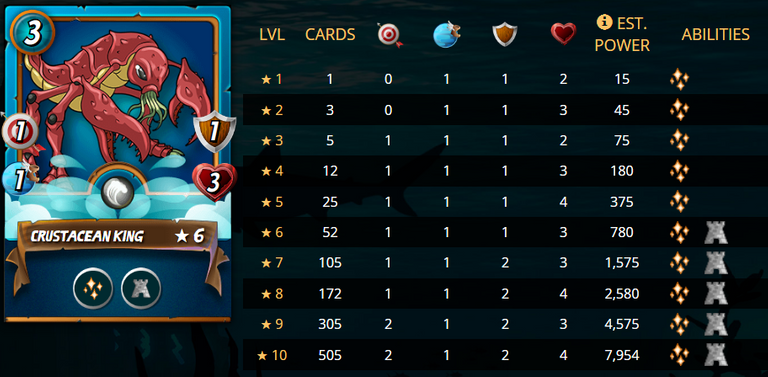 Crustacean King, an old acquaintance, at 6th level has 2 skills, Tank Heal and Protect, with speed 1 she also has a very good chance of hitting the target initially, with little Mana available. often whoever strikes first acquires a fundamental advantage...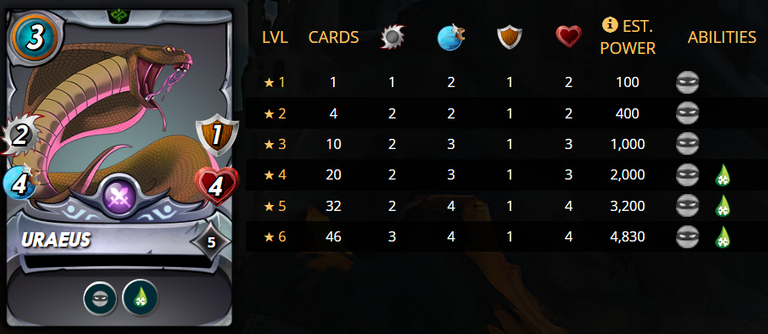 And I'm going to close my quartet of Cards that I made take the field with Eraeus, this Epic Neutral Card closes everything perfectly, even if it has a high speed, for the Reverse Speed ​ mode, at 5 Level is pretty powerful, I needed something relatively strong to close my line...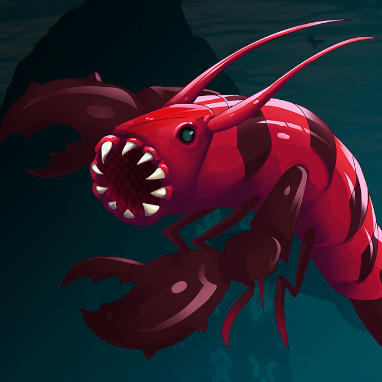 Concluding the speech on Cruel Sethropod, I think it will be one of those Cards that I will upgrade up to the maximum level, I don't know when it will happen, but despite having no specific ability, it is a Card that right at the 10th level goes to take the 3rd hit per round of play, crossed with the fact of costing only 3 Mana, make this Card interesting, from this particular point of view, these speeches are aimed at the players of this splendid platform, which responds to the name of Splinterlands, while if you are not yet a player, and you want to experience the excitement and sensations that this game unquestionably offers, you can sign up, if you want, using my referral link...
https://steemmonsters.com?ref=mad-runner
If you want to participate in this very valid contest, here is the link to access it...
https://peakd.com/splinterlands/@splinterlands/share-your-battle-weekly-challenge-cruelsethropod
The images were taken from the Splinterlands game, I made a screenshot with my computer...
---
Versione Italiana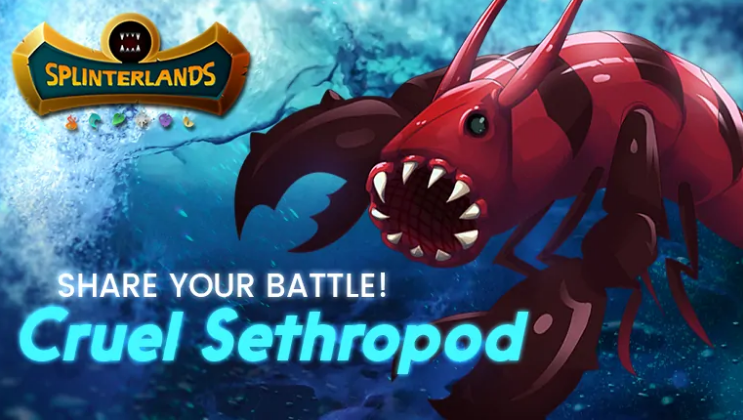 Difficile non capire subito, guardando il post del Grande Contest di Splinterlands "Share Your Battle", di che Carta si trattasse, perché Cruel Sethropod è perfettamente riconoscibile, ricordo perfettamente che avevo guardato questa Carta in passato, non ricordavo a che livello l'avessi potenziata, quando sono andata a scoprire il mistero, sono rimasto un po' interdetto, ma non più di tanto...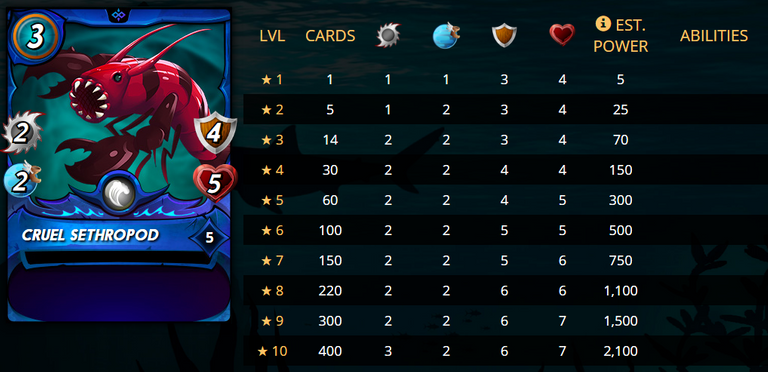 Guardando la tabella allegata mi sono subito reso conto del motivo per il quale non avevo mai potenziato più di tanto questa Carta, ho volutamente inserito nello screenshot anche il settore delle abilità, che è completamente vuoto, a qualsiasi livello la si potenzi, e allora, come può essere utile una Carta come Cruel Sethropod?
E' una di quelle Carte che io definisco specifiche, perché si impiega in determinate circostanze, non sono molti i casi in cui può scendere effettivamente in campo, innanzitutto il suo posizionamento ottimale è in 1° linea, secondariamente è indicata per battaglie con limitato numero di Mana complessivi, e magari avere pure la modalità di gioco con Reverse Speed, dovuto al fatto che anche al 10° livello ha una velocità di gioco pari a 2 unità, e proprio sull'ultimo livello acquisisce il 3° colpo per tornata di gioco, tirando le somme non male, considerando anche il fatto che ha un costo in termini di Mana di 3 sole unità...
Ma come mi sono comportato con Cruel Sethropod? Semplice, avevo solamente 2 unità di questa Carta Comune dell'Elemento Acqua, come potevo far scendere in campo questa Carta, quando addirittura ho noleggiato Alric Stormbringer al 6° livello? Ho dovuto mettere mano al portafoglio, acquistare in blocco 60 unità, al prezzo di 8,1 centesimi di dollaro cadauna (5 punti di Deck Power ciascuna), in modo tale da possederla almeno al 5° livello, successivamente ho iniziato a cercare una battaglia dove Cruel Sethropod potesse farsi rispettare, e vi allego questo link di riferimento...
https://splinterlands.com?p=battle&id=sl_748cb3c0a4f0982a120e29b93654ed1b&ref=mad-runner
Come spesso accade, la sinergia e la collaborazione tra le Carte spesso determina le sorti di una battaglia, analizzando le modalità di combattimento di questa partita, ho subito notato i 15 Mana a disposizione e la modalità Reverse Speed, per cui mi son subito detto...
"Vai, facciamo scendere in campo Cruel Sethropod, potrebbe essere la mossa giusta...", ma vediamo anche le altre Carte di cui mi sono avvalso...
Ho osservato attentamente il mio Deck di Carte, ed ho optato per far scendere, come potete verificare dallo screenshot, 4 Carte complessivamente, il battistrada è stata proprio Cruel Sethropod, mentre in successione ho scelto...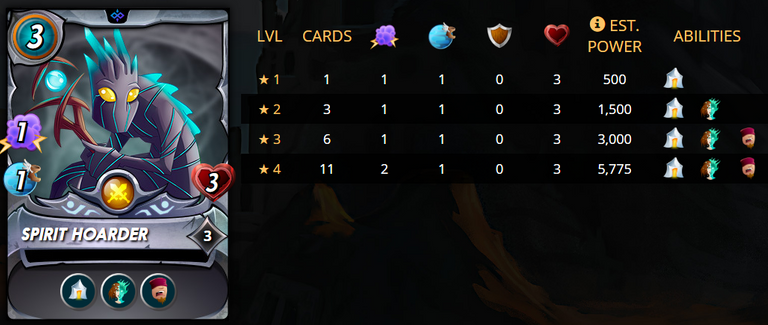 Spirit Hoarder, Carta Leggendaria Neutrale, 3 Mana, grazie a Alric Stormbringer aumenta la potenza di fuoco a 2 unità per tornata di gioco, e con velocità 1 colpisce tra i primi in assoluto...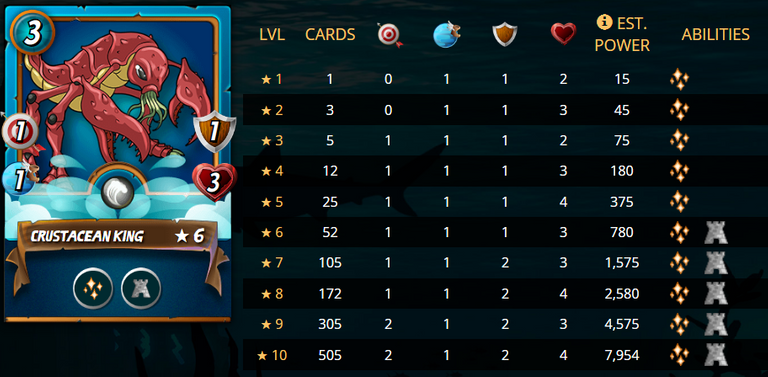 Crustacean King, una vecchia conoscenza, al 6° livello possiede 2 abilità, Tank Heal e Protect, con velocità 1 anche lei ha ottime possibilità di andare a bersaglio inizialmente, con pochi Mana a disposizione, spesso chi colpisce per primo acquisisce un vantaggio fondamentale...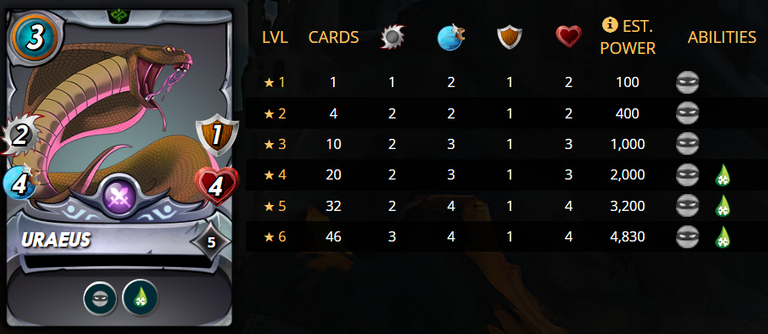 E vado a chiudere il mio quartetto di Carte che ho fatto scendere in campo con Eraeus, questa Carta Epica Neutrale chiude perfettamente il tutto, anche se ha una velocità alta, per la modalità Reverse Speed, al 5° livello è piuttosto potente, mi serviva un qualcosa di relativamente forte per serrare il mio schieramento...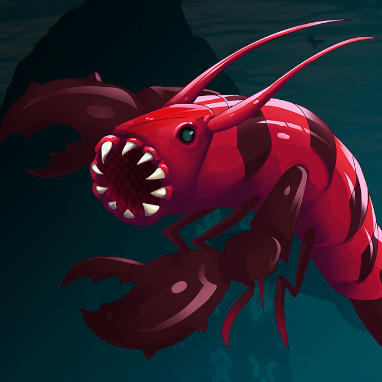 Concludendo il discorso su Cruel Sethropod, penso che sarà una di quelle Carte che potenzierò fino al massimo livello, non so bene quando avverrà, ma pur non avendo nessuna abilità specifica, è una Carta che proprio al 10° livello va a prendere il 3° colpo per tornata di gioco, incrociato con il fatto di costare solamente 3 Mana, rendono questa Carta interessante, sotto questo particolare punto di vista, questi discorsi sono rivolti ai giocatori di questa splendida piattaforma, che risponde al nome di Splinterlands, mentre se non sei ancora un giocatore, e vuoi provare l'emozione e le sensazioni che questo gioco propone indiscutibilmente, puoi iscriverti, se vorrai, utilizzando il mio link di riferimento...
https://steemmonsters.com?ref=mad-runner
Se vuoi partecipare a questo concorso molto valido, ecco il link per accedervi...
https://peakd.com/splinterlands/@splinterlands/share-your-battle-weekly-challenge-cruelsethropod
Le immagini sono state prese dal gioco Splinterlands, ho realizzato uno screenshot con il mio computer...
---
---