Splinterlands : Live stream | Playing W/Snipe Battling Daily Quest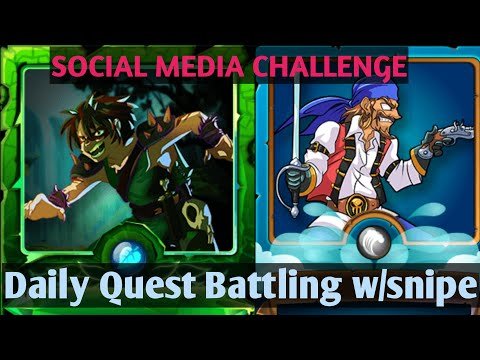 ---
Hello splinter lovers
How are you all? I hope you are all very well. I came to you with another new video which is very interesting and in today's video I am going to share some battles with you. I hope you will like each battle of splinterlands.
Usually you know that I play splinter every day and I can't play it very much because I work for which I don't get as much time as I need in this game. Today I have just completed my daily quest.
Today's rules are that I have to win five battles w / snipe this and I can complete it very nicely. I didn't need to play too many battles here. I only played 6 battles in which I managed to go five battles.
In fact, I think it's good luck for me because it never happens that you have played six battles and won five of them, but it feels good today because I was able to play my favorite splinter which has been very easy for me. splinter because here I have some very good cards through which I have a lot more advantage to win each battle.
That's why I always try to play in this splinter so that I don't have to lose a single battle. That's exactly what happened today and I enjoyed the game a lot. I'll provide you some battle links. You can see what it was like if you want. My battle process and of course I have shared my video. If you watch your video completely, you will understand how much fun it was.
So friends so far today everyone will be fine and healthy and if you like this gaming video of mine you can of course give your opinion and if you want you can also join this village platform I will give the site link in my description from where you play every day Can do an earning.
some battling link 👇👇👇👇👇
https://m.splinterlands.io/#/battle/game/process/sl_95d52641a9afb45961ea4ecd82545d92
https://m.splinterlands.io/#/battle/game/process/sl_9e89918e68629447e1f1e7465e2652ee
https://m.splinterlands.io/#/battle/game/process/sl_7859bd7f2ea1af128971069223e6154a
if you like to join 👇👇👇👇👇
https://splinterlands.com?ref=mamun123456
Hey folks! Watch me play Splinterlands!
Thank you for watching my Splinterlands stream. And for all the support you are showing! 🔥
If you liked my stream, please like and subscribe. It motivates me a lot. :)
And share my channel with your game friends. 🙂 See you on my next stream!!!
Become a star streamer - https://get.turnip.gg/become-star-streamer
🎮 Streaming via Turnip
❤️ Follow me
Facebook: facebook.com/LIKE & SUBSCRIBE
💰 Donate:
GPay/Paytm/PhonePe: 0142649730
UPI Id: https://www.youtube.com/channel/UCZasG3S9FVZiT-9G1sSNSKg
#splinterlands #livestream #turnip #gaming #turnip_live #games #gamingvideos #livetipsandtricks #mobilegames #splinterlandslive #splinterlandsvideos #splinterlandstipsandtricks #splinterlandshighlights #youtuber
Today I am streaming splinterlands. Other popular games:
PUBG Mobile
Garena Free Fire
Among Us
Call of Duty Mobile
Fall Guys
Call of Duty: Warzone
Grand Theft Auto V
Fortnite
Roblox
Minecraft
---
▶️ DTube
---
---