Splinterlands Is Live My Legendary Ruler Of Seas Rooking Attack Daily Quest W/Snipe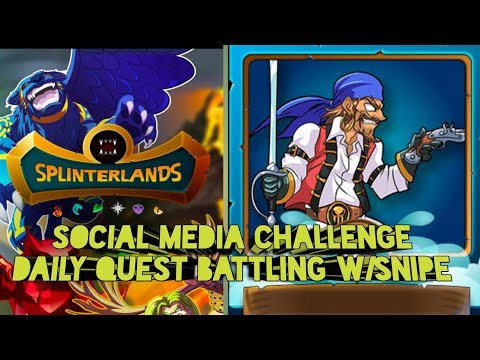 ---
Hello splinter lovers ....
Hello friends how are you all i hope you all have a great time i am mamun bring you another beautiful online stream you will like today's live youtube very much today i am going to share some very nice battle between you today
As always today I had to win 5 matches to complete the competition I had every day and I had to use those five matches using snipe cards.
And you all know which splendor I prefer to play is the splendor I like the most and where I have a legendary card that is where most of my battles are because of the card I actually lost in how many matches I actually lost in the first place but then my It didn't take long for me to win five battles.
I think you will enjoy the whole video a lot because I have shared some things with you inside the game which you will really like and I hope you will like the whole video in full live stream and one thing I do but this gaming video of mine is live. I actually like Splendor games to stream live on YouTube.
So friends, everyone will watch the video and if you like it, you must give your opinion and you can play the game if you want. You can also earn some income from here and the last thing I got is a credit.
So friends, until today, everyone will be fine, stay healthy and if you like the video, you will like it. Thank you all
Hey folks! Watch me play Splinterlands!
Thank you for watching my Splinterlands stream. And for all the support you are showing! 3
If you liked my stream, please like and subscribe. It motivates me a lot. :)
And share my channel with your game friends. 🙂 See you on my next stream !!!
Become a star streamer - https://get.turnip.gg/become-star-streamer
Streaming via Turnip
Follow me
Facebook: facebook.com/LIKE & SUBSCRIBE
Donate:
GPay / Paytm / PhonePe: 0142649730
UPI Id: https://www.youtube.com/channel/UCZasG3S9FVZiT-9G1sSNSKg
#splinterlands #livestream #turnip #gaming #turnip_live #games #gamingvideos #livetipsandtricks #mobilegames #splinterlandslive #splinterlandsvideos #splinterlandstipsandtricks #splinterlandshighlights #youtuber
Today I am streaming splinterlands. Other popular games:
PUBG Mobile
Garena Free Fire
Among Us
Call of Duty Mobile
Fall Guys
Call of Duty: Warzone
Grand Theft Auto V.
Fortnite
Roblox
Minecraft
---
▶️ DTube
---
---