Dhampir Stalker - this highly trained ranger doesn't miss it's attack - EVER!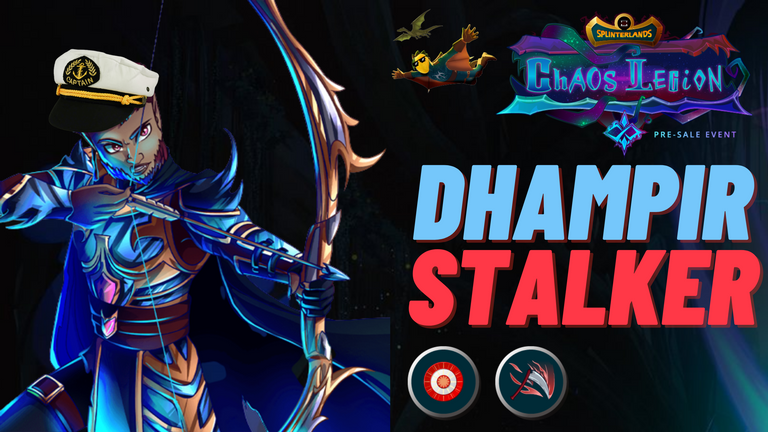 Hi friends!
I hope everyone of you are having a great day today and also enjoying splinterlands in meantime. The last season just ended 2 days ago and I hope by now, All of you have collected your season rewards. This season, I tried hard with the red-dog account to reach among the top leaderboard positions in diamond tier and to secure the 20K DEC prize by staying in top 25. But the luck was not on my side and I was only able to finish the season with 33 rank in Diamond tier and got 10k dec. At this point, your collection really matter and as I am lacking the Byzantine Kitty summoner, this single card alone is causing me to lose often while playing in leaderboard.

On the other hand, the last Splinterlands private SPS sale has ended and from now on, there will 20 million less SPS minted per month, making the amount down from approx 71 million to approx 51 million per month. This will affect the SPS supply I hope and result in price rise in future. Also, only 90 days left for the SPS daily drop to end and will drop the new SPS minting lower by another 33.3 Million per month. So, after the daily SPS drop ends, only approx 17 million SPS will get minted per month, making it even more scarce.
Now, the pre-sale of the SPS validator node licence will begin soon within next few weeks, as they said in the latest official post but haven't given the exact date yet. The event is expected to burn a gigantic amount of SPS as 80% of the total SPS that used to buy those validator nodes will be burned! So, I think we have enough causes coming soon to finally pump the price of SPS again. So better collect more SPS before it goes to MOON! I have already collected 500 vouchers and 10,000 SPS for the upcoming node licence sale because after missing the Land plot sale, I didn't wanna miss the next big thing in splinterlands for anything else. Are you also buying a node licence? Let me know in the comment below!
DHAMPIR STALKER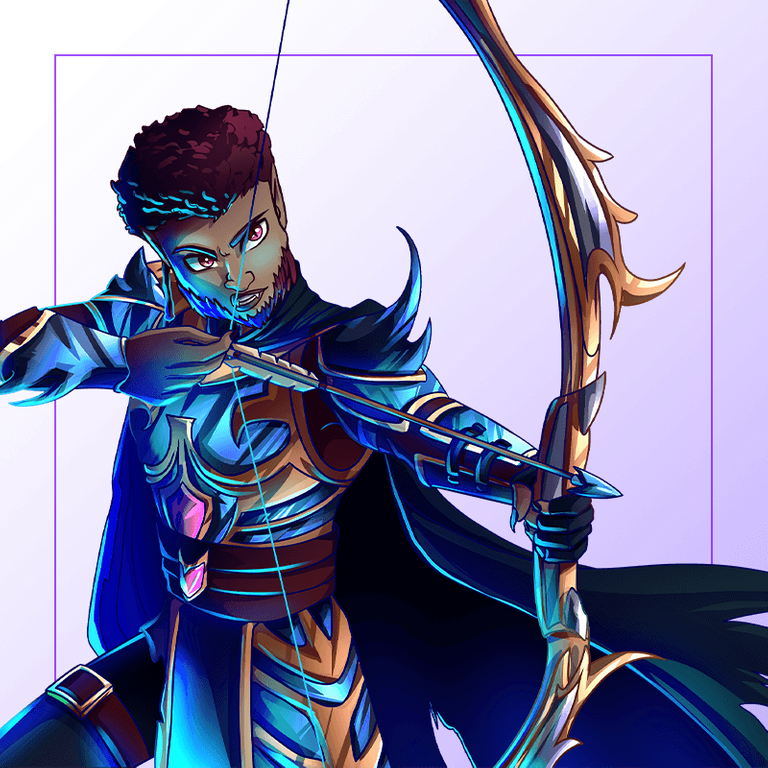 Now, let me jump to my main theme as today, I will showcase another great Chaos monster with you all and also will inspect deeply into it together and find out it's true potential! This tome, I have chosen the Dhampir Stalker, the high powered chaos archer and so let's begin!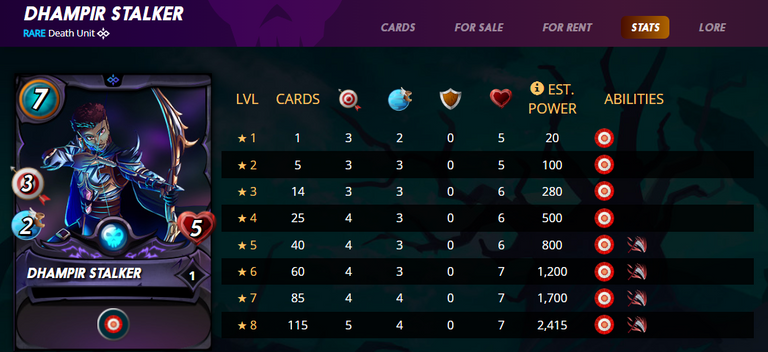 Dhampir Stalker is a rare type chaos edition card that belongs to the Death Splinter. It costs 7 mana to be selected in your lineup and it's attack style is range. The main feature of this Striker is it's high powered attack that cannot get missed! Interesting right? .. So let us now look deeper and find out it's stats and abilities tier wise in below.
Bronze
Dhampir Stalker holds 3 range attack at 3 speed with 5 health At level 2. It also gets the True Strike ability since it's initial level and hence it will successfully hit it's target every time it attacks. Yes, every time!
Silver
At level 4, this card's stats gets further increased with 4 range attack at 3 speed with 6 health. But it doesn't get anymore new abilities in Silver tier.
Gold
This monster gets another new ability Deathblow at level 5. With deathblow, it will now do 2x damage if it's the only monster left in the enemy side. At level 6, it gets 4 range attack at 3 speed with 7 health along with those 2 abilities.
Diamond/Champion
At max level, this card possesses 5 range attack at 4 speed with 7 health along with those 2 abilities that I mentioned above. With the huge firepower, it's range attack becomes a nightmare against those poor enemy cards.
Important points about DHAMPIR STALKER
The main attraction about this Dhampir Stalker is it's high powered range attack + True Trike combo. As I play in diamond tier, I use the max Dhampir with 5 range attack and with the True Strike ability, it helped me numerous times in killing big giants.
The speed of Dhampir Stalker is decent. It carries only 2 speed at level 1, holds 3 speed from next level and to level 6 and gets 4 speed from level 7 onwards. It's true that it's attacks wont get missed, but it will attack later on in every round.
I personally don't like The deathblow ability very much and consider it useless in most of the cases. However, in small mana limit matches where you certainly know that the opponent may use one big monster only in his/her lineup, you can try monsters with Deathblow ability to deal with 2x of their normal damage. But keep in mind of the risk.
The health of Dhampir is also not that good respecting it's high 7 mana cost. So make sure to keep this card safe from enemy attacks so that it can launch a good number of attacks before dying.
Market Stat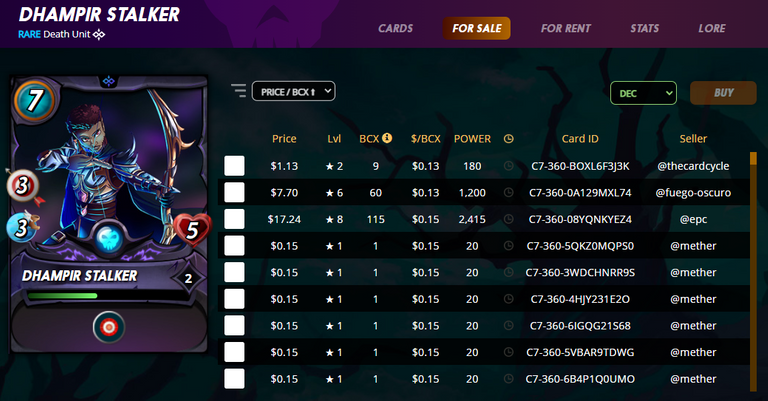 Dhampir Stalker is currently selling for cheap in the splinterlands card shop and the single BCX cards are starting from only 0.15$ and will cost you about 100 dec and onwards. There is also a max one available for only 17.24$ if anyone is interested.
Battle Line-up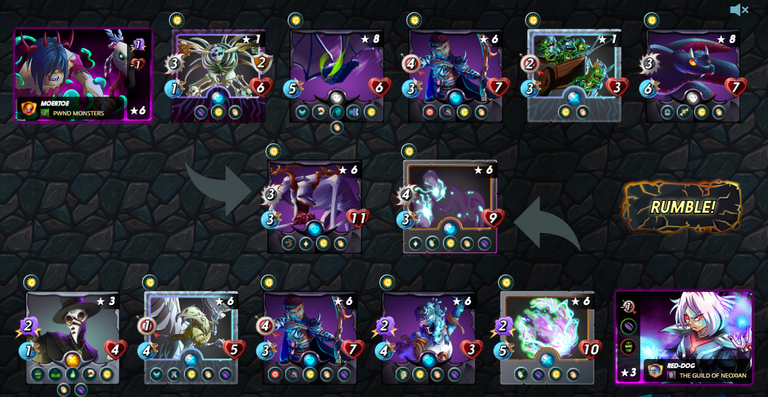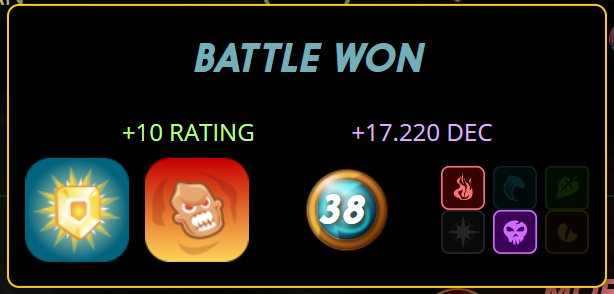 mana Cap: 38
Splinters allowed: Fire and Death.
Ruleset:
Holy Protection - Every monster will get the divine shield in this battle.

Spreading Fury - All the monsters in this match will have the Enrage ability.
---
---
My Lineup with Strategy
I chose the Mimosa legendary death summoner in this match as it's -1 range attack and affliction (to all enemy cards) + void (to all friendly cards) combo will weak the enemy side and also stronger my defence as well. ability. Now, let me share my lineup below and why I chose them in this battle.
HAUNTED SPIRIT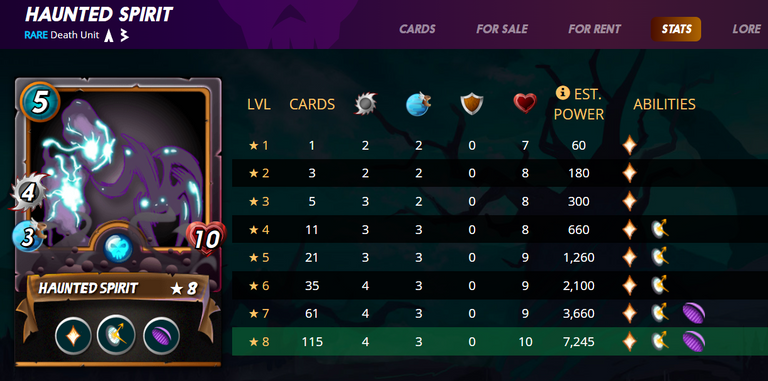 The front defence is very important when you make a battle line up and in this battle, I chose the haunted spirit in my front position which I still trust as a good defence card. I am using level 6 in this match and it possesses 4 melee attacks at 3 speed with 9 health along with 3 abilities - Heal and Magic Reflect.
PRISMATIC ENERGY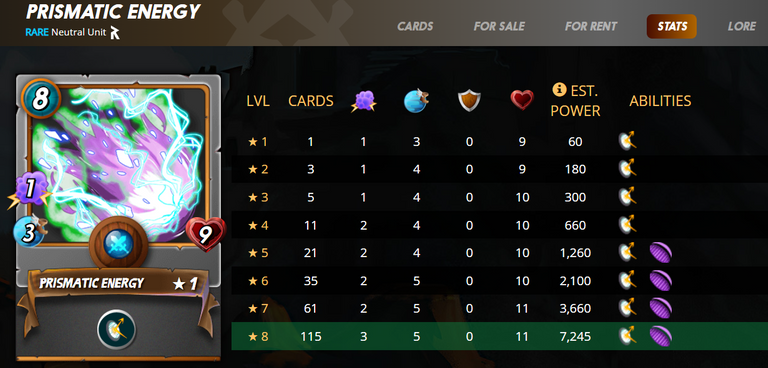 I chose the Prismatic Energy at the reach position to add an extra layer of defence because this match has a large mana limit. A level 8 prisma holds 3 magic attack at 5 speed with 11 health along with 2 abilities - Magic Reflect and Void. I was guessing my opponent will use multiple magic monsters against me hence I chose 2 monsters with magic reflect back to back at the front.
LIFE SAPPER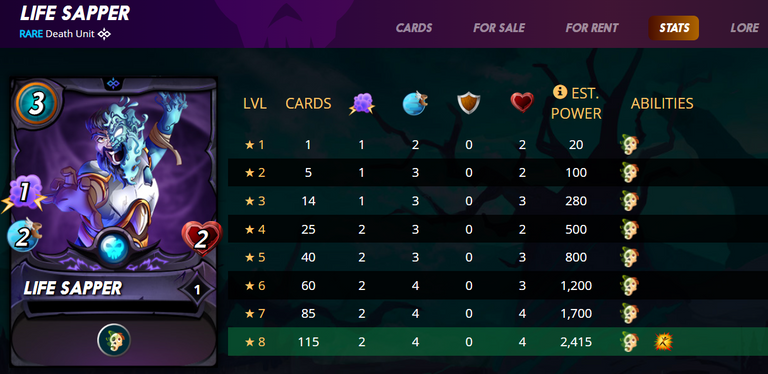 At the third position, I chose another new chaos monster Life Sapper which I started liking recently because of it's great stat at low mana cost. A level 8 of this card gets 2 magic attack at 4 speed with 4 health and also 2 abilities - Life Leech and Redemption.
DHAMPIR STALKER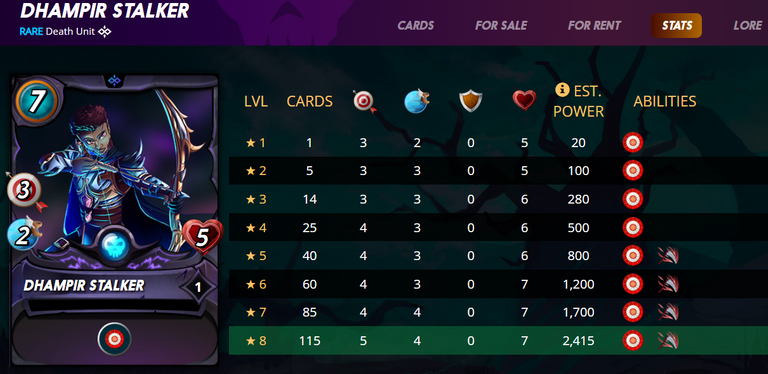 I chose our hero 🦸 the Dhampir Stalker at the fourth position of my lineup so that it stays protected from both sniper and sneak attacks. WHen in max level, this card holds 5 range attack at 4 speed with 7 health with 2 abilities - True Strike and Deathblow.
TOWER GRIFFIN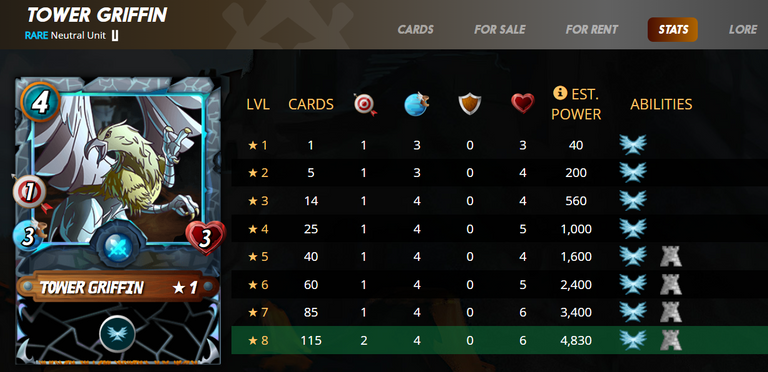 I protected my lineup from magic monsters and now it's time to do something for those melee and range attackers. Hence, I chose the Tower Griffin at the fifth place of my lineup. When upgraded to max level, it possesses 2 range attack at 4 speed with 6 health along with 2 abilities - Protect and Flying. With the protect ability, it will provide +2 armour to all my friendly monsters.
DOCTOR BLIGHT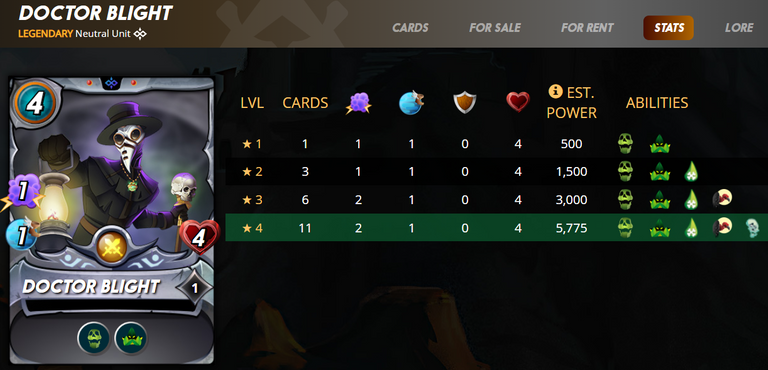 At the rear end of my lineup, I couldn't get a better choice than the amazing Doctor Blight. A max level or level 4 Blight holds 2 magic attack at 1 speed with 4 health along with 5 abilities - Affliction, Camouflage, Poison, Scavenger and Weaken. It's unmatched set of abilities will weaken the enemy cards while increasing health each time a monster dies. , And not to mention that this card cant be targeted directly until its in first position.
---
---
Match Result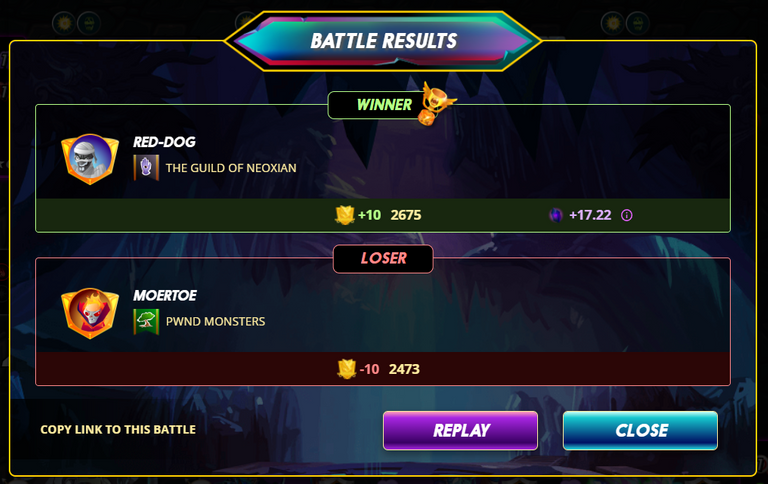 As I hit the ranked battle and got this match, I got confused at first about which one to choose among Fire and Death summoner. I couldn't use the Zaku, cause it's blast ability may unlock enrage ability of multiple enemy monsters resulting more trouble upon me. So I went with the Death legendary summoner Mimosa instead. It was a big mana limit match so I was expecting my opponent to use multiple magic or range cards against me. But as the match got revealed, I find out that he chose the Death splinter as well, THADDIUS BROOD, the new chaos death summoner which decreases 1 attack of enemy magic cards and also reduce 1 health of all enemy cards. I was using 4 magic cards in my lineup who got affected with this debuff and I got tensed. My opponent chose Cursed Wikendu at his front, followed by Bone Golem, Riftwing, Dhampir Stalker, Goblin Chariot and Silent Sha-vi at the rear end. He chose 2 range monsters who's attack got reduced by my summoner's debuff. The healing ability of Wikendu also got disabled due to the affliction debuff from Mimosa. The match is gonna be intense as the battle starts. Let's now find out how my Dhampir Stalker performed in this match.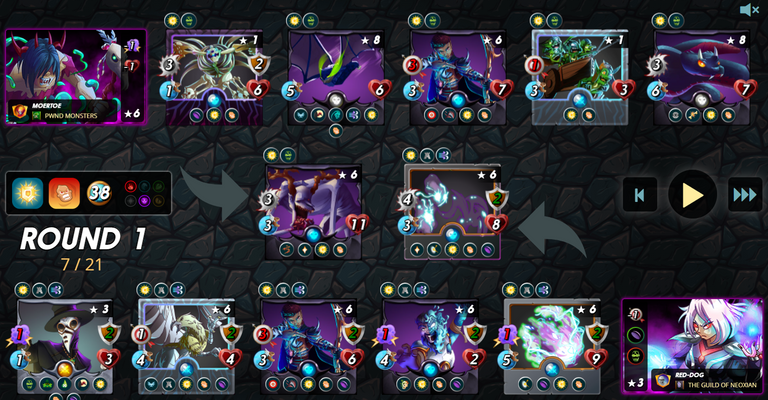 As the battle begins with the first round, my Dhampir Stalker, when it's turn came, attacked the wounded Wikendu and reduced 3 health. The Wikendu was enraged and was possessing 5 speed but thanks to the true ability, the Stalker attacked it with 100% accuracy.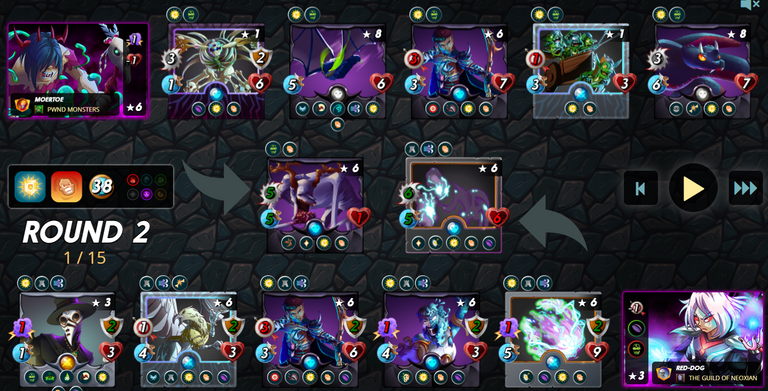 In second round, the enemy Wikendu got dead with my prisma's fast magic attack and the Bone Golem came at front while my Haunted Spirit was still alive and enraged with it's remaining 6 health. When my Dhampir's turn came, it attacked the Bone Golem and broke down it's shield. The poor Golem later also got applied with poison from the Doctor and the round ended here.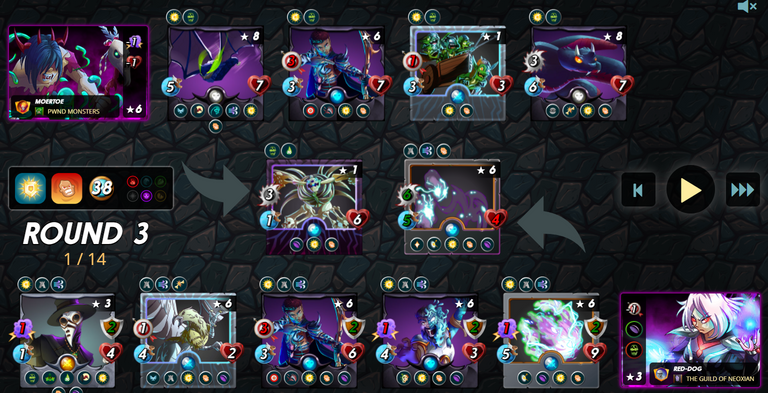 As the third round begins, my enraged haunted Spirit did a great job by killing down the wounded Bone Golem and the attack less Riftwing came at front, which was decreasing my Dhampir's range attack with it's Headwinds ability. When Dhampir's turn came, it attacked and reduced 3 health from the Riftwing, leaving it with only 4 health. Point to notice that my Haunted Spirit is still alive with 2 health while I already have killed 2 of my opponent's defensive cards.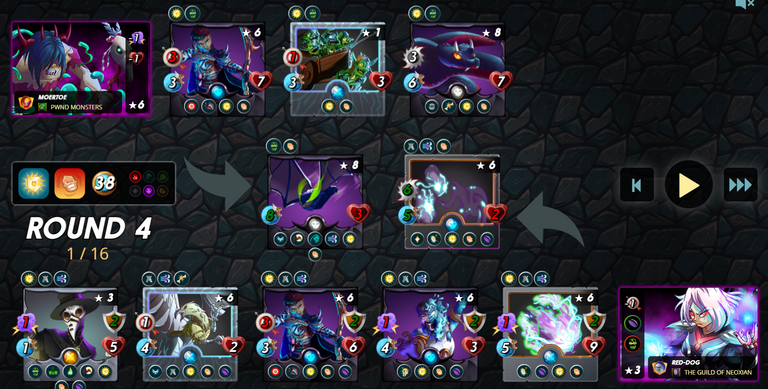 I got a bad news at the beginning of round 4 as the enemy Silent Sha-vi finally killed my Tower Griffin after attacking multiple times and I lose the extra armours upon my friendly monsters. But all my backline monsters were still having the Divine Shield ability from the match ruleset. At mid-round, my Haunted Spirit scored another kill by beating down the Riftwing and thus my Dhampir's 4 range attack came back. Later that round, my Dhampir attacked the enemy disabled Dhampir and left it with only 3 health. Before the round could end, the Doctor applied poison upon the enemy Dhampir and it was clear the the enemy Dhampir will get died at the beginning of next round because of the poison affect.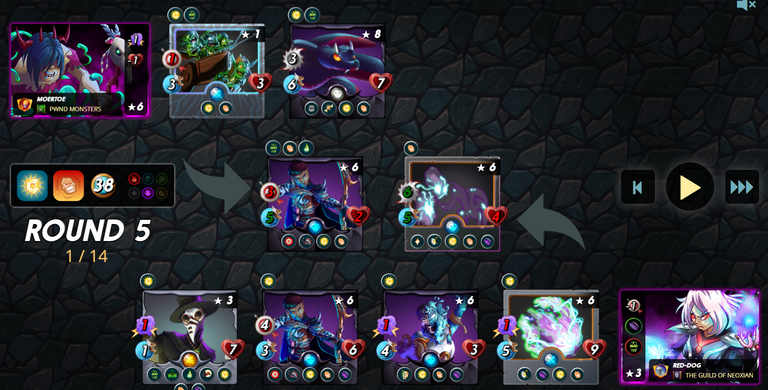 As I guessed, the enemy dhampir got dead at the beginning of Fifth round and the Goblin Chariot came at front and got disabled to attack. Later, the chariot got killed by my Haunted Spirit and the last enemy monster, Silent Sha-vi came front. After my Life Sapper attacked and took away the Divine Shield from the enemy Sha-Vi, my Dhampir attacked upon it and OMG! as it was the only monster alive on the enemy side, my Dhampir applied the Deathblow upon him and with 2x damage of it's original attack -> 2x4 = 8 damage was impossible for the Sha-vi to endure with only 7 health. So, it finally got dead with a single blow from Dhampir and the match ended here and I got gifted with another sweet victory!
It really was an awesome match and thou I was worries about the outcome when it started, later on my lineup worked exceptionally well and secured the win for me. I also told you I am not a big fan of this Death Blow ability but surprisingly, it helped me in the last round by putting that notorius Sha-vi with full health into sleep with just 1 blow!
I hope you loved my blog. Please visit again!
Stay well and keep playing Splinterlands.
Want to start playing splinterlands? Click here
Posted using Neoxian City
---
---