Guild of Neoxian Won another Splinterlands brawl !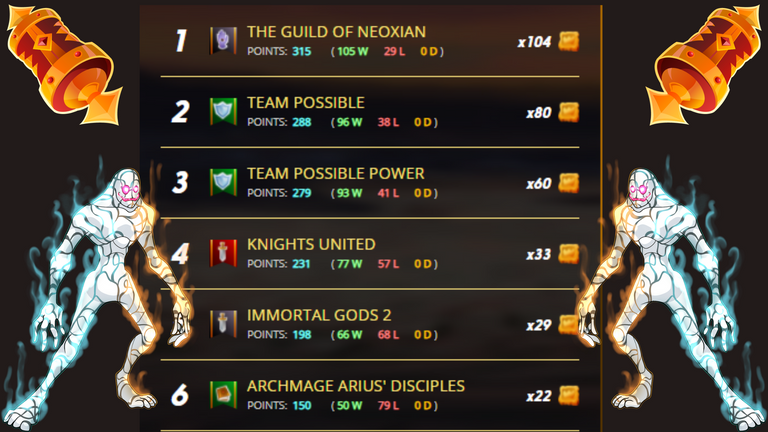 Hey, what's up everyone!
I hope you all are happy and enjoying the Splinterlands well! it's been only a couple of hours since the last season of Splinterlands has ended and plenty of more time left for the season to end. This season, the war of the season leaderboard was so fierce that in diamond leaderboard, the top place holder had to score 4331 trophies in order to stay at top while only two seasons ago it was barely 4200+ for the first place but that increased almost 150+ trophies so you can feel how much it is getting harder every next season to reach that leaderboard. though I have somehow managed with the red-dog account to place myself in the leaderboard and scored 20K DEC but I failed to reach the leaderboard with mango-juice as I don't have a complete collection of cards, but playing the leaderboard for hours did give me a decent amount of DEC for those ranked matches. I finished the season at Champ III with mango-juice and got 80 loot chests. After the season end, I bought two Legendary reward cards from Splinterlands market. I was thinking to renovate my collection with some good cards that can actually change my winning ratio in game and after seeing this season performance, I really forced myself to Buy and transfer some hive from Binance, Buy DEC with it and to purchase those two cards DJINN OSHANNUS And Almo Cambio. The Cambio is from the previous reward set which has more CP then the latest reward cards and it is a very important card to hold and use. on the other hand, I choose to Djinn ohannus because it was selling for cheap and I bought them for $45-$47 per BCX which is a good price to me seeing them selling over $65 just a week ago. so, without any delay, I exchanged my hive for DEC and made purchase of those two cards at max level through monstermarket.io website which gives you 3% cashback when buying cards from Splinterlands market using their website. So, as I have now added them to my max monster collection, I will soon make individual post about them each and hope you will like them so stay tuned with me!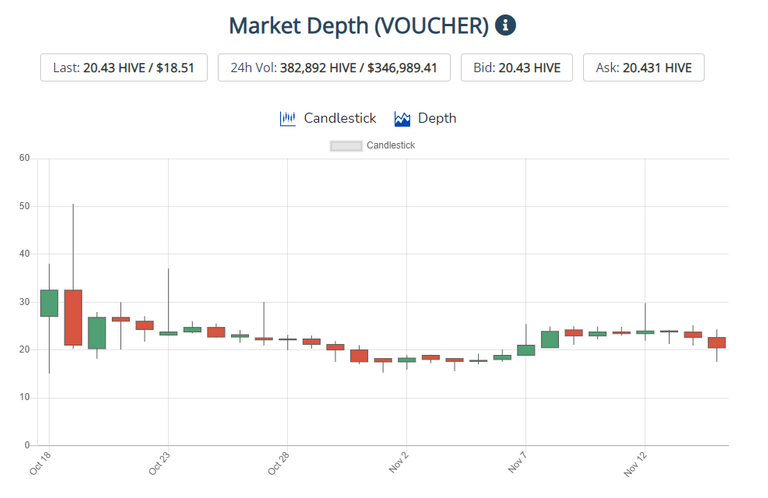 Now, taking at a look at Splinterlands token market, first of all, I am seeing that the vouchers, after facing a sudden dip recovering itself from the $16.5 mark and currently being traded for $18.32 per voucher at hive-engine marke. only nine days left for the pre-sale to end and though I'm not sure I think only one day left for the voucher drop to end. so, I am very hopeful for vouchers to be traded at higher price as the voucher airdrop gets stopped but the market is volatile and cares nothing about my predictions.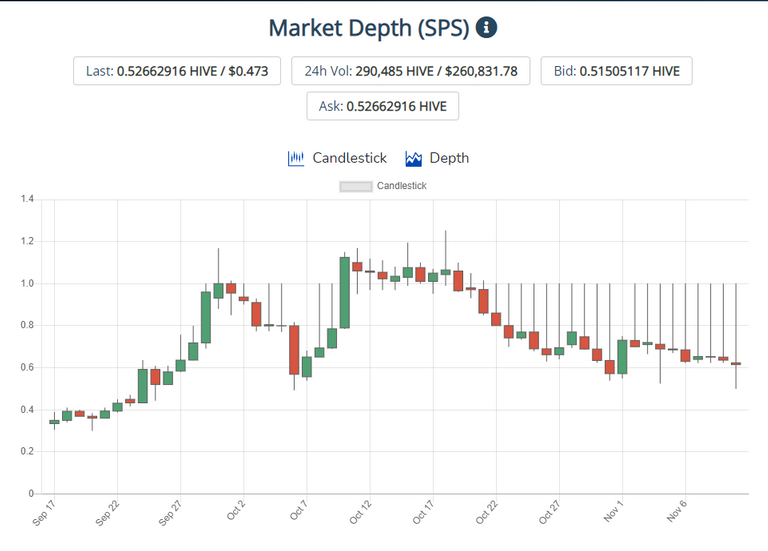 On the other hand SPS AKA sprintershards are now being sold in the market for $0.462 per token and continuously dipping towards the $0.4 mark. it's clear that many people who are not entering the presale dumping their SPS daily and that number is huge. hence it's affecting the price and the SPS is staying for days under $0.5. the game is surely to be changed after the pre-sales but At the moment it's very hard to tell which way it will go.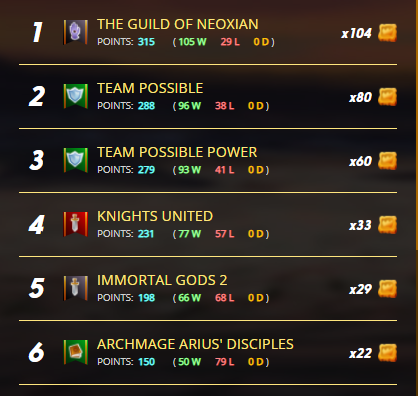 Now, before I end my today's post, here are the glad cards that I've got today by opening multiple Gladius packs. Yes, we, the guild of neoxian again won the brawl at first position and got our self 5850 Merits to each Player who submitted all of their brawl matches. Both of my accounts were being played in this brawl and after winning today's brawl, I immediately Bought and opened total five glad packs 3 from mango juice and two from red dog. Below are the screenshots of what I get from those packs. I got lucky to get total three epics, seven Rares and one gold foil card from this brawl as they really help winning in brawl matches so the more you collect and upgrade the more chances for you to win those brawl matches.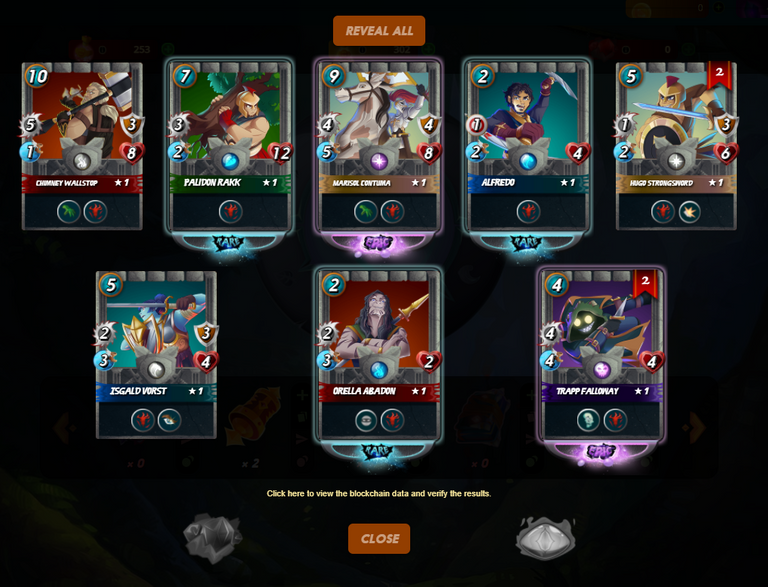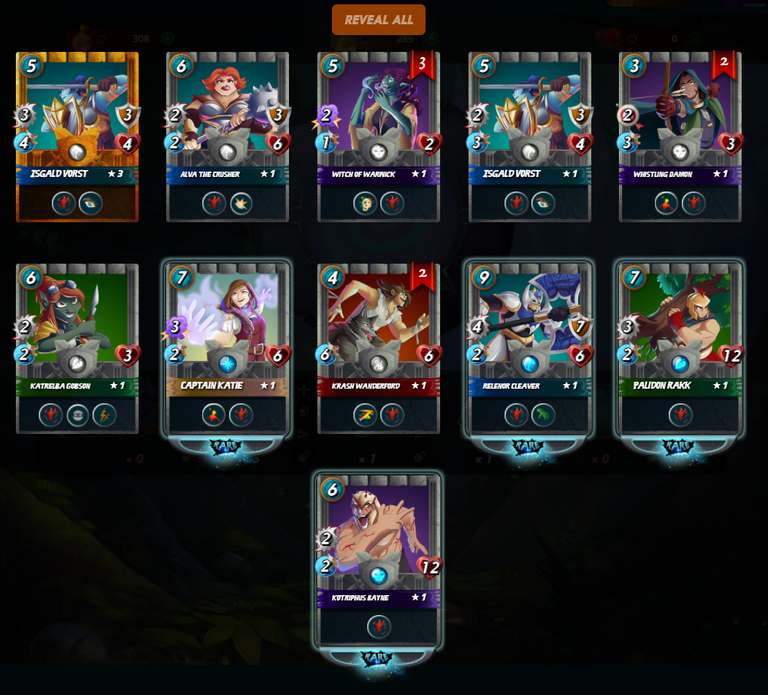 Wish you all good luck on all of your future SplinterLands matches.
---
Thanks for visiting my post.
Stay well and keep playing Splinterlands.
Want to start playing splinterlands? Click here
Posted Using LeoFinance Beta
---
---