Is renting out your SL cards is better than playing?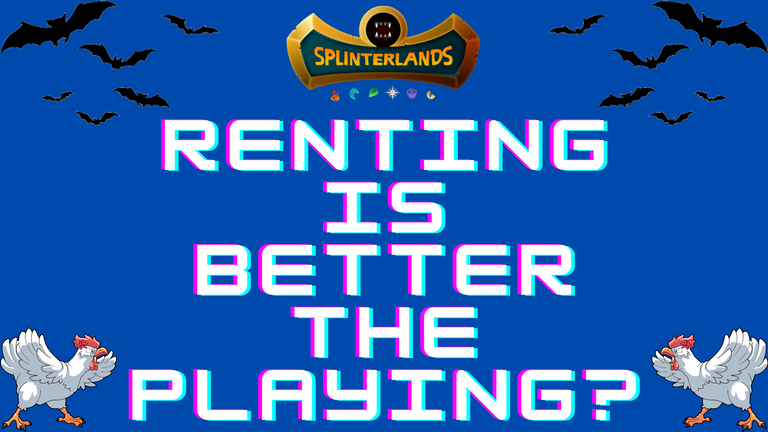 Good morning Splinterlands Fans!
I hope you are all enjoying the weekend at its best as I am too. It's been only several hours since the last Splinterlands season has ended and I hope all of you have collected your seasonal rewards already by opening those loot chests. For those who were battling in the leaderboards and secured their Dec rewards this time as well, congratulations to all of you my friends! You really have done a major and complex job done there and you should be proud of that.
For me, this season I wanted to go with renting rather than just playing in the diamond leaderboard and I did so finally. There are several causes behind my such action and the most important among them was that I have Successfully paid off my entire loan I took from Mr. Neoxian and got back all my Splinterlands cards that were kept to him as collateral. Since the renting has started I haven't tasted it out with my collection so I already had a craving for it. I have done renting some small level and one BCX cards earlier but to get the exact feeling of how much your collection will really worth at the end of the season and how much can you earn just by renting them Splinterlands cards on the market rather than playing for hours and battling that leaderboard where you are not sure that you will get the price or not as always because more and more players are joining. I see numerous players with Max collection and awesome strategies that even I fear now-a-days days to face many of them.
So when it was last two days left for the season to end I completed my last quest and then I started renting out my cards straight away. I haven't had much knowledge on this renting mechanism or for how much price should I list my individual cards. So whatever my cards level are, I just listing them a bit lower Just so that my cards got rented and none of my cards left there and being unrented. While listing, Some cards got rented out immediately as I listed them on the rental market and as it was over two days left from the season to end, people were renting my cards in for two days rather than just one day but not all of my card got rented out that day. The remaining, which were basically 85% of my cards, they got rented out in the last day and from this whole rento-mania, I earned total 21.5K dec Just for renting out my card for these last two days which is once again more than what I could possibly earn by fighting in the leaderboard, which is 20K DC utmost that I try every time. But yes, I had to sacrifice my seasonal rewards. I could get one or more legendary some good gold foil cards or at least some epics and rares, but this time as I told you I had a craving to test out the renting feature and to comparison it with earning from playing.
As I am very fresher in this renting world, I didn't list all my cards for beneficial prices, which I find out later when comparing in the peakmonsters website. It turns out that I rented out lots of cards at lower prices than it usually gets rented out in last day generally. As I rented out when it was two days left from the season and most of them cards on the renting market were listed at low prices and I blindly follow that price to list my cards. The rental price as usual got boosted out in the last day jumping on average 50 to 75% on many cards, Especially those Summoners and legendary cards but sadly i rented out my cards lower than that.
So, if you look that way I am probably at a bit loss than I could gain from this last date but I am very happy with the renting price till now, though it has been decrease by 4x since the least since the launch of the renting update. I was talking to one of my Splinterlands friends Simcard (@akomoajong) and he told that on the first season when rentals got started he got about 200K DEC just from renting his Gold foil deck but this season, he only got about 40K DEC renting the same collection so you can get an idea how much ratings are decreasing over time and coming to an equilibrium position from which, they will be constant/stable over time.

I have started un-listing my cards from the rental market and also a good number of cards are already ended their renting period and came back to me. Some of my cards got rented again in the first season day, but i have canceling them so that I get back my cards by tomorrow and start playing for quest again. Only 15 days left for the current season to end so not much time there left, let's see what I do this season, playing or renting, What do you suggest?
Wish you all good luck on all of your future SplinterLands matches.
---
Thanks for visiting my post.
Stay well and keep playing Splinterlands.
Want to start playing splinterlands? Click here
Posted Using LeoFinance Beta
---
---