My thoughts on SL rentals and current price of DEC and SPS $$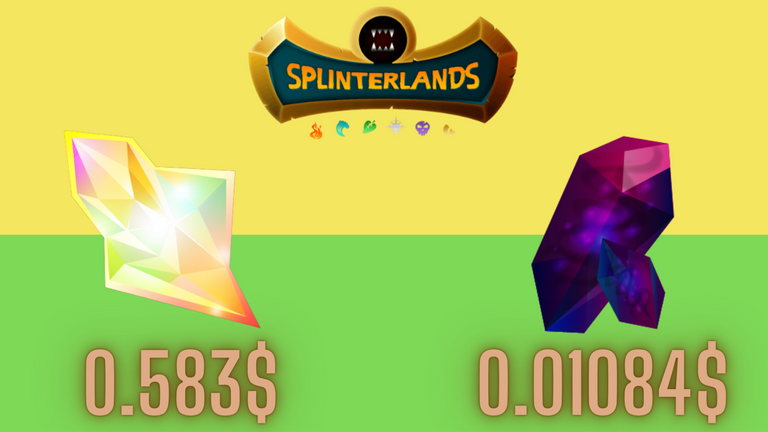 Hey splinterlands players!
I hope you are having a wonderful day and enjoying the game at its best. Only two days and a couple of hours left for this current season to end so I think you are already into the war fighting your best to secure your favorite position in the leader board or the favorite tier you want to reach before the season ends. For those who don't wanna battle in the last days leaderboard war or don't have enough collection so do so obviously can rent out their cards collection for some sweet dec rewards as the card rental prices increase a lot during these last two days before season end. At this particular time, many players list their spare cards in order to earn a decent passive income from it. On the other hand, other players rent them in to play better in the season fights or just to secure enough collection points to secure the season loot chests.
For me, I will try this season to rent out all my cards rather than to go into the leaderboard war and to see what is the practical difference of earning between them two. Normally I play in the diamond leaderboard and generally I secure 20K DEC every season but I also miss some season due to my poor performance or due to extra crowd in that leaderboard. This season, as I have already paid my entire loan and got back all my max cards, I would rather try to enter into this season as a renter and rent my cards away for some good rental incomes. As for the other account red-dog that I am playing, I already have shifted its position from diamond to champion in order to collect more reward chests and some champion points and as I will only play this account later on this season, I will try to reach champions leaderboard this time with red-dog. There is a tough war on another level there waiting for me and most obviously I will fail to secure a place in the leaderboard but it's worth gathering knowledge at least if not winning anything. So it's really worth trying and I will do my level best this time in Champ.


Now taking a look at the splinterlands token market, I can clearly see a decent pump with the SPS and DEC token. Currently, SPS is being traded at Hive engine for $0.583 and DEC thousand pieces will cost you about $10.84. After facing a dip for last 2-3 days, currently the Splinterlands market is reviving and going upwards with a decent speed and I am very hopeful that the SPS price will again touch the $0.8 marks pretty soon and the DEC will reach its $0.0013 mark as well.

Since I have paid of my loan, I am converting all my earnings into DEC and piling it up into the SL in-game wallet in order to earn extra SPS. I have currently to 281K+ DEC and 1650+ SPS liquid in my wallet as I am being ready for the pre-sale! Let's hope vouchers come down so that I get a window to buy them. Only 27 days left for the pre-sale to end so not much time there left. :)
Wish you all good luck on all of your future SplinterLands matches.
---
Thanks for visiting my post.
Stay well and keep playing Splinterlands.
Want to start playing splinterlands? Click here
Posted Using LeoFinance Beta
---
---