Pelacor Deceiver - the deadly death card with flying + backfire combo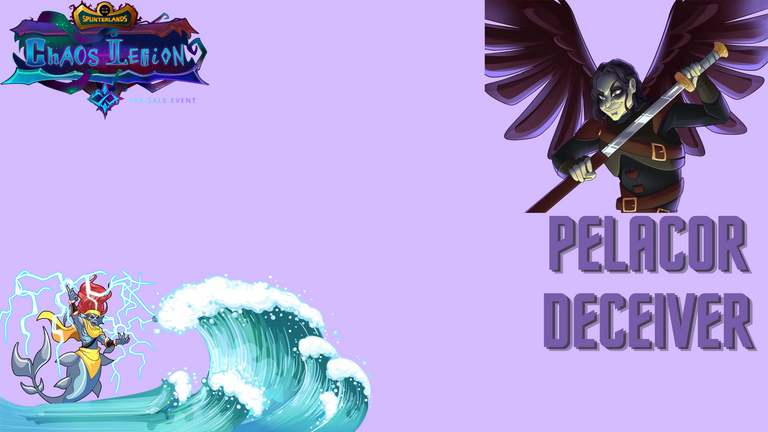 What's up Splinterlands lovers!
I hope you're having a wonderful day and enjoying the game at its best. For me I have rectified my trophy count and came back to Diamond are from bronze right now I am carrying 2840 trophies and playing in diamond three and just finished my quest on the other hand only 20 days and 14 hours left for the Dallas Legion pre-sale and the Fomo is getting real as we can see a pump in Splinterlands tokens like DEC, SPS and vouchers. While the DC is currently priced at $12.15 per thousand DC and SPS is being traded for $0.625 per SPS 4 hours. they also pumped its price and currently being sold at the hive market for $15.10 per voucher. I am getting a feeling I should start buying vouchers from now on as on the those last days vouchers will go high in price at a People like me who are accumulating their funds to get into pre-sales will be will buy those packs on the last days so I think soon I have to break my DEC savings which is 369K now and buy some vouchers with at least a portion of it so that I don't have to buy vouchers later on for higher prices.
Now let us take a U-turn to my weekly battle post as today I have a very special monster to showcase in front all of you as you have already gauged from the Tamil today we will take a deep dive into Splinterlands and know more about Pelacor deceiver, A5 mana cost Millie card that got launched lately with the new reward card sets.
Do I have stopped buying those new rewards because my focus is currently on the pre-sale but before that I did bought some of those new rewards cards in max level and the Bilaspur TC was one of them it Is a five Mana Melee card from the death splinter which can be used generally as frontal defence because of It's increased stats.
Before I started accumulating funds for the pre-sale I did bought a max level Pelacor deceiver from the market it didn't cost much and to be honest I also didn't like this card either but in some circumstances these kind can be very helpful and can save you from from being lost. I bought a max level and it has 3 mile attack at five speed and 10 health with three abilities flying back fire and retaliate
Why should we use the Pelacor deceiver ?
From its initial level Palace or DEC were possesses High stats with flying ability with it those it is very hard to even kill it in its initial level with Millie or ranged monsters
From level six it received the bank for your ability which helps him damaging when an enemy misses its attack upon it.
At the max level eight stats become much higher with 3 million attack with five speed and 10 health and it also gets the retaliate ability which helps in to attack back with 50% chance whenever Emily monster attacks him.
Because of its both retaliate and back fire ability it's become super useful at its max level where if an enemy attacks you you can hit him with retaliate ability and on the other hand if an enemy misses its attack upon you you can damage him with your bank for your ability isn't that cool?
Abilities

Flying it has an increased chance of evading Melee or ranged attacks from monsters who do not have the flying ability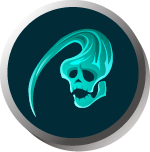 Backfire when hit with a Melee attack monsters with retaliate have a chance of attacking their attacker

Retaliate when hit with a Melee attack monsters with retaliate have a chance of attacking the attacker.
Market: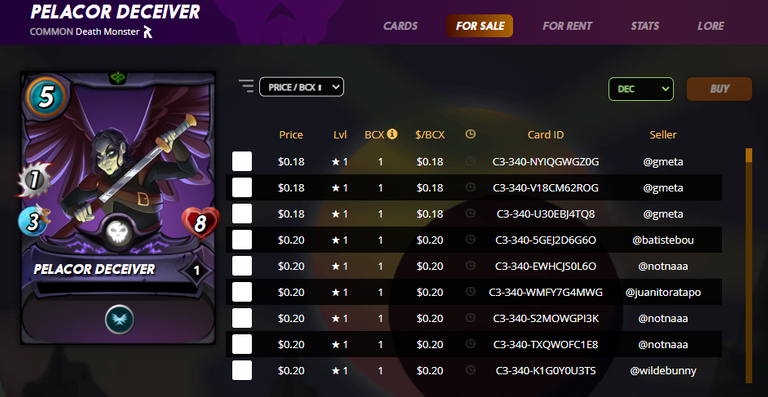 Currently single BCX of pelacor deceivers are being sold at the Switzerland's official market for $0.17 per BCX there is no max level Deceiver. or DEC were available right now but you can buy higher-level cards at higher prices that can be filtered out in the sale tab.
Battle Line-up: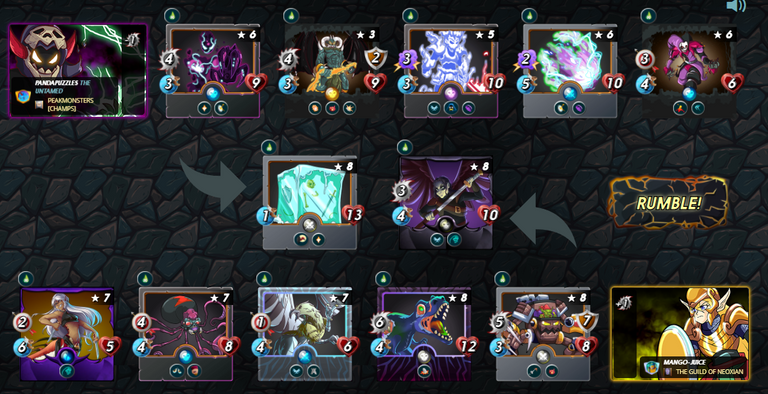 Experience:
Well it was a medium mana match and I wanted to choose the Palace at my top first position. So, this time I went with Daria dragonscale, the 4 mana Dragon someone which gives +1 attack to all my friendly monsters. In this match, Melee attacks monsters can attack from any position I choose three big monsters with Millie attack the Block Surat first followed by the goblin make and then the undead Rixie and then I choose the tower Griffin to protect my lineup with its protect ability afterwards I chose the October and Nagasaki seen at the rear most two positions respectively.
The Pelacor worked like a charm here. It used both of it's flying and backfire so smoothly that it damaged the enemy monsters with backfire a couple of times while saving itself from those enemy attacks. It really is superb against those low speed melee cards but against magic cards, it will become vulnerable.
Wish you all good luck on your chaotic journey in spliterlands.
---
Thanks for visiting my post.
Stay well and keep playing Splinterlands.
Want to start playing splinterlands? Click here
Posted Using LeoFinance Beta
---
---