splinterlands 100 dec giveaway result is out!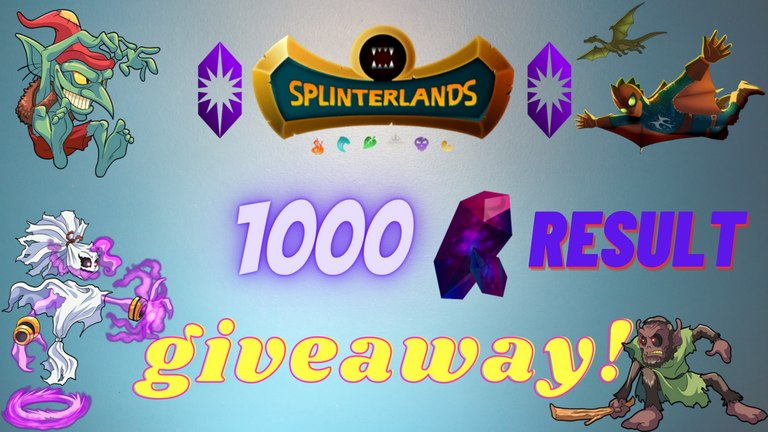 Good morning Splinter lovers!
Yes, I am back with the results of last week's giveaway post!
Hi friends, I am well aware that its been over 7 days so here I am with the last week 1000 dec giveaway result!
Last week, I created a 1000 dec giveaway on hive and the key to enter the giveaway was to tell me what your favorite splinterlands card and why. TBH I had no idea that the giveaway would be so successful and well liked by my fellow hive friends but believe it or not i got a total of 20 entries in that post and I really feel great that all of you liked it.
Now, I had found it so hard to find the best 2 answers because many answers in my post were well deserving. But ultimately, after judging them with certain parameters, I finally came out with my most 2 favorite answers. Let us look at the first one below.

The comment that I found the best among those was given my @moonthumb. He really wrote his answer his heart and I can feel the the honor of using Byzantine Kitty through his writing. Kitty summoner is expensive but don't think it will come back to it's initial price anymore. +2 speed to every friendly monster and make them untouchable, providing healing support to the front monster on top of that really makes a hard-to-kill deck and guess what, byzantine kitty also provides true strike to all friendly monsters so they wont miss a single attack! I mean What more cant you ask from a summoner? that Well done mate, You indeed deserve the first prize! 500 dec sent to you.

The second best answer that I found from all the answers in my giveaway post is written by @jdike. Jdike is a newcomer in splinterlands but he is really digging deep with the basics and finally found the out the true king of beta realm, Alric Strombringer! The 3 mana water summoner from the old beta/alpha edition who is still very popular and pricey because of +1 magic buff to all friendly monsters. Some of You may fight here with me upon the fact that I should have said Prince Rennyn or Selenia Sky as the best summoner but I just cant help it to like him the most as Alric, over years has provided me countless flawless victories against both of them. Well done jdike! You are my second winner and 500 dec sen to you as well.
Alright, guys! I hope you liked my post. i will be back again with another giveaway post real soon and will try to make it more attractive next time.
See you in my next post. Until then, keep fighting with your best!
---
---