The Orc with the golden AXE : stats and battle story #play2earn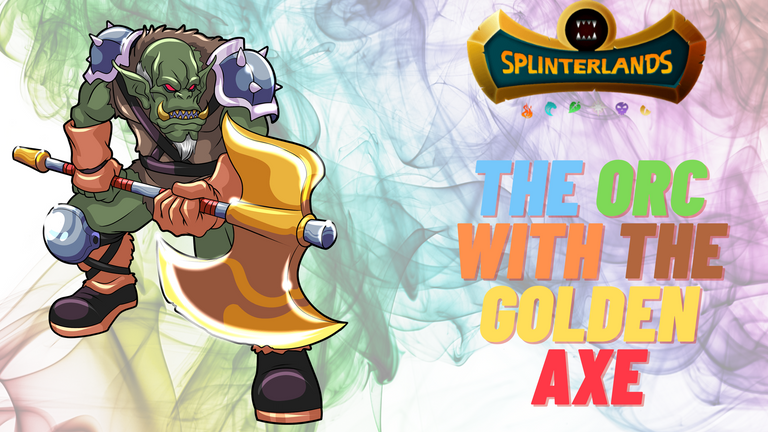 I hope you all enjoying Splinterlands!
This is your splinter fellow warrior mango-juice with another Splinterlands Social challenge post!!
---
Hellow fellow players!
Another week passed by and splinterlands market cap is seeing a continuous increase. I hope you have also participated in the DYGYCON 4 and enjoyed the show! On the other hand, all of our favorite @ChrisRoberts on behalf of official @splinterlands has Announced a new Twitter initiative! I highly suggest you to get involved for a weekly chance to win a random Legendary Summoner!!!
Each week,they'll be rewarding a random Legendary Summoner to at least one tweet which meets the below criteria.
#Splinterlands is tagged
#Play2Earn is tagged
Multiple retweets are achieved
Tweet is shared in the comments of the official #play2earn hive post before the payout has expired.
and last but not least, just try to be creative and show the whole world in your vision the potential of earnings of splinterlands!
Now let us move towards my weekly splinterlands battle post. Today I thought to catch up with the Retaliate ability as my weekly battle post! For those who don't know about this ability or when to use it, continue reading as you have come to the right spot. Anyways, I thought to use an uncommon monster for this post and finally came out with the red eyed beast fighter, STONESPLITTER ORC!
Don't you try to compare STONESPLITTER ORC with any cheap monster that roams around the lands of splinters, as this monster has been there since splinterlands got created. This card is from the old beta/alpha edition cards which costs 6 mana and is very usable in high or in medium mana earth splinter friendly matches (where it is available to select), especially when you want to kill your opponent's melee monsters back to back with deadly blows of it's golden shiny axes. This old dog warrior has 5 melee attack and with Retaliate and Enrage ability. So when it gets damaged, it gets it's melee attack further jacked up and then retaliate ability gives him chance to attack back whenever a melee monster is hitting him, thus making him worthy to depend upon.
So, If you really want a high powered beast at the front or sometimes in rear position that can kill down some the enemy melee monsters easily with its high power melee attacks and abilities, STONESPLITTER ORC can be your true companion!
Ok so, before moving on, let us see what is being written in the book of Splinterlore for him.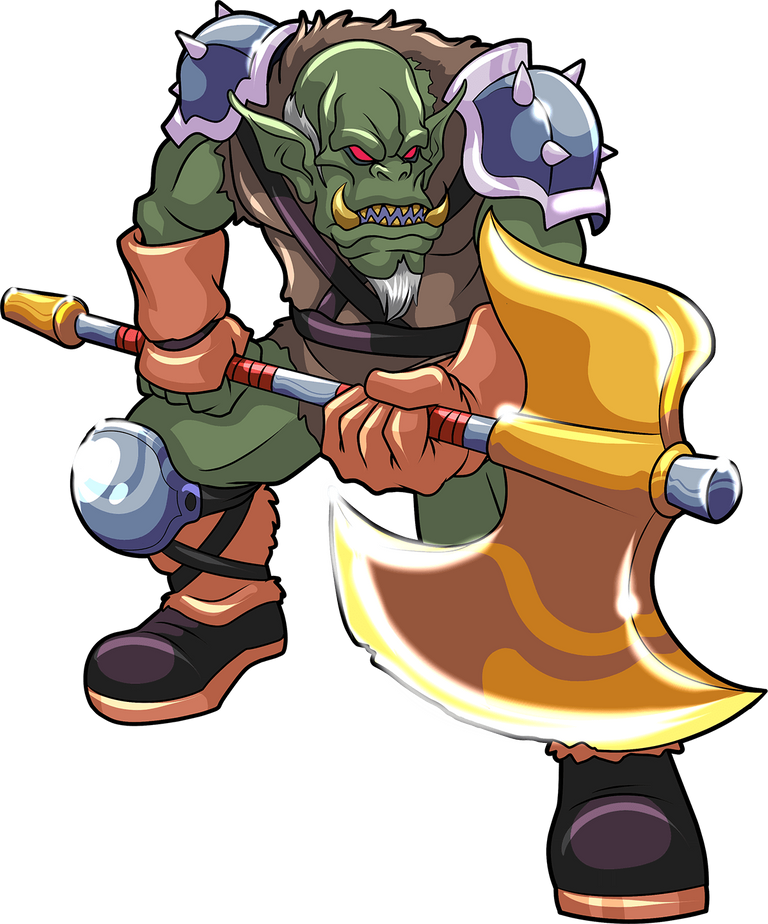 True to the name of their kind, the Stonesplitter Orcs can cleave any stone into pieces, revealing the ores and gems that may dwell within. They are also fierce foes, whose pickaxes can crack the skull of an enemy monster like a nut.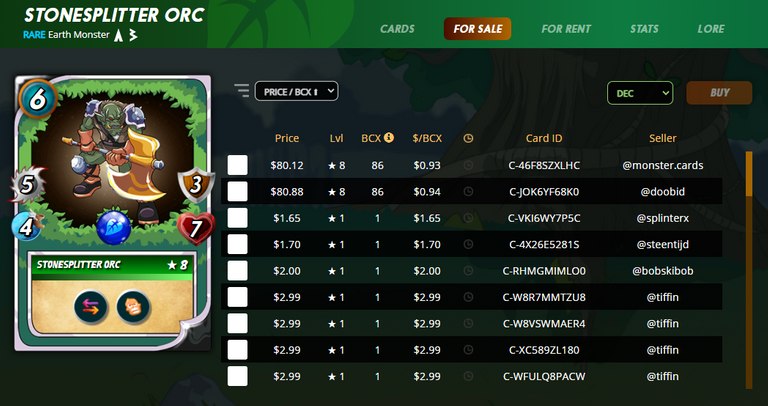 For this alpha edition card, Right now there are currently 2 max STONESPLITTER ORC available at the market, the lowest one is listed at 80.12$ (total 57,783.628 DEC, 0.93$ per bcx).
Some high level cards are there at good price.
The single ones are available starting at 1.65$ and will cost you 1,192.932 DEC as per the current rate.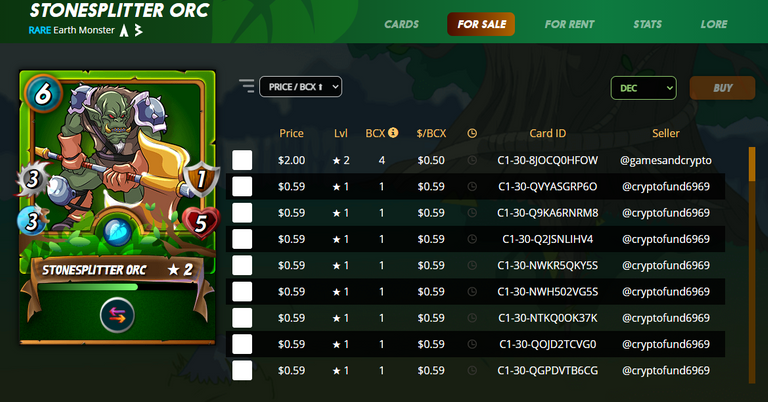 For the beta edition card, Right now there are currently no max STONESPLITTER ORC available at the market, The single ones are available starting at 0.59$ and will cost you 412.545 DEC as per the current rate.

What STONESPLITTER ORC is capable of?
---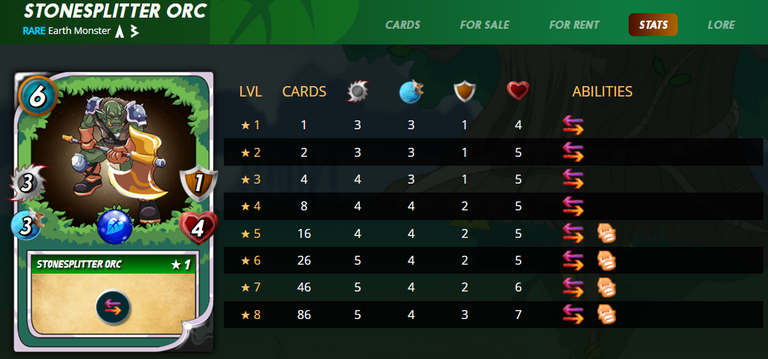 Let's have a look into his stats and find out!
Level 1 - In its initial level, it carries 3 melee attack with 4 health, 1 armor and 3 speed. It brings the Retaliate ability at the initial level with it.
Level 3 - At level 3, it carries 4 melee attack with 5 health, 1 armor and 3 speed.
Level 5 - At the 5th level, It possesses 4 melee attack with 5 health, 2 armor and 4 speed. It also gets Enrage ability at level 5.
Level 8 - At the maximum level, It possesses 5 melee attack with 7 health, 3 armor and 4 speed.
So, what do you think guys? Is it a fantastic choice to beat down enemy monsters with its super abilities or just another normal legendary monster? Let's now see about his ability.
ABILITIES:

Retaliate
When gets attacks by melee monsters, This monster will have a 50% chance to attack back the attacker.

Enrage
Has increased melee attack and speed when damaged.
Match line up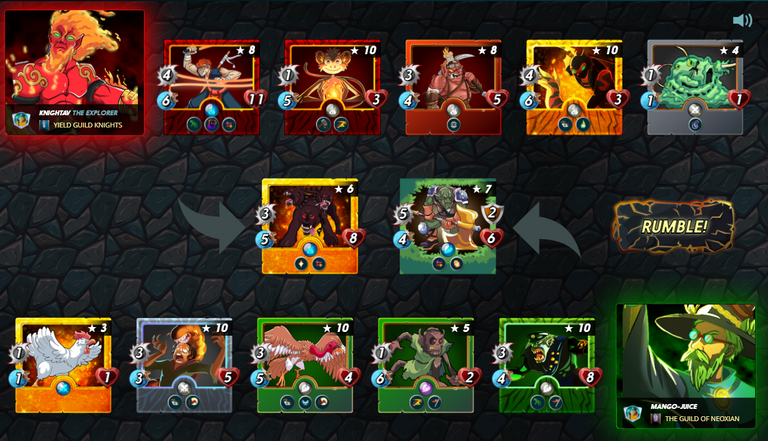 Ruleset Of Battle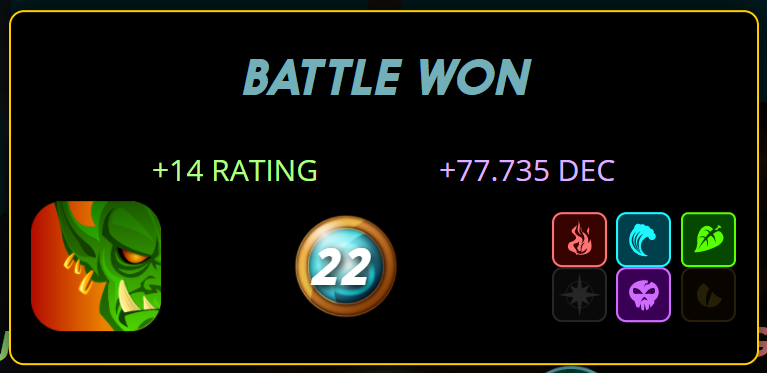 Mana count This match holds a small 22 mana cap!

Summoners This battle supports Fire, Water, Earth, Life and Death summoners.
Ruleset So, It was a single ruleset as below...
Up Close and Personal Only melee monsters can be used in this match.
Well, this time I got a small 22 mana melee only match and I think its a sweet ruleset to apply my Orc into. I am guessing my opponent will either of fire or death summoner with melee attack buffs but this time I am thinking to go for the Earth summoner Wizard OF the Forest. Because it's a Melee only rule-set match, this rule set is favoring melee monsters only and I am going to use Stonesplitter Orc in front and will boost its power further with monkey and brownie. Though it a small mana match, definitely I can add screeching vulture and parasitic growth and the 0 mana chicken at the end.

Line-Up
---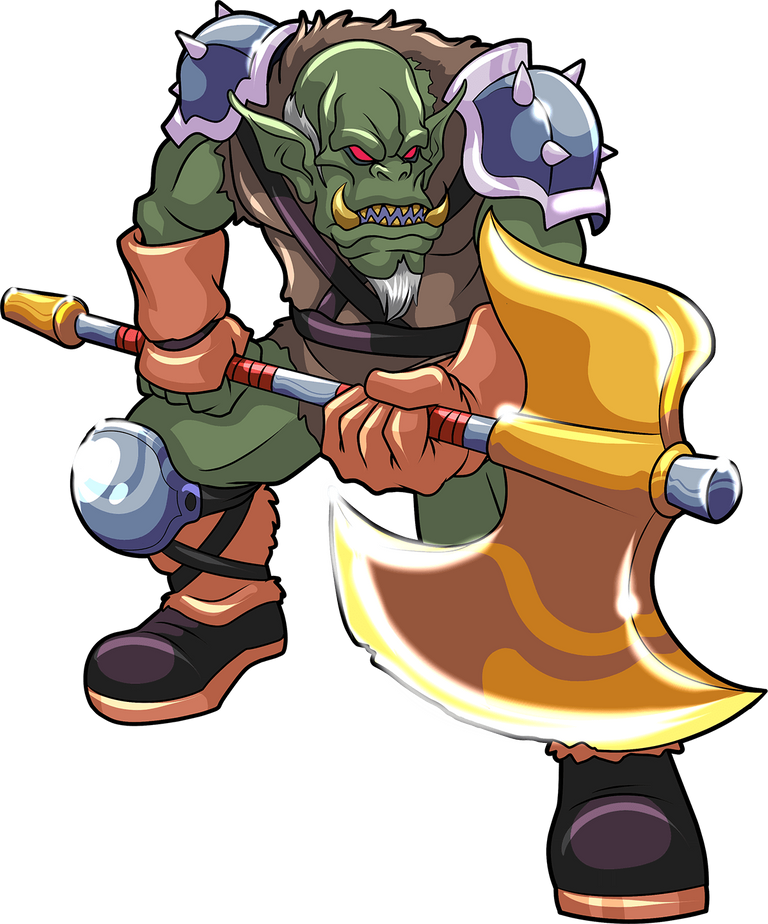 STONESPLITTER ORC
I chose STONESPLITTER ORC in the first place because of its medium health + shield with that comes with a high powered melee attack and variety of abilities - Retaliate and Enrage ability. I have a level 7 and it has 5 melee attack at 4 speed, 2 armor and 6 health.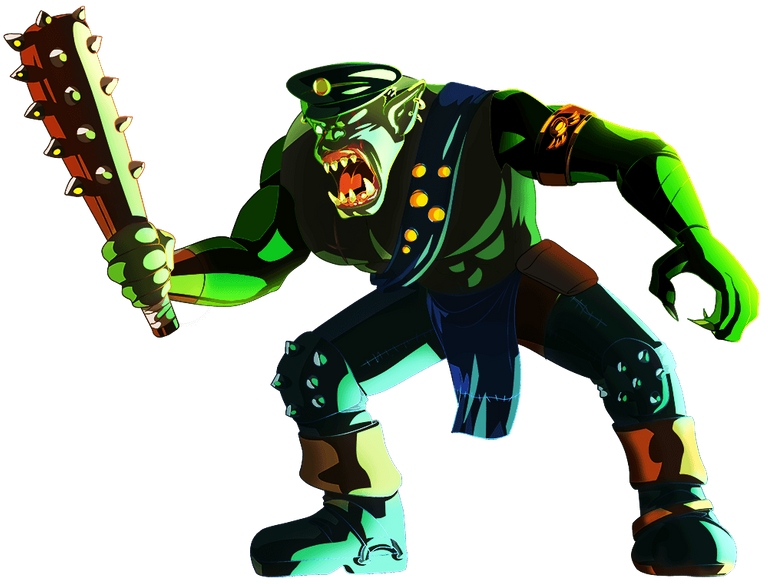 ORC SERGEANT
I chose ORC SERGEANT in the second place because of its 5 mana cost with reach and inspire ability. I have a level 10 and it has 3 melee attack at 4 speed and 8 health.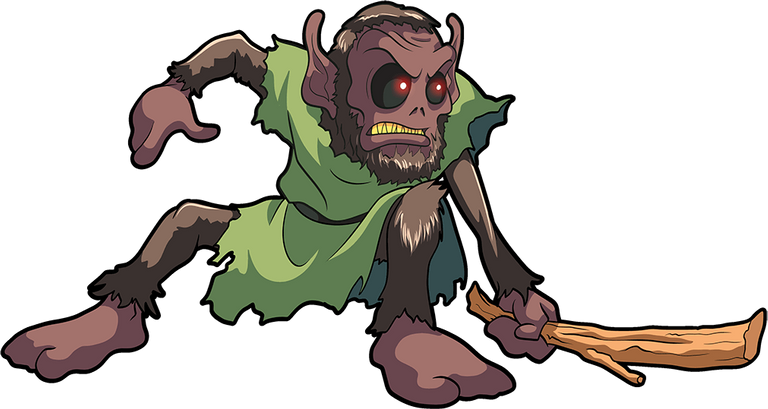 BROWNIE
I chose the BROWNIE in the third place because of its 1 mana cost that comes with inspire and swift abilities. I have a level 5 and it has 1 melee attack at 6 speed and 2 health. This is Mainly to give our melee attackers extra attack power support and also to speed them up with swift.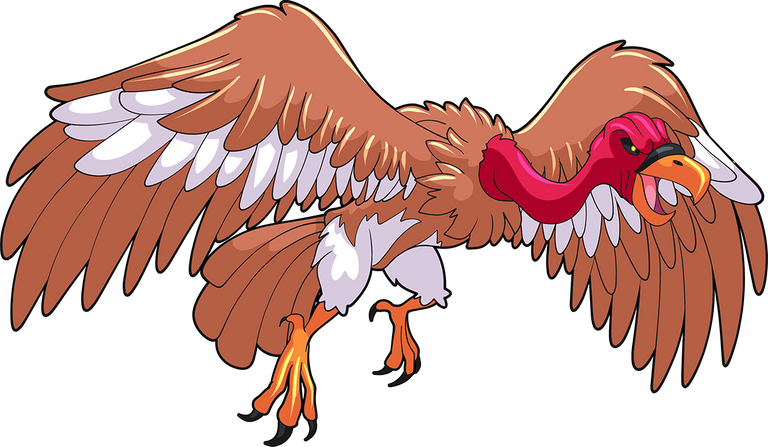 SCREECHING VULTURE
I chose the SCREECHING VULTURE in the fourth place because of its awsrome opportunity attack with scavenger, opportunity and flying ability. I have a level 10 and it has 3 melee attack at 5 speed and 4 health.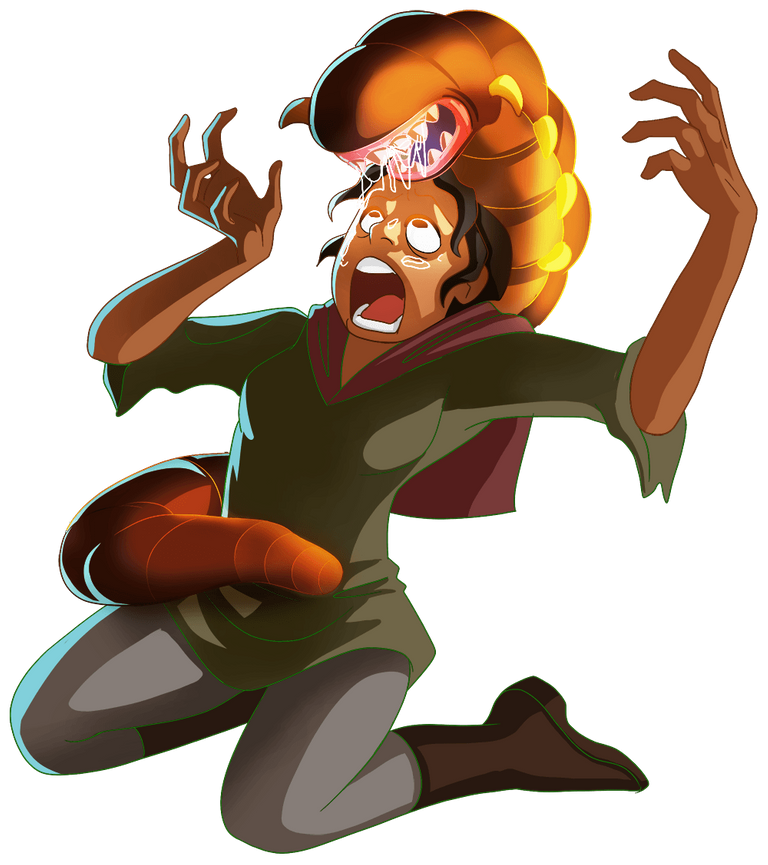 PARASITIC GROWTH
I chose PARASITIC GROWTH in the fifth place because of its 4 mana cost, 3 melee attack with opportunity and scavenger ability. I have a level 10 and it has 3 melee attack at 3 speed and 5 health.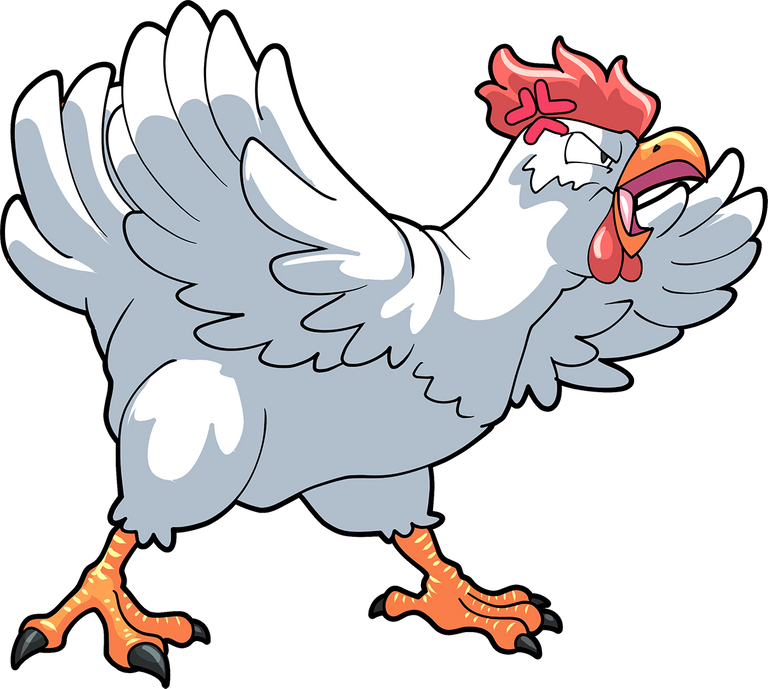 **FURIOUS CHICKEN**
I chose the FURIOUS CHICKEN in the last place because of its 0 mana cost. I already spend all the mana after the summoner and those 5 monsters that I have already chosen so chicken is the only option I have.
Battle Result


Let us now take a leap of faith straight into the gameplay.
Well, it was an unpredictable mana match with just 22 mana in hand and friends, the match was full of melee monsters as the only ruleset that was applied to this match was melee only. My opponent used a maxx level Fire summoner Malric against me! My opponent was having some maxx and high level fire and neutral cards and his line up was just great! Let's look down to the match!
Gameplay

You can directly view the battle. Just click the hyperlink below.
---
First, let us follow the opponent's line-up...
My opponent @knightav used Fire summoner Malric Inferno against me.
At the front position, he used the Cerberus level 6. He chose an undying retaliate beast as tanker due to this small mana ruleset to his front and I just hope I get able to kill this undying beast with my warriors.
At the second position, he puts the fineas rage lev 8.
At the third he used Flame Monkey lev 10.
At the fourth position, he puts Kobold Miner level 8.
At the fifth position, he puts Serpentine Spy level 10.
At the sixth position, he puts Ooze level 4.
As you can watch from the battle, the opponent's line up was packed up with all big and small melee monsters. while at the front, the Cerberus was defending with his retaliate and healing ability, followed by the fineas rage who was helping by attacking from the reach position. The serpentine spy started to look my small mana monsters while the miner was about to attack my chicken.
Really,the true hero of this battle is the Stonesplitter orc The who really helped me with his deadly axe and retaliate attacks. He was beating the enemy monsters one by one starting with Cerberus. My opportunity duo also did their best by taking one after one small health enemies while the monkey and brownie were helping with +2 melee power each. I am so glad that I chose this monster without thinking because this orc still has great potential in the battlefield.
My opponent @knightav really played great! I face him often on the battlefield and him line ups are great as always! If you are reading this, please give him a shout out. I hope you have enjoyed reading my post. Please let me know your feelings by leaving a comment below.
---
Last but not least, I really wanna say thanks to the entire @splinterlands team for their fantastic and tireless effort on this game. You guys really rock!!
---
Haven't joined this awesome game yet?? now is the time dude! Follow the link below and get yourself in the amazing world of Splinterlands.
---
All the images in this post are screenshots taken from the site below:
Cover picture is made with - http://canva.com
#POSH - You can check my Twitter handle at the comment section of this post.

Monster Market
Do you want some sweet cashback while buying Splinterlands packs and cards? Visit Monster market now! Being Run by @zaku and @reazuliqbal, It is an awesome alternative site for the Splinterlands market which gives instant cashback on the card and packs purchases. Feel free to contact their Discord for any query.




Posted Using LeoFinance Beta
---
---