This Gladius card can protect you from all 3 types of attacks!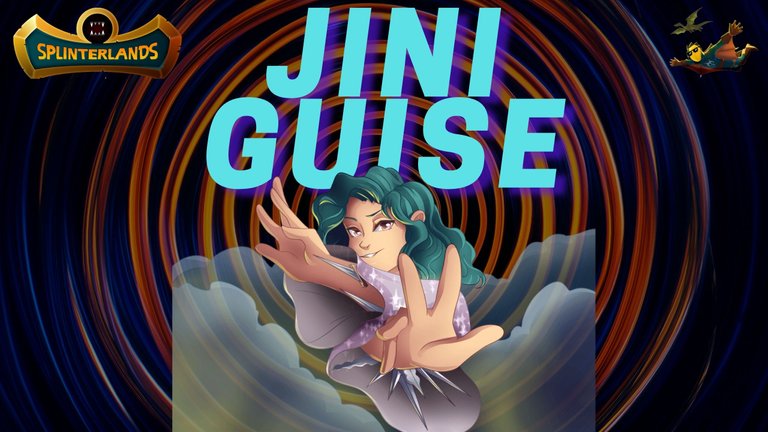 What's up my fellow warriors!
If you are a daily splinterlands player and actively partake into all the different kinds of gameplay, then obviously you are doing good in brawls too. And of you are pretty new to this game, brawls are special kind of tournament where different guilds participate and compete with each other. The more wins and less losses players collect in a particular guild, the higher they go in leaderboard. For top place holder guilds in brawls, the respective guild members gets incentives with lucrative amount of SPS and merit as rewards whereas the guild gets crowns which is needed to upgrade it and unlock more perks and earning abilities. Well, that is the simplified version of guilds and brawls and now, let me move towards the latest brawl and our guild performance.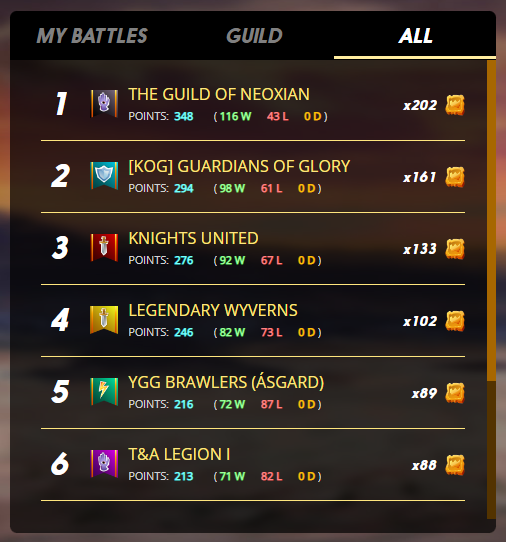 I am a proud member of the Neoxian Guild and on our latest brawl that finished just a couple hours ago, we gladly secured the first place again. This time, we were playing against some seriously good guilds as our opponents like Knights United, YGG Brawlers, Guardians of Glory etc but thanks to all my brave fellow guild mates, we again become victorious, snatched the top place in the brawl leaderboard and got rewarded the most. Every participating players in our guild who played all their frays got rewarded with 199.972 SPS and 11,543 merits each while our guild got total 202 crowns this time. I was really happy after the results and thanks to our guild owner Neoxian and our guild officer xawi personally for helping me out with the brawls.
However, as I am getting a good amount of merits from brawls and from ranked rewards chests as well, I am constantly buying and opening gladius packs and upgrading my gladius cards over time. If you play brawls, you should know the importance of having rhose gladius cards into your collection, as without them it's kind of impossible to perform well in brawls. Moreover, With the release of latest edition of Soul bound reward cards, now we can even use these Gladius cards in ranked matches and tournaments as well, so it will be only a matter of time before the Gladius cards will be a must have in these types of gameplays as well. So it's better to act now and collect them as more as possible to secure your future in this game.
JINI GUISE
Everyone has their own choice of favourite cards in this game. Now talking about brawls, I also do have my list of favourites and in today's post, I will be showcasing one of them with you all. As you have already guessed it from the thumbnail above, today I will be talking about the legendary gladius card, JINI GUISE.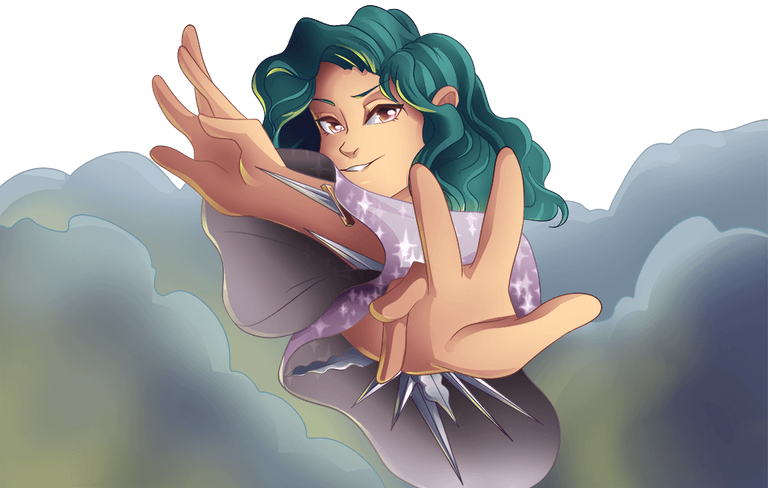 Jini is gaining popularity among splinterlands players mainly because of it's protect and silence ability. But at max level, it possesses a whooping 5 abilities which certainly makes this card very powerful. Jini is a legendary type card that belongs to the Earth splinter. It costs only 4 mana to be used in battles and it's attack type is magic. Now, let us look into the importance this card and what this card can offer us in battles.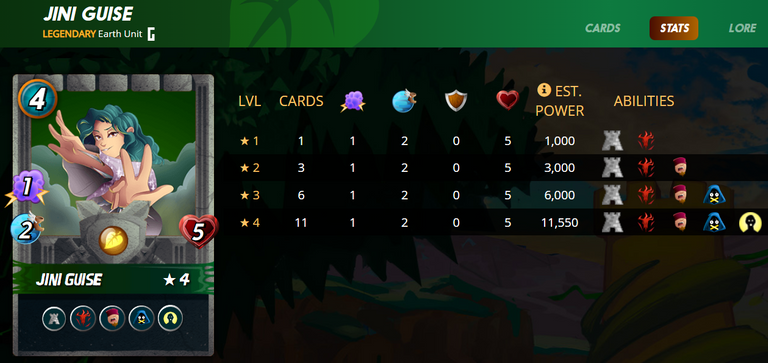 At initial level, this card possesses 1 magic attack at 2 speed with 5 health and it also gets 2 abilities - Protect and Bloodlust. I personally like the protect ability very much, especially when I think the opponent will use melee and range attackers against me. So having a gladius card with protect ability helps me well to save my friendly monsters against these attacks. On the other hand, the bloodlust ability will increase it's overall stats (attack, speed, health) whenever it successfully kills down an enemy.
At level 2, it has the same stats as of it's previous level but it adds another new ability at this level - Blind. This ability is really a charm against melee and ranged attacks cause it increases the evade chance against these type of attacks to all your friendly monsters. This this card certainly becomes even more valuable against melee and range at this point.
At level 3, it still stays same with it's overall stats as of it's initial level, but it does add another awesome ability - Silence. Till now, this monster was only working good against melee and ranged attacks but now with the Silence ability, it suddenly becomes a good choice against magic attackers as well. Are we getting an all rounder here? I think yes! 👏
Even at max level, this card possesses the same stat of 1 magic attack at 2 speed with 5 health just like it's initial level. But it increases another ability to it's list making it total 5 abilities that it gets at max level and the final ability that it gets it the Resurrection. Hmm.. so now it will revive the first friendly monster that dies in battlefield. If used correctly, you can revive your front defense monster with it or any other strategy that you can come up with.
So this monster does not only protect your lineup against all 3 types of attacks with it's set of defensive abilities, but now it will even resurrect one of your precious monsters as well. What more can you ask from a 4 mana monster? To me, it is a overpowered monster packed with too many good things and will serve well in battles.
I hope you liked Jini Guise and it's almost perfect set of abilities along with a e decent stat. Have you used this glad card yet in brawls or yet to found it from gladius packs? Let me know in the comments below and I will be seeing you all in my next post.
---
---

Wish you all good luck on all of your future Splinterlands matches.
Thanks for visiting my post. Please come again!
Stay well and keep playing Splinterlands.
Want to start playing splinterlands? Click here
Posted using Splintertalk
---
---