GMGA Large Airdrop Event - Community Chapter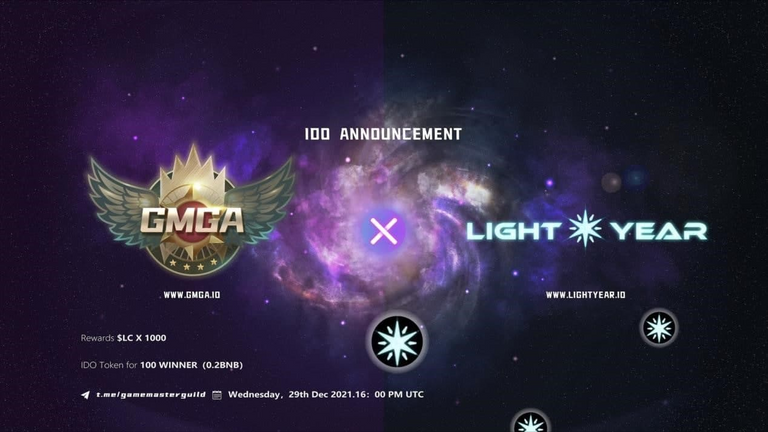 What is GMGA?
Game Master Guild Alliance gathers a large number of game lovers, providing users with a large amount of information on new games, IDO and IGO, analyzing the advantages and disadvantages of various games, and summarizing game P2E experience.
GMGA is also an IGO game launch platform! Our official IGO website was launched in December. Fasten your seatbelts, brace yourselfs and grab your first share of IGO territory which will take you in crazy trip with profit on the finish line.
Project Highlight: GMGA is a mature IGO launch platform that provides high quality Play To Earn link game partnership opportunities. Each game is analyzed and audited by a professional team.

Development Potential: The IGO platform will be launched in January to open the pledge T1, T2 and T3 functions, please stay tuned to our latest news.

Project Timeline.
IDO time: January
Opening date: January
---
---
Airdrop
This airdrop: GMGA will drop a lot of $GMGA tokens in the community (telegram, DC, Twitter) for free!
Event Rules:
🔶 This event is a New Year's Eve carnival.
🔶 The first 20 users who post the text "Happy New Year and good luck with the GMGA IDO" on any of the GMGA Alliance Telegram, Discords, or Twitter at 0:00 UTC on January 1, 2022, will receive 5000 GMGA tokens.
🔶 The first 20 people to achieve it at 0:00 UTC on January 1, 2022 are the winners.
🔶 A total of 60 reward quotas will be awarded, each user can get prize only once so no need to post in all 3 places.
🔶 Winning results will be announced on January 4.
🔶 To claim reward winners have to join the official GMGA telegram within 2 days and send the wallet code to the administrator (the administrator telegram account will be announced on January 4).
---

Join the GMGA Alliance and grow with us!

🔷 telegram:https://t.me/gamemasterguild
🔷 Twitter:https://twitter.com/GuildMater
🔷 Discord :https://discord.gg/q9PdqPfVNf
🔷 Official Website:gmga.io
Stay tuned for more events, airdrops and giveaways we are just starting!
---
What is Light Year?
Light Year is a blockchain based space strategy game. Mining natural resources, crafting space ships, battling and trading with other players, joining alliances or nations, the game brings players the wildest experience of space exploration. Moreover, under the hood, it's a play-to-earn DeFi farming protocol that maximizes users' return from staking their crypto assets.
🪐Play to Earn
There are multiple ways that players can gain rewards from the game. Besides mining, they can also earn by snatching other players, exploring outer space, attending tournaments, or arbitraging from marketplace.
🪐Valuable NFTs
Heroes and space ships are all NFTs. Heroes are limited in supply, and are generated in the initial NFT sale. And space ships are synthesized from natural resources, and can be upgraded by merging two space ships of the same level.
In the future, other types of NFTs, for example, equipments, maps, and blueprints will be gradually added to the game.
🪐Built-in Marketplace
The game integrates with PancakeSwap, BakerySwap, QuickSwap, and Opensea. And users can trade their resources or NFTs right inside the game with one press of a button, while their orders get the best liquidity and exposure from the external markets.
🪐Innovation in Initial NFT Sale
First time in the industry, the Initial NFT Sale of the Light Year game creates 5,000 "Loot-style" storyboard images, and each image contains multiple random NFTs.
🛸 There is still more check official sites of project!
Discord: https://discord.gg/fvpd4KUEgb
Twitter: https://twitter.com/lightyear_game
White Paper: https://lightyear.game/assets/Light_Year_WhitePaper.pdf
Wiki: https://docs.lightyear.game
---
---
---