My Hive & Splinterlands Financial Report #3 - April 2022 (GER/ENG)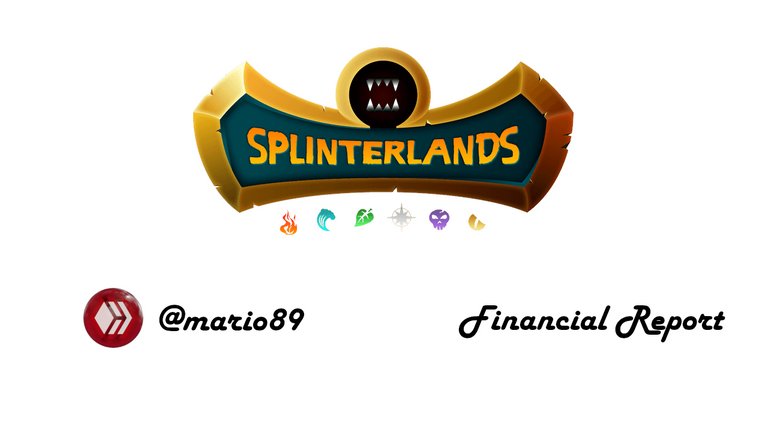 Intro
Es ist schon wieder ein Monat vorbei und Zeit für einen weiteren Finanzreport. Alle Zahlen und Kurse sind von heute morgen 30.04.2022 um ca. 08:45 Uhr.
Another month has passed and it's time for the next financial report. All figures and prices are from this morning 30.04.2022 at about 08:45.
---
My Portfolio 30.04.2022 - 8-9 a.m.
Assets Splinterlands
Amount
Price $
Value $
SPS Staked
2,455.00
0.142648
350.20
SPS Liquid
2.89
0.142648
0.41
DEC
3,723.968
0.00182
6.78
Packs
0
2.909772
0.00
Voucher
16.159
1.591459
25.72
Credits
155.20
0.001
0.16
Legendary Potion
32
0.04
1.28
Alchemy Potion
13
0.05
0.65
Card Value mario89
36,580 CP
-
606.22
Card Value maw89
570 CP
-
2.66
Assets Muterra
Amount
Price $
Value $
MUT
0.00
0.00
0.00
Maldives
0.00
5.00
0.00
Mutees
90.00
1.00
90.00
Tamer
2.00
---
5.06
Assets Hive
Amount
Price $
Value $
Hive
15.251
0.87
13.27
HP
256.109
0.87
222.81
HBD
12.000
0.96
11.52
Assets Hive-Engine & Others
Amount
Price $
Value $
SPT
8,534.390
0.001916
16.35
LEO
55.506
0.133377
7.40
BXT
1.558
4.315939
6.72
ONEUP
160.655
0.005351
0.86
PLN
0.5095
0.798989
0.41
Workerbee
2.000
2.368022
4.74
SWAP.HIVE
1.353
0.87
1.43
Assets Diesel Pools
Amount
Price $
Value $
SWAP.HIVE
9.331
0.87
8.12
DEC
5,115.408
0.00182
9.31
SWAP.HIVE
10.558
0.87
9.19
SPS
73.621
0.142648
10.50
SPS
16.855
0.142648
2.40
SPT
1,124.440
0.001916
2.15
PKM
236.354
0.027091
6.40
SPS
52.434
0.142648
7.48
HIQS
10.173
0.394670
4.02
BEE
10.369
0.487286
5.05
SWAP.HIVE
11.145
0.87
9.70
PLN
11.432
0.798989
9.13
FLOWER
0.760
0.833193
0.63
PLN
0.739
0.798989
0.59

| Summary | Value |
| --- | --- |
| Overall $ | 1,470.20 |
| Invested Capital $ | 1,357.03 |
| Profit/Loss $ | 113.16 |
| Profit/Loss in percent | 8.34 |

---

Biggest Changes

Splinterlands

In meinem Hauptaccount in Splinterlands konnte ich die CP um 9030 auf nun 36580 erhöhen. Mittlerweile habe ich jeden Rare-CL Summoner 2x auf Level 2. Einmal um die Karten jeweils an den Zweitaccount zu delegieren.

Weitere Käufe waren Djinn Oshannus auf Level 2, welcher aktuell aber vermietet wird, da ich den noch nicht spielen kann. Zudem Grim Reaper Level 1, Molten Ash Golem Level 2, Mycelic Slipspawn Level 2, Carnage Titan Level 1, Adelade Brightwing Level 1, Soul Fiend und Fungus Fiend auch jeweils Level 1 (jetzt habe ich alle Fiends), Creeping Ooze Level 3, Sniping Narwhal Level 2, Mantoid Level 2, und zu guter Letzt noch je einen Pyromancer, Boogeyman, Weirding Warrior und War Chaang auf Level 1.

In my main account in Splinterlands I could increase the CP by 9030 to now 36580. Meanwhile I have every Rare-CL Summoner 2x on level 2, once to delegate the cards to the second account.

Other purchases were Djinn Oshannus at level 2, which is currently rented out because I can't play it yet. Also Grim Reaper level 1, Molten Ash Golem level 2, Mycelic Slipspawn level 2, Carnage Titan level 1, Adelade Brightwing level 1, Soul Fiend and Fungus Fiend also level 1 each (now I have all Fiends), Creeping Ooze level 3, Sniping Narwhal level 2, Mantoid level 2, and last but not least a Pyromancer, Boogeyman, Weirding Warrior and War Chaang each at level 1.

---

Pools

Ich habe meinen SWAP.HIVE:DEC Pool etwas verringert, weil ich DEC zum Karten kaufen brauchte. Meine neuen SPS-Airdrops verteile ich ca. 80/20 in Stake ingame und verschiedene Pools. Als Pool dazu gekommen sind SPS:SPT und FLOWER:PLN. Zuletzt genannter nur, wobei der letztgenannte nur aus den Rewards anderer Pools gefüttert wird.

I reduced my SWAP.HIVE:DEC pool a bit because I needed DEC to buy cards. My new SPS airdrops I distribute about 80/20 in Stake ingame and different pools. SPS:SPT and FLOWER:PLN have been added as pools. The last mentioned only, whereby the latter is fed only from the rewards of other pools.

---

Conclusion and Goals

Ich habe den April über ca. 212.62$ neu investiert. Der Gesamtwert erhöhte sich in der Zeit um ca. 314.07$. Aus einem Buchgewinn von 11.71$ wurde ein Buchgewinn von 113.16$ 😀 .

Morgen ist übrigens wieder der erste des Monats, d.h. HPUD! Ich werde auch wieder mitmachen und ein paar Hive aufpowern.

In Splinterlands fehlen mir noch 8 CL-Karten um das CL-Regular-Deck vollständig zu haben, darunter u.a. Queen Mycelia und Uriel the Purifier.

I have reinvested the April about 42.12$. The total value increased by about 314.07$ during the period. A book profit of 11.71$ became a book profit of 283.66$ 😀 .


By the way, tomorrow is again the first of the month, that is HPUD! I will also participate again and power up a few Hive.

In Splinterlands, I'm still missing 8 CL cards to complete the CL Regular deck, including Queen Mycelia and Uriel the Purifier, among others.

Du spielst noch kein Splinterlands? - Mit dem folgenden Link kannst du das Spiel kostenlos ausprobieren:

https://splinterlands.com?ref=mario89

Falls du Spaß am Spiel findest und das Spellbook kaufst, bekomme ich einen kleinen Betrag von Splinterlands als Belohnung. Für dich entstehen dadurch keine Nachteile. Melde dich danach bei mir und du bekommst von mir Unterstützung bei deinen ersten Schritten im Spiel.

You don't play Splinterlands yet? - With the following link you can try the game for free:

https://splinterlands.com?ref=mario89

If you enjoy the game and buy the Spellbook, I will get a small amount from Splinterlands as a reward. There will be no disadvantages for you. Contact me afterwards and you will get support from me for your first steps in the game.

---

Alle Bilder in diesem Blog mit Spielinhalten sind von splinterlands.com
Keine Anlageberatung - keine Verkaufs- oder Kaufempfehlung.

All pictures with gaming content in this blog are from splinterlands.com
No investment advice - no sale or purchase recommendation
Mostly translated with www.DeepL.com/Translator (free version)
---
---