HELPFUL WEBSITES IN SPLINTERLANDS PART 2
Hi Guys! It's me again masterzarlyn28 in the hive! For today's blog let's talk about some website that are very helpful in Splinterlands Game. I mentioned some websites last week that will help you determine your net earnings in your daily grind. Now, I'll be providing websites that will show you a list of cards you presently own or rent, the status of your account, the most recent cards on sale with a discount, the strongest and most reliable teams, and so on.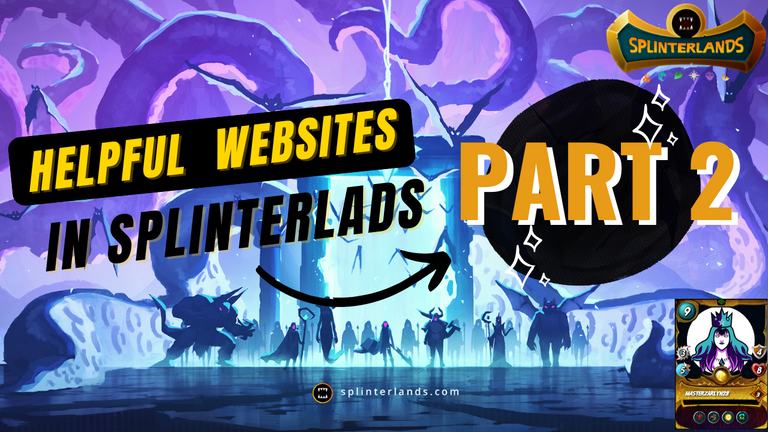 1. BARONS'S TOOL BOX


Link: https://www.baronstoolbox.com/
About: A Splinterlands tool for organizing, searching, and managing NFT cards. You can search your cards to see how many you own, have delegated, rented out, rented to me, or have listed for sale. It will also show you how much each card costs in DEC. The total potions, merits, cash, battle stats, current season, and guild information are also displayed. Additionally, you may make a card spinner giveaway tool, an unique inventory bar, and a frame for your stream!
---
2. SPLINTERCARDS

Link: https://splintercards.com/
About: A comprehensive guide to the blockchain-based .digital trading card game Splinterlands. In addition to awesome tools like pack value, set value, missing bcx, SPS staking calculator, vouchers, calculator, low prices gap, list price analysis, printing and distribution, account info, rich list, cards by league gap, and others, it enables players to check card details, gameplay (rulesets, abilities, lands, leagues, editions, and the roadmap for Splinterlands), and gameplay information (rules, leagues, editions, and editions).
---
3. SPLINTERSTATS

Link:https://kiokizz.github.io/Splinterlands/index.html
About: A collection of tools for obtaining, organizing, and sharing Splinterlands data. The current price of DEC and SPS, a season report card, reward cards, cards by league cap, a rich list, and splinter bites are all displayed in this tool.
---
⚔️ STEP BY STEP GUIDE ⚔️
In this part, I will show you on how to navigate those websites.
BARONS'S TOOL BOX
Interface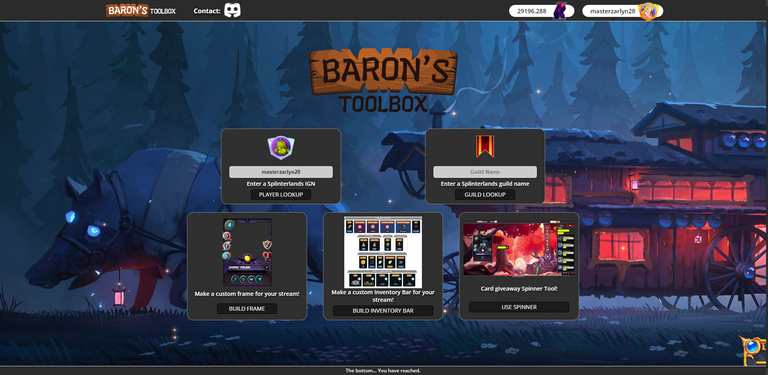 Baron's Toolbox interface is very cool, the background changes and shows cards with HD background.
PLAYER LOOK UP
1 ) Enter user name then click player look up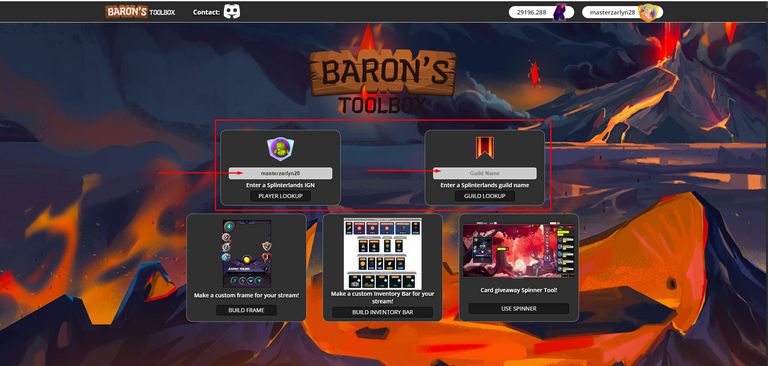 ---
2 ) In the player look up, it will shows your account details such as potions, coins, battrle stats, current season, guild and cards.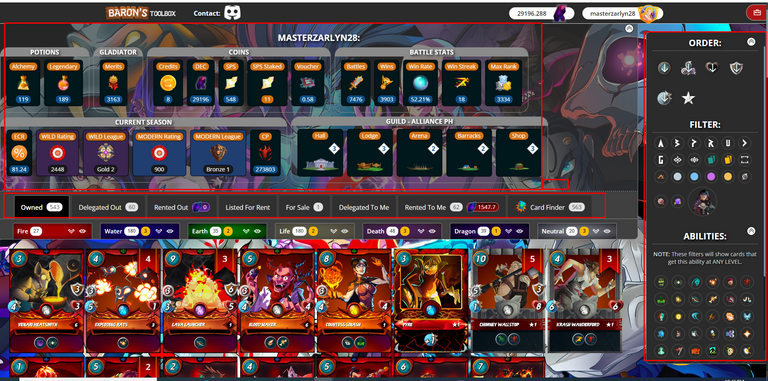 3 ) You can filter cards per element, abilities, edition, order, and aslos cards owned, rented, for sale, delegated and there is also a card finder.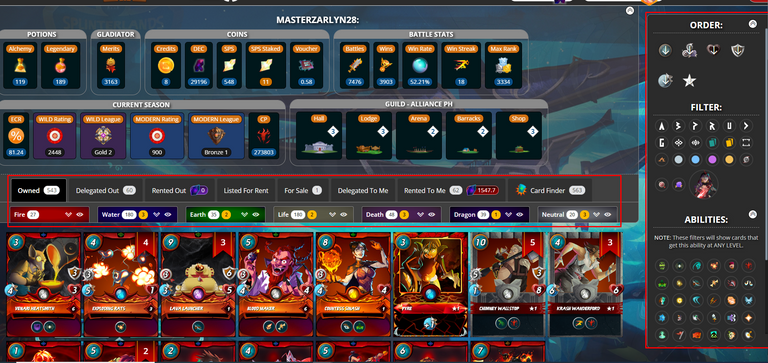 GUILD LOOK UP
1 ) Enter guild name then click guild look up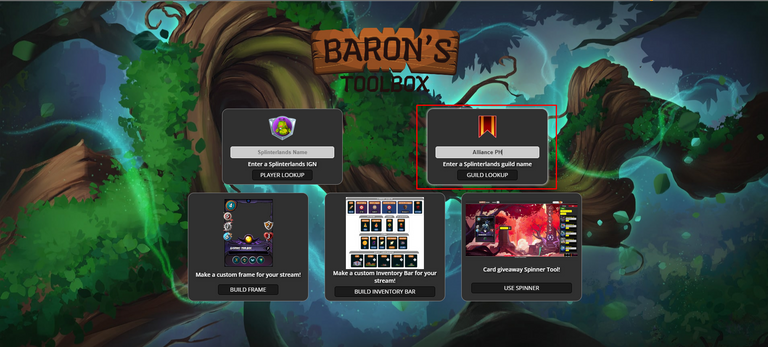 ---
2 ) In the guild look up, it will shows your guildmates data including DEC balance, DEC contribution, average DEC donation per week, ranked battles played, and win rate.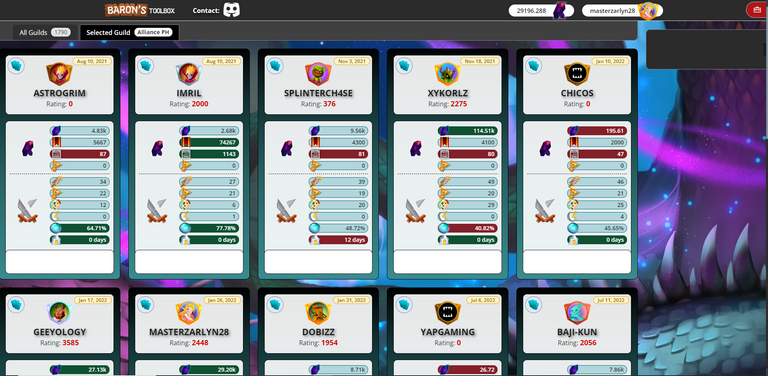 3 ) It will also show the date of joining the guild and can look up guildmates cards.

---
SPLINTERCARDS
Interface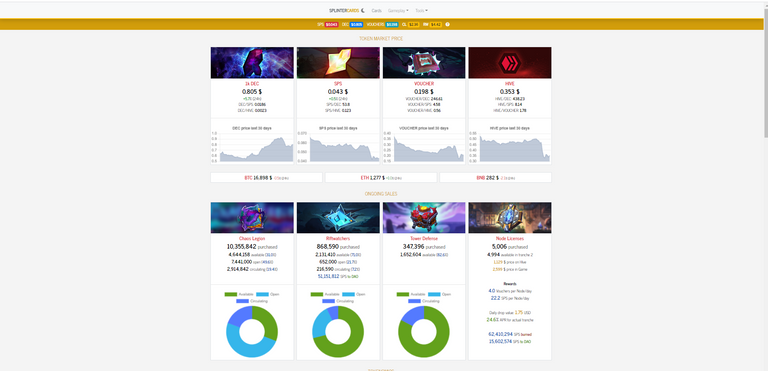 Splinterlands interface is just simple but it has a cool dashboard of token market price.
1 ) Click which category you want to ope, it may be a card details, game play or tools.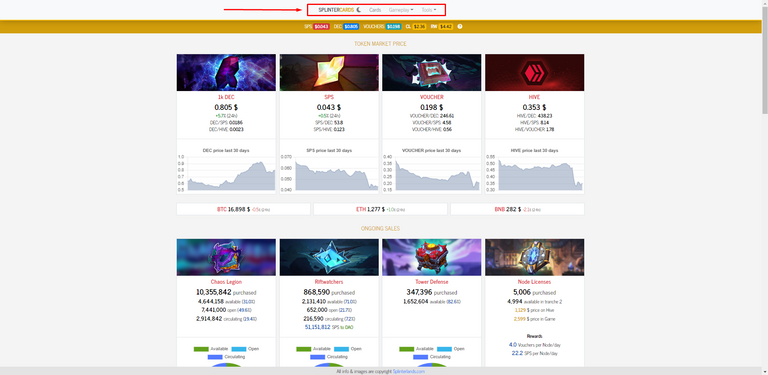 2 ) In cards menu, it will shows all Splinterlands Card and you can filter per edition, elemets, rarity, monster or summoner or type the name of the card.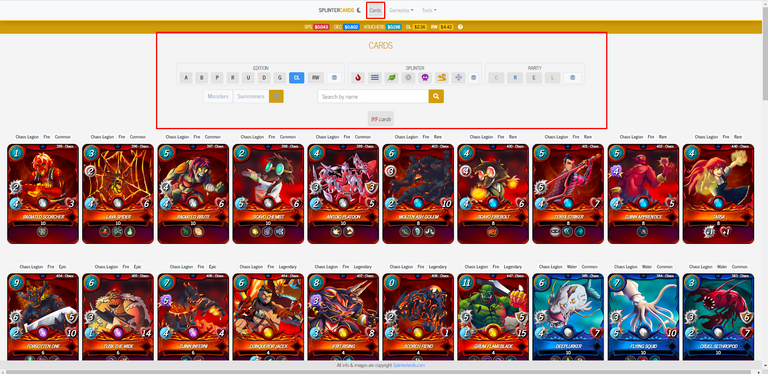 3 ) Once you select the card of your choice, it will show you the card details such as last market price for the last 6 months and the total cards circulating.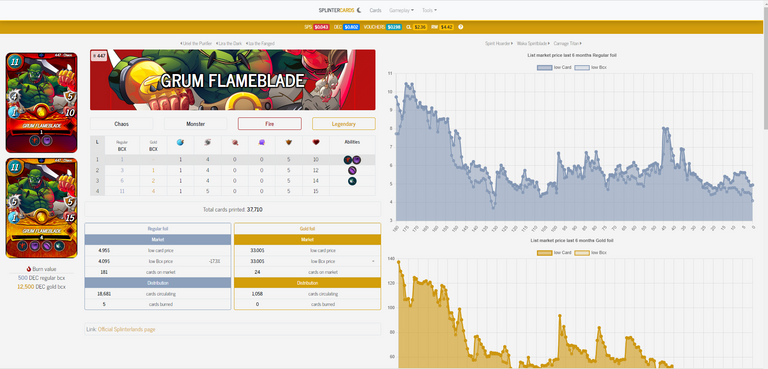 4 ) In the gameplay menu,you can check the ruleset details, abilities, lands, leagues, edition and splinterlands Road map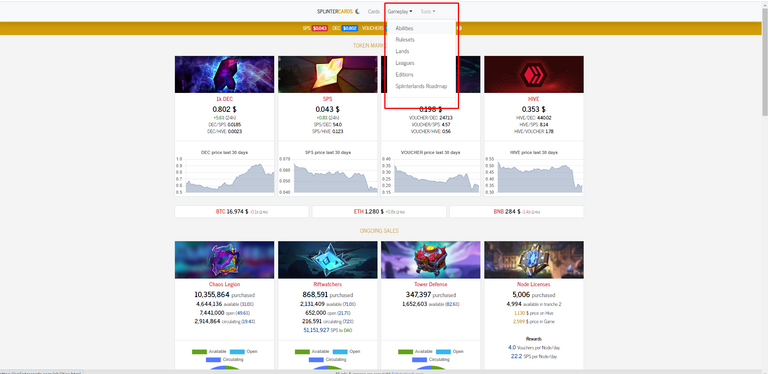 ABILITIES
~It will show the description and cards under this ability.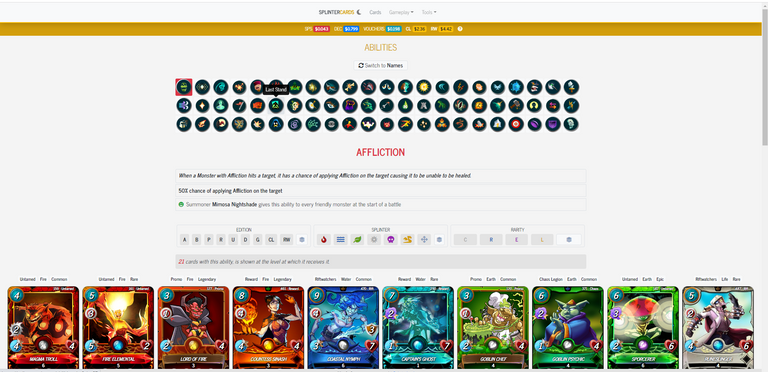 RULESET
~Will show details and description and some tips.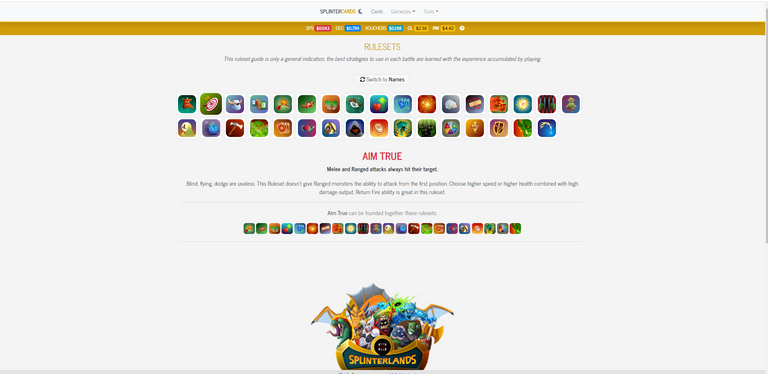 LAND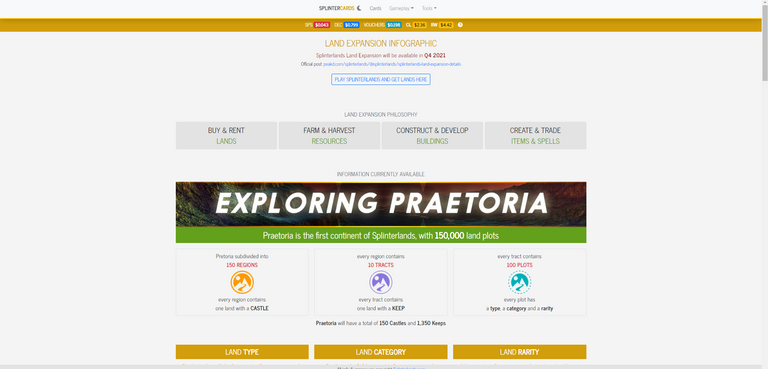 LEAGUES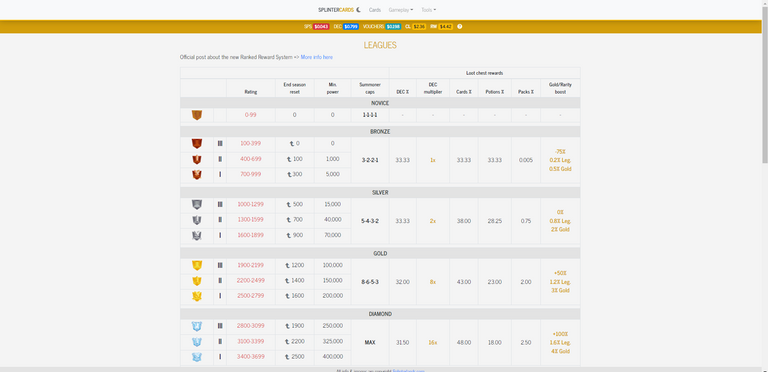 EDITION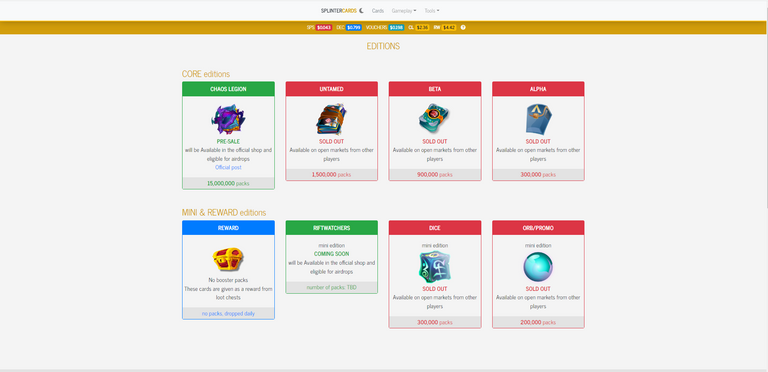 ROADMAP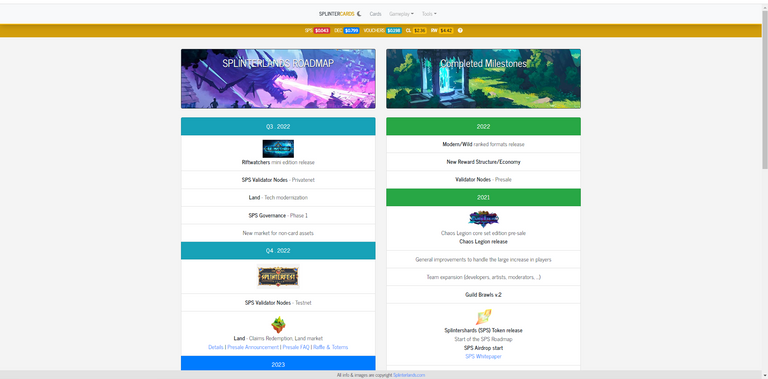 I will be creating a separate blog for the Tools to explain more details about it.
---
---
SPLINTERSTATS
Interface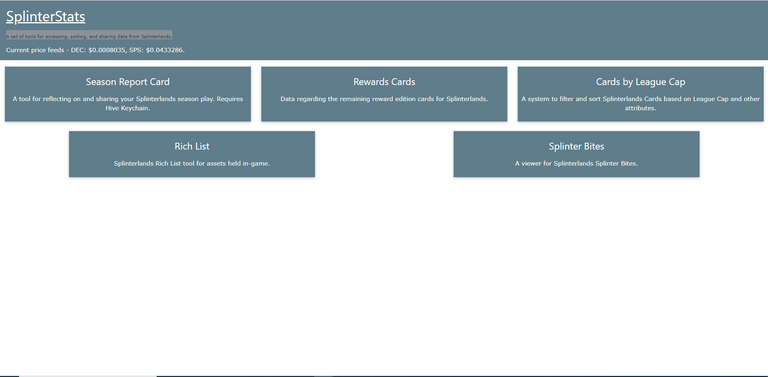 It is the simpliest interface compared to the 2 websites but this site is very helpful.
1 ) Click Season Report Card and enter you username. It will show your current season performance, current rating, win or loss ratio, longest streak, rewards and loot chest report, rental and sps report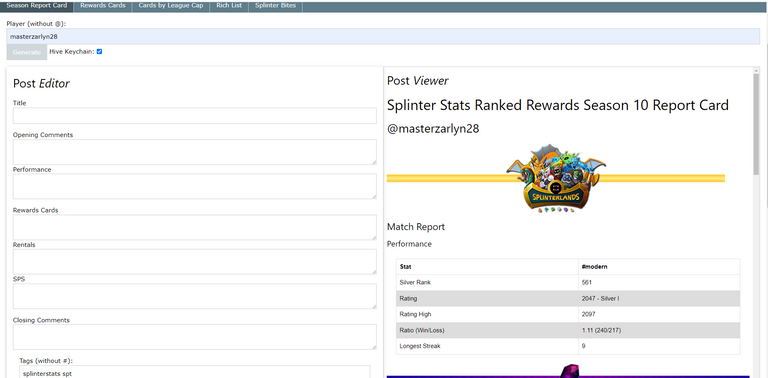 2 ) In the reward section, it will show the list of reward cards and the % of Printed and their value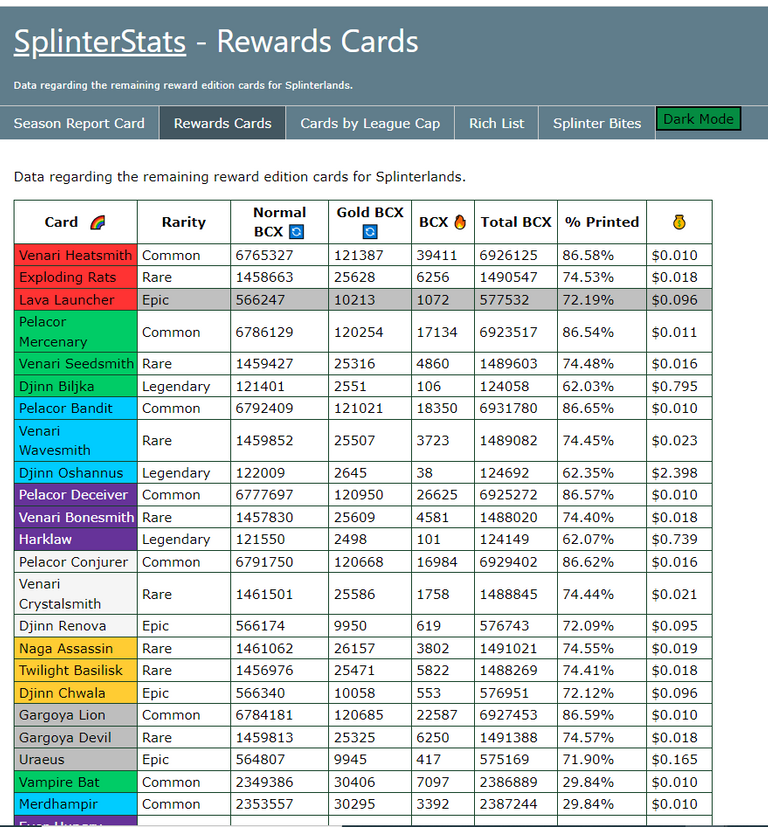 3 ) Cards by league will show card details in a table containing damage type, armor, speed, health and its ability, It is also downloadable(CSV)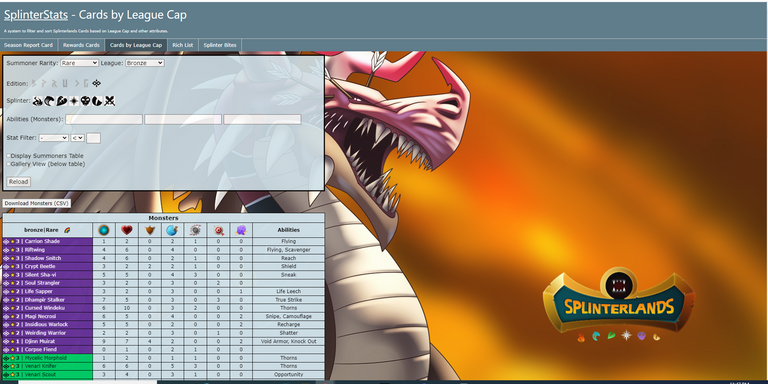 4 ) In rich list section, it will shows top players or investor per asset category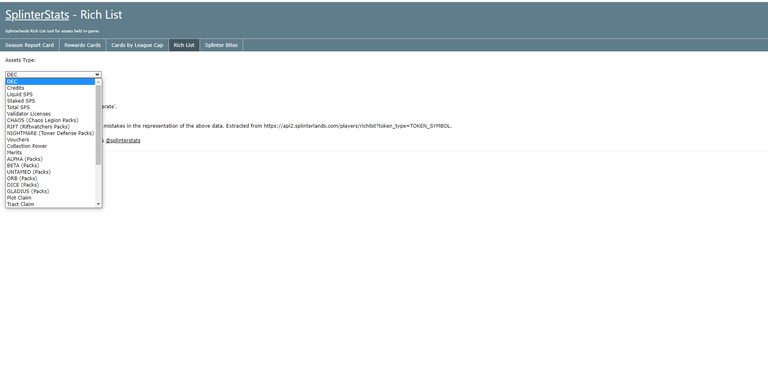 5 ) Splinterbites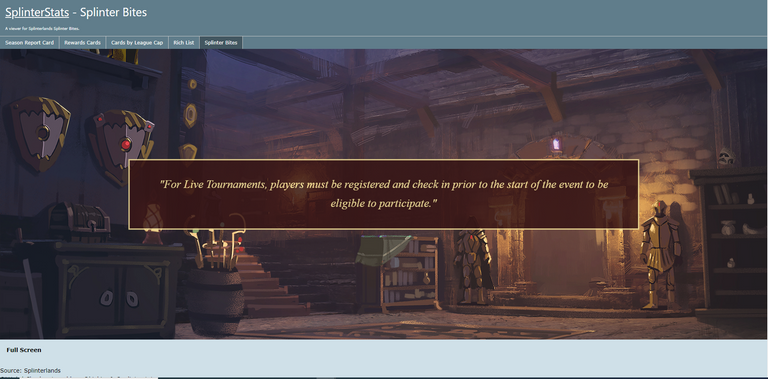 All of these websites are among my favorites in Splinterlands. Baron's Toolbox is a practical tool with beautiful aesthetics; one feature I love about it is that it immediately displays your profile with stylish icons and cards are in motion. For Splintercards, I used this mainly on the abilities and ruleset since I am not comletely familiar with it everytime I play. It is a useful tool because it will display cards with that specific ability and provide ruleset-related advice. Last but not least, Splinterstats is a useful website since it allows me to monitor the proportion of printed reward cards and displays the card value.

That's all for now. Thank you for reading :)
---
---