Splinterlands - My October Account Review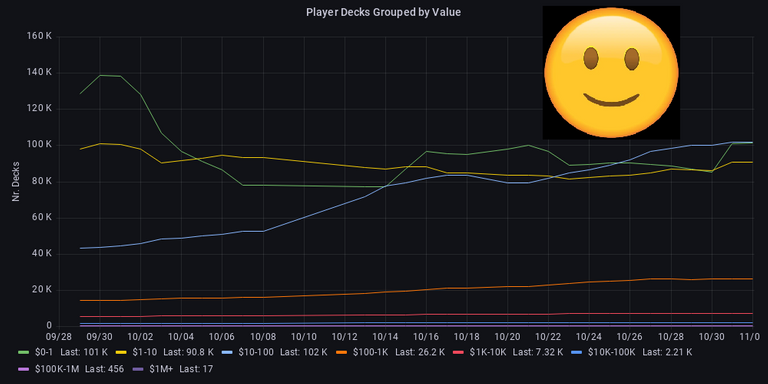 Near the beginning of the month of October I had reach a milestone that had been plaguing me for literally close to a year. This was reaching a collection power over 1 million points. I have since held on to that record milestone and gradually added more.

With the season ending just a day ago my rental income has dropped somewhat. I will have to lower my rentals in order to sustain having my all my cards I want rented. I intend to mainly focus on creating a steady flow of passive income as I am not much of a competitive player in Splinterlands battles.
Setting Eyes On Another Goal?
Recently on Splinterland's discord I found out that there is a stats amount the total value of cards per player. This become of interest to me because I am near a rating. From the chart at the front of the blog here below is a list of numbers on what that chart represents.
| Value Range | Users (% of Total) | Combined Value (% of Total) |
| --- | --- | --- |
| $0-1 | 101,554 (30.73%) | $38,712 (0.02%) |
| $1-10 | 90,852 (27.49%) | $407,305 (0.16%) |
| $10-100 | 101,876 (30.83%) | $4,052,268 (1.62%) |
| $100-1K | 26,178 (7.92%) | $7,892,325 (3.15%) |
| $1K-10K | 7,321 (2.22%) | $23,041,749 (9.19%) |
| $10K-100K | 2,206 (0.67%) | $65,980,453 (26.31%) |
| $100K-1M | 456 (0.14%) | $121,100,532 (48.29%) |
| $1M+ | 17 (0.01%) | $28,265,833 (11.27%) |
| Total | 330,460 | $250,779,181 |
To read the chart above find your card collection value and which range it falls under there is amount of users and combined value of that group range. For instance I am at the $10K - $100K range and there are 2,206 accounts in that range for a total collection worth close to $66 million.
Currently my card collection net worth stands at $87k / $83k depending listing prices versus market prices. I have my goals set for hitting $100k mark in card collection. Two ways this can happen, current card prices appreciate another $20k-ish or I invest that $20k-ish in cards. I will try to find a in between line as I continue to play daily I am gradually adding reward cards.
It amazes me that the $100k - $1 million has only 456 members to date. It truly seems like an elite group to be categorized in even if I do not earn any additional rewards for. It is a nice achievement either way.
I do not think majority of Splinterlands players realize that the added reward cards during daily quests and end of season really adds up. In my card collection my reward cards amount to nearly 50% of my entire collection value.

I will retain the same approach by continue to save up for reward cards and hold them for months to come. In time they will all significant value to my overall collection.
In the month of October I sold some of my alpha summoners, but have put most of those proceeds into SPS. With that I am nearing 18k in SPS staked.

The plan is to get to 20k sps staked before end of the year. I will see how that goes as currently sps has dropped in price and may hit a new all time low. I may straight out buy more and move up my sps staked goals if that is the case.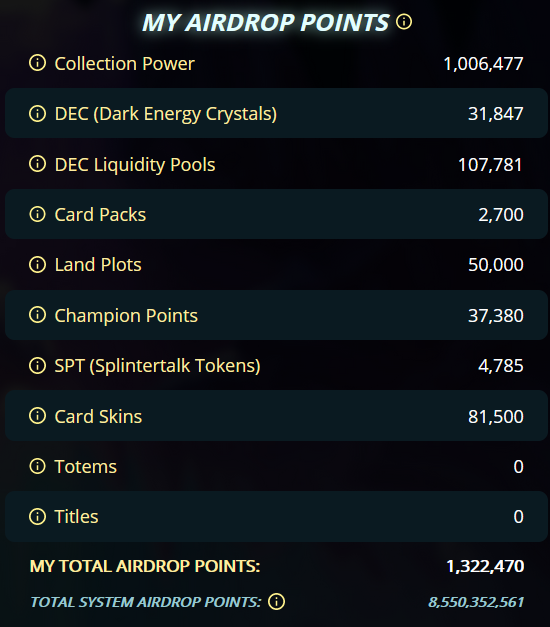 Something else I am increasing in holding is my DEC. I have over 50k DEC staked in the swap.hive:DEC liquidity pool and holding now to date nearly 34k DEC in my wallets. I do not really have a goal as to how high I want to hold for DECs but since price is dropping I may choose to flip them to other assets before it falls all the way back to parity at $0.001 as currently it is down to $0.0095.

Conclusions
Month of October I have mostly staked more SPS and earned more DEC. In the card collection I pretty much stay mostly the same in quantity as I had in September, but prices have appreciated some more making my net worth in Splinterlands at all time highs.
My strategies now is to continue accumulating DEC and see if I can purchase more reward cards to enhance my collection. Mean while if I do not spend the DEC I hope to earn more SPS to stake and reach higher value in SPS staked.
Until next time thanks for reading!!!
If you are interested to learn more about Splinterlands please go through some of my other posts. Order is from newest to oldest posts:
All You Want To Know About Reward Chests
Helpful Links for New and Veteran Players
Splinterlands Good Cards To Own
Splinterlands Rentals from a Lender Perspective
I have plenty of other cards for rent! Just go on peakmonsters and check out the market place and if you are curious what I offer here is a link:
If You have yet to take part in playing this great game called Splinterlands please click on my referral link. It is free but in order to earn real assets such as cards and token you would have to invest in a starter deck or purchase game cards. Join the discord to learn more. Good luck!

THANKS FOR READING! CONTINUE TO PLAY SPLINTERLANDS!

---
---