Splinterlands - Pirate Captain - (Weekly Battle Post)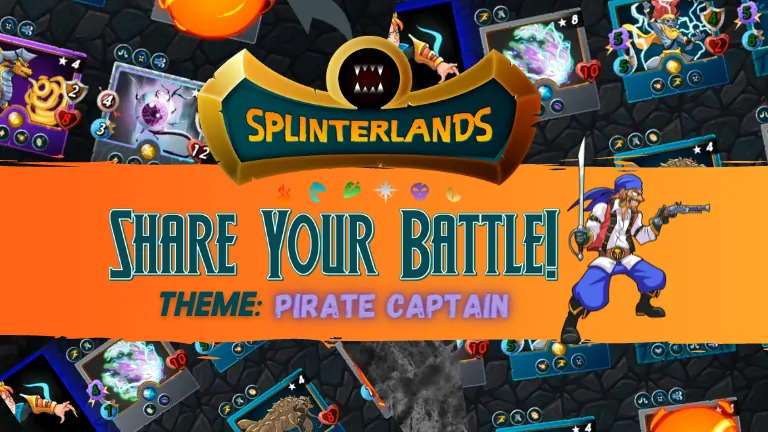 Pirate Captain is one of the first water cards I had when I started playing Splinterlands. At first I did not use it much since I prefer to go magic with water splinter. However once I learned water element I also leaned toward range attacking monsters. The following is me using Pirate Captain in a battle. Enjoy.
Battle Formation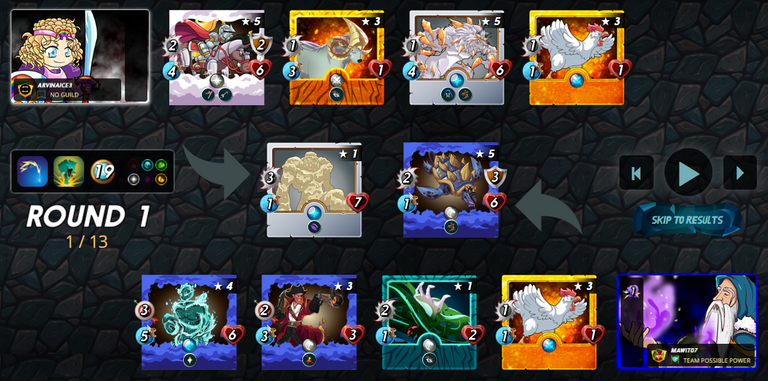 The battle was limited to 19 mana. In addition the rule sets were Weak Magic and Stampede. Off the bat I wanted to sneak a formation against the enemy due to Weak Magic it would seem unlikely water splinter would be use, therefore I used it :p
I was lucky this time coming out with the win and looking at my formation one can make the confirmation. My formation started with Spineback Turtle followed with Furious Chicken, Feasting Seaweed, Pirate Captain, and finishing off with Water Elemental. I mixed melee with range monsters leaving my summoner pretty much useless other than level.
My opponent went with life splinter and leading off with summoner Kiara Lightbringer. The fromation starts off with Clay Golem, Silvershield Knight, Battering Ram, Crystal Werewolf, and ending with Furious Chicken. Immediately the use of Clay Golem was a clear indicator that my opponent was anticipating to defend magic. Of course I had no magic lol.
Round 1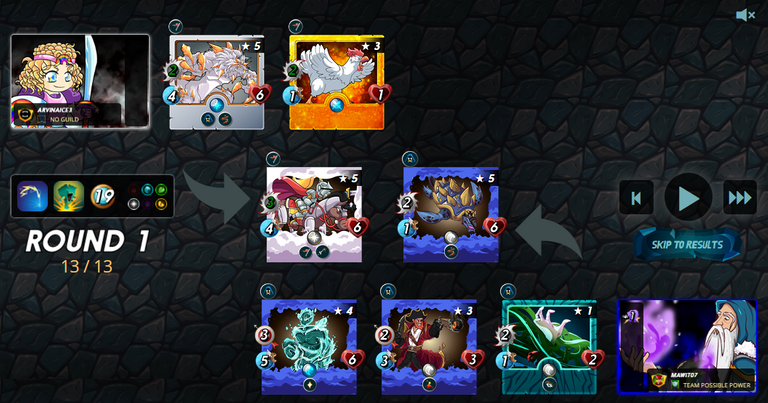 In the end of round one I lost my Furious Chicken. However my opponent would lose more as they no longer had Clay Golem and Battering Ram. I was in the lead with a 4 on 3 monsters, but really 4 on 2 as Furious Chicken has little to no attacking.
Round 2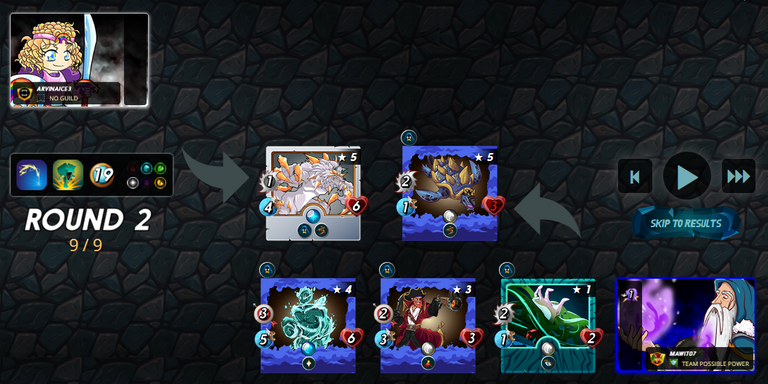 In the end of round 2 my formation remain intact while my opponent fair far worse. They were down to Crystal Werewolf. Both Silvershield Knight and Furious Chicken were no match for the full assault I was handing to the monsters.
Round 3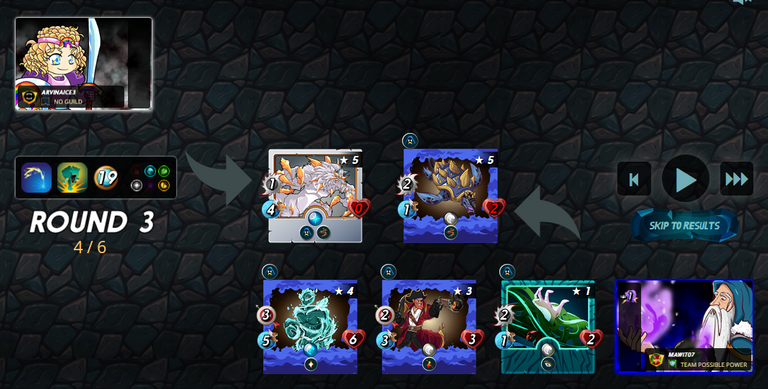 It was middle of round 3 did my Pirate Captain deal final blow against my opponent's Crystal Werewolf to finish the match. The combination of Water Elemental and Pirate Captain were no match for my enemy.
Battle Conclusion
It is always nice to setup formations where there are a combination of monsters ready to take on my opponent. In this battle it was my Pirate Captain and Water Elemental with a 2 and 3 respective range attack that supplemented my melee attacks.
From the get go my opponent clearly had a stronger formation in that most of their monsters were level 3 and above. Still due in part to my formation having every monster able to attack in every round made it too difficult to defend. This proves the use of low mana yet decent attack cards are useful in certain matches. Low mana matches work very well for Pirate Captain.
If you are interested in watching the battle described in this post, Link Here.
Until next time thanks for reading!!!
If you are interested to learn more about Splinterlands please go through some of my other posts. Order is from newest to oldest posts:
All You Want To Know About Reward Chests
Helpful Links for New and Veteran Players
Splinterlands Good Cards To Own
Splinterlands Rentals from a Lender Perspective
I have plenty of other cards for rent! Just go on peakmonsters and check out the market place and if you are curious what I offer here is a link:
If You have yet to take part in playing this great game called Splinterlands please click on my referral link. It is free but in order to earn real assets such as cards and token you would have to invest in a starter deck or purchase game cards. Join the discord to learn more. Good luck!

THANKS FOR READING! CONTINUE TO PLAY SPLINTERLANDS!

---
---