Splinterlands - Region Plot Lands Sold for $700,000!!!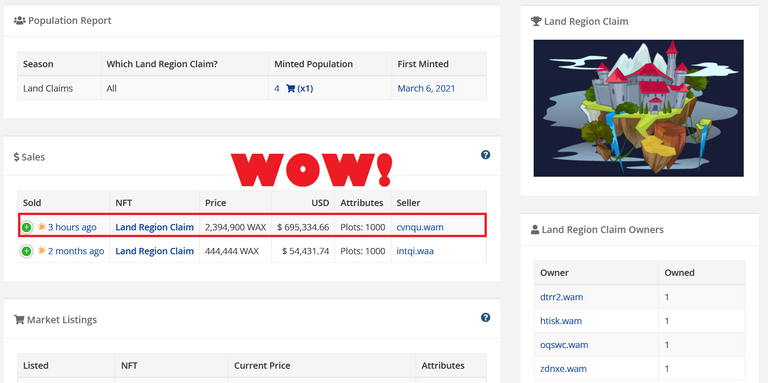 Source from Splinterland's Official Twitter Account:
https://twitter.com/splinterlands/status/1448803667377852425
Today is a historic day for Splinterlands. A single asset sold for close to $700,000 in Wax. Since Wax price has a fee the actual total sale price exceeds $706,000.

150,000 Plot Lands
There is forever only 150,000 plots ever to be created for Splinterlands. It is broken down in this way accordingly to splintercards.com:

With supply limited and sale of lands in game have been sold out it is now the good old fashion free market that is setting the price for the plot lands. A rough estimate assuming $700k per 1 region than it equates to
$105,000,000
for just all the land plots in circulation. With this massive purchase Splinterlands has capitulated in cryptoslam.io in ranking for nft trading.

A 18th rank overall with over 10,000% jump in trading.
Plot Lands Rich List
Data pulled from peakmonsters.com currently there are 67 holders of regions, with 11 holding 2 or more and the remainder each holding 1 region. spl-tp and blockchainff holds the most at 6 regions.
229 players hold tracts and with 47 of them holding 2 or more each. The remainder each holding 1 tract.
Finally 2962 players holding plot lands with a total of approximately 21,400 plot lands.
67 + 229 + 2962 = 3258 players currently holding plots in game. ( I am not sure if plots in atomicswap are included but even if not there are not many floating around.)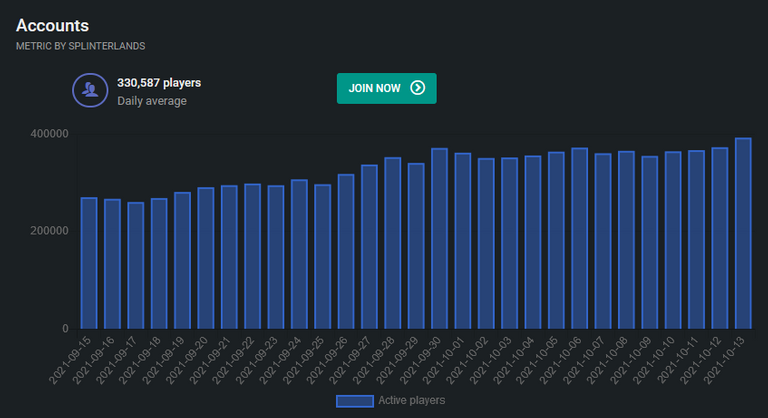 There are currently over 330,000 active daily accounts. This means less than 1% of the entire active accounts are holding plot lands if any! With an all time high of region being sold today at record prices one has to feel good for the potential future of plot lands in Splinterlands.
The plots are not even active yet and the only current benefit of owning them is players collection more SPS daily airdrop. Hopefully once Chao Legion packs roll out the developers will have more time to quickly push ahead with plots development and players can see their usage. Until then the potential value of them continues to rise and this is bring excitement to all NFT players.
Until next time thanks for reading!!!
If you are interested to learn more about Splinterlands please go through some of my other posts. Order is from newest to oldest posts:
All You Want To Know About Reward Chests
Helpful Links for New and Veteran Players
Splinterlands Good Cards To Own
Splinterlands Rentals from a Lender Perspective
I have plenty of other cards for rent! Just go on peakmonsters and check out the market place and if you are curious what I offer here is a link:
If You have yet to take part in playing this great game called Splinterlands please click on my referral link. It is free but in order to earn real assets such as cards and token you would have to invest in a starter deck or purchase game cards. Join the discord to learn more. Good luck!

THANKS FOR READING! CONTINUE TO PLAY SPLINTERLANDS!

---
---