Splinterlands - Went on a Buying Spree...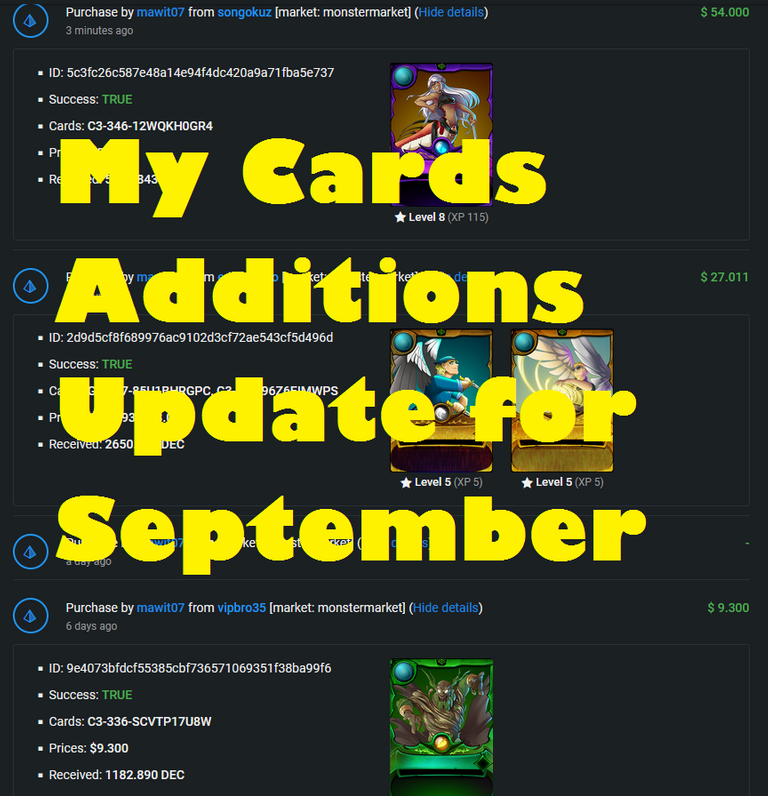 As September went by I did not do a post to review my month progress. Often when I do these month reviews I get really excited at what cards I bought, but since the third party market rise in prices I have rarely bought any cards since. Now with the new Chao Legion reward cards I am excited to say in the past week I bought several cards on top of earning ones from reward chests. All in all my deck is now growing and hopefully be competitive.
Max Naga Assassin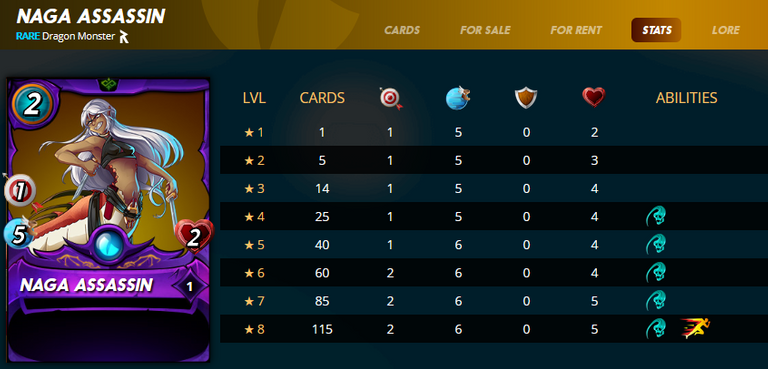 Although I do not have a max dragon summoner I intend to in the future. Instead I can potentially use my max dragon monsters with other splinters that I do have summoners maxed. For now I have purchased another max dragon card in Naga Assassin. I like its stats and abilities and look forward to utilizing her on the battlefield.
Some Gold Foils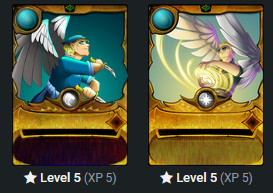 Some other new common reward cards that I have not fully explored but see to be good to have at least for silver league use I also purchased. There was a common gold foil, Gargoya Lion, I missed just by seconds of purchase. Talk about demand!

Seeing level 5 commons are the max use in silver league I seize the opportunity to get those where ever I see them. For a little under $15 it seems reasonable considering it takes 60 common regular bcx to level up to 5. Also go to have new cards in play just in case it is needed.
Legendaries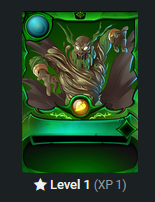 Although I was fortunate to earn one I wanted to extend my legendary collection in hopes to get them max level in the near future. I can for now buy 1 bcx where I can and rent them out as legends due to its rarity has quite a demand on the rental markets compare to other rarities.
Conclusions
All in all I am excited to be buying cards again. Although prices remain elevated these new additions have the potential to appreciate a lot compare to legacy cards. Also having new cards gives my deck some fresh new combos to play. I am very excited to continue adding cards and hopefully can do so with the remainder of reward cards that are out there.
Until next time thanks for reading!!!
If you are interested to learn more about Splinterlands please go through some of my other posts. Order is from newest to oldest posts:
All You Want To Know About Reward Chests
Helpful Links for New and Veteran Players
Splinterlands Good Cards To Own
Splinterlands Rentals from a Lender Perspective
I have plenty of other cards for rent! Just go on peakmonsters and check out the market place and if you are curious what I offer here is a link:
If You have yet to take part in playing this great game called Splinterlands please click on my referral link. It is free but in order to earn real assets such as cards and token you would have to invest in a starter deck or purchase game cards. Join the discord to learn more. Good luck!

THANKS FOR READING! CONTINUE TO PLAY SPLINTERLANDS!

---
---