I am getting better at finishing Quests!!
Hello My Name is Chris and I am a Newb!!
Being a newb, and not having very many cards it was difficult to get the swing of the game. The first quest I finished the reward was three gold pieces. The second quest I won a Pelacor Card.
Quests Are Daily?! Really?!
It is manly to whine about something like a 4 year old with a skinned knee, but that is how I felt when @jongolson told me the quest were daily, I almost lost my mind. Jon was the person that told me Speed may be the most important factor when putting together a team. This was a game changer for me because with this little bit of knowledge I own a little bit more often.
I have been practicing a system of speed first, life second, and attack power third. This stack lead me to completeing my thrid quest faster than ever. Keep in mind I am still at level 1. Thanks to @achim03 (Splinterlands Academy) Click for Academy I am learning about leveling up your Conjurer cards before your other cards so they remain playable.
My Third Quest :-)
My third quest was a Death Splinter quest. It is cool how the splinter on the quests change. At this stage of the game it is giving me some experiance in the different Splinters.

I won (1 Potion Alchemy Charge). Not really knowing what that is, I was thrilled by the prize. I just need to go through the Splinterland Academy for the answers. I thought I bought a spellbook but I might not have.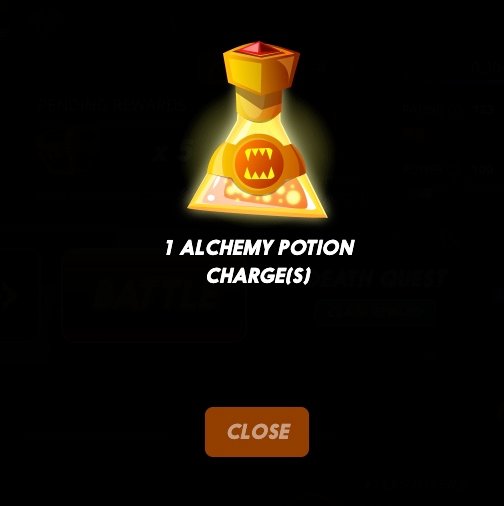 The great thing about this game, besides all the financial upside. There is always anaother quest waiting for you. Also no monthly fees. It is not free to play, you just need to buy a starter deck which is really inexpensive, and probably a summoners spell book.
I wonder if this article will qualify for the #ctpcontent challenge :-)
---
---