I beat Earth's OP Healing team!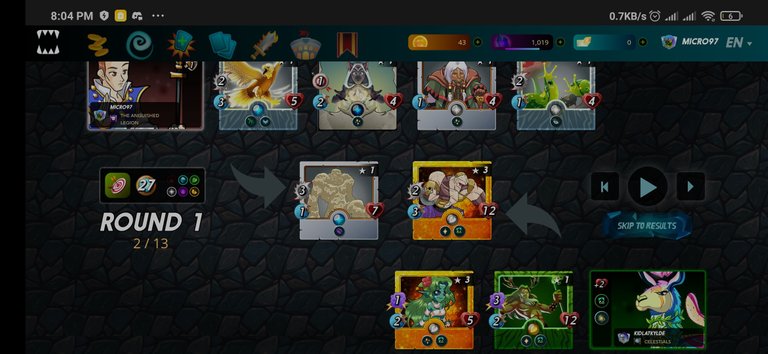 With just 27 mana and Aim True ruleset, I managed to beat my opponent. During the preview, I saw that my opponent is a good user of Earth. With Llama-Kron and Wood Nymph-Flesh Golem in his/her previous battles, I realized that I will certainly lose. I thought of surrending, but I chose to battle for experience.
Now on the selection stage, I chose Life summon er Tyrus Paladium to absorb the first attack from my opponent's tank. For the splinters, I chose Clay Golem as my tank, Luminous Eagle for the second spot, Venari Crystalsmith and Divine Healer as support for my tank, and lastly, Cave Slug as my backline attacker.
The Battle stage was mostly filled with alternating series of attacks and heals. The opponent team is strong, as their cards are at a higher level than my cards. But clearly, I have the advantage. My Clay Golem will never miss because of the Aim True ruleset. Second, although the opponent have double healing for their tank, the damage that my cards dealt per round outperforms the amount hit points restored for their tank. Third, the two healers in my team helped sustain my tank, which is my only hope on winning the match. Lastly, the Cave Slug in my team did a great job a in eliminating the opponent's Wood Nymph, which is support of their Flesh Golem.
After Eliminating the opponent's Wood Nymph, the battle continued with alternating series of attacks and heals from both team. But in the end my team managed to win.
Just like any other cards, the cards that each of us used have their own strengths and weaknesses, and depending on the situation, they can be either advantageous or either disadvantageous. In this match, I was able to win because I used the cards that works great in the said match.
That's all for this blog, Thank you for reading until the end!
You can see the actual battle here:
https://splinterlands.com?p=battle&id=sl_6181031434674f7943b9b0f43bf51cc1&ref=micro97
---
---