Splinterlands Weekly Challenge | Regal Peryton
I knew from the moment I first pulled the Regal Peryton from a Chaos Legion pack, that this is a special beast. Just look at how beautiful she is. The Regal Peryton are highly intelligent monsters from the Earth Splinter, and consider themselves "noble guardians of the natural world" (more on that below).
She's a very fast monster (6 Speed!) with a and high health compared to its very decent 5 mana cost. And her adequately strong magic attack of course. She quickly became a favorite combined with Obsidian and her +1 Magic Damage boost. I also realize typing this, that fast magic attack monsters aren't all that common.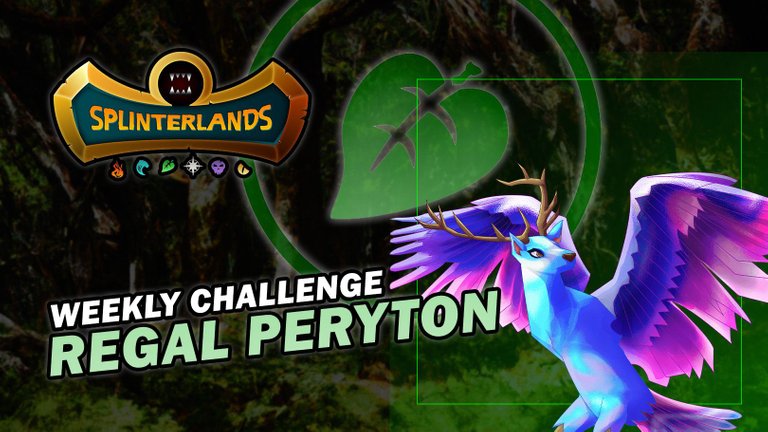 The Lore seems to agree with me that she's a beautiful creature:
They say there is nothing more beautiful than a Regal Peryton. They prefer to live in the mountains all across the Splinterlands, rarely seen by others. When they soar through the skies, the sunlight catches through their wings and creates rainbows underneath them. Regal Perytons are highly intelligent and consider themselves noble guardians of the natural world, using their magic to help others.
So these guys inhabited the Splinterlands long before the arrival of the Chaos Legion then. I did not know that.
---
Ruleset, analysis and battle
A 34 Mana battle with rulesets Noxious Fumes and Holy Protection. Given this weeks' monster is Regal, this should be a good battle for some boosted magic damage using Obsidian. The mana amount is surely adequate for that.

Simply staying alive will be the key here. Because of the poison damage each round, I'm gonna need some healing monsters, preferably with high health. But I also want to deal enough damage fast enough, so there's probably gonna need to be a compromise on that. I'll try to balance it out somewhat, by using many healing monsters, both with Heal, Tank Heal and Triage.
Team lineup:
Summoner: Obsidian
Pos 1: Pelacor Mercenary (lvl 9)
Pos 2: Tortisian Chief (lvl 4)
Pos 3: Regal Peryton (lvl 6)
Pos 4: Queen Mycelia (lvl 3)
Pos 5: Mushroom Seer (lvl 5)
Pos 6: Dr. Blight (lvl 3)
Strategy:
Obsidian buff my magic monsters' attacks, so I'll need a lot of them. Hopefully opponent won't use too much anti-magic in this one.
The Pelacor Mercenary with its 11 Health and self Heal, should hopefully be able to stay the course. Especially with the Divine Shield Ability from the ruleset and the +1 Shield from Queen Mycelia down the line.
Tortisian Chief; A 3 damage Magic attack and Tank Heal. Only 5 lives, but it should be able to both do some damage and heal my front tank at least once.
Then the Regal for some fast and high damage magic attacks.
Queen Mycelia will act as rear support, boosting all monsters' shields and healing one of them each round. Her Amplify ability is unfortunately wasted this round, as I don't have any monsters with recoil-damage-abilities. Noted.
The Mushroom Seer is mostly for its high damage magic attack, but nerfing opponent magic with the Silence ability could come in handy.
Way in the back, the dreaded Dr. Blight with his Camouflage, Scavenger and Affliction abilities. Hopefully he'll be able to stop some tank healing on the opponents team while blasting them with his buffed magic attacks.
This is gonna be an interesting one:
---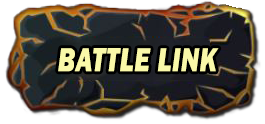 ---
Results / Comment
Wow okay, that did not go as expected. How did I even win this one.. Opponent went with the Coerl Lurker as the front tank, that with his Phase Ability made me basically miss all my attacks in the first round! And at the end of round 2, I only had 3 monsters left.
My plan to deal damage WHILE healing, turned out to be what saved me. By round 4, opponent only had his Gelatinous Cube cube left, while My Pelacor Mercenary was still alive and able to pound away for 3 melee damage each turn. An interesting match! Not sure if I deserved the win, but does that really matter in the end? xD
---
Pulling off a magic damage team using Obsidian is always fun, and the Regal Peryton fits in perfectly in such a team. Especially in an ideal Mana amount battle like this one. Hope you enjoyed this weeks entry, and thank you for reading.
---
---