[Eng/Esp] A Victory Despite 30 Failed Attacks!: Social Media Challenge
Hello everyone in the Splinterlands community! / Hola a todos en la comunidad de Splinterlands!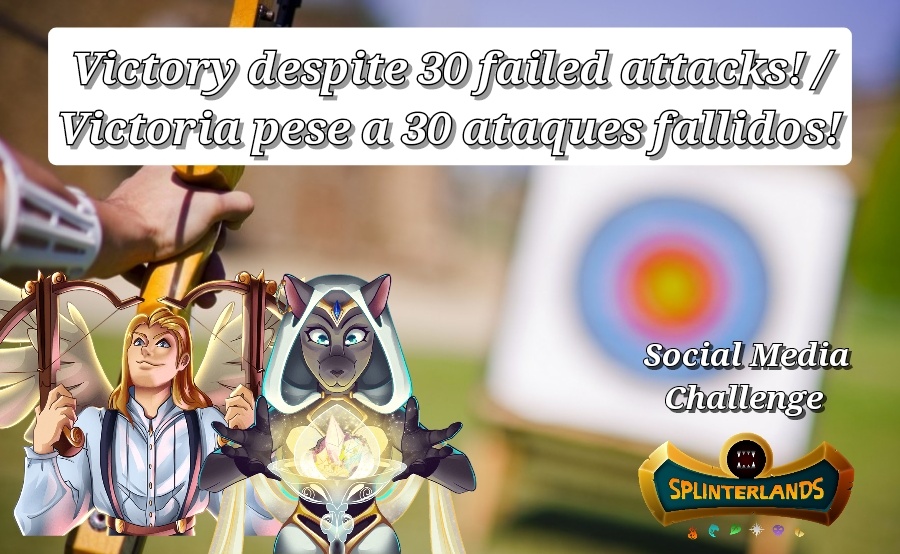 Imagen de Fondo
English Version:
Today I want to share another incredible battle, because I have to say that it has been one of the most frustrating that I have played so far, because the number of attacks that I missed (More than 30!) seemed crazy to me, being even rarer than even with the lack of aim of my cards, I ended up winning that duel.
The game had a lot of mana points to be able to summon, so I hesitated to use my strongest defensive formation, with Shieldbearer as a tank, but I ended up adding another important variant that gave me the victory, because little by little I was eliminating my rival's cards in the second line, losing their ability to regenerate health points.
If you want to see the complete battle, here is the link: see battle.
Without much else to add, this was the formation I used in battle:
Versión en Español:
Hoy quiero compartir otra batalla increíble, pues tengo que decir que ha sido de las más frustrantes que he jugado hasta ahora, pues me pareció una locura la cantidad de ataques que falle (¡Más de 30!), siendo aún más raro que inclusive con la falta de puntería de mis cartas, terminé ganando aquel duelo.
La partida tenía una gran cantidad de puntos de maná para poder invocar, por lo que nos dude en utilizar mi formación defensiva más fuerte, con Shieldbearer como tanque, pero terminé agregando otra variante importante que fue quien me dió la victoria, pues poco a poco fui eliminando las cartas de mi rival en segunda línea, perdiendo su capacidad para regenerar puntos de salud.
Si quieren ver la batalla completa, aquí les dejo el link: ver batalla.
Sin mucho más que agregar, está fue la formación que utilice en la batalla:

My Formation for this battle / Mi Formación para esta batalla:
As in my previous games with Shieldbearer, I used Venari Crystalsmith to be able to recover his health and Scavo Hireling to repair a part of his shield every turn, making it very difficult to eliminate.
Al igual que en mis anteriores partidas con Shieldbearer, utilicé a Venari Crystalsmith para poder recuperar su salud y a Scavo Hireling para reparar en cada turno una parte de su escudo, logrando que sea muy complicado poder eliminarlo.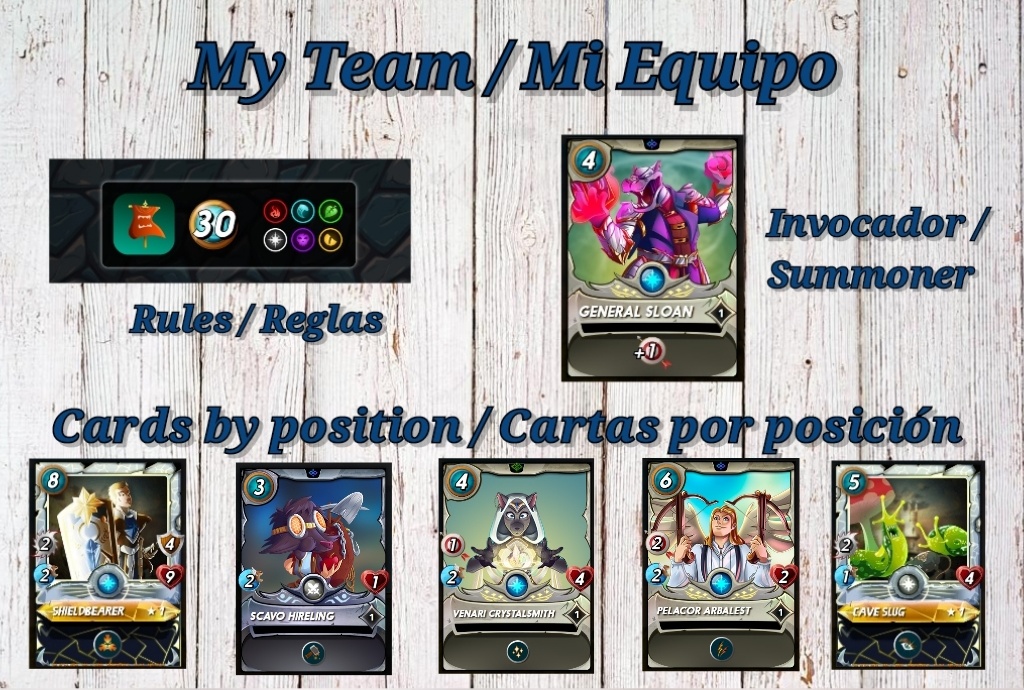 Imagen de Fondo
Bfjdbdbzn
As many other players do, I decided on Pelacor Arbalest as my main offensive card, since beyond taking advantage of my summoner's power increase, it has the Double Strike ability, making it a very powerful creature.
The main difference in my formation with the rest that I have seen is in the last card of my team, because beyond looking for creatures with a distant attack, and thus exploiting the skills of my summoner to the maximum, I opted for Cave Slug, because I saw As a priority, attacking my opponent's second line, and thanks to his Chance ability, there are not many more effective cards than he is in the life deck.
Al igual que lo hacen muchos otros jugadores, me decidí por Pelacor Arbalest como mi principal carta ofensiva, ya que más allá de aprovechar el aumento de poder mi invocador, tiene la habilidad Doble Golpe, haciéndolo una criatura muy poderosa.
La diferencia principal de mi formación con lo demás que he visto esta en la última carta de mi equipo, pues más allá de buscar criaturas con ataque lejano, y así explotar al máximo los dotes de mi invocador, me decanté por Cave Slug, pues ví como prioridad el atacar la segunda línea de mi rival, y gracias a su habilidad Oportunidad, no hay muchas cartas más efectivas que está en el mazo de vida.

It's time for battle! / ¡Es hora de la batalla!
My opponent used a Water-type formation, where his virtual main was also resistance and not so much strength, having a card with Protect and another with Heal the Tank, as well as having two cards that we could easily consider as Tanks.
Mi rival utilizó una formación de tipo de agua, donde su principal virtual también fue la resistencia y no tanto la fuerza, contando con una carta con Proteger y otro con Sanar al Tanque, además de tener dos cartas que podríamos considerar fácilmente como Tanques.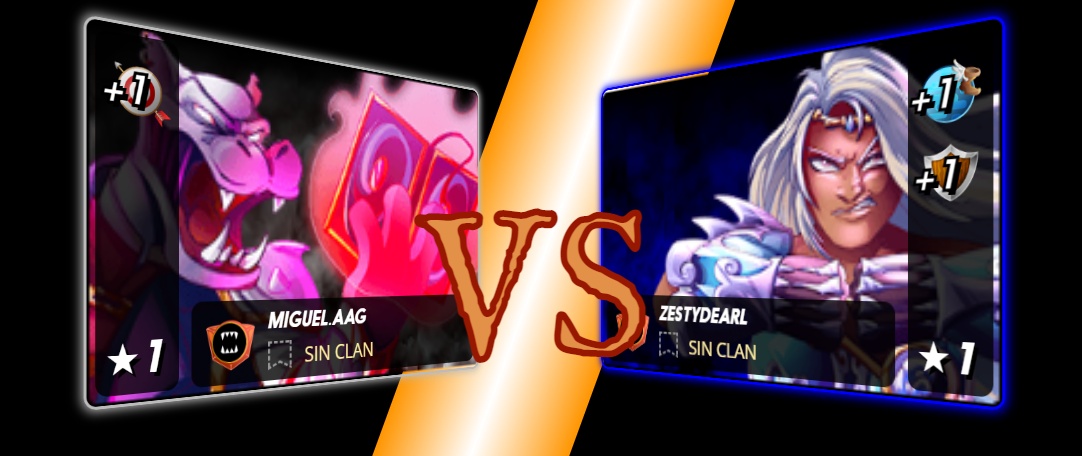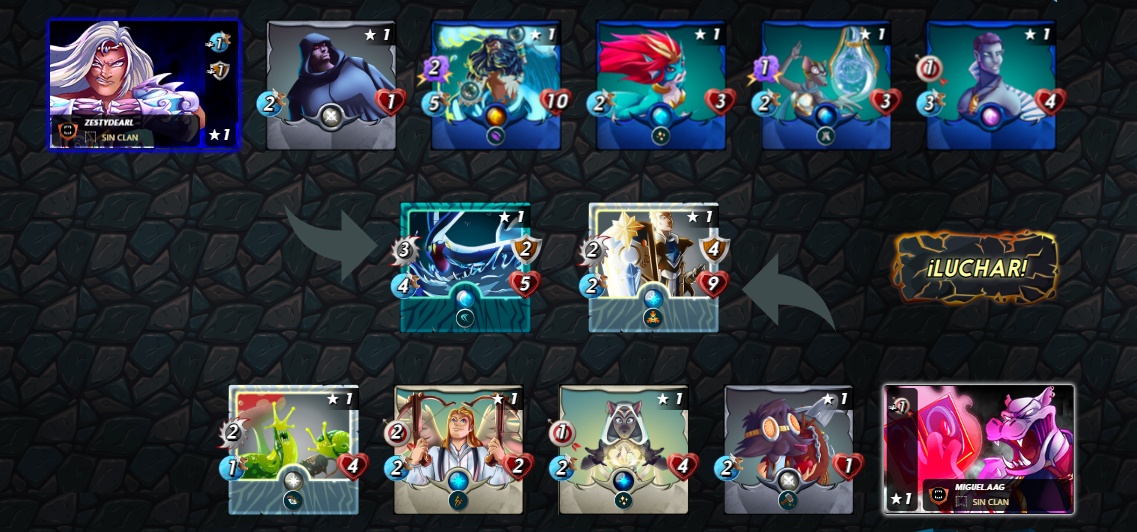 At the end of the effects of summoners and other monsters, my Pelacor Arbalest was the one who mainly took advantage of my summoner, while my rival ended up with a much more resistant formation, they all gained 3 shield points, plus the speed point, making them very resistant, although at an offensive level they did not suffer any change.
Al final de los efectos de los invocadores y otros monstruos, mi Pelacor Arbalest fue quien aprovechó principalmente a mi invocador, mientras que mi rival terminó con una formación mucho más resistente, todos ganaron 3 puntos de escudo, más el punto de velocidad, haciéndolos muy resistentes, aunque a nivel ofensivo no sufrieron ningún cambio.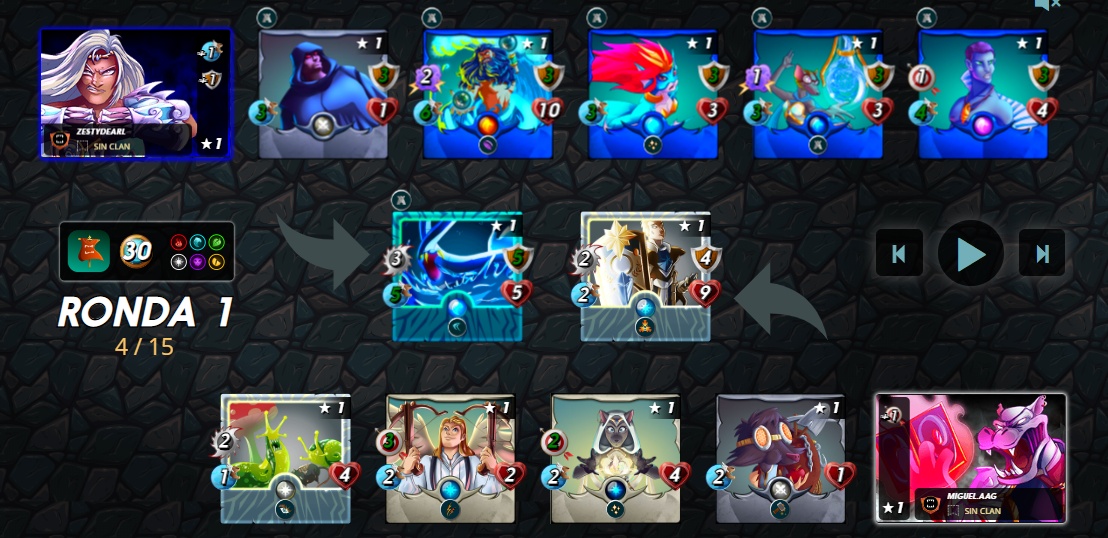 At first I thought that winning that game would be impossible, because my Shieldbearer kept taking damage, while I started by missing the first four attacks.
En un inicio pensé que ganar esa partida sería imposible, pues mi Shieldbearer no dejaba de recibir daño, mientras que yo empecé fallando los cuatro primeros ataques.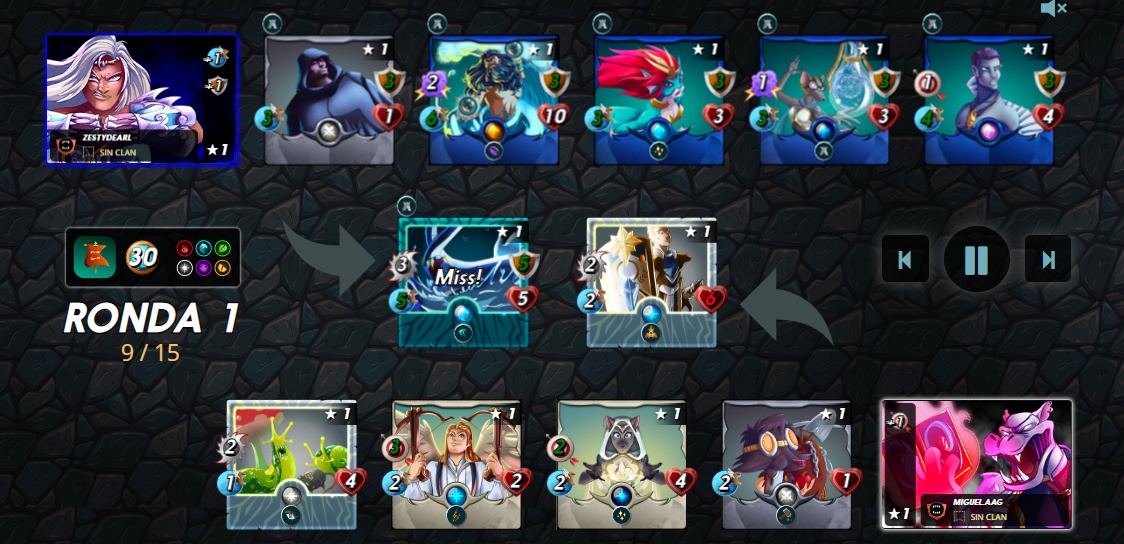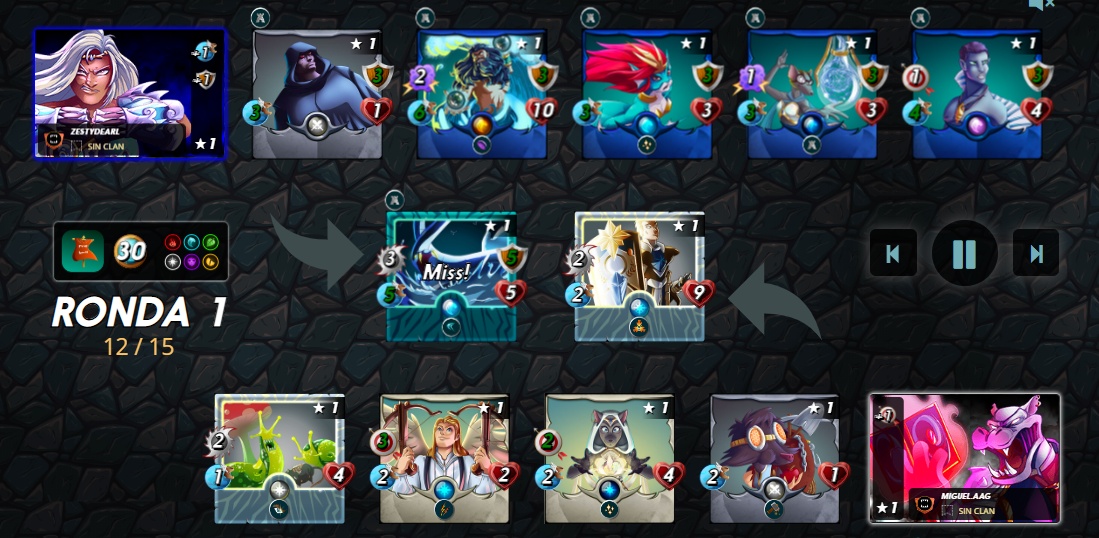 In a more than incredible way I was left alone with Elven Mistic, and after beating his Time Mage, he recovered his speed and won in an inexplicable way, jajaja.
Después de 3 rondas, y exactamente 10 ataques fallidos, puede vencer al primer tanque de mi rival, destruyendo también su carta con más daño, por lo que aquí empecé a tener algo de fe, jajaja.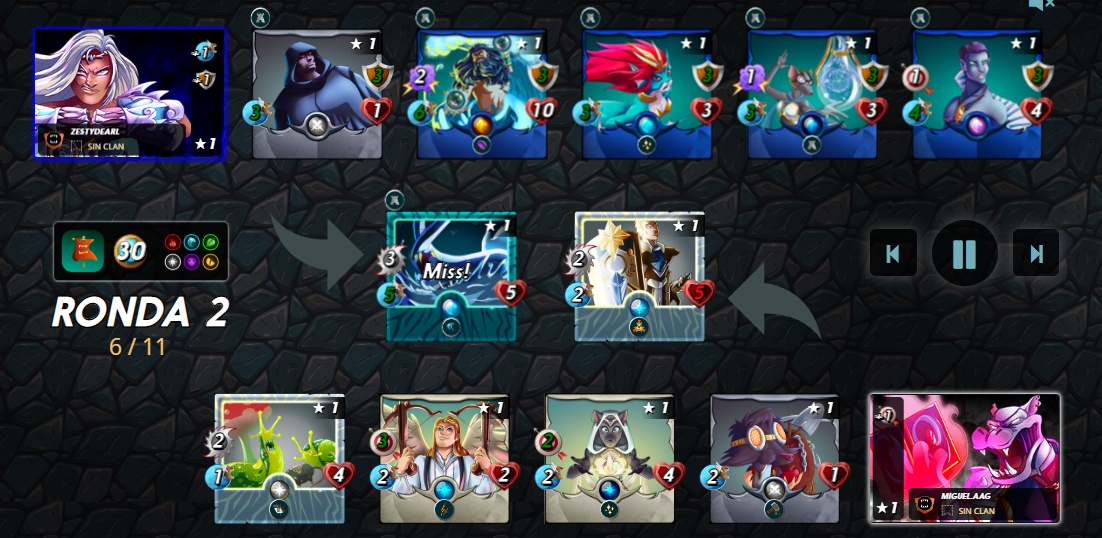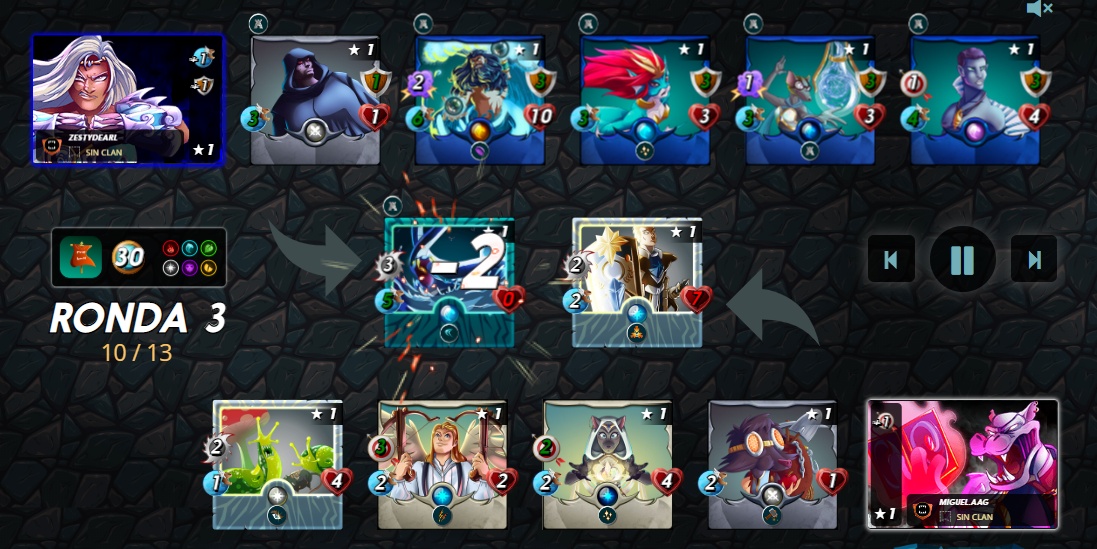 His Chaos Agent didn't last long, but when his second tank moved into first position, we started missing attacks left and right again.
Su Chaos Agent no resistió mucho, pero cuando su segundo tanque paso a primera posición, empezamos nuevamente a fallar ataques a diestra y siniestra.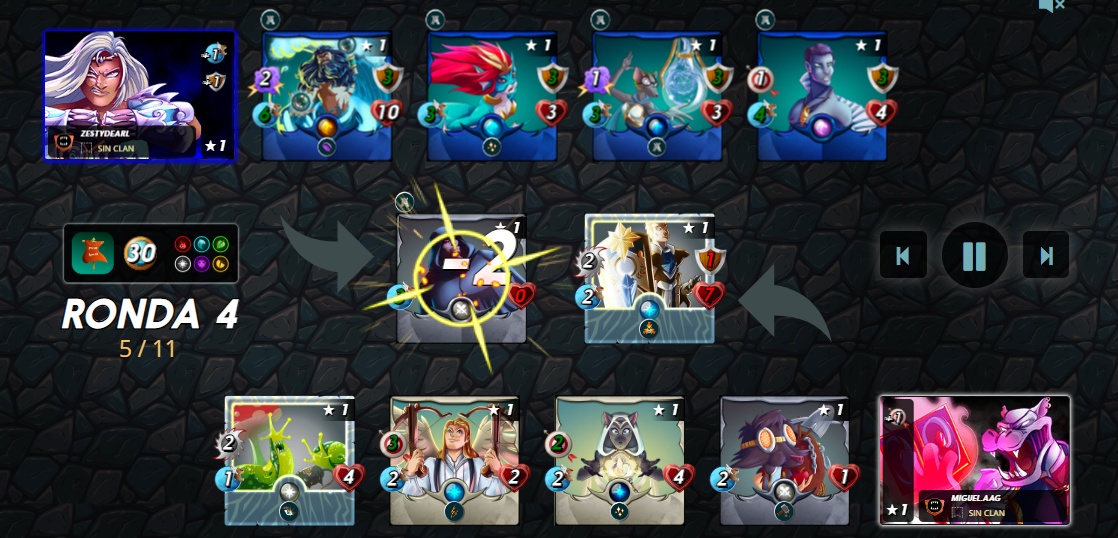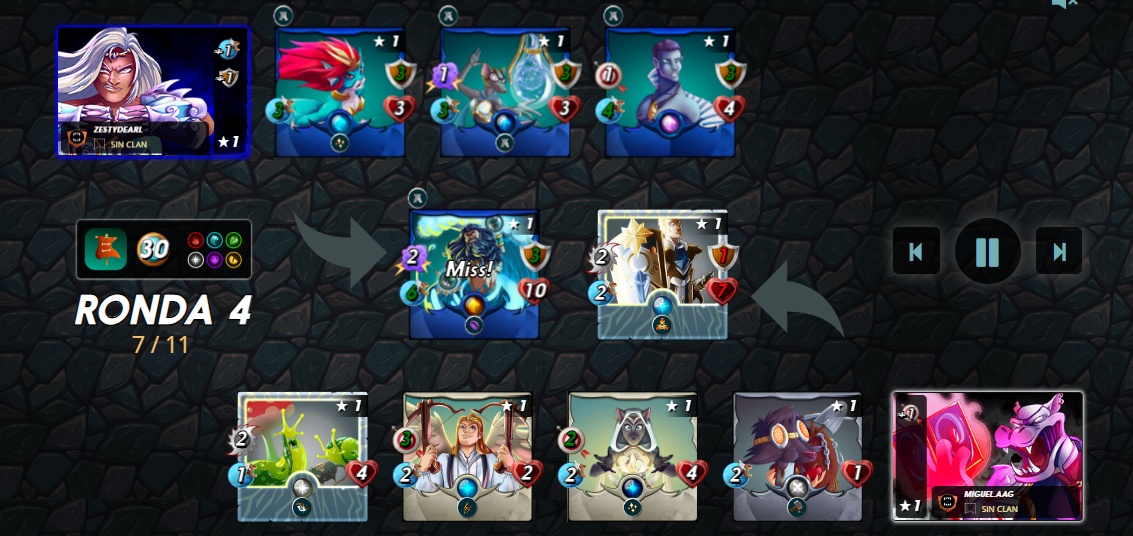 Eliminating his Djinn Oshannus was practically impossible with the cards he had on the field since, in addition to evading attacks, he recovered the little health that he took away, so the role played by Cave Slug was essential, thanks to his Opportunity ability. , I was able to destroy his Merdaali Guardian.
By now he had already missed 25 attacks!
Eliminar a su Djinn Oshannus era prácticamente imposible con las cartas que tenía en el campo ya que además que evadía ataques, recuperaba la poca salud que le quitaba, por lo que fue indispensable el papel hecho por Cave Slug, gracias a que por su habilidad Oportunidad, pude destruir a su Merdaali Guardian.
Ya a esta altura había fallado 25 ataques!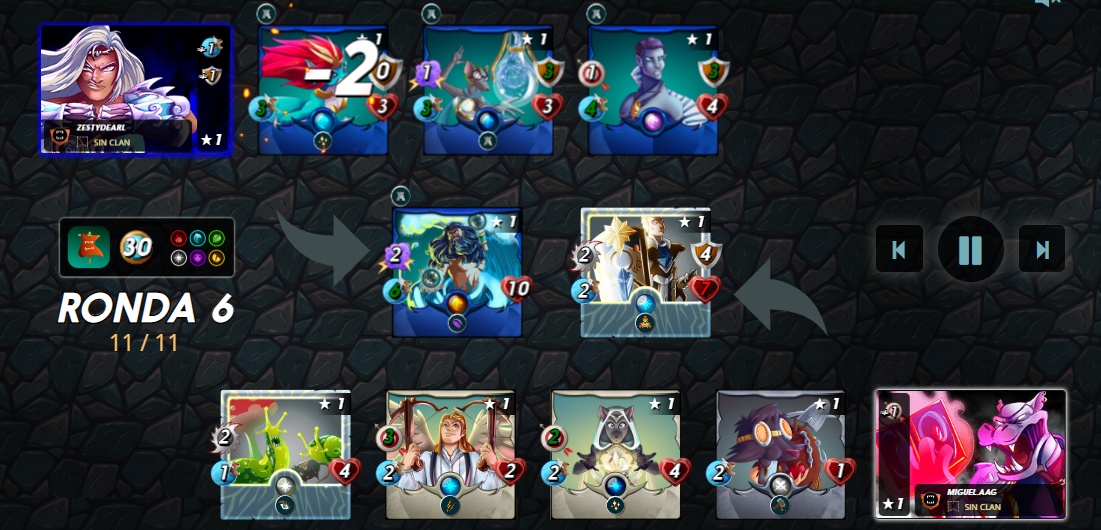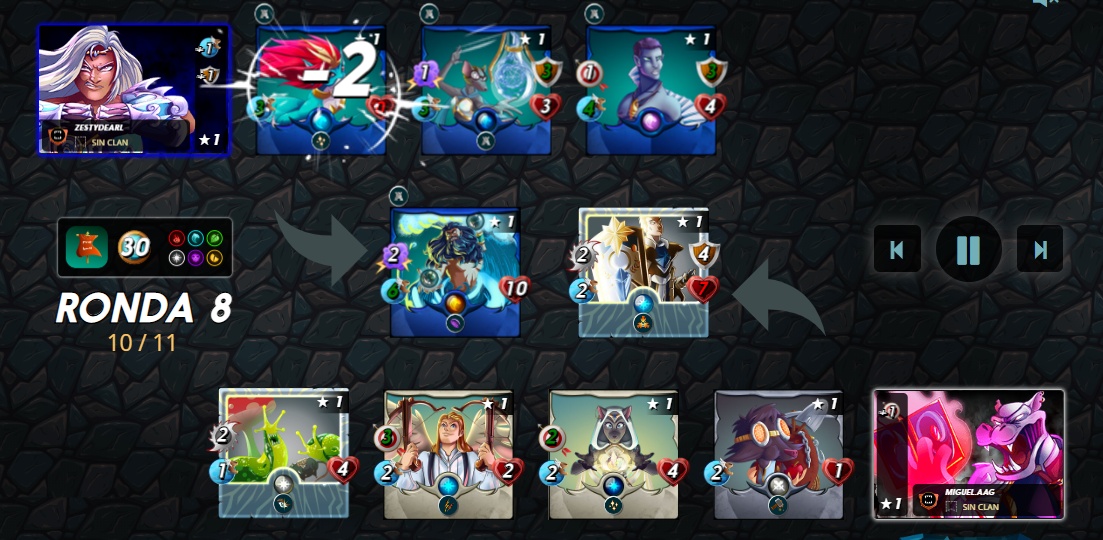 After dodging almost 20 attacks on his own, his Djinn Oshannus finally fell, and from there his other cards began to fall without much opposition.
Luego de evadir casi 20 ataques él solo, finalmente cayó su Djinn Oshannus, y a partir de aquí sus demás cartas empezaron a caer sin demasiada oposición.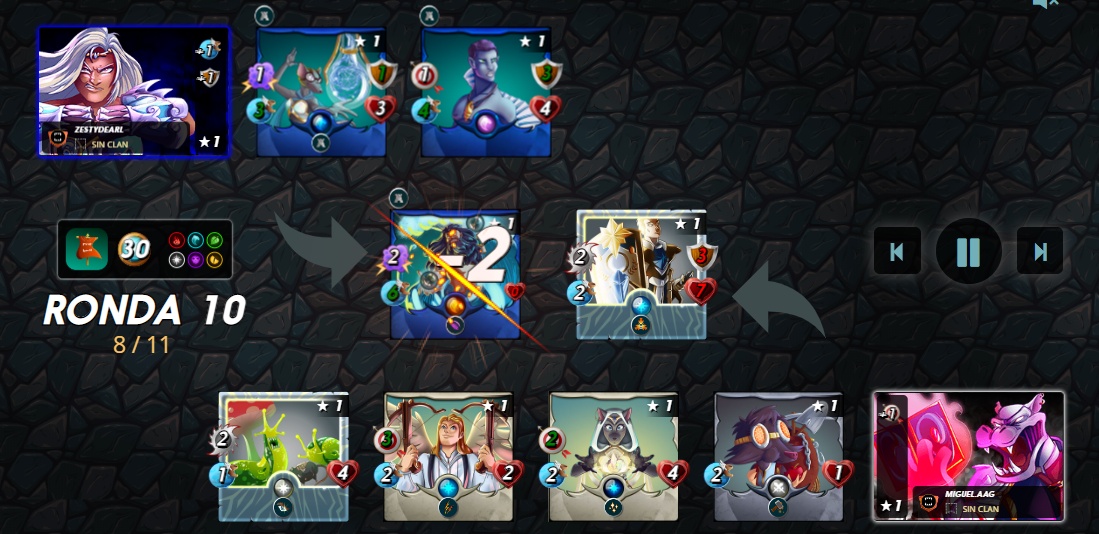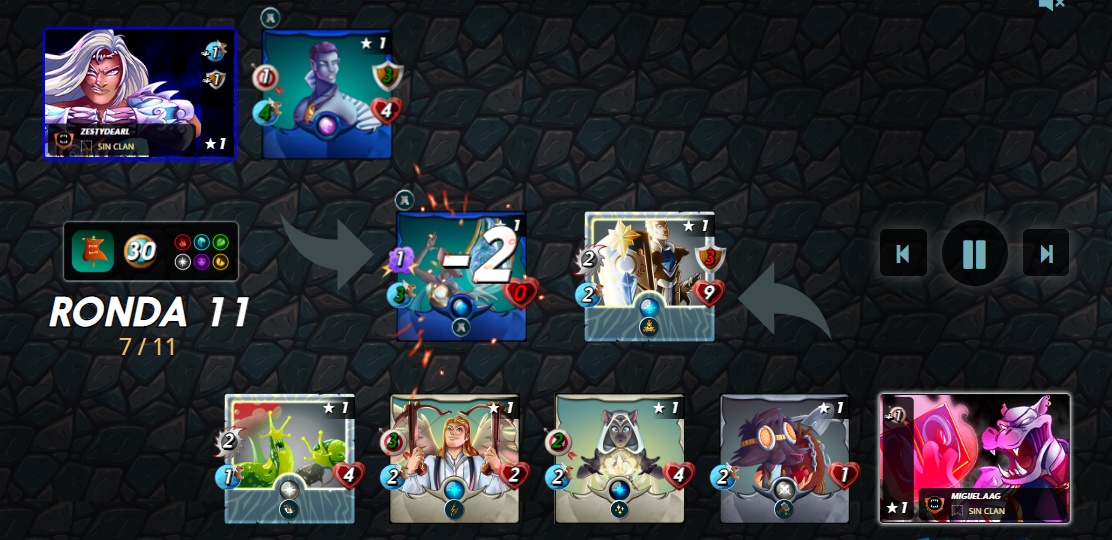 After nearly 12 endless turns, his last card finally fell, finally ending this battle, where I missed 33 atacks in total.
Después de casi 12 turnos interminables, finalmente cayó su última carta, finalizando por fin está batalla, donde falle 33 ataques en total.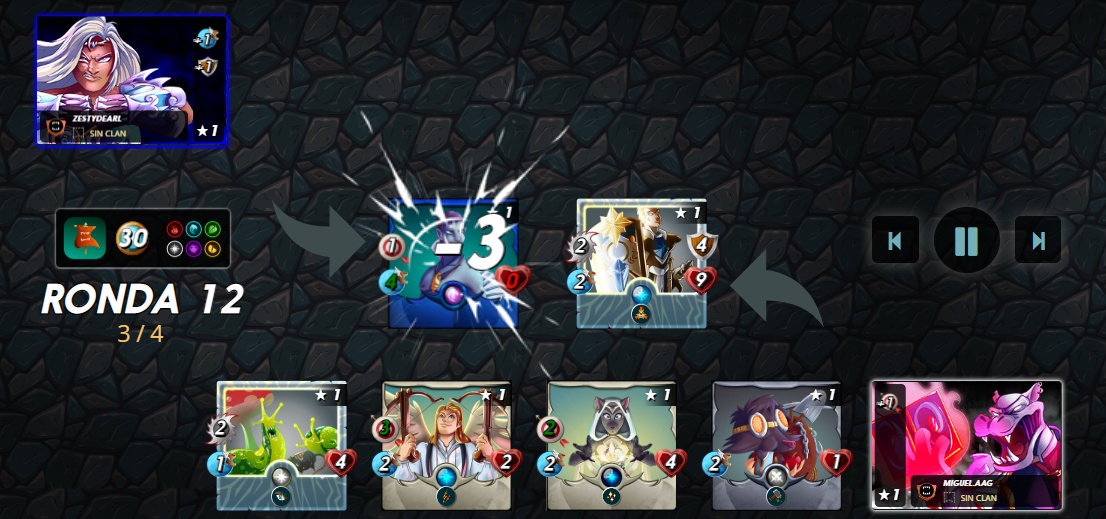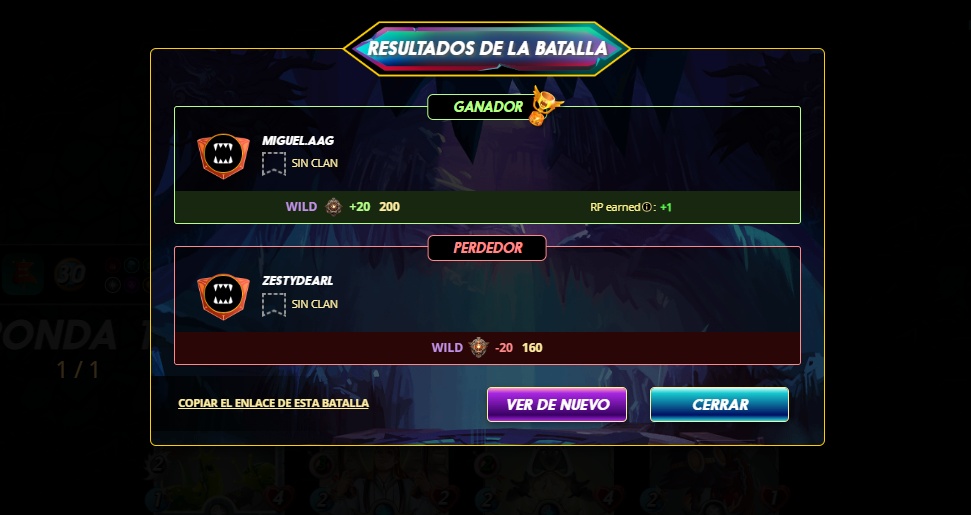 This was my entry for the Splinterlands social media challenge, I hope you liked this long-suffering battle, because seeing how the first turns unfolded, I didn't think I had any chance of winning, jajaja.
Another thing that also had me a little thoughtful when I saw that my rival could not destroy my Shieldbearer was the number of turns it would take me to eliminate his cards, because in other duels I have already lost when we reached the fatigue stage, but luckily not We were nowhere near getting there until turn 20.
Esta fue mi entrada para el reto de las redes de sociales de Splinterlands, espero que les haya gustado esta batalla tan sufrida, pues viendo como se desarrollaron los primeros turnos, no pensé que tenía alguna posibilidad para ganar, jajaja.
Otra cosa que también me tenía algo pensativo cuando ví que mi rival no podría destruir a mi Shieldbearer fueron la cantidad de turnos que me tomaría eliminar sus cartas, pues ya en otros duelos he perdido cuando llegamos a la etapa de fatiga, pero por suerte no estuvimos no cerca de llegar hasta el turno 20.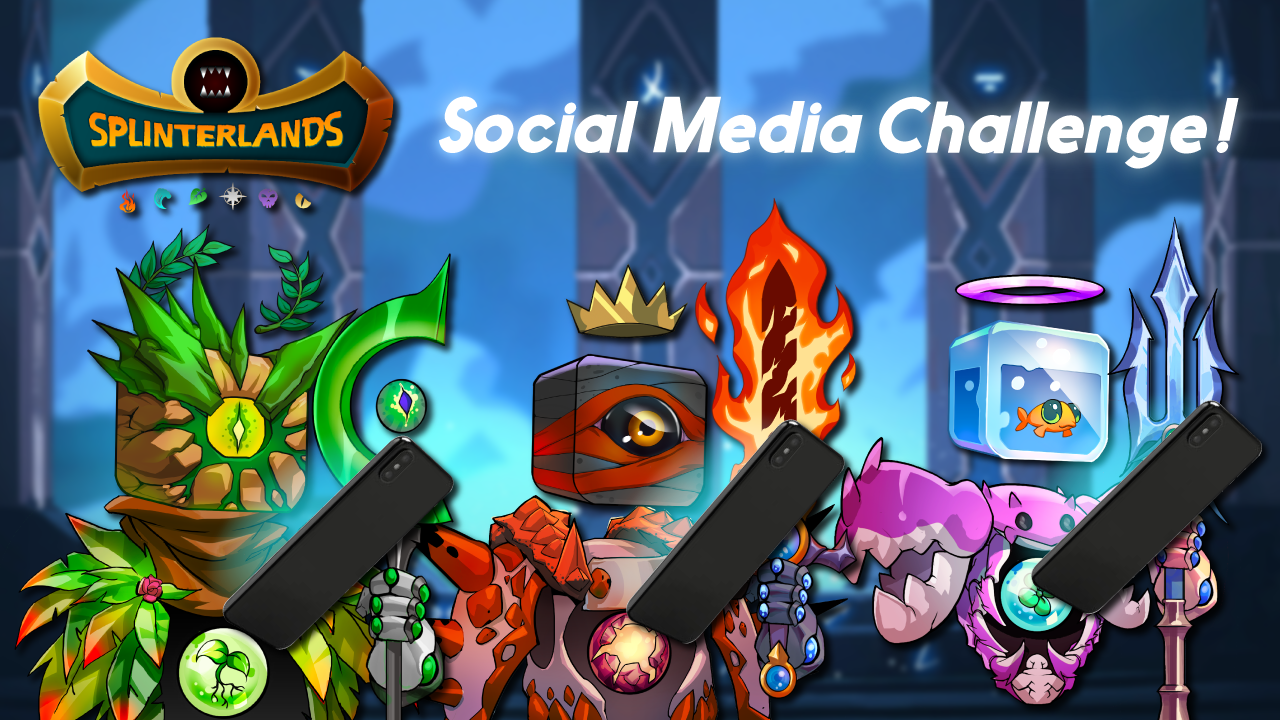 I hope you liked this battle, if you want to see it complete, here is the link again: see battle.
I will be aware of the challenge next week, greetings and thanks for this idea! @splinterlands
Espero les haya gustado esta batalla, si quieren verla completa, aquí les dejo el link nuevamente: ver batalla.
Estaré pendiente del reto de la próxima semana, saludos y gracias por esta idea! @splinterlands
---
---