My weekly battle -Dragons, Gloridax Soldier is a good tank / Mi batalla semanal -Dragones, Gloridax Soldier es un buen tanque
Hello everyone in the Splinterlands community! / Hola a todos en la comunidad de Splinterlands!
Today I want to share with you this battle for the weekly challenge, the topic of this week is the dragon type cards and let me tell you that it was not so easy to achieve a good victory, because if I am honest I do not have many cards of this type in my team, jajaja.
Hoy quiero compartir con ustedes esta batalla por el reto semanal, el tema de esta semana son las cartas de tipo dragón y déjenme decirles que no fue tan sencillo lograr una buena victoria, pues si les soy sincero no tengo muchas cartas de este tipo en mi equipo, jajaja.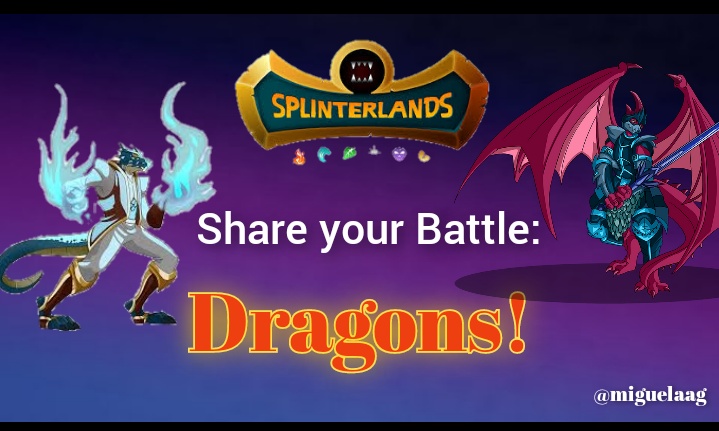 Without much else to add, this was the formation I used in battle:
Sin mucho más que agregar, está fue la formación que utilice en la batalla:
As a summoner / Como invocador: Drake of Arnak.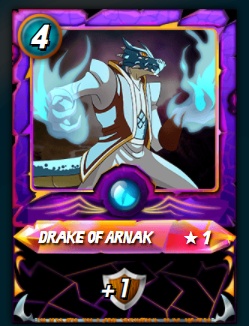 I only have two dragon-type summoners, I chose this one since it gives a shield point to my entire team, while the other cost less mana, but had no benefit. As a second element I chose water, since it has very good cards and is the element that is best used.
Solo tengo dos invocadores de tipo dragón, escogí esta en vista de que me da un punto de escudo a todo mi equipo, mientras que la otra costaba menos mana, pero no tenía beneficio. Como segundo elemento escogí al agua, ya que tiene muy buena cartas y es el elemento que mejor se utilizar.
In first Position / En primera Posición: Gloridax Soldier.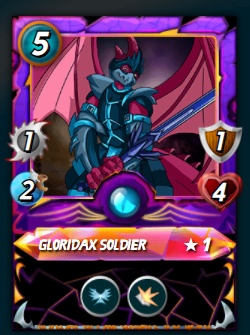 If I'm honest, besides the summoner, this is the only dragon-type card I have, so feel free to use it, jajaja. It is also in this position due to his physical attack, but mostly because of his abilities, protecting and flying, which allows him to lessen the damage taken, or simply avoid it altogether.
Si les soy sincero, además del invocador, está es la única carta de tipo dragón que tengo, por lo que no dude en utilizarla, jajaja. También está en esta posición debido a su ataque físico, pero sobre todo por sus habilidades, proteger y volador, que le permite disminuir el daño recibido, o simplemente evitarlo por completo.
In second position / En segunda posición: Ice Pixie.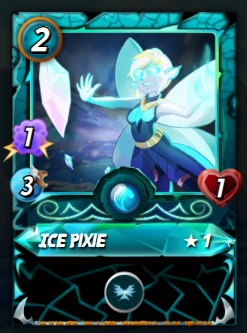 In second position I put this card because of its ability, hoping that the enemy will miss an attack, in addition to that with increased defense, it would not die with the first hit.
En segunda posición puse esta carta por su habilidad, esperando que el enemigo fallará algún ataque, además que con la defensa aumentada, no moriría con el primer golpe.
In third position / En tercera posición: Venari Wavesmith.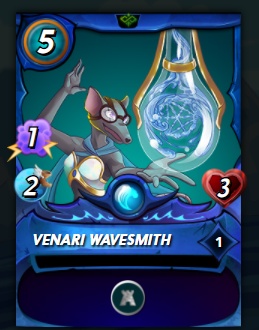 With this card, maybe I was wrong in position, because I lost it very quickly and thanks to its ability to protect, it had to be one of the last cards standing, although luckily, everything went well.
Con esta carta tal vez me equivoqué de posición, pues la perdí muy rápido y gracias a su habilidad proteger, tenía que ser de las últimas cartas en pie, aunque por suerte, todo salió bien.
In fourth position / En cuarta posición: Water Elemental.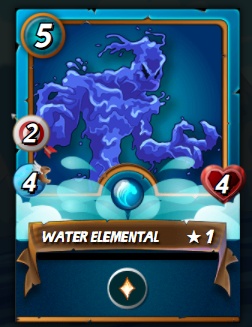 With this card it also happens to the similarity as with the previous one, since thanks to its ability it regenerates life, so a better option would have been to put it further back.
Con esta carta también sucede al parecido que con la anterior, ya que gracias a su habilidad regenera vida, por lo que una mejor opción hubiese sido ponerlo más atrás.
In fifth position / En quinta posición: Enchanted Pixie.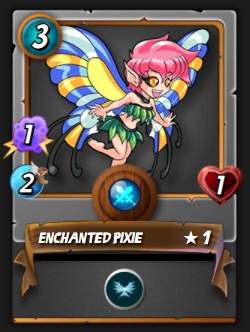 The reasons for this card are the same as Ice Pixie, although this card has a higher mana spend, it is still a good option.
Las razones de esta carta son iguales a la Ice Pixie, aunque esta carta tiene un gasta de mana mayor, sigue siendo buena opción.
And in last position / Y en última posición: Mantoid.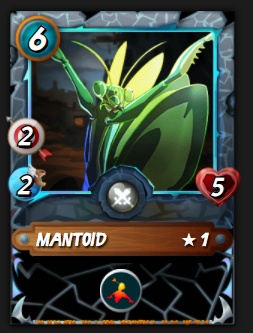 Here I chose Mantoid because he can take a few hits, and with his snipe ability, he can take out enemies with distant attack, he is also one of the cards that I like the most.
Aquí elegí a Mantoid porque puede soportar algunos golpes, y con su habilidad agachadiza, puede eliminar a los enemigos con ataque lejano, también es una de las cartas que más me gusta.
It's time for battle! / ¡Es hora de la batalla!
My opponent chose a fire-type formation, so I started with a bit of an advantage thanks to the powers of my water cards.
Mi contrincante escogió una formación de tipo fuego, por lo que comenzaba con un poco de ventaja gracias a los poderes de mis cartas de agua.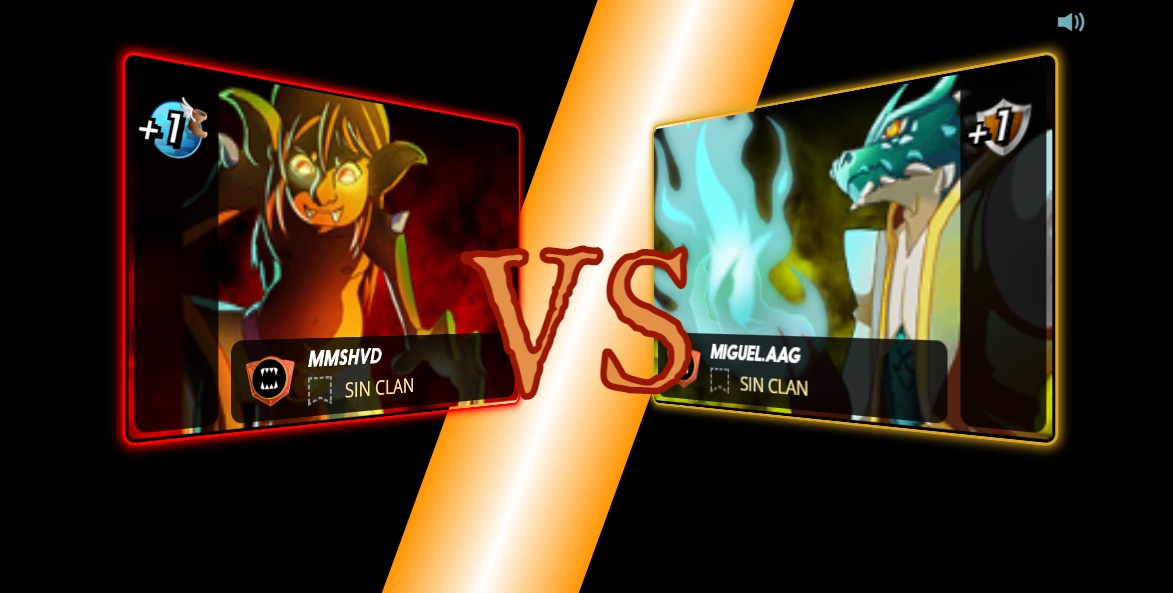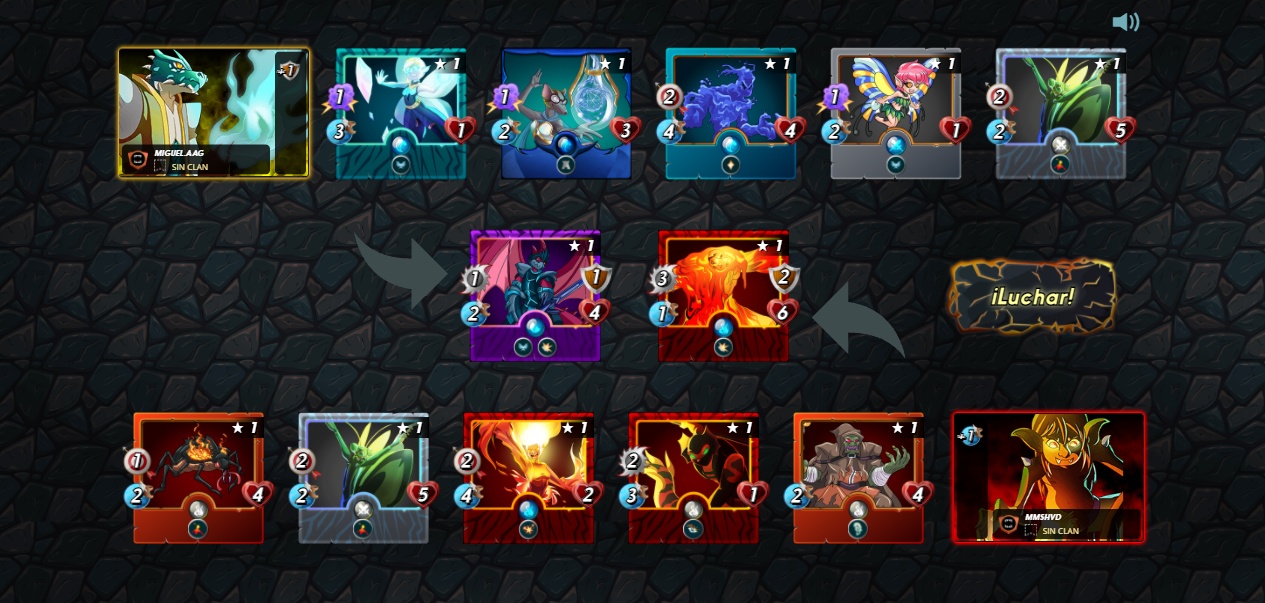 At the end of the summoners and monsters effects, I ended up with less health and even slower than at the beginning, but luckily I was able to defend myself very well from the attacks with the extra shield since I had no magic attacks.
Al final de los efectos de los invocadores y los mounstros, termine con menos vida y aún más lento que al principio, pero por suerte podía defenderme muy bien de los ataques con el escudo extra ya que no tenía ataques mágicos.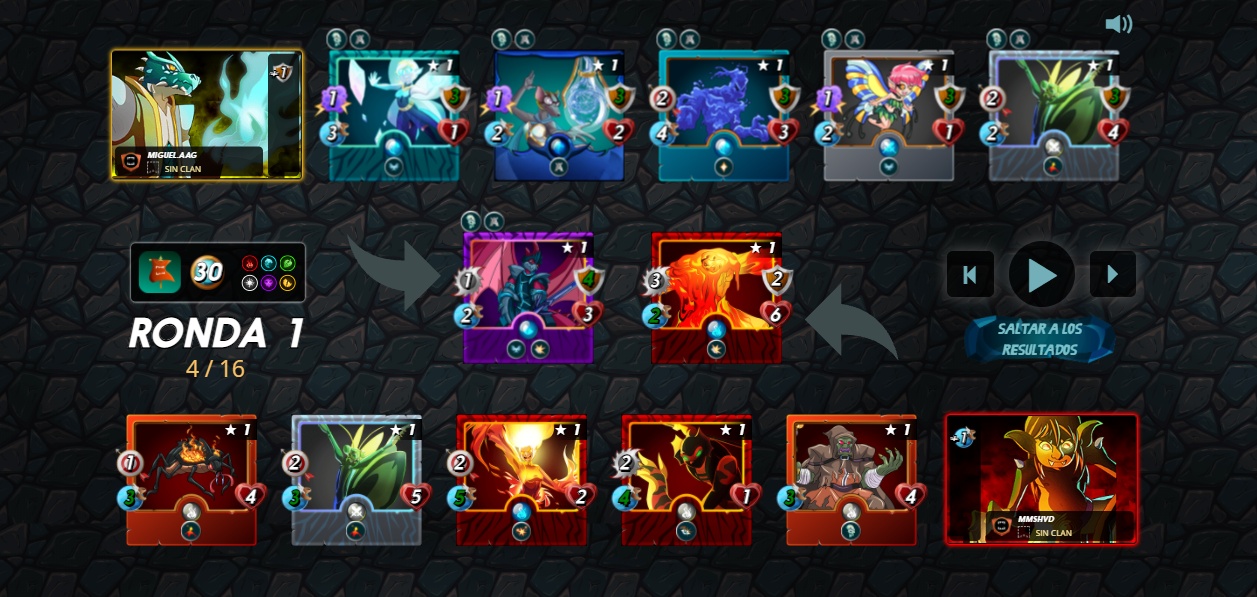 At the end of the first turn I had already lost my Ice Pixie, but thanks to the abilities of my monsters I had avoided some points of damage. I was also close to eliminating his golem and taking away the effect of his second monster's less health.
Al finalizar el primer turno ya había perdido a mi Ice Pixie, pero gracias a las habilidades de mis mounstros había evitado algunos puntos de daño. Ya también me faltaba poco para eliminar a su golem y quitarme el efecto de menos vida su segundo mounstro.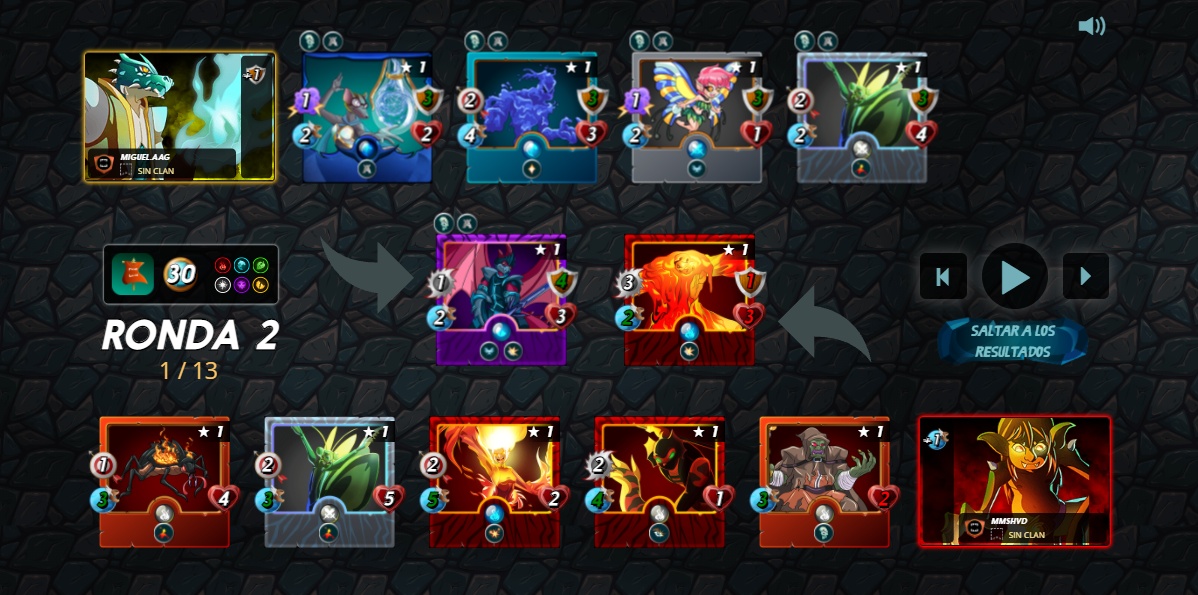 In the second turn I was not so lucky and my tank's ability had not been activated, so I lost its shield and it had done a lot of damage to Venari, the good thing is that I had already recovered part of my health and his Golem was already a single blow to fall.
En el segundo turno no tuve tanta suerte y la habilidad de mi tanque no se había activado, por lo que perdí su escudo y me había hecho bastante daño a Venari, lo bueno es que ya había recuperado parte de mi salud y ya su Golem estaba a un solo golpe de caer.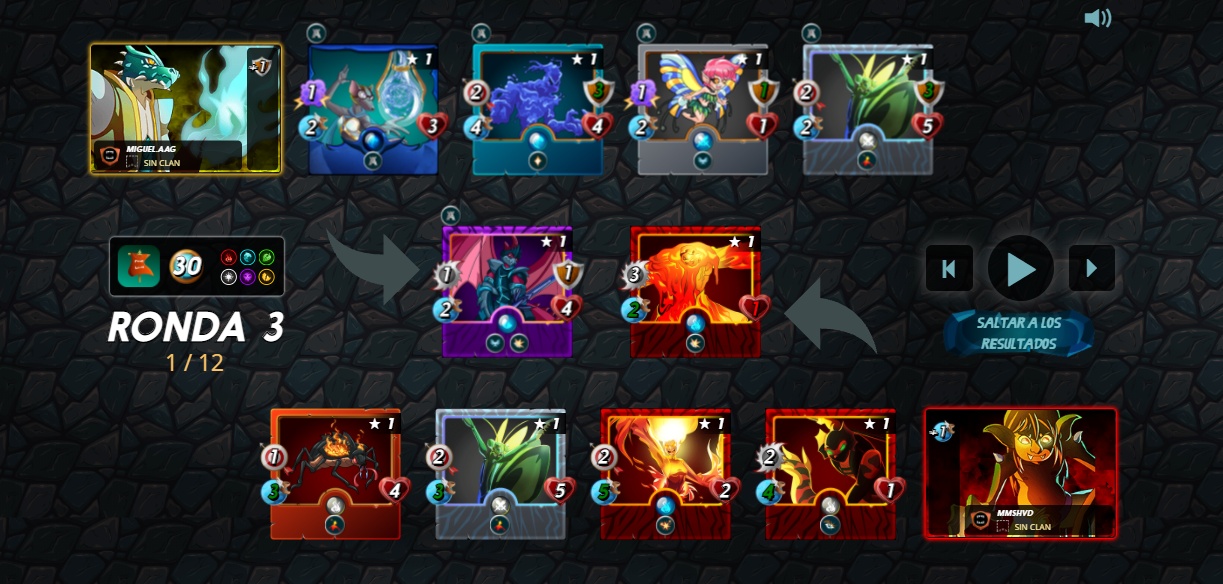 My Venari fell on the third turn, with which 2 points of my general shield also fell, the good thing was that when his Golem fell, the other cards also began to fall one after the other, and it was only a matter of time for me victory.
Mi Venari cayó en el tercer turno, con lo que también cayeron 2 puntos de mi escudo general, lo bueno, fue que al caer su Golem, las demás cartas también empezaron a caer una detrás de la otra, y ya solo era cuestión de tiempo para mí victoria.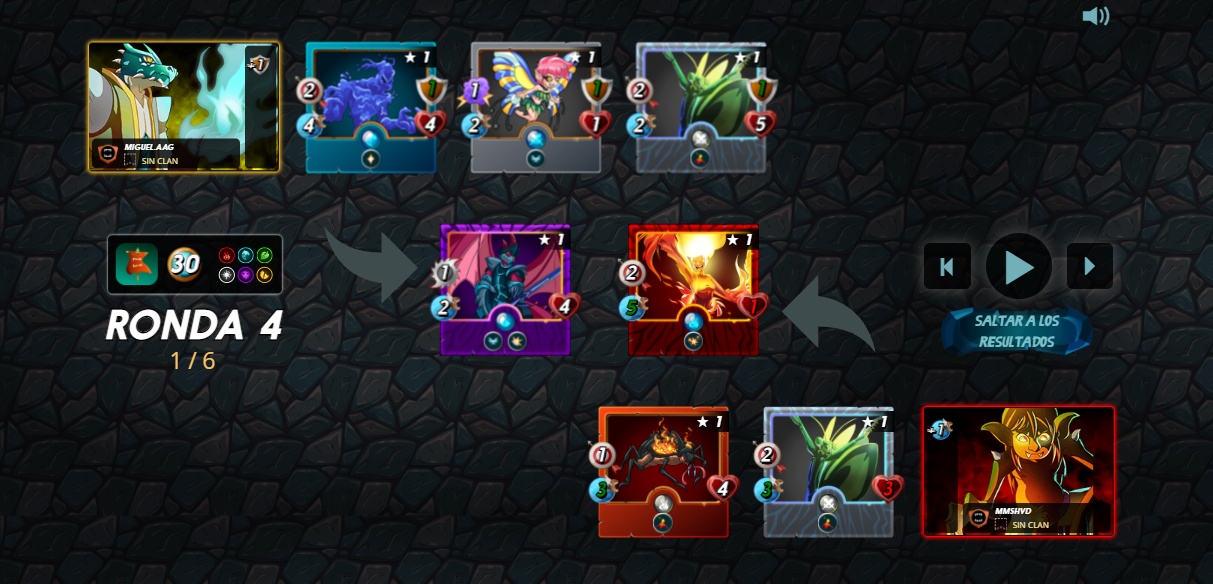 In round 5 I was able to finish the battle, my Mantoid being the one who delivered the final blow.
En la ronda 5 fue que pude terminar con la batalla, siendo mi Mantoid quien dió el golpe final.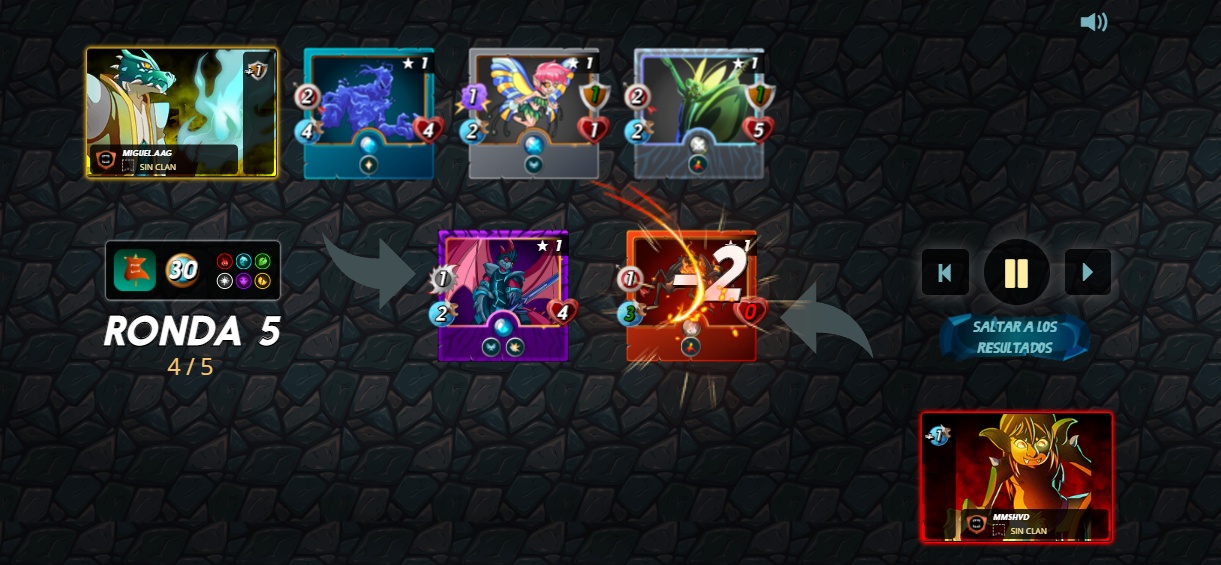 Here is the link so you can see the complete battle: link
Aquí les dejo el enlace para que puedan ver la batalla completa: link
---
---