SOUL STRANGLER A 3 MANA CARD FROM DEATH SPLINTER | QUEST REWARDS
Hello Splinterland warriors!
How are you all guys hope you will be blessed and fine. In today's post, I will be sharing the quest rewards of today along with the pack opening from season end rewards and a card from the pack opening that you can see below.
SOUL STRANGLER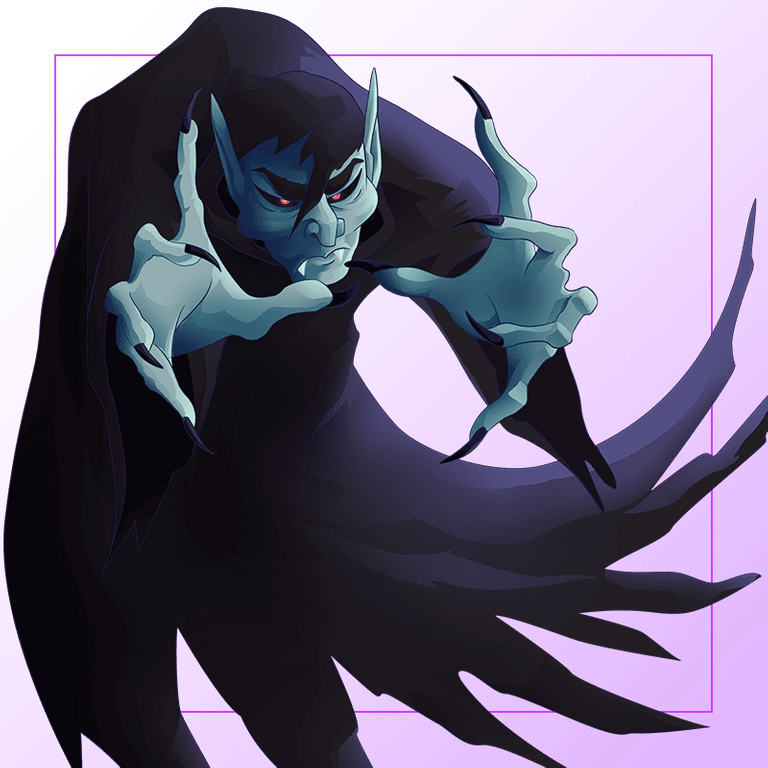 Before the chaos gate opened, the towered city of Darkholde was peaceful and quiet. Situated in the cold, Blackworth mountain range, it was presided over by a long-standing noble family and governed by Baron Kutziq Neculai.SOUL STRANGLER
I am not a big fan of death splinter and nor using it, especially the 3 summoners from beta, untamed, and chaos legion edition the reason is that i do not have the upgraded version of these summoners, and all of them are only at level 3 while when there is high mana cap then i am using it but the legendary mimosa nightshade and that gives me a nice victory all the time. Here is a card from the chaos legion edition that i did not used yet in upgraded version but seems a great card with little league ruleset to use this card in low mana and equalizer ruleset to give you some awesome range attack as compared to other little league monsters they will give you only 1 magic, melee and ranged attack but this is a rare card will give 2 range attack at level 1.

MARKET FEED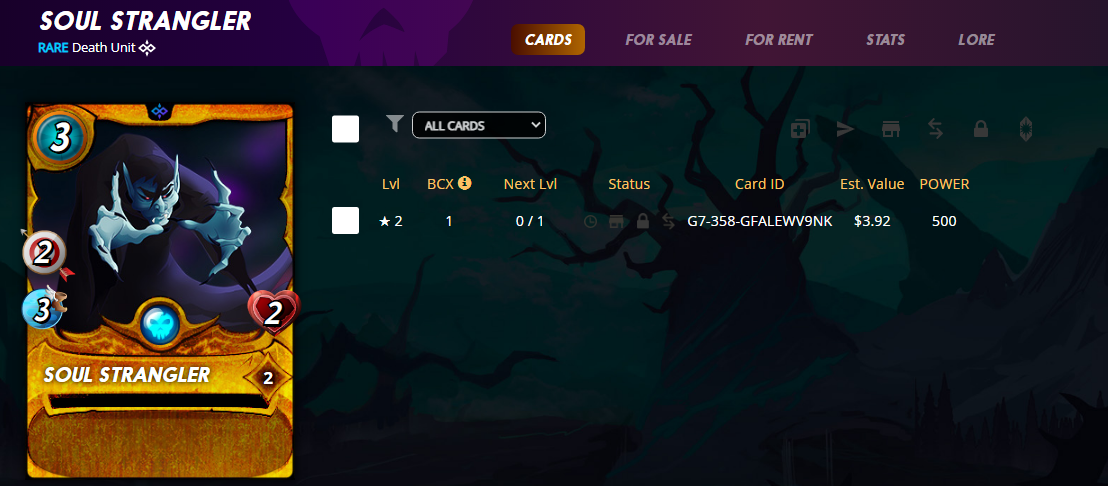 I already have on in gold foil worth $4 or equal to 1 chaos legion pack that you can buy with credits as well as with DEC tokens in new update and definitely i will buy some packs later but will collect some SPS from the airdrop and also some SPS from my investment in the liquidity pools. Also, i got some vouchers on daily basis that i sold today worth $100+ and also these vouchers are free and you can say it profit or return of your investment. However, the card ability is poison at max level but you can increase the ranged attack of this card by upgrading to next level.

PACK OPENING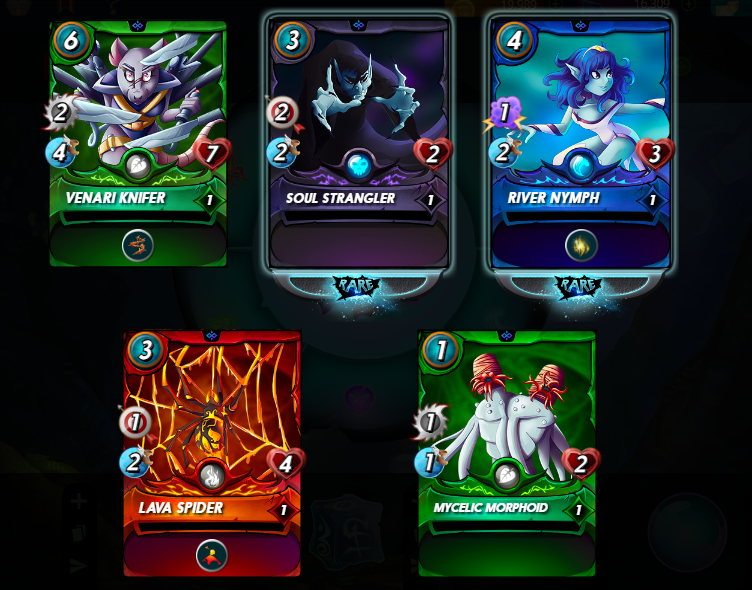 Here is the pack opening result that i got free from the season end rewards the season-ending was not so good in which i only got 1 chaos legion pack from 50 loot chests and nothing good nor the epic, or legendary card but i earned some nice amount of dec by renting out my cards which made my day i earned 2000+ dec in the last of season while i did not earned 800 dec tokens by playing so renting is good but sometimes we get nice rewards like i got the epic gold worth $10 from the quest rewards that i put for rent and gave me 50+ dec in a single day. However, the cards are normal from this pack and not that good because i did not get some worthy cards like summoner or gold or any other good card like epic.

QUEST REWARDS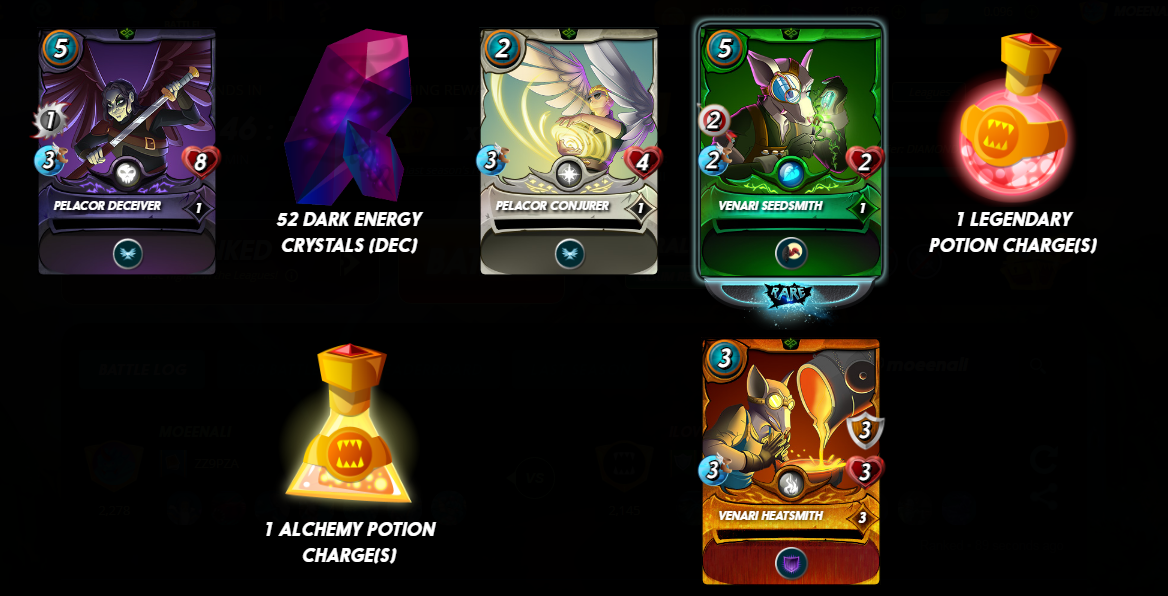 Here is the quest rewards of today that i completed with gold 2 league with 2200 rating and the quest was also easy which was a neutral quest i won 3 battles without using neutral monsters and got these rewards including one common gold worth 30 cents from today's quest with 7 rewards while rest of the cards are also normal.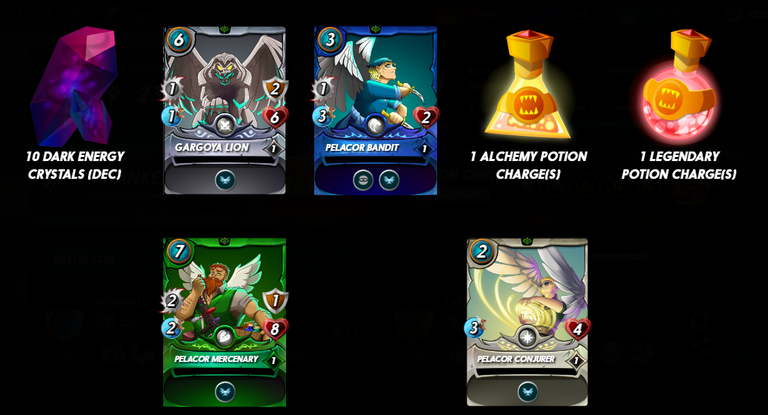 Also, here is the quest rewards from yesterday and because of the weekly battle challenge participation i did not share it so here i am going to share and the rewards from yesterday's quest are also not good but only common cards with some potion charges and dec tokens.

All images and animations are from the Splinterlands blogs and website

If you are new to this game then signup here to play the game click here for signup
---
---
Thanks For visiting my Blog
Best Regards @moeenali
---
---