How To See If You Are On Our SPT Content Creators List

What is the SPT Content Creators List
The SPT Content Creators List is a group of bloggers on the HIVE Network that like to blog about the blockchain game known as Splinterlands. Once on the list your SPT content will start to get upvotes from the @monstercrusher account. Eventually we will give auto upvotes to those on our list but for the time being we will be upvoting everyone manually. Joining the list is by request only. If you notice that MonsterCrusher is following you that means you have been added to the list of SPT content creators that will get upvotes from MonsterCrusher. If you like to be removed from our SPT Content Creators list simply request to do so below in the comment section and you will be removed ASAP.
What Is MonsterCrusher
MonsterCrusher is an SPT curation account for the SPT Tribe. We also encourage posters to use the BATTLE tag on all SPT content. To learn more about this initiative Click Here. If getting your SPT content curated is something that interest you simply show your interest in the comment section below. We will then review your blog and add you to our List of SPT Content Creators. Once on our list your will start receiving upvotes from the account @monstercrusher.
Previous MonsterCrusher Content
What Is SPT
SPT is the native token of the Splintertalk Tribe. One can earn SPT tokens via creating/curating content on the frontend https://www.splintertalk.io/. One can also earn SPT tokens via using the SPT tag on any Splinterland related topic created on the HIVE Network. SPT can be traded on the exchange Hive-Engine.
What is BATTLE
BATTLE was the first TRIBE on the HIVE Network that was created strictly for general gaming content. BATTLE can be earned via creating/curating content on the Tribe https://social.battlegamesnfts.com or by using the tag BATTLE on any gaming content created on the HIVE Network. BATTLE can be Traded on the HIVE-ENGINE exchange.

Just Two More Days Left Until This Season Ends

Get those battles in and collect those Free rewards. There's less than two days left in this season and currently DEC USD value is at an all time high. As most know Splinterlands has pegged DEC at 1000 DEC / 1 USD. For some reason (Likely due to the airdrop that is nearing) DEC USD value is experiencing an upward trend on exchanges. Currently the lowest sale price on Hive-Engine for DEC is 0.002997 HIVE / $0.00120 USD. That's a 20% increase compared to its pegged value and it has sold for more than that at times over the past 36 hours. So if collecting and selling DEC is something you like to do there's no better time than right NOW to do that.
Visit DEC On Hive-Engine--> https://hive-engine.com/?p=market&t=DEC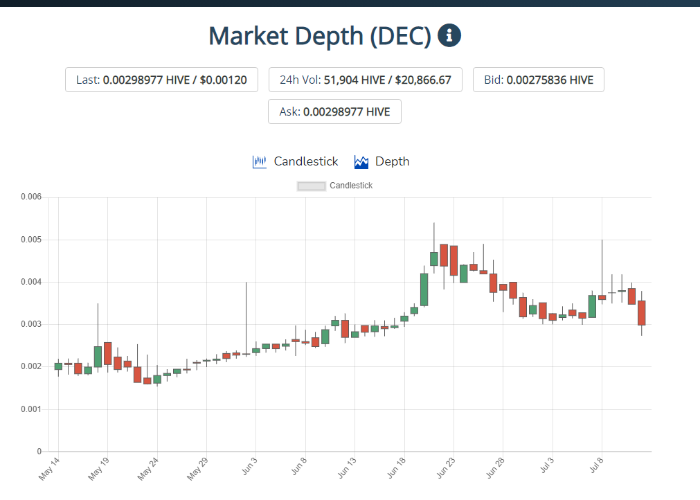 ---
---