SPT IS MOONING: UPVOTES INCOMING!

There's no better time than now to be blogging about Splinterlands on the Splintertalk frontend. Splintertalks native coin hit an all time high yesterday of 0.00300* and is still trading at rates of up to 0.0249 within the past 24 hours. Below I have attached a screenshot of the most recent Buy/Sell Orders that can be found on HIVE-Engine.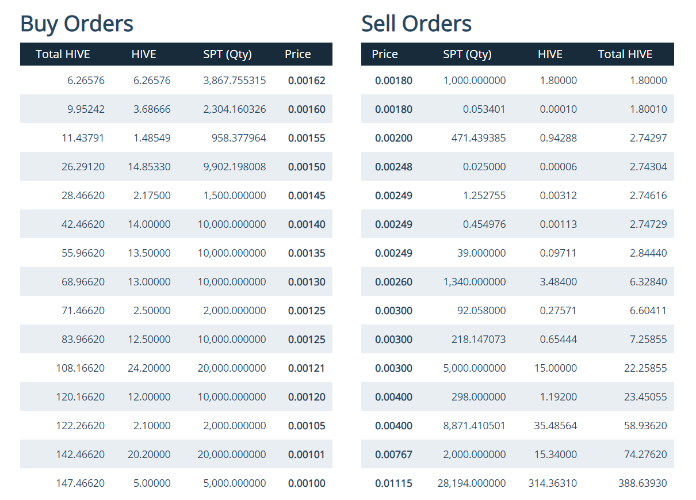 Get your name on our SPT Content Creators List TODAY and start receiving upvotes from the SPT curator account @monster-crusher. Getting on our SPT Content Creators list is easy. Simply show your interest below in the comment section and your blog will be reviewed. If we see you are creating Splinterlands content and are using the SPT tag when you do so you will be added to our list. We also like to encourage the use of the BATTLE tag.

SPT is the native token of the Splintertalk Tribe. One can earn SPT tokens via creating/curating content on the frontend https://www.splintertalk.io/. One can also earn SPT tokens via using the SPT tag on any Splinterland related topic created on the HIVE Network. SPT can be traded on the exchange Hive-Engine.

BATTLE was the first TRIBE on the HIVE Network that was created strictly for general gaming content. BATTLE can be earned via creating/curating content on the Tribe https://social.battlegamesnfts.com or by using the tag BATTLE on any gaming content created on the HIVE Network. BATTLE can be Traded on the HIVE-ENGINE exchange.

---
---