Resumen Brawl Splinterlands Agosto 4ta [ES/EN]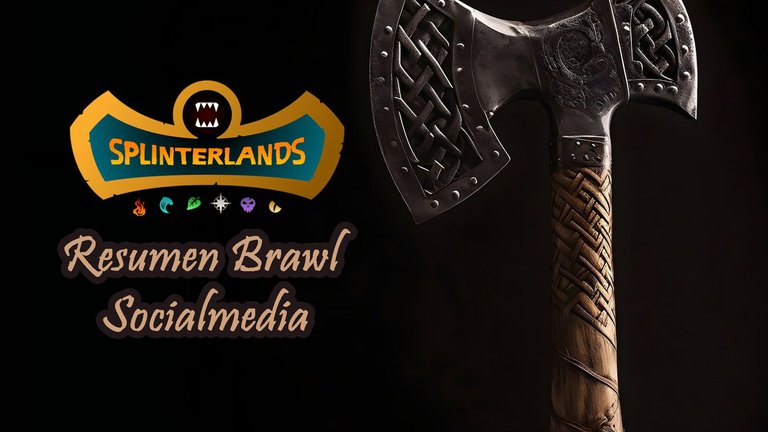 La semana pasada tuve mi acostumbrada pelea de clanes, la llamada Brawl que nos permite medir fuerzas entre clanes pero de una manera deportiva y amigable. Lo mejor de estos enfrentamientos es que todos ganamos, de hecho, a día de hoy puedo comprar un nuevo pack Gladius gracias a los méritos que he obtenido estas últimas semanas. Hoy les comparto el resumen de mi clan y mis batallas de este evento.
Quiero felicitar a mis colegas @pepeymeli por obtener el primer lugar, seguido de @pablodare por ser el segundo en esta riña, por supuesto también al tercer lugar @danzocal, lo hicieron muy bien. Por mi parte obtuve el quinto lugar con 5 batallas ganadas y cero perdidas. @rosmiapure no se quedó atrás y quedó de cuarto lugar, buena jugada.
Nuestro gremio obtuvo el tercer lugar con 44 batallas ganadas y 20 perdidas, tenemos ya un tiempo obteniendo el tercer lugar, no me quejo de esto, al contrario, hace un tiempo no avanzábamos del lugar 12, ahora nos mantenemos en el tercer puesto y estamos apretando para llegar al segundo a primer puesto muy pronto.
Esta vez gané 600 Méritos y 7.985 SPS.
ENGLISH VERSION (click here!)

Last week I had my usual clan fight, the so-called Brawl that allows us to measure forces between clans but in a sporty and friendly way. The best thing about these battles is that we all win, in fact, today I can buy a new Gladius pack thanks to the merits I have obtained these last weeks. Today I share with you the summary of my clan and my battles of this event.
I want to congratulate my colleagues @pepeymeli for getting the first place, followed by @pablodare for being the second in this fight, of course also to the third place @danzocal, they did very well. For my part I got 5th place with 5 battles won and zero lost. @rosmiapure was not left behind and got fourth place, good move.
Our guild got the third place with 44 battles won and 20 lost, we have been getting the third place for a while now, I am not complaining about this, on the contrary, some time ago we did not advance from the 12th place, now we are in the third place and we are pushing to reach the second to first place very soon.
This time I earned 600 Merits and 7,985 SPS.

⚔️Resumen de Batallas / Summary of Battles ⚔️
A continuación les muestro el resumen de mis batallas para poder ver aciertos y desaciertos en cada una de ellas.
ENGLISH VERSION (click here!)

Below is a summary of my battles so that you can see the successes and failures in each one of them.
---
Primera Batalla / First Battle
No hay mucho que decir porque mi oponente no se presentó.
There is not much to say because my opponent did not show up.

Segunda Batalla / Second Battle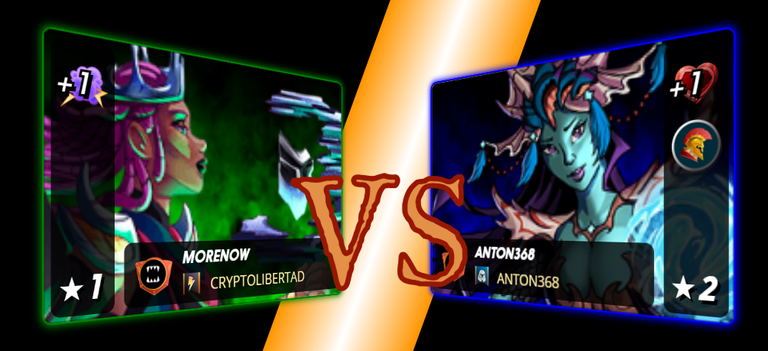 Mi adversario eligió un invocador del elemento agua llamado PEMBROOK NYMPH que tiene un diseño hermoso, es una carta que otorga +1 de salud aparte de invocar una carta Gladius. Normalmente en las batallas Brawls podemos utilizar una carta Gladius así que utilizar un invocador de este tipo solo ofrece la ventaja de poder utilizar dos cartas Gladius en la batalla.
Yo por mi parte elegí un invocador del elemento tierra, aprovechando que podía gastar 60 puntos de mana y que las reglas de batalla no estaban tan chocantes. Además elegí el tanque con doble ataque cuerpo a cuerpo GRUND apoyado de la poderosa QUORA TOWERSHEAD, si por alguna razón estos dos eran eliminados entonces tomaría la primera posición el fuerte TERRACEOUS GRUNT con capacidad de esquivar muy bien los golpes. Un sanador estaría apoyando a mi carta en primera posición y una carta mágica estaría ocasionando daño mientras aumenta su salud con cada ataque, la última carta tiene la habilidad de resistir muy bien los ataques cuerpo a cuerpo y a distancia para evitar los ninja, el inconveniente sería que no podría atacar desde esa posición.
En el primer asalto una de mis cartas mágicas fue derribada, por suerte no fue el sanador. Grund pudo resistir muy bien y se recuperó un poco en el segundo asalto, mientras QUORA TOWERSHEAD eliminó el tanque enemigo haciendo su magia y aumentando sus estadísticas. A final del segundo asalto mi tanque Grund fue derrotado pero QUORA TOWERSHEAD tomó su lugar. En el tercer asalto todos los ataques se centraron en ella pero pudo resistirlo, mi sanador le ayudó a recuperar su salud y ella misma se restauró parte de su salud también. Con mucha fuerza QUORA TOWERSHEAD eliminó la carta enemiga en primera posición y luego atacó a la carta que tomó su lugar.
En el cuarto asalto QUORA TOWERSHEAD eliminó dos cartas en seguidilla, porque ataca con magia y cuerpo a cuerpo, sus estadísticas estaban bastante altas con un ataque mágico de 7 puntos, un ataque cuerpo a cuerpo de 6 puntos y una velocidad de 7 puntos, además de una salud que constantemente era reparada por ella misma y el sanador GOBLIN PSYCHIC, la batalla sin duda estaba asegurada. En el quinto asalto obtuve la victoria y la poderosa QUORA TOWERSHEAD terminó con un total de 9 puntos de ataque mágico, 8 puntos de ataque melee y 9 puntos de velocidad.
ENGLISH VERSION (click here!)

My opponent chose a water element summoner called PEMBROOK NYMPH which has a beautiful design, it is a card that grants +1 health apart from summoning a Gladius card. Normally in Brawls battles we can use a Gladius card so using a summoner of this type only offers the advantage of being able to use two Gladius cards in the battle.
I for my part chose an earth element summoner, taking advantage of the fact that I could spend 60 mana points and that the battle rules were not so shocking. In addition I chose the tank with double melee attack GRUND supported by the powerful QUORA TOWERSHEAD, if for some reason these two were eliminated then the strong TERRACEOUS GRUNT with the ability to dodge very well the blows would take the first position. A healer would be supporting my card in first position and a magic card would be dealing damage while increasing his health with each attack, the last card has the ability to resist melee and ranged attacks very well to avoid the ninja, the drawback would be that he would not be able to attack from that position.
In the first round one of my magic cards was knocked down, luckily it wasn't the healer. Grund was able to resist very well and recovered a bit in the second round, while QUORA TOWERSHEAD eliminated the enemy tank doing his magic and increasing his stats. At the end of the second round my tank Grund was defeated but QUORA TOWERSHEAD took his place. In the third round all the attacks were focused on her but she was able to resist it, my healer helped her to recover her health and she herself restored some of her health as well. With a lot of force QUORA TOWERSHEAD eliminated the enemy card in first position and then attacked the card that took her place.
In the fourth round QUORA TOWERSHEAD eliminated two cards in a row, because she attacks with magic and melee, her stats were quite high with a magic attack of 7 points, a melee attack of 6 points and a speed of 7 points, plus a health that was constantly repaired by herself and the healer GOBLIN PSYCHIC, the battle was undoubtedly assured. In the fifth round I got the victory and the mighty QUORA TOWERSHEAD finished with a total of 9 points of magic attack, 8 points of melee attack and 9 points of speed.
Pueden ver la batalla aquí / You can watch the battle here:
https://splinterlands.com/?p=battle&id=sm_dQBJLPBg396EbhYU1efl&ref=morenow

Tercera Batalla / Third Battle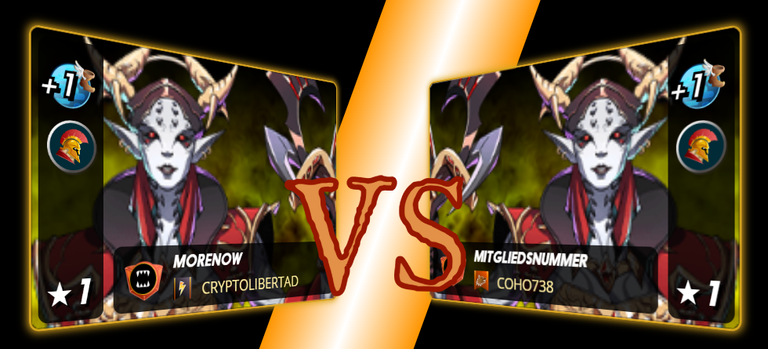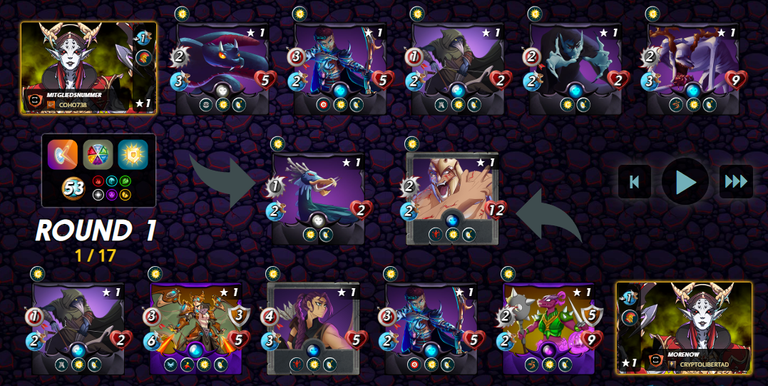 En esta batalla a pesar de que podíamos elegir cualquier elemento, ambos elegimos el mismo invocador Dragón HELIOS MATRIARCH con el mismo elemento de muerte, increíble no?, casi que elegimos las mismas cartas. El gasto de mana 58.
Aprovechando que teníamos la regla de batalla Counterspell y Holy Protection evité utilizar cartas de ataque mágico y en su lugar utilizar cartas de ataque a distancia. El tanque fue KOTRIPHUS BAYNE el cual no cuenta con escudo pero tiene 12 puntos de salud y es una carta Gladius, seguido de DJINN CHWALA que tiene espinas para devolver ataques cuerpo a cuerpo. Todas las demás cartas serían de ataque a distancia con habilidades variadas como más escudo y evasión. Gracias a este invocador pude elegir dos cartas Gladius, la otra aparte del tanque, fue la carta LIZA FOX con 4 puntos de ataque a distancia.
Mi adversario a pesar de elegir el mismo invocador que le permite agregar una carta Gladius adicional, no eligió ninguna carta Gladius y esto sin duda es una mala desición.
En el primer asalto todos soportamos golpes por la regla de batalla Holy Protection, pero al final de este asalto mi tanque eliminó la carta enemiga en primera posición aumentando sus estadísticas. En el segundo y tercer asalto mis guerreros siguieron en pie mientras iban derrotando una a una las cartas enemigas. En el quinto asalto logré la victoria sin ninguna baja.
ENGLISH VERSION (click here!)

In this battle even though we could choose any element, we both chose the same Dragon Summoner HELIOS MATRIARCH with the same element of death, amazing isn't it, we almost chose the same cards. The mana expenditure 58.
Taking advantage of the fact that we had the Counterspell and Holy Protection battle rule I avoided using magic attack cards and instead used ranged attack cards. The tank was KOTRIPHUS BAYNE which has no shield but has 12 health and is a Gladius card, followed by DJINN CHWALA which has thorns to return melee attacks. All the other cards would be ranged attack cards with varied abilities like more shield and evasion. Thanks to this summoner I was able to choose two Gladius cards, the other one apart from the tank, was the LIZA FOX card with 4 points of ranged attack.
My opponent despite choosing the same summoner that allows him to add an additional Gladius card, did not choose any Gladius card and this is certainly a bad decision.
In the first round we all endured hits because of the Holy Protection battle rule, but at the end of this round my tank eliminated the enemy card in first position increasing his stats. In the second and third rounds my warriors continued to stand as they defeated the enemy cards one by one. In the fifth round I achieved victory without any casualties.
Pueden ver la batalla aquí / You can watch the battle here::
https://splinterlands.com/?p=battle&id=sm_BbK72by53WTXRfMQiVAQ&ref=morenow

Cuarta Batalla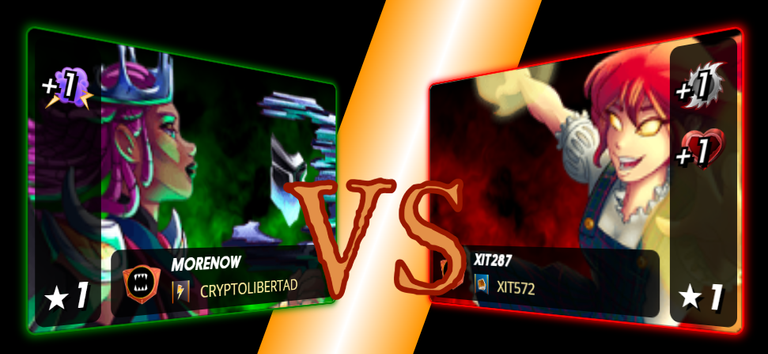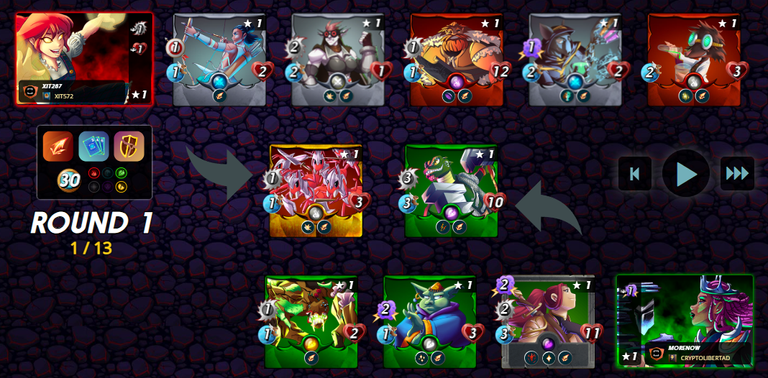 Con un gasto de mana de 30 puntos elegí el invocador del elemento tierra OBSIDIAN con el tanque GRUND y el soporte de QUORA TOWERSHEAD, un sanador y una carta que sirve de carnada para algún ninja que ataqué la retaguardia.
Mi enemigo eligió elemento de fuego con cartas fuera de lugar, es decir no debían estar en las posiciones donde las colocó, por ejemplo, dos cartas de ataque cuerpo a cuerpo en tercera y cuarta posición sin ninguna habilidad que les permita realizar algún ataque, una carta de ataque a distancia en segunda posición que no puede atacar apenas llegue a la primera posición y la carta en primera posición muy débil para soportar como un tanque.
La batalla duró 3 asaltos y la victoria fue fácil.
ENGLISH VERSION (click here!)

With a mana expenditure of 30 points I chose the earth element summoner OBSIDIAN with the tank GRUND and the support of QUORA TOWERSHEAD, a healer and a card that serves as bait for some ninja that I attacked the rear.
My enemy chose fire element with cards out of place, i.e. they should not be in the positions where he placed them, for example, two melee attack cards in third and fourth position without any ability that allows them to perform any attack, a ranged attack card in second position that can not attack as soon as it reaches the first position and the card in first position too weak to support as a tank.
The battle lasted 3 rounds and the victory was easy.
Pueden ver la batalla aquí / You can watch the battle here:
https://splinterlands.com/?p=battle&id=sm_6Xao2FFX4yx9i81uC7yj&ref=morenow

Quinta Batalla / Fifth Battle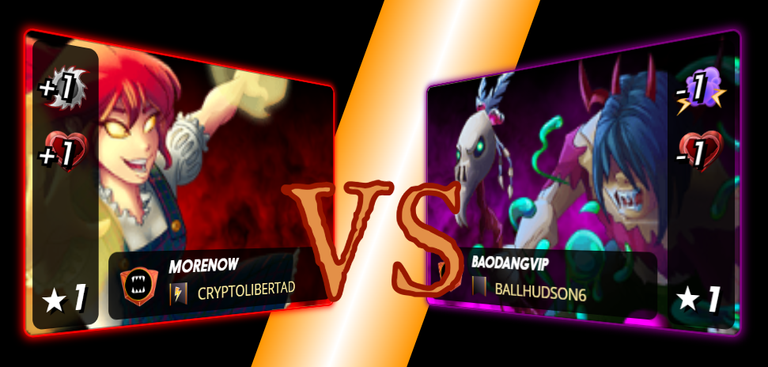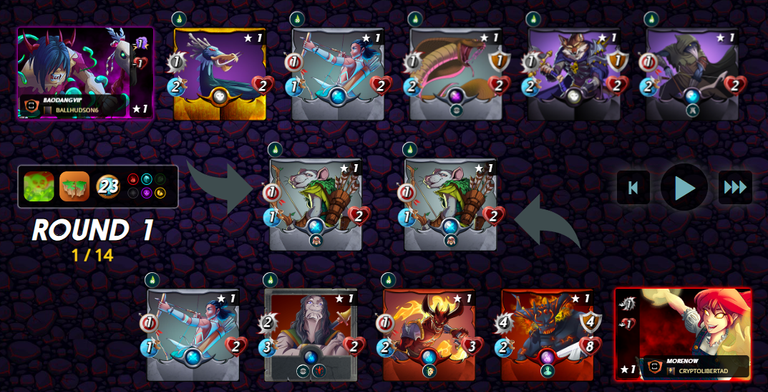 Esta batalla fue la más interesante por las reglas de batalla Earthquake y Noxious Fumes, es decir, habría un terremoto que afectaría a cartas no voladoras y todas estarían recibiendo daño de veneno en cada turno.
Entendiendo que muchas cartas van a morir por estas condiciones, elegí un mártir en primera posición que aumentaría las estadísticas de mi tanque al morir, y mi tanque FORGOTTEN ONE sería inmune al veneno por su habilidad Immunity. También elegí una carta Gladius y un par de ataques a distancia.
Mi adversario también aplicó la estrategia del mártir pero ninguna de sus cartas tiene Immunity, así que estaría difícil que se mantenga ante tales adversidades en esta batalla.
Tal como lo predije, en el primer asalto mi mártir cayó al igual que el de él, pero su carta en segunda posición no sería de mucho provecho con ese sacrificio. Yo solo quedé con dos cartas pero mi tanque era fuerte mientras que sus cartas quedaron bastante debilitadas. En el tercer asalto gané la batalla y fue gracias a la habilidad de mi tanque que no se vio afectado por el veneno.
ENGLISH VERSION (click here!)

This battle was the most interesting because of the Earthquake and Noxious Fumes battle rules, i.e., there would be an earthquake affecting non-flying cards and they would all be taking poison damage every turn.
Understanding that many cards are going to die because of these conditions, I chose a martyr in first position that would increase my tank's stats upon death, and my FORGOTTEN ONE tank would be immune to poison because of its Immunity ability. I also chose a Gladius card and a couple of ranged attacks.
My opponent also applied the martyr strategy but none of his cards have Immunity, so it would be hard for him to hold up against such adversities in this battle.
As I predicted, in the first round my martyr fell as did his, but his card in second position would not be of much use with that sacrifice. I was left with only two cards but my tank was strong while his cards were quite weakened. In the third round I won the battle and it was thanks to the ability of my tank that was not affected by the poison.
Pueden ver la batalla aquí / You can watch the battle here:
https://splinterlands.com/?p=battle&id=sm_RmbUGY0vb47ZxRCpBdYU&ref=morenow

Este ha sido mi resumen de Brawl de la semana pasada, me gustaría leerlos en los comentarios como les fue a ustedes.
Si me lees y aun no juegas Splinterlands me gustaría que te unas con mi enlace de referido. También te invito muy amablemente a unirte al servidor en Discord Hive NFTGame Latino el cual esta centrado en los proyectos NFTgame de nuestra amada Blockchain de HIVE.
Espero verlos muy pronto en el próximo social media challenge Splinterlands.
ENGLISH VERSION
This has been my Brawl summary for the past week, I'd love to read in the comments how it went for you.
If you read this and you don't play Splinterlands yet, I would like you to join me with my referral link. I also very kindly invite you to join the server on Discord Hive NFTGame Latino which is focused on the NFTgame projects of our beloved HIVE blockchain.
I hope to see you soon in the next Splinterlands social media challenge.


La imagen de fondo de portada es de libre uso, del autor
lidago y su fuente Pixabay aquí, editada con elementos del juego tomados de la página oficial splinterlands.com. Los divisores tomados del Discord oficial de Splinterlands.
---
---