Share my battle: Countering Mylor with no attack tanks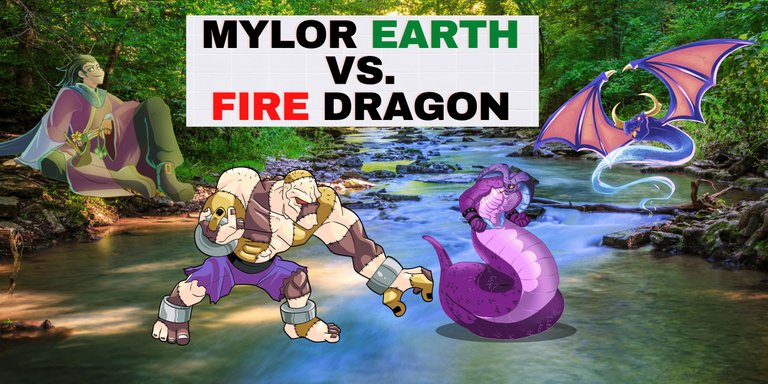 Source: Image made in Canva; Summoners & Monsters from Splinterlands
Hey hey hey! For today's battle, I will be sharing with you my favorite recent game in Bronze league vs. Mylor Crowling.
With its thorns ability, Mylor Crowling might be the toughest non-legendary Summoner that I fought against with in Bronze. Paired with Flesh Golem or Unicorn Mustang as its tank, a fight with Mylor's team is sure to be a difficult one.
In this post, I will share with you my favorite battle against Mylor, wherein I opted to try out a new strategy by using two tanks that do not deal any damage at level 1.

Selection phase

While selecting the team to be played, I was already preparing to go against Mylor, despite the Snipe ruleset. When I checked my enemy's match history, Mylor Crowling is the best Splinter available among Fire, Earth, and Dragon. So I decided to focus more on countering Mylor and tried out this strategy that I have pondering upon for a while now. The main idea is to have non-attacking monsters as my tank to avoid getting damaged by Mylor's thorns ability. Since I do not have Almo Cambio or Lord Arianthus, I decided to go with the cheaper tanks for this match.
As my frontline tanks, I have Naga Brute and Dragon Spirit. While for my damage dealing monsters, I decided to go all ranged monsters to maximize the Snipe ability. I paired Dragon Splinter with Fire Monsters so that I can have access to Fire Elemental, and utilize the Blast ability during an all-snipe match. Putting Spark Pixies on the backline is a huge gamble, as I was betting on the high possibility of a miss if my opponent decides to put a melee sneak attack monster on the board.

Battle phase
Let the battle begin! Luckily, my enemy did not put a magic sneak attack monster or else I would have been doomed. It seems like the Level 3 Flesh Golem and Rust from Sporcerer would make this fight hard for us.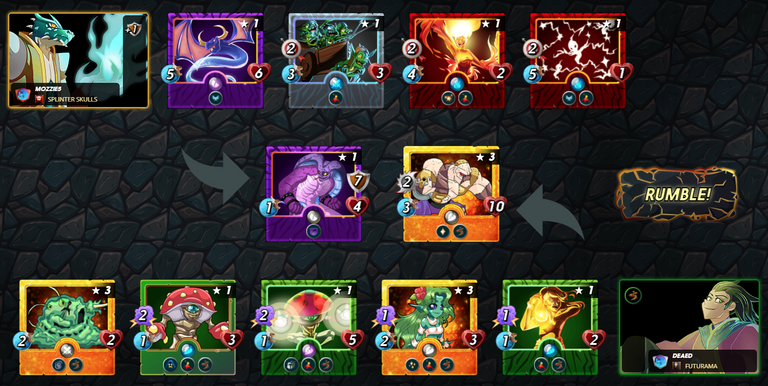 Initial lineup; Click on the image to view match replay
Start of round 2:
Enemy side: Wood Nymph and Khmer Princess are already dead from the damage of all my ranged monsters.
My side: Naga Brute is down to 4 shield and 4 health; Dragon Spirit is down to 1 health, no thanks to the Snipe ability of Magic monsters: no chance to dodge!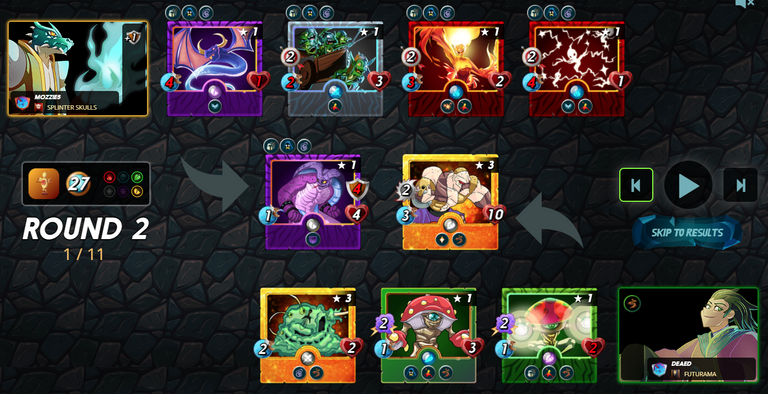 Start of round 3:
It seems like the match is already in the bag for us. Flesh Golem don't have Last Stand, we got this.
Enemy side: Only Flesh Golem and Creeping Ooze are the remaining monsters on the enemy's board.
My side: All Monsters are standing strong. Dragon Spirit survived Round 2, thanks to the Speed difference between my ranged monsters and the enemy's magic monsters.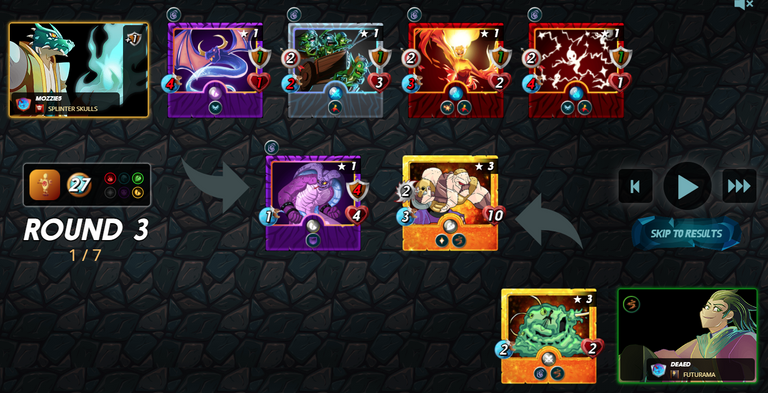 After a series of heals from Flesh Golem, the match ended at Round 5 with Goblin Chariot dealing the final blow. By the end of the match, all my monsters were still standing strong at the board, with my ranged monsters unscathed.

A much needed win!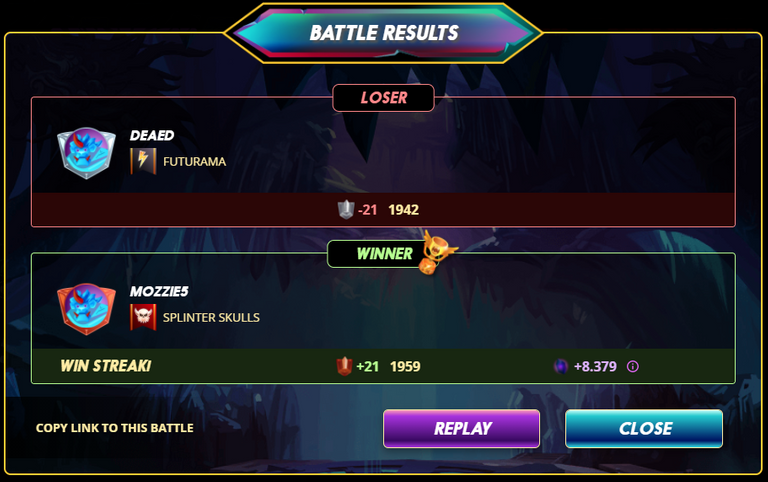 This win is definitely a match to remember for me. This came as I was having a hard time (that Win Streak is from luck) in finishing my daily quest at 1,900 rating, without any card rentals. In the future, I would definitely use this strategy again, especially with a levelled up Naga Brute and Dragon Spirit. I'd love to see those two with Thorns and Immunity, respectively.
There you have it! Thank you for getting this far in this post. I hope you all enjoyed this match.
Haven't started playing Splinterlands yet? Click HERE to start!
---
Note: Credits to @flauwy for the cool dividers used in this post.
---
---