Share My Weekly Challenge using a Gold Foil Wave Runner!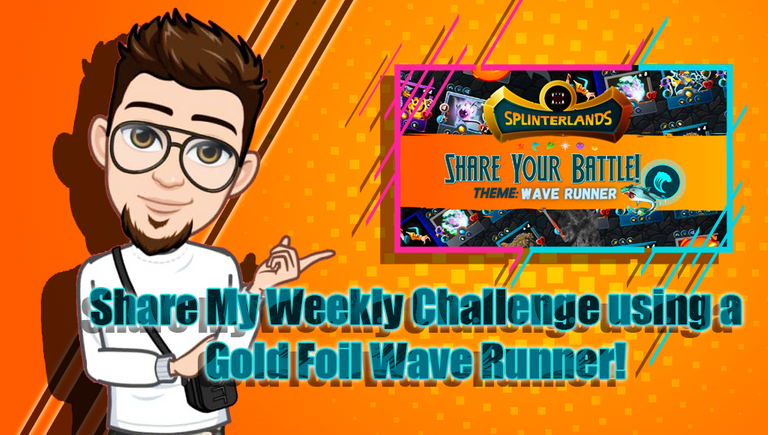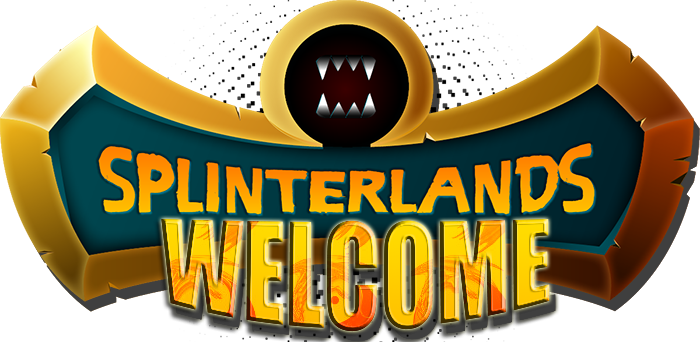 Greetings to all!
I think these Weekly Challenge competitions are great because besides making you think about the game and improve your technique, they also reward you for it, any way you look at it these weekly challenges are a benefit to you as a Splinterlands player and under this premise today I bring you my participation in these weekly challenge, as I have said in previous posts, the water element cards are my favorite and although I am learning more about other elements, they are still my strongest element for now, so why not bring my battle for you?, here below I leave all the details about how I did, I hope you enjoy it and that it helps you to apply the strategy yourselves. First let's go with the cards I used to create this strategy, then I explain why I used those cards and later, I show you the battle. LET'S GO!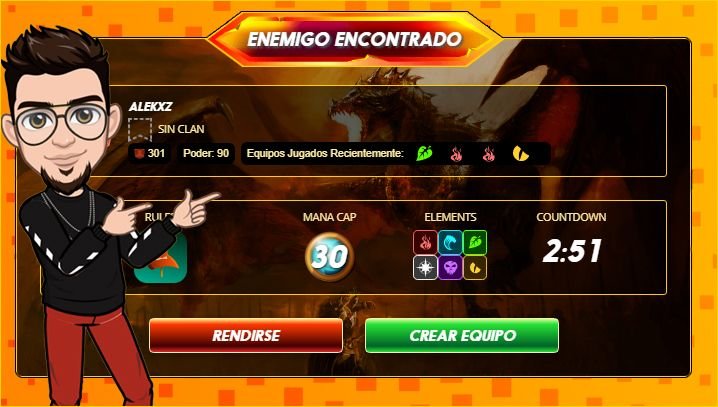 30 mana points was the only restriction for this battle, so we started to prepare the team knowing that Wave Runner must be in the lineup and therefore, the summoner had to be water type, although thinking about it, doing this same strategy but using a Dragon summoner would have made it more powerful, although I would have had to sacrifice one of my monsters for another one with less mana.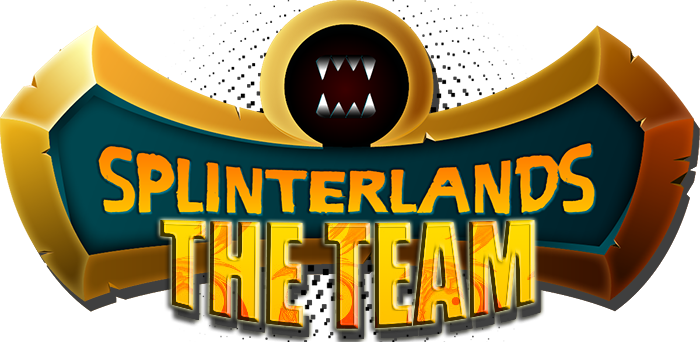 The Summoner: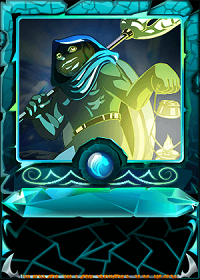 Bortus:
To begin with, the water Summoner. I chose Bortus because I could get more out of his ability, since I didn't have any monster with magic attack to use on Elric Stormbringer, and also, because the one I have is level 2 and that allowed me to use my Gold Foil Wave Runner, the star of my post! This card, Bortus, has a cost of 3 mana and decreases by 1 point the magic attack of the enemy's monsters. The perfect counter for Elric Stormbringer. The truth is that for this specific battle his skill was of no use, but his level 2 got my Gold Foil Wave Runner on the field so I don't claim anything from Bortus.
---

The Monsters: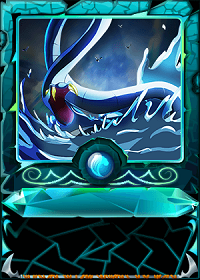 Serpent of Eld:
A very good first card is essential for this strategy to work, so, in the tank position I used Serpent of Eld, its 7 mana points can make it difficult to choose in low level battles, but when the mana limits allow it, this card is one of the best tanks in the free pack of cards, 2 points of shield, 5 life points, 4 points of speed and 3 points of attack, all that added to its ability that increases the probability of dodging the enemy attacks, makes it a perfect card to hold a lot in the first position but also to attack strong and fast.
---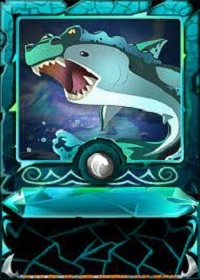 Wave Runner:
The second position, of course, was for the Gold Foil Wave Runner, this card has 2 points of attack, 4 points of speed and 5 points of life, plus its ability allows it to attack from the second position despite being a melee monster, that's where the strategy starts to work, that the Serpent of Eld can hold enough and do a lot of damage due to its high attack and that the Wave Runner enters from the second position with a fairly high attack as well and helps it to finish the job quickly leaving no chance or almost destroyed any tank the opponent has in the field..
---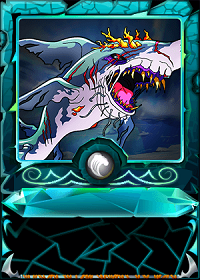 Demented Shark:
In the third position, I used Demented Shark, which although it is true that it cannot attack from there and contradicts what I said in the second position, it has an ability that makes it worthwhile because it increases 1 attack point to melee units, so I lose its possible 2 attack points but in exchange my cards do a combined damage per turn of 11 points, when before they did 7 and taking into account that the team attacks both enemy lines, the second line monsters do not usually have a very high life, that is where the importance of using this card is more as a bonus than anything else.
---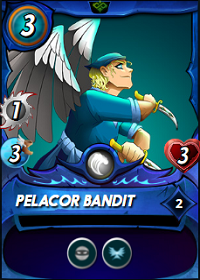 Pelacor Bandit:
The fourth place is for one of the new Reward cards, Pelacor Bandit, which has a good speed of 3 points and 2 skills, the first of them allows you to attack the enemy monster in the last position, so that together with Sabre Shark makes my team a destroyer, as the first two cards hit hard to the first enemy monster and my last cards hit hard to the last enemy monster, making a pincer movement, like those that has the monster of my last card, difficult to being attacked, fast and with an increased attack, this card can be very dangerous in certain situations.
---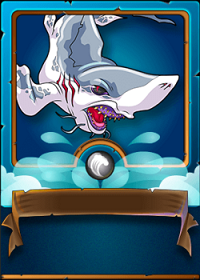 Sabre Shark:
The fifth place is for Sabre Shark, which has the same ability as Pelacor Bandit and whose use is exactly the same, its function is to destroy the opposing team from back to front while Serpent of Eld and Wave Runner destroy it from front to back, making this strategy work very well even against Zintar Mortalis, which decreases the attack of your monsters. I place it second last because in case of losing monsters from the last position, this is the most disposable of all after the Crustacean.
---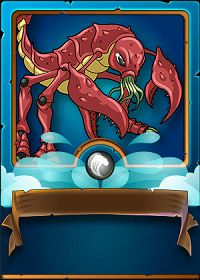 Crustacean King:
For the last position I used Crustacean King for two reasons, first his ability to heal the first monster and second, to serve as a shield since many cards have the ability to attack the last monster, and since Serpent of Eld holds quite a lot, this can serve both as a shield to prevent them from doing what you want to do to the other team, as well as to heal your units in the first position every turn, it all depends on how the battle goes. Even if everything goes well during the battle, this card can be used for both at the same time.
---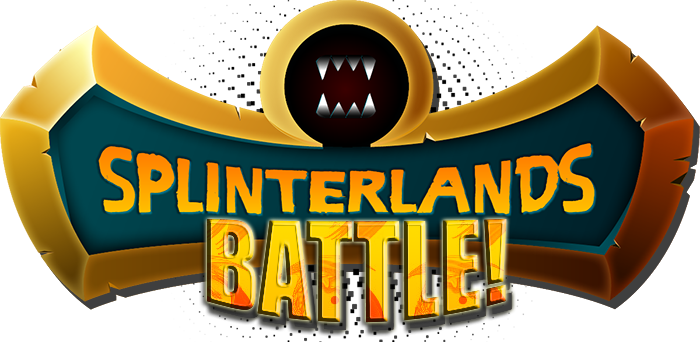 It's time to duel!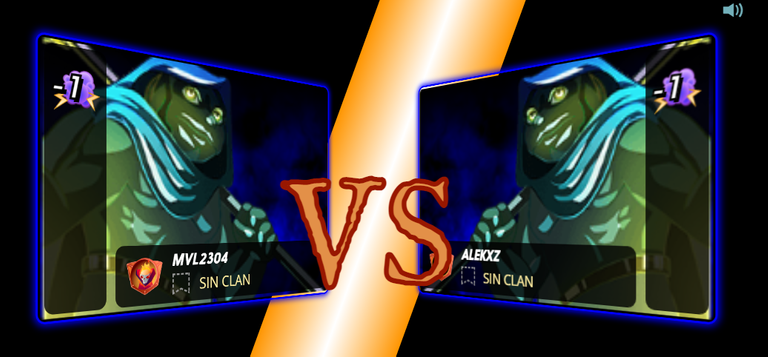 Round 1.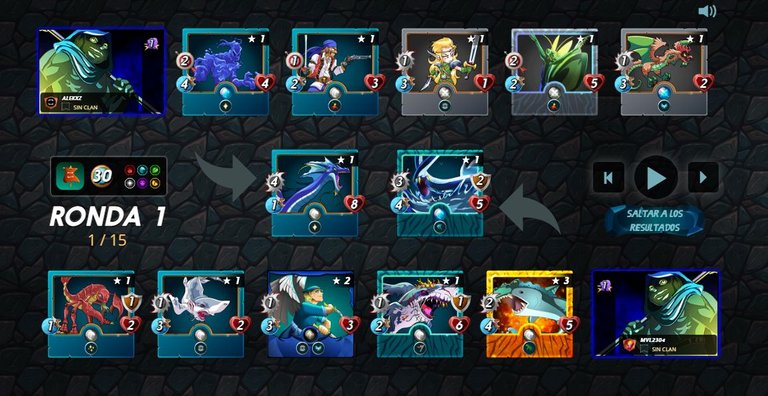 Starting the battle the buffs were applied, my opponent also used Bortus so both summoners were practically useless in terms of their ability, my Demented Shark increased the attack of my melee monsters and my Serpent of Eld started attacking, doing 4 points of damage to his tank, Wave Runner added another 3 points of damage, while Pelacor Bandit destroyed his last monster, Sabre Shark did 2 damage to his Maontoid and this in one attack destroyed my Crustacean King, there was still a battle left but this strategy worked perfect here, as I said before, my last card was a sacrificed shield so that all my monsters left seriously damaged and practically sentenced the rival team.
Round 2.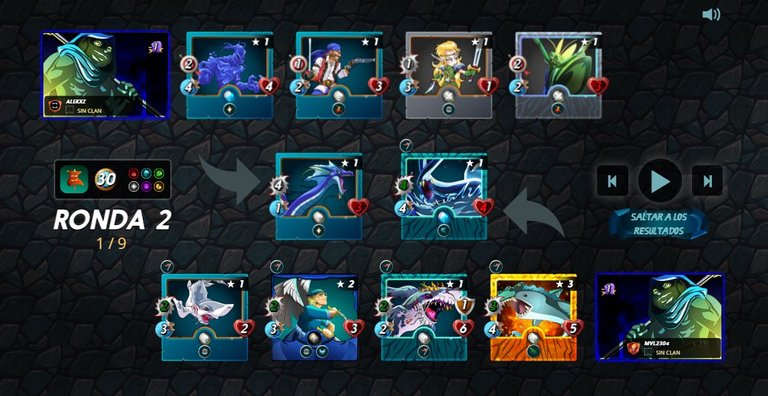 Although his tank healed 2 health points, he had little to do, also thanks to the ability of my tank, he missed his attack and his Water Elemental also missed, so the importance of having Serpent of Eld in first position, my Serpent of Eld did 4 more damage to his first monster, destroying it, and Wave Runner's attack left his Water Elemental with only one hit point and no chance to attack being in first position, between Pelacor Bandit and Sabre Shark they finished with his last real threat, the Mantoid, before it could attack, and his Captain Pirate also missed his attack against my Serpent of Eld.
Round 3.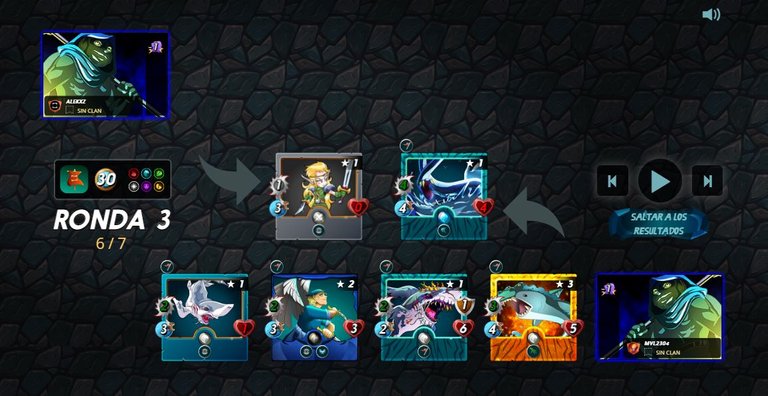 In the final round, his Water Elemental healed 3 life points, but even with that he couldn't withstand the +4 hit of my Serpent, Wave Runner destroyed his Pirate Captain with an attack, thus passing his Elven Cutthroat to first position, without any chance to win being alone that card against my 5 monsters, with a combined damage of 11 and Elven with a few life points, making me the winner of the battle.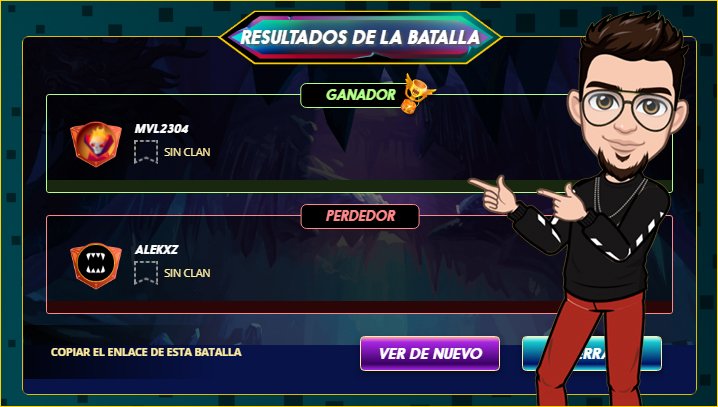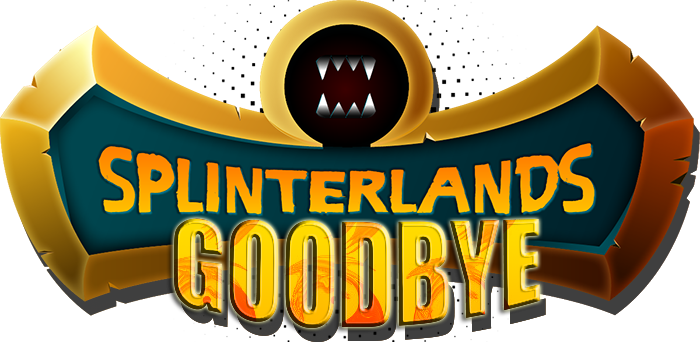 I hope you enjoyed this battle and hopefully the strategy works for you, if you want to see more content like this I invite you to follow me and be aware of my publications on Splinterlands, if you have any battle you want to share with me you can leave me the link in the comments to review it, thank you very much for reading and greetings to all.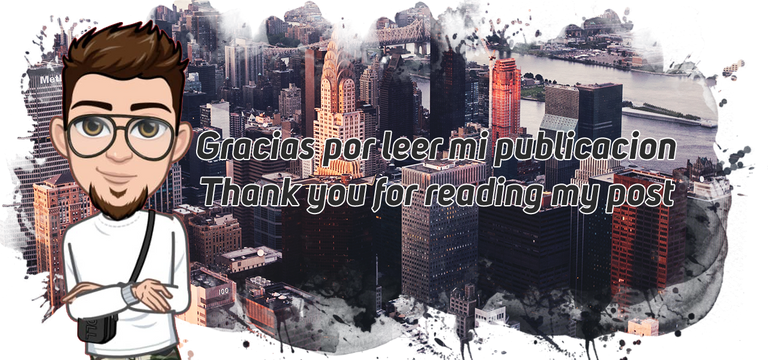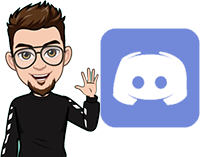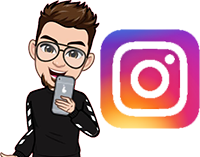 ---
---