HAUNTED SPIDER - The second form of a Dark Eternal [EN/ID]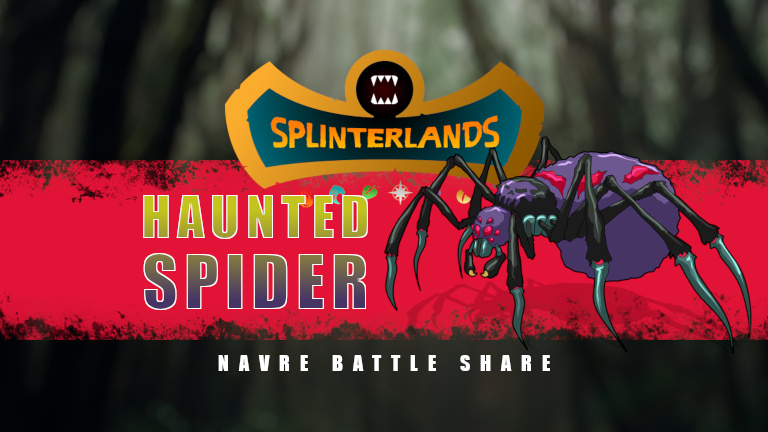 | Decks with death elements have the advantage of reducing enemy attacks, such as those of the summoner ZINTAR MORTALIS which reduces 1 melee attack and CONTESSA L'AMENT which reduces 1 attack range for all enemy monsters.This week's theme is HAUNTED SPIDER, a card with ranged attacks and has poison ability at level 4, but I can't try this ability because it's still in the bronze league. This card has an advantage in the amount of damage generated because the bronze league requires a minimum of 2 attacks, but this card has a weakness in the bronze league because of its large mana and very low speed. | Deck dengan elemen death memiliki keunggulan dalam mengurangi serangan musuh, seperti yang dimiliki oleh summoner ZINTAR MORTALIS yang mengurangi 1 melee attack dan CONTESSA L'AMENT yang mengurangi 1 range attack untuk semua monster musuh.Tema minggu ini adalah HAUNTED SPIDER, kartu dengan serangan range dan memiliki ability poison pada level 4, namun saya tidak dapat mencoba ability tersebut karena masih berada dalam bronze league. Kartu ini memiliki kelebihan dalam besarnya damage yang dihasilkan karena pada bronze league dibutuhkan serangan minimal 2, tetapi kartu ini memiliki kelemahan pada bronze league karena mana yang besar dan speed yg sangat rendah. |
| --- | --- |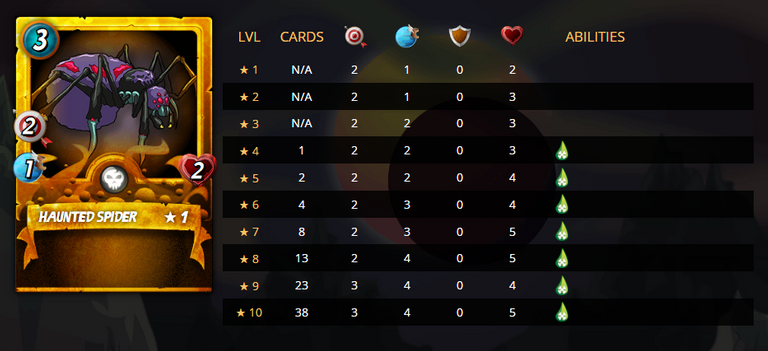 I was very lucky to win one of the matches with this card in the bronze league. decks with death elements are known to be superior if the match uses a small mana. You can see my match in

this battle link

.My formation starts with HAUNTED SPIRIT as the main defense with the HEAL ability, followed by UNDEAD PRIEST as a second defense while reducing the HP of all enemy cards, then UNDEAD BADGER to attack the last line of the enemy, and finally HAUNTED SPIDER with range attacks.

Saya sangat beruntung dapat memenangkan salah satu pertandingan dengan kartu ini pada bronze league. deck dengan elemen death memang terkenal lebih unggul jika pertandingan dengan menggunakan mana yang kecil. kalian dapat melihat pertandingan saya dalam

link battle ini

.Formasi saya dimulai dari HAUNTED SPIRIT sebagai pertahanan utama dengan ability HEAL, diikuti UNDEAD PRIEST sebagai pertahanan kedua sekaligus mengurangi HP semua kartu musuh, lalu UNDEAD BADGER untuk menyerang baris paling akhir musuh, dan terakhir adalah HAUNTED SPIDER dengan serangan jarak jauhnya.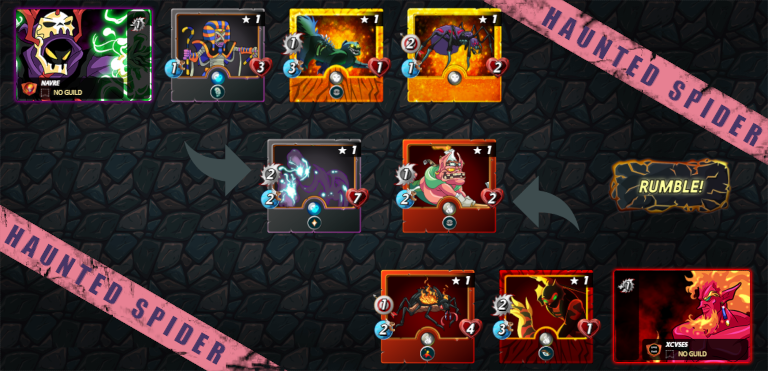 | I hope the deck with the death element has cards that can provide additional speed to other cards, because HAUNTED SPIDER has very low attack speed and HP. This card can be replaced by DEATH ELEMENTAL which has magic attack, high speed and has snipe ability. | Saya berharap deck dengan elemen death memiliki kartu yang dapat memberikan tambahan kecepatan pada kartu lainnya, karena HAUNTED SPIDER memiliki kecepatan serangan dan HP yang sangat rendah. kartu ini dapat digantikan oleh DEATH ELEMENTAL yang memiliki serangan magic, kecepatan yg tinggi dan mempunyai snipe ability. |
| --- | --- |

About the challenge:You can find the official challenge post here.For this challenge, you'll need to showcase a battle using the theme and you should talk about the monsters that you use in the battle.The entry post should be shared on any social media and I'll use my twitter handle for that.There should be a #splinterlands and #play2earn tag.Then you should leave your post link and your social media link where you shared it as a comment in the official challenge post of @splinterlands.

(Photos and video is taken from splinterlands and not my property)
---
---