Popularity of Splinterlands in the last six months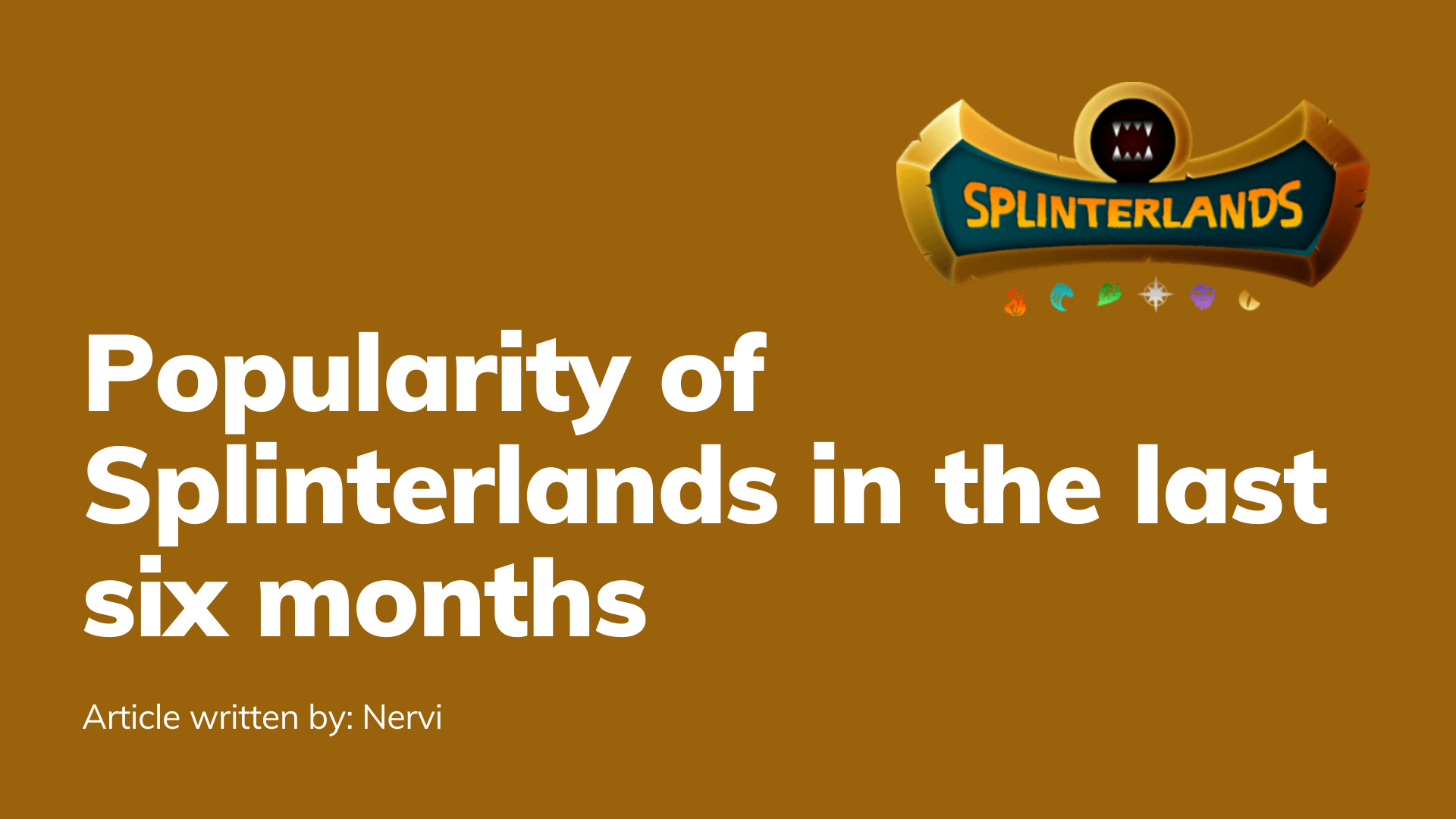 Splinterlands is without a doubt the biggest game on Hive. The 3rd place in the DappRadar ranking only confirms the scale of its popularity. What are the numbers behind Splinterlands' success? Let's check it out.
I started noticing the growing popularity of Splinterlands when I bought quite a few Untamed packs. There were over 200 as I recall. Then there were a few thousand packs left to the end of the edition and with every refresh of the page there were less and less of them. When I bought my packs after about 5 minutes there was nothing left, the packs were sold out. Since then the prices on Splinterlands have been increasing and with them the number of players.
During this time both much and little has changed. It seems that the game is the same but there is a new token, DEC is oscillating at prices where it has never been and hardly anyone would think that such a price will last and cards that once cost $50 now cost hundreds or even thousands. All I think because of popularity and the snowball effect. When people bought out the cheapest cards and the best ones the market reacted quickly and very popular cards increased in price by several hundred percent. I myself have two cards that cost 100 dollars each and now they go for several hundred dollars and over a thousand.
Okay, let's focus on the numbers now. Using the data that @rafalski presents on the website HiveData.Space I checked the number of fights, players and purchased packs. Let's discuss.
In February and March of this year, the number of games oscillated around 100-120 thousand fights per day. Now, the results are at the level of over 600-700 thousand.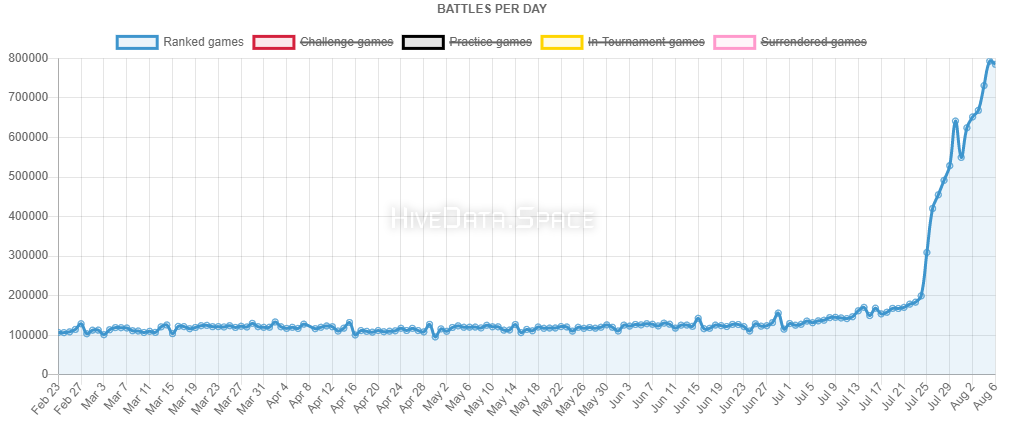 With players it's similar except that the growth is much more exponential. As half a year ago there were about 6 thousand playing accounts so now we can count on values in the order of 50 thousand active accounts a day (data from @splinterlands posts, unfortunately the site doesn't go back further than a fortnight ago).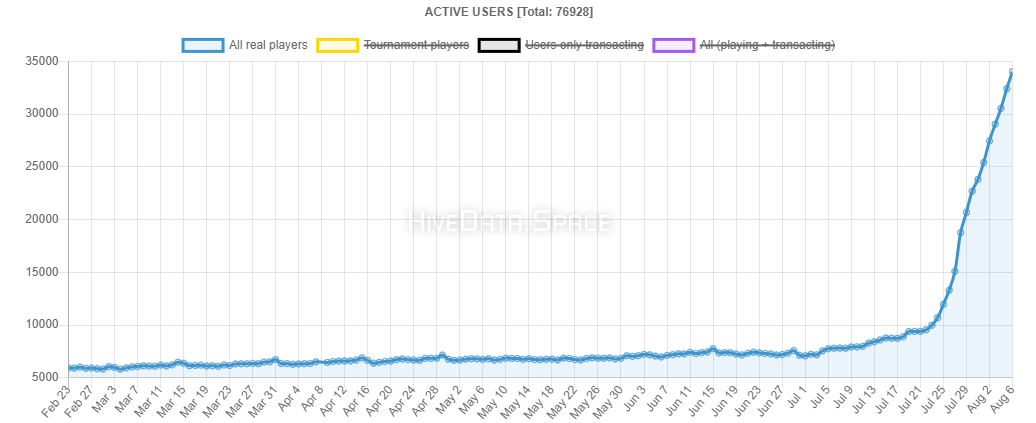 As a final part, I'll add a chart of sales of Dice packs, the edition that recently ended. You can see that interest in Dice has grown very quickly. From typical purchases of 400-900 packs per day there were peaks of several thousand packs sold in one day.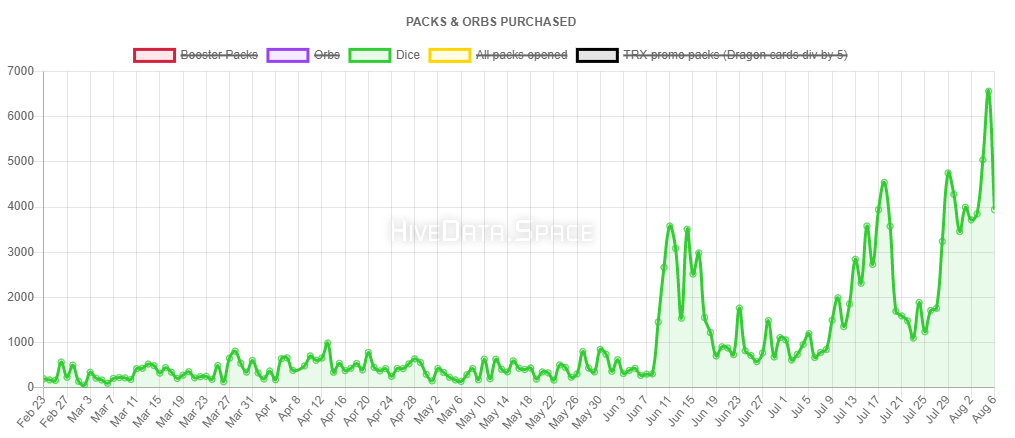 And this is more or less what Splinterlands looks like in numbers. Market capitalization I won't give, because everyone knows that the market was growing and growing, and then suddenly a huge price shot, which I mentioned before. Well, let's hope that the popularity of the game will continue to grow and there will be more people getting to know not only the game but also the Hive ecosystem.
If this article has interested you in any way, please leave an upvote or comment, thank you.
Thank you and until the next time, Nervi.
Posted Using LeoFinance Beta
---
---