This is the last moment for Splinterlands to make important updates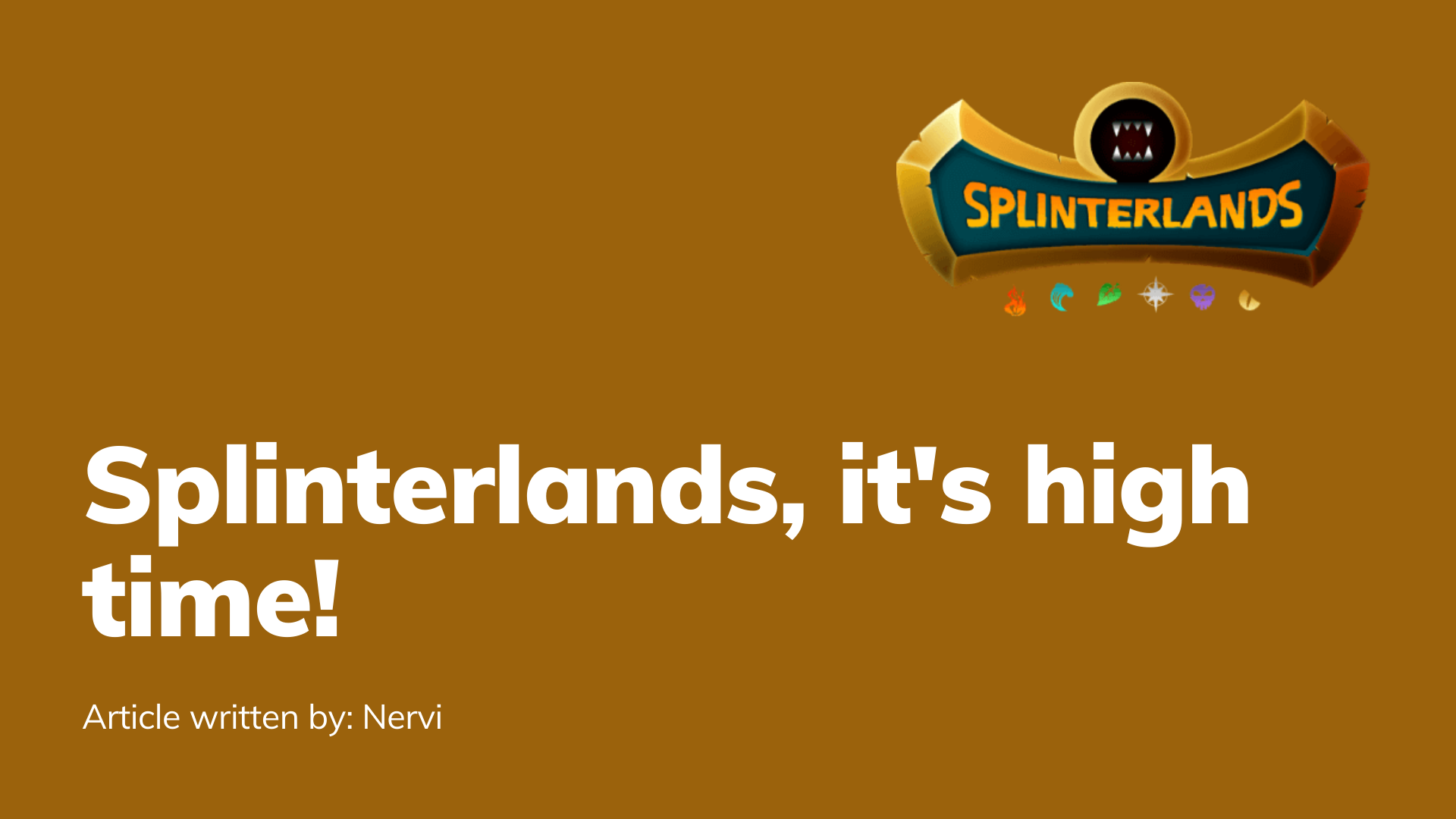 The last day for Splinterlands was not very colourful. Since yesterday, a lot of messages have been sent on the discord channel in the updates section about the fact that there is a problem with the servers and that ranked matches are shut down and the end of the season has been extended by one day.
What has happened?
With this post I don't want to make excuses, but to reflect on this situation which has continued so far and to think about how to protect ourselves from further such technical interruptions. So first the Splinterlands node was behind on catching up on blockchain transactions, then something happened with the servers which meant the owners had to delay the end of the season. Several more messages were sent regarding how big the problem was and that the servers were processing blocks longer than the actual time of a new block on the Hive network. This resulted in the game going into a very long technical hiatus and only after several hours was it possible to use the game outside of ranked matches. The latest news is that it is going better and better and they expect to have matches on within a few hours.
In my opinion.
That's it in a nutshell with a layman's eye. I personally was a bit upset by this, because yesterday I wanted to open the end of season rewards already and be able to grind the league again and win and lose matches. It saddened me that I will have to wait a bit longer but I can understand that something that has a right to break will eventually break, right. But what I don't understand is that such an interruption has occurred again in short order. About a fortnight ago the servers were overloaded and also ranked matches were shut down. For the past weeks, Splinterlands has been scoring higher and higher in sales and player numbers in general. During this time, JSON transactions have grown terribly in volume, thanks in part to Splinterlands. However, the success of the developers should remind them that something that's good enough for, say, 50,000 users may no longer be good enough for half a million registrations in a month (I've taken the numbers from here just to illustrate a potential problem in the future).
Working on prevention
I'm not an expert on databases or server rooms, I'm just assessing what I see. I don't want to accuse the people responsible for Splinterlands of laziness or anything. On the contrary, I'm happy to play practically all the time in a game whose development I've watched for the last 3 years. However, I feel obliged to point out some facts. The gigantic exponential growth of market capitalization, the number of players, all this should remind you that you need to have a certain safety margin. Problems with servers happen and probably will happen, this is the case practically everywhere. That's why I think for future problems you need to configure more server space, bandwidth and those other very important technical aspects (did I mention I'm not an expert?) and set up some server or several servers that will simply do backup and take over when those main servers go down. As they say, with great power comes great responsibility.
A few words in conclusion
I wanted to express my attitude with this post, just like that, from the heart. I love Splinterlands, I follow what's going on with this production, I promote it and I would like to see it continue to thrive. However, you can't always look at everything with a wink of an eye, because one day it might backfire on you. And I like to be protected against any problems, so Splinterlands may already be protected against potential bugs and technical interruptions ahead of time.
If this article has interested you in any way, please leave an upvote or comment, thank you.
Thank you and until the next time, Nervi.
Posted Using LeoFinance Beta
---
---