Earn DEC back on your Splinterlands purchases.


First of all, how did I not know this?
For any player making big purchases then this is a game changer and one that I knew nothing about before now.
For my @splinterlands purchases I had always used the main site or sometimes peakmonsters to buy from the markets.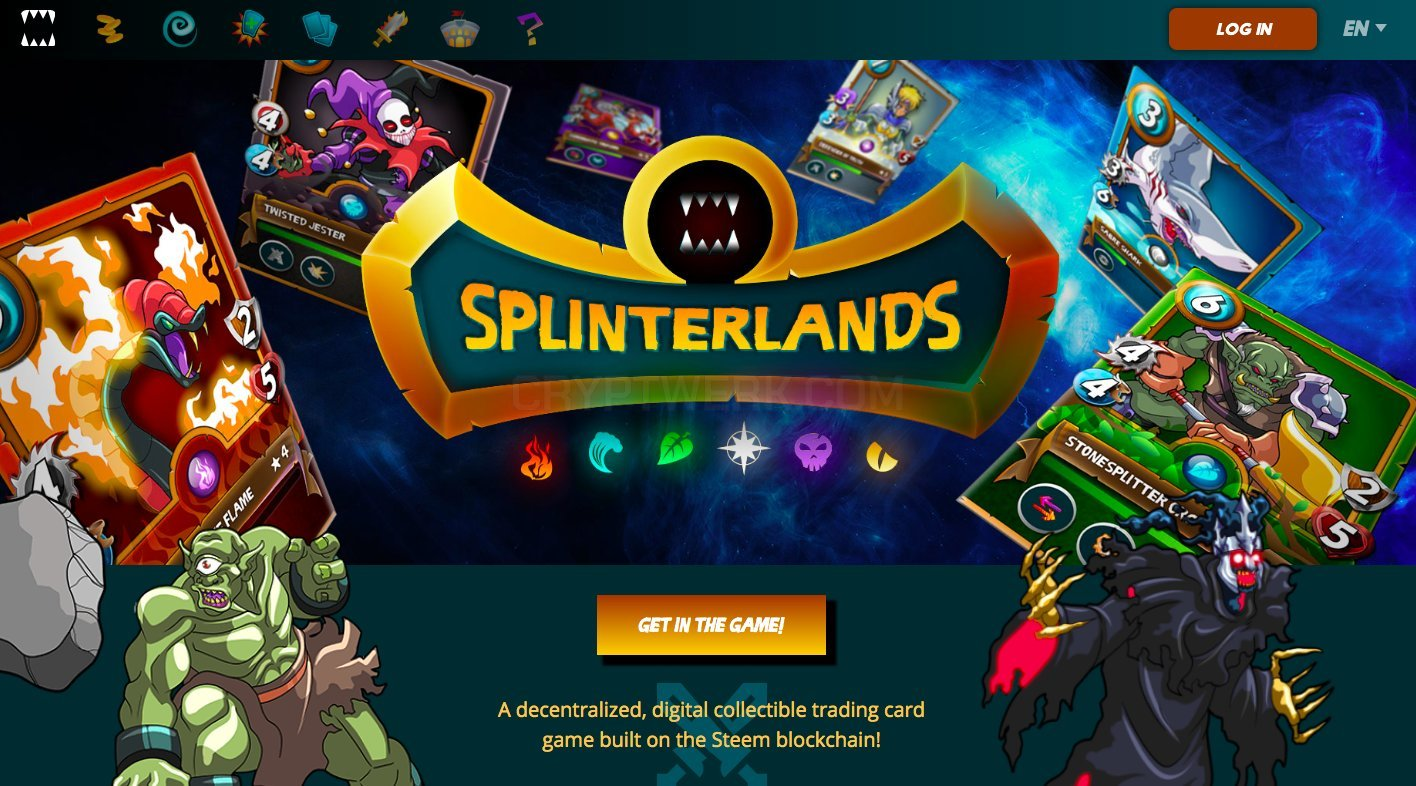 It's all that I knew. As a player with a decent sized deck and who spends a lot of time buying and selling cards, this news makes a huge difference to my goals and strategies for becoming successful in the @splinterlands eco-system.
I already #playtoearn, rent cards and hustle the markets for deals but something as simple as using a different site to make those purchases could be earning me hundreds of dollars a month.
Monstermarket.io
Something so simple but is so important.
I was posting on noisecash during the week posting about splinterlands as usual and buying more cards when I got a reply from @costanza,
Indeed a great tool to find the cheaper cards. I would say monstermarket is best for buying cards as it gives the cashback.
This was the first that I had heard of the site but the word cashback gave the shivers as it should when you can be moving hundreds a day in and out of the game.


Also for anybody interested there is a good community for splinterlands posts on noise.cash to earn a few extra BCH SATS on a daily basis just by posting micro posts on the game here, https://noise.cash/u/niallon11


Monstermarket.
Taking theis advice I jumped onto the site and checked if there was any profit to be had from using it and saw this,
We share 60% of our revenue instantly.
That was enough for me to give it a test run. The site is clean and easy to use, even if it doesn't have all of the info that you can get on peakmonsters.
I am currently selling off my single untamed and buying more gold, alpha and rare beta cards as it's easier to rent them and to keep on top of my inventory with less cards.
I had wanted to pick up a few more anyway so pulled the trigger on a few nice cards for the collection.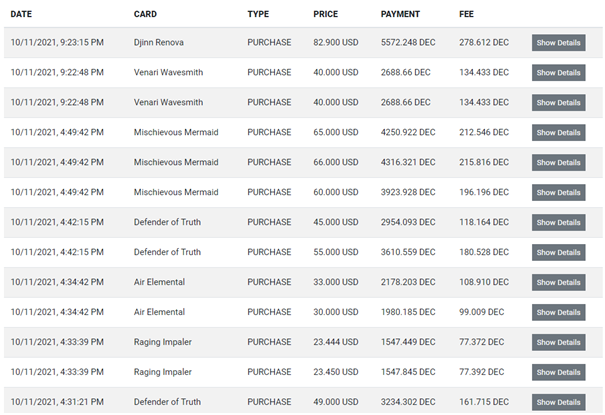 $612.79 in total. Woops, didn't realize that I had spend quite that much.
The addiction is real.
I didn't think much about it until today when i jumped into hive-engine and saw DEC sitting there when there shouldn't have been any.
After a little research I found the reason for my extra bonus and remembered my purchases on monstermarket.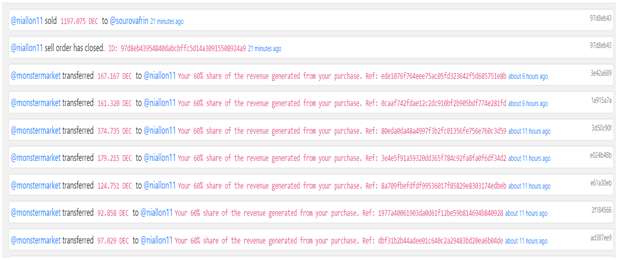 1200 DEC or $18.
I know that's it's not massive but over a few weeks that shit will add up to big gains and more cards. That is 3% cashback on my purchases which I used to buy another 20 SPS to stake.
This is what i am always writing about finding value, savings and compounding every gain. That $18 can be used to buy another few cards to rend and earn even more DEC every week. If i had been doing this all year it would likely be hundreds of dollars back in DEC already and a more ammo to buy cards. More DEC from renting those cards and basically becoming a millionaire just that bit faster than planned. LOL.
Every single token adds up over time if it is put to work. And to make a career out of splinterlands it's important to build up as much inventory as possible while we can.
Something for everybody to think about for future purchases.
Posted Using LeoFinance Beta
---
---