Monthly round up for September.
Goals and targets.
Since joining the Hive blockchain four years ago I have been continually trying to grow and expand my accounts and my holdings. Hive is a compounding machine with layers of tokens and multiple revenue streams. For anybody not involved here yet then you should be.
There are lots of big projects getting ready to launch which could make it a very big year for Hive. With that in mind, now is the time to accumulate before others realize what they are missing out on.
This is why I have set certain targets for the year to motivate me and others to keep growing.
Targets for 2021
They were very straightforward and all hive related. I won't go into any of my other tokens in this post but focus on my main efforts here.


100k Hive Power ( From 50k )
5k LEO power ( From 2.5k )
5k CTP power ( From 2.2K )


And a late addition as it didn't even exist at the time,
5k $CUB staked to the den.
50K SPS staked to the game.
It's amazing the opportunities that have popped up in such a short space of time and the ones that haven't even been created yet.
End of month holdings.
| Holding | Current Tokens | Goal | Yearly increase |
HP ( 64362 / 100000 ) + 14362
Leo ( 12350 / 5000 ) + 9850
CTP ( 5058 / 5000 ) + 2858
CUB ( 15302 / 5000 ) + 15302
SPS ( 30000 / 50000 ) + 30000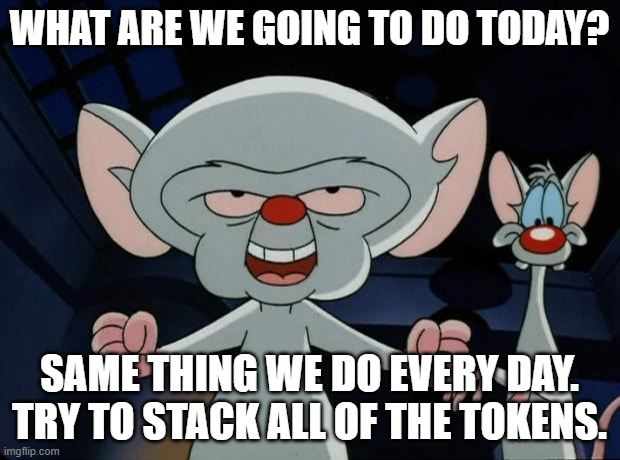 Monthly growth for August + September.
HP - 658
Leo + 2333
CTP + 527
CUB + 3932
SPS + 30000
How is it all looking
Splinterlands is the gift that just keeps giving at the moment. Not only have they given huge value to our decks and made it the number one app out there. With SPS they are gifting away huge amounts of crypto to their existing userbase.
THat 30K SPS is an airdrop and will hopefully spike in price as we get into the the pre-sale.
I have been doing my best to write more and be more active in the spare time that i have and it's paying dividends.
Every month the numbers keep creeping up bar my HP which I did use to get involved in a few more tokens on the market and put some into HDB interest while the math made sense.
Now It will be back to powering up all earned HP and saving all HDB for the future.
i have hit 3/5 targets with hive power my last big focus and what i will be pushing hard to reach for the rest of the year. 35k in three months wont be easy but if i turn up every day and keep stacking it is always possible.
Posted Using LeoFinance Beta
---
---