Ultimate Guide to Splinterlands for Beginners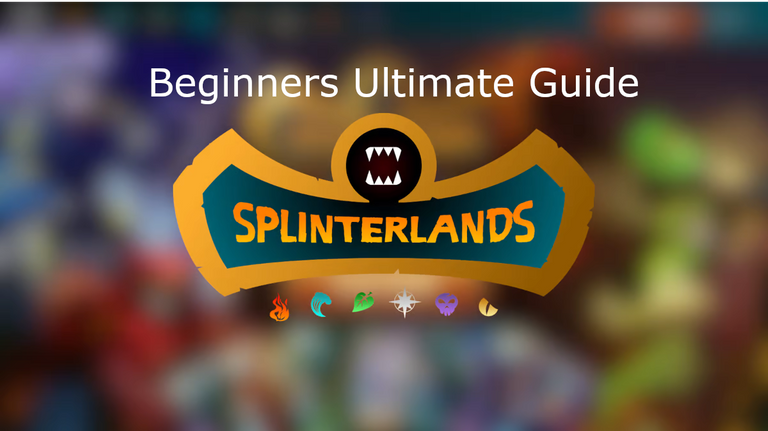 If you want to familiarize yourself with NFT games fully, you may need to start with Splinterlands, as it is the most talked-about NFT Game at the moment. Splinterlands could compete with favorites like Axie Infinity, Lost Relics, or Plants vs. Undead by the line of digital games based on the blockchain.
It is time for you to know some details about Sprinterlands, like if it is a legit game, how you can start, and how you can earn.

Is Splinterlands legit?
If you care about the security of the NFT game, you should know that there are no reports that it is a scam so far. Splinterlands has been paying all its users since the beginning after making a minimum investment in the game to reach the required league. You will have fun and, above all, explore NFT trading through a game that could bring some nice earnings
The number of followers that Splinterlands has also supported its security, so you won't be the only one using it. This game has united a whole community of fans of cards and special effects worldwide. You can also play for free in the game. However, you will prevent from using some features like the Spellbook.

How do you get into Splinterlands?
To play the card game, you will need to have a decent internet connection or a mobile device. You can also play Splinterlands from your default browser on a Windows or Mac computer. The game will not require a great internet speed, but it will require stability when you participate in tournaments.
You don't need special skills and in-depth knowledge of NFTs to participate in Splinterlands. You will only need to be eager to win money, have fun, and learn everything you can about the game. You can adapt to the scheme of the game in its free mode until you can commit yourself to investing in some cards.

How much does it cost to play Splinterlands?
To get the most out of Splinterlands, you will have to invest at least 10 dollars. With this money you invest, you will buy the Spellbook that you will eventually use to build your deck. After having the Spellbook, you have two alternatives to appear in the game, and they are:
• Invest in cards
Buying the cards individually in the game market, where you will have the freedom to choose the card you want is one of the best options. After playing the game some you should get a good sense of what cards perform well. You should not buy cards lightly because you would be investing money unnecessarily.
I would recommend building out your collection to grow each of the splinters instead of hyper focusing on one. This is the better option as some rule sets will prevent you from playing certain splinters and will increase your win rate since you will have a more balanced collection. The value of the cards may vary due to their exclusivity.
• Purchase packs in game
If you don't know what cards to purchase individually and want to dive into Splinterlands immediately you can purchase packs. This method isn't as cost effective as purchasing cards individually. However it offers excitement for a chance to pull an expensive card.

Can you make money with Splinterlands?
With Splinterlands, you can earn cryptocurrency in the form of DEC, SPS and Vouchers:
• Earn money with DEC
The Dark Energy Crystal or DEC is the currency anchored to the game with which you can earn your income after winning ranked battles. It would be best to build a good collection to face other players. Earnings on DEC can be very high so this option could be profitable.
• Sell cards
If you feel it is very difficult to defeat your opponents in Splinterlands, you can always earn money in other ways. You can dedicate yourself to buying cards and reselling them on the marketplace at a value that increases your investment. On the other hand, you can also sell other game products such as land, packs and totems.
• Rent cards out
The most passive way to earn in Splinterlands with your cards are to rent them out to other players for DEC. Towards the end of the ranked season some players are willing to commit a ton of DEC for rentals.
• Holding DEC
Just holding the cryptocurrency DEC will earn you daily airdrops of SPS the governance token of Splinterlands. This token can be staked in game to earn more SPS which is also pretty passive.
My guide on making money as a beginner goes a little more in detail on ways to earn in Splinterlands in the youtube video below.
(If you enjoy my content please subscribe! It's free and supports me directly)

How to Cash Out DEC and SPS?
Now that you have dedicated some of your time to Splinterlands and made a profit, it may be time to withdraw it. For you to collect DEC and SPS, you will have to follow these steps:
Step 1: Log in to your Splinterlands account and go to the top panel to click on the "Dark Energy Crystals" bubble.
Step 2: Place the amount of money to be withdrawn from DEC in-game next to the wallet, which could be Hive, steem, Tron, Ethereum, and Binance Smart Chain. Using the Hive wallet is one of the easiest and can be accessed through tribaldex.com. Just transfer out in game to the hive engine wallet and swap to a currency supported on Coinbase if you are a US citizen. Then sell and withdraw in USD

How to buy DEC and SPS?
Buying DEC doesn't have to be hard and I show you a way how in the video below.
Same for SPS. This video will show how to buy and stake SPS in Splinterlands.

Last words
Splinterlands proves to be the NFT game of the moment where you can earn with little to no hassle. There are many ways to earn money playing Splinterlands that might appeal to you.
The game's reputation makes its credibility in winnings high, so you don't have to worry about getting scammed. The game will allow you to play without investment, although you will only have to give $10 to start building your collection and earning.
---
---